Guest article written by HolidayCottages.co.uk
Back to work for a few weeks and already thinking about your next holiday?
Looking out of the office window at the cold and wet weather there's a good chance the answer to that question is a resounding YES. But instead of thinking about a traditional summer holiday abroad, why not take a trip away in the UK this spring?
There are plenty of reasons why taking a trip in the UK during spring is a great idea. Spring is a lovely time of year to go away, a time where the country's natural beauty is really at its best. Not only that, but you can enjoy some of the more popular destinations in peace, away from the usual summer crowds.
We're going to take a look at four regions across the UK that are perfect for a spring trip away. Read on and be inspired for your next holiday!



Devon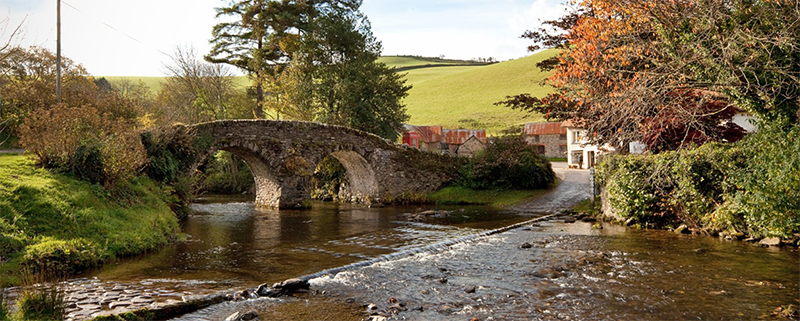 One of the most popular holiday destinations in the whole of the UK, Devon has a wealth of things to see and do which make a trip there extra special.
One hour north of the county's capital, Exeter, you'll find the A39. Start at Barnstaple and head east towards Exmoor, one of two National Parks in Devon. Along the route you'll be greeted with spectacular views across the moor and out to the Bristol Channel. On a clear day, you'll even be able to spot Wales in the distance.
One of the best driving routes in the South West, this drive offers unparalleled scenery and the chance to see some of the best views Devon has to offer. There are recreational areas along the way so you can stop off and continue on foot to really immerse yourself in the amazing surroundings. Valley of the Rocks just outside Lynton is well worth visiting along the way.
Heading back east, you'll find yourself in the heart of North Devon's premier holiday area. The villages of Woolacombe and Croyde are firm favourites, with the former host to one of the best beached in the world.
There is no shortage of places to go on the south coast either. Towns such as Paignton and Torquay offer the traditional seaside feel, while top attractions like Paignton Zoo and Living Coasts are great fun for family days out.
Sandwiched between the two coasts is the county's other National Park, Dartmoor. Like Exmoor, this area is a vast expanse of moorland but is interspersed with impressive rock formations and deep wooded valleys.
Whatever you enjoy doing during your holidays, you're bound to find it in Devon!
Nearest Hertz Location:
https://www.hertz.co.uk/p/car-hire/uk/exeter/exeter-airport
Exeter Airport
Car Rental Hall
Exeter (Clyst Honiton)
EX5 2BD
+44 (0) 1392 363667
Visit Stay In Devon to find self-catering accommodation across Devon.



Cornwall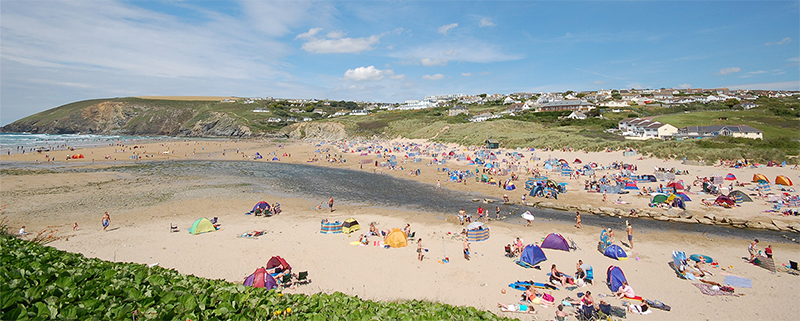 Devon's western neighbour, Cornwall offers you an incredible amount to do during your holiday. With stunning beaches, coastal villages and world-renowned landmarks, there's plenty to keep you busy.
Starting with the north coast, one of the best driving routes runs from Perranporth to Padstow. From the beach town of Perranporth to the food heaven that is Padstow, this coastal road will treat you to amazing views and runs through one of the most popular destinations in Cornwall: Newquay.
Bordered by 7 miles of glorious sandy beaches, Newquay is a firm favourite among holiday destinations and has been a surfer's paradise, as well as a popular family resort, for years.
And of course, no trip to Cornwall would be complete without a visit to Land's End. This world-renowned spot has been attracting people for generations. You can drive directly to it, and when you do visit, don't forget to have your picture taken with the famous sign!
Along the south coast you'll also find a number of traditional fishing towns and villages including Looe, Falmouth and Porthleven. Local fish is caught every day, meaning you can sample some of the best local produce on offer in the cafes and restaurants.
Nearest Hertz Location:
https://www.hertz.co.uk/p/car-hire/uk/newquay/newquay-international-airport
Newquay International Airport
Carloggas
Newquay
TR8 4RQ
+44 (0) 1637 860869



Northumberland
England's most northern county, Northumberland, is a gem of a location, packed full of immersive history, beautiful views and majestic wildlife.
The perfect way to take in the best this county has to offer is to drive the entire length of the coast. Driving this route will allow you to sample the best Northumberland has to offer, such as long stretches of sandy beaches and incredible views of the offshore islands.
Along the way, there are plenty of things to stop off for. Bamburgh Castle is a stunning medieval structure overlooking the sweeping dunes and is certainly worth a visit. The villages of Amble, Alnmouth, Alnwick (home to another incredible castle and a filming location for some of the Harry Potter films!) and Warwick are all well worth visiting.
Why not swap road for sea and hop on a boat to Farne Island to see thousands of colourful puffins in the warmer months, while grey seal pups inhabit the rocks when the weather is a bit cooler.
Not to be forgotten is the stunning Northumberland National Park, as well as Kielder Water and Forest Park and of course Hadrian's Wall World Heritage Site. These three amazing attractions are all within close driving distance of each other, so would make for a wonderful day trip!
Nearest Hertz Location:
https://www.hertz.co.uk/p/car-hire/uk/newcastle/newcastle-airport
Newcastle Airport
Maintenance Area Newcastle Airport
Woolsington
Newcastle-upon-Tyne
NE13 8BZ
+44 (0) 191 286 6748
Visit Cottages in Northumberland for self-catering accommodation across Northumberland.



Norfolk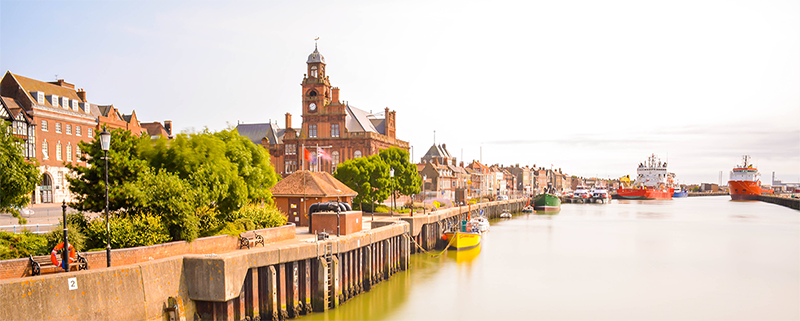 Whilst it may not grab the holiday headlines like Devon and Cornwall, Norfolk is a wonderful place to visit in its own right. With over 90 miles of unspoilt coastline, picturesque market towns and fantastic seaside resorts, Norfolk is perfect to visit during spring.
For a driving route, you can't go wrong with a trip along the Norfolk Coast Area of Natural Beauty. This stunning part of the county offers amazing views and will take you through some pretty coastal villages.
Pretty villages aside, a visit to Norfolk isn't complete without visiting Great Yarmouth. The county's premier seaside resort, you won't be short of things to do in this wonderful town. 'The Golden Mile' is a paradise packed with family-fun activities, including rides, arcades and mini golf.
For couples, a long walk along the beautiful Norfolk Coast Path should be at the top of the list. Park up at one of the many spots along the way and head out on foot. Norwich is also a great city to explore and is perfect for a weekend break.
Driving is really the best way to explore this wonderful region and gives you the chance to see the best Norfolk has to offer.
Nearest Hertz Locations:
https://www.hertz.co.uk/p/car-hire/uk/norwich/norwich-airport
Norwich Airport
Terminal Building
NR6 6JA
+44 (0) 1603 340179
Visit holidaycottages.co.uk for self-catering accommodation across Norfolk.
Wherever you choose to visit, these four destinations give you a glimpse into the amazing things a holiday in the UK this spring can offer. What are you waiting for? Check out our hire car offers and start exploring today!