Common Hertz Charges Explained
The receipt below is an example of possible charges for a rental vehicle. The Rental Charges section includes the rental days and Vehicle licence fee which in general are already included in a prepaid voucher. Additional services selected by a customer at or before the time of rental, such as additional coverage options, fuel services, cross border fee and other additions. The Tax Analysis section displays the tax percentage charged for the rental country. Miscellaneous Information is indicating the voucher value before tax, the tax amount & the total voucher value.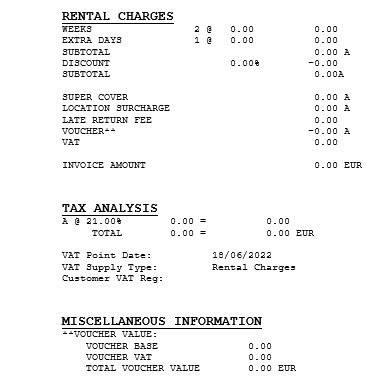 Initial Charges section
Rental Rate: The agreed rental rate is shown as a per week or per day amount, which includes third party insurance. The rental rate may include Collision Damage Waiver (CDW) and/or Theft Protection (TP). This will be stated on the Rental Record/Agreement.
CDW: Collision Damage Waiver. Is often included in your rate and reduces your liability to Hertz to the amount of the applicable excess (stated on your Rental Agreement) which applies to each incident of damage caused other than that by theft, attempted theft or vandalism.
TP: Theft Protection. Is often included in your rate and reduces your liability to Hertz to the amount of the applicable excess (stated on your Rental Agreement) which applies to each incident related to loss of or damage to the vehicle caused by theft, attempted theft, or vandalism.
Charges Added During Rental Section
Additional Driver: We apply a standard fee for each additional driver added to your rental to cover our additional insurance costs.
Young driver Surcharge: May apply if you or any addition driver is under 25 years old..
Cross Border Fee: applies if you drive outside the country of rental. You must seek prior permission to drive the Hertz vehicle across country boarders.
FPO: Fuel Purchase Option. You can l purchase Fuel from Hertz in advance at the time of rental. There is No refund for unused fuel if this option is selected.
Fuel & Service (F&S): There is a charge for the cost of fuel and refuelling service if the vehicle is not returned full of fuel and/or the Fuel Purchase Option (see above) was not purchased at time of rental.
SCDW: Supper Collision Damage Waiver. Is an optional product that gives you peace of mind for your rental by eliminating or reducing (stated on your Rental Agreement) your potential liability to Hertz for the CDW or TP excess for loss of or damage to the Hertz vehicle during your rental.
PEC: Personal Effects Coverage. Covers some personal belongings.
Premium Emergency Roadside Service (PERS): Provides roadside assistance including lockouts, lost key, flat tire & mounting, and dead battery, among other services. PERS is offered in most locations but can only be purchased at time of pick up. PERS excludes the eventual cost to repair the vehicle and any travel cost to change it.
Service Charges/Taxes Section
Intercity Fee: This fee is for rentals returned to a location other than the original renting location specified in the Rental Agreement. A fee may be charged based on the distance between the pickup location and return location. If the rental has already started at the time the change is made, a Return Change Fee may also apply.
Late Return Fees: Vehicles returned 30 minutes late or more, are charged for an additional part or full day, depending on the time of return (this is shown on your receipt in the 'Initial Charges' section).
Location Service Charge: Is charged at certain location (e.g., airports and railway station) to reflect the higher cost of providing services from these locations.
Vehicle Licence Fee: Passes on your share of the charges we incur for keeping the vehicle on the road.
EV Charge KWH: This charge is incurred when the Electric vehicle (EV) is returned with a battery level less than what it was when picking up the vehicle at the start of the rental.
EV Admin Fee Low Battery Level: Additional charge when EV vehicle is returned with a critical low battery (20% or less)
VAT: Represents sales tax on total rental charges.
Tax Analysis
A: Indicating what tax % is charged on the total rental and the value.
Miscellaneous Information
Voucher Base: Voucher value without the tax.
Voucher VAT: tax value on the voucher.
Total Voucher Value: Total voucher value including the tax.