Saga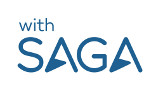 Introduction to Saga
The award-winning travel business – Saga Holidays – take guests all over the world on hotel stays, escorted tours, ocean and river cruises, as well as tailormade luxury breaks.
Founded in 1951, Saga Holidays provides a diverse range of holiday experiences, with the emphasis on choice and flexibility, backed up by excellent service. They now offer holidays in more than 120 countries and islands around the world, from relaxing hotel stays to active adventures for the more intrepid explorer.
Hertz has partnered with Saga Holidays to offer their customers competitive rates and great benefits.
Saga Benefits
• Up to 10% off worldwide car and van hire all year round
• A FREE Additional Driver
• Theft and damage cover and no hidden fees
• Make & Model Guarantee on selected ranges
• Free membership of their Gold Plus Rewards Five-Star® upper tier
Book now at hertz.co.uk/saga quoting your CDP code.