Step into a world of dramatic beachside beauty along Britain's own Jurassic Coast. This was England's first natural UNESCO World Heritage Site, a title given due to its high level of prehistoric fossils and geology. Millennia of history can still be seen in the unusual rock formations that frame its many beaches.
There are limestone arches – such as the famous Durdle Door – plus picture-perfect chalk and sandstone cliffs.
By car, it's possible to explore the entire 95 miles with ease, beginning at Orcombe Point in Devon and ending close to Old Harry Rocks in Dorset. From green countryside to quaint villages and lighthouses, this slice of paradise gives you access to a range of coastal wonders right here in England.
Here's our list of highlights along the Jurassic Coast:
Exmouth Beach
Seaton Tramway
Lyme Regis
Weymouth harbour
Portland Bill Lighthouse
Lulworth Cove
Old Harry Rocks
Exmouth Beach
When you're heading to the Jurassic Coast, Exmouth Beach is the best place to start – it's less than an hour south of Taunton. Not only will you find two miles of golden beach, you'll also be surrounded by cliffs steeped in prehistory and providing challenging but beautiful walks.
Try your hand at water sports or teach the kids how to rockpool. You can find traditional seaside amusements such as crazy golf and swing boats along the promenade, and you might find a fossil if you look hard enough. There's a reason this is the gateway to England's only natural UNESCO World Heritage Site.
Seaton Tramway
This quaint green carriage won't hold a large number of people, but it will be a trip like no other. The narrow-gauge heritage tramway operates between Seaton, Colyford and Colyton in the Axe Valley of Devon.
Travelling through two nature reserves and alongside the River Axe Estuary, you'll be able to spot the local birds and wildlife. Plus, it's electric-powered so has eco-friendly credentials. If you're feeling particularly brave you can even pay for lessons to drive the tram yourself or take the twilight tram to see the Axe Valley bathed in moonlight. Park your car at the nearby long-stay Seaton Jurassic Car Park.
Lyme Regis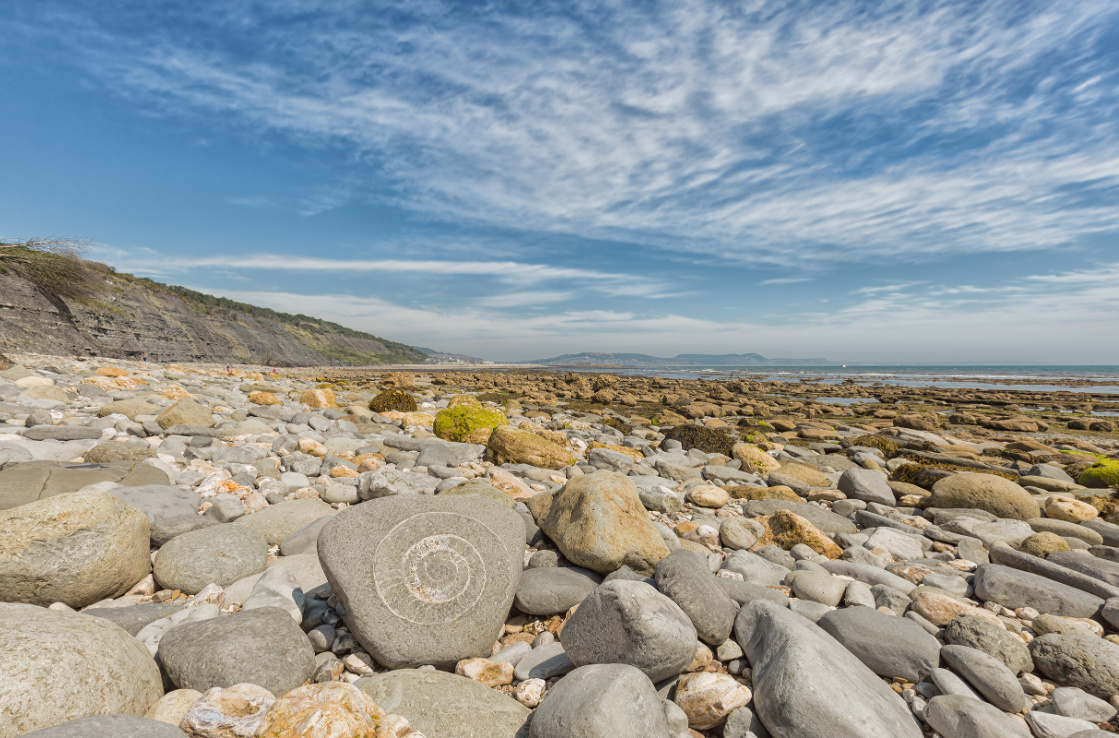 Dubbed the 'Pearl of Dorset', this picturesque town lies on Lyme Bay on the English Channel coast. It's another great location for spotting fossils, especially if you visit the 'ammonite pavement', which is a limestone ledge littered with hundreds of large, fossilised ammonites. You'll see these only at low tide on Monmouth Beach.
Learn more about your Jurassic finds at the Lyme Regis Museum before stopping off at one of the many local tea rooms, coffee shops and restaurants. The scenery here will blow you away, but we'll forgive you for tearing away to browse the shops.
Weymouth Harbour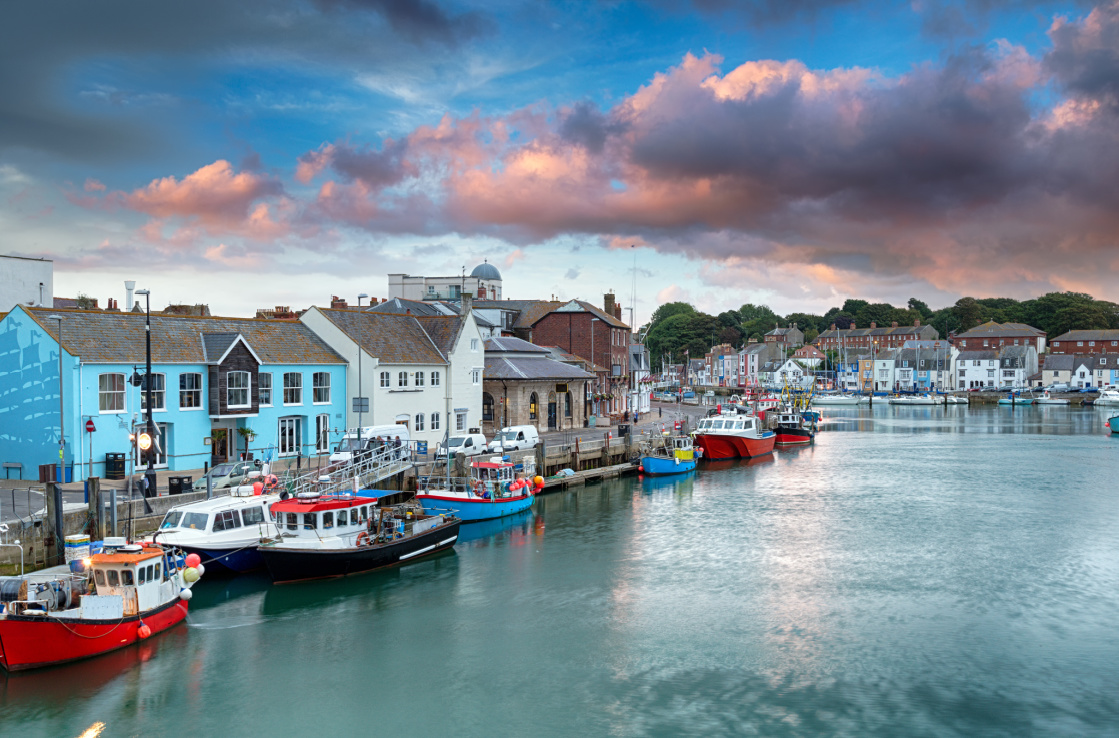 Weymouth is a stunning destination in its own right, but its harbour is especially impressive. Pop by for a stroll in the sunshine and you'll see families and locals lined up on the harbour wall with buckets, catching crabs.
Head out on a boat tour captained by one of the local fishermen or simply watch the boats roll in. Make sure you work up an appetite exploring the local boutiques – the fresh fish and chips here are to die for. Town Bridge is surrounded by a handful of charming chippies.
Portland Bill Lighthouse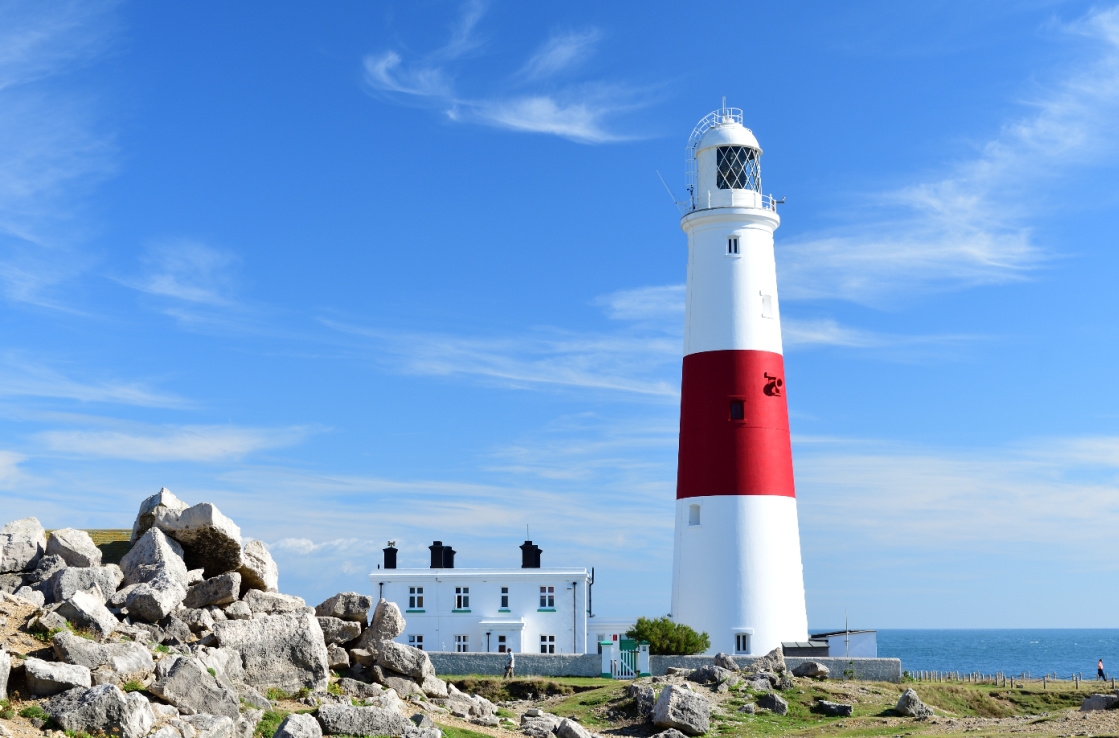 Portland Bill Lighthouse and its boundary walls are Grade II-listed. Despite the importance, you can book a tour of this impressive 1906 structure. Mind the cliff edges as you observe the stunning view from what feels like the edge of the world. Evenings are a great time to grab a bite to eat at the cafe or the local seafood restaurant. We highly recommend returning after dark to watch the beams of light shining across the sea.

The lighthouse sits on the Isle of Portland, which is also host to one of the three major shingle beaches in Britain, Chesil Beach. Stretching for 18 miles from West Bay to Portland, this barrier stands 15 metres tall at some points. Clambering your way across the shingle to the sea can be tricky but is likely to elicit some laughter.
Lulworth Cove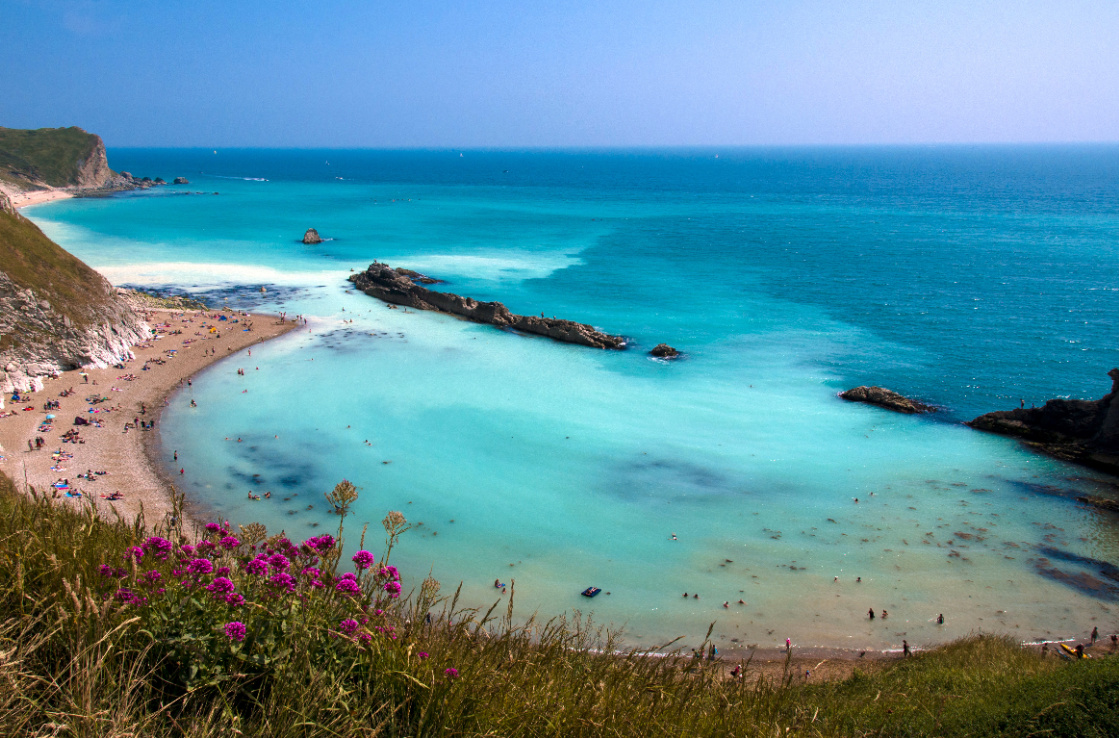 No, it's not the Caribbean – it's the south coast of England. Thanks to its pebble beach and clear waters, this stunning stretch is a Jurassic Coast must-visit. The cove offers a variety of places to eat and there is a visitor centre where you can soak up information about the area and its geology. The South West Coast Path national trail leads here and is popular with hikers and walkers.

Lulworth Cove is just two miles from the famous Durdle Door – a natural limestone arch which stands about 200ft (61m) above sea level. It is one of the most photographed landmarks in Dorset due to its iconic slopes, made famous by films such as Wilde and Nanny McPhee.
Below the chalk cliffs are many caves, which have been carved out by the sea. Be sure to snap some photographs but avoid getting too close.
Old Harry Rocks
As you reach the end of your Jurassic Coast adventure, you'll arrive on the eastern edge of Dorset – Handfast Point. Here, standing tall, are Old Harry Rocks – three chalk formations including a stack and a stump. There is a lot of speculation about where the name 'Harry' originated. Some say it derives from a famous local pirate. Admire these curious chalk structures from afar or join a guided kayak tour to get a closer look. The nearby beaches at Studland Bay are also popular – Sandy Beach and Knoll Beach Studland are great places to watch the sun set over some of England's most pristine cliffs.
Planning a grand tour? Hire a car with Hertz to explore the Jurassic Coast and everything it has to offer. Our luxury car collection features family-friendly 4x4s, plus convertibles and sports cars that seem built for memory-making.