When it comes to Yuletide there is no doubt that London offers a lot by ways of festive feasting and seasonal shopping but if you want to discover that real winter wonderland - head west.
From Christmas carols performed in one of the country's oldest cathedrals and lofty twilight tower tours to owls in full flight by moonlight and pub lunches served up under a charming thatched roof, we have just the road trip to get you into the holiday spirit.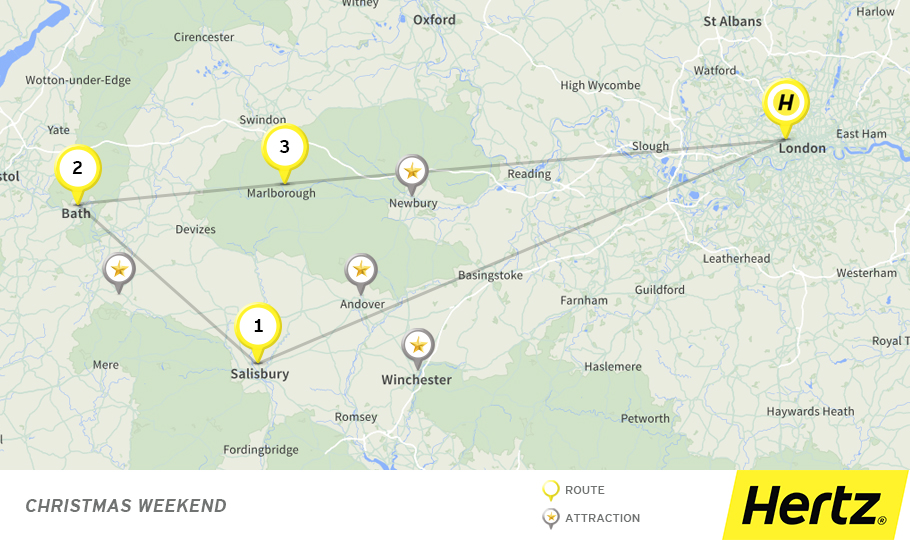 Day One
London - Salisbury
65 miles / 1hr 50mins
The ancient city of Salisbury is centered round its cathedral, an early English gothic structure topped by the tallest spire in the country. You can of course simply marvel at the medieval craftsmanship or lofty interiors of the nave, but this church also hosts a packed programme of Christmas activities.
If you have a head for heights, why not sign up to one of the daily Christmas twilight tower tours (27 November - 23 December, 3.15pm). Visitors get to climb 332 winding steps to the foot of the spire 225ft above ground level. Four balconies give way to spectacular views of the city's charming streets, medieval walls, half-timbered Tudor town houses, Georgian mansions and Victorian villas.
Salisbury Cathedral also offers visitors the chance to view the Magna Carta - perhaps the most famous document in the world, credited with paving the way to modern day democracy.
Top detour: Go open air ice-skating at Winchester Cathedral, located just off the M3 at Junction 9. Or enjoy a special owl flying demonstration by moonlight following Christmas carols at the Hawk Conservancy Trust, Andover (Friday 19 and Saturday 20 December).
Route: Head west out of London on the A40, keep right and continue on the M40 towards Oxford, follow signs for the M25, pick up the M3 towards Southampton and take the A303 towards Salisbury/Andover.
Day Two
Salisbury - Bath
40 miles / 1hr 10mins
We all love to spoil our family and friends at Christmas and for gift inspiration and independent shopping there are few places better than the spa city of Bath, in Somerset. Perhaps the country's most attractive Christmas market is held here each year in the shadows of Bath Abbey and the city's famous Roman Baths.
Or why not try your hand at making your Christmas presents at one of the many crafty workshops - learn how to create that perfect door wreath, print your own festive cards ordesign and buildan advent calendar.
Top detour: Longleat Safari and Adventure Park for The Festival of Light, Europe's largest display of giant Chinese lanterns. There is also an outdoor ice rink, and for children a giant musical Christmas tree, Santa train and pantomime characters.
Route: A36 from Salisbury to Bath.
Day Three
Bath - London (via Marlborough)
115 miles / 2hrs 30 mins
Break up the journey homealong the A4 London to Bath Road with a stop off in the archetypal English market town of Marlborough, in Wiltshire. Stretch your legs with a stroll round the centre, which boasts the second widest high street in Britain, The Merchants House, a timber and brick building dating back to 1653, and Marlborough College independent boarding school.
Enjoy lunch in Marlboroughor at one of the charming pubs found in one of the nearby chocolate box villages, such as Ramsbury with its thatched roof cottages.
Top detour:Pick out your Frazer Fir or Norway Spruce at thesustainable Newbury Christmas Tree Farmbeforearriving home. You can either opt for a pre-cut tree, or take a walk round and choose one fresh from the plantation.
Route: A4 from Bath to Newbury, via Marlborough, picking up the M4 back to London.