Italy is world-famous for its food and drink: with its crisp pizzas, fresh pastas and rich wines, it's a destination that's synonymous with feasting. So, what better place for a true foodie to visit than Turin? 
With stately art nouveau cafés, elegant restaurants and street food eateries spread across the city, as well as delicious dishes that originated in the region, you won't be disappointed if it's a culinary adventure you're looking for.
Turin may not be the place that immediately springs to mind when you're thinking of visiting Italy. Rome understandably commands the lion's share of attention for its ancient architecture and history, and the picture-perfect Amalfi Coast rightly draws hordes of tourists for its Sorrentine charm.
But Turin steals the show when it comes to serving an array of mouth-watering aromas and sublime flavours, with its rich and filling Piedmont cuisine. Expect to sample dishes that are heavy on butter, truffles and broths; indulge in hazelnut-based chocolate treats; and wash it all down with Lavazza coffee, freshly ground and brewed here in its home of Turin.
If you'd like to sample some of the capital city of Piedmont's best meals, keep your eyes peeled for these delectable dishes.
Cabiette
A seasonal dish originally from Val Susa, this is traditionally served in late winter or early spring. Small, simple gnocchetti made from grated potato, onion and boiled nettles is combined with light cheese and eggs, and occasionally tomatoes too. As a result, it's a dish that's somehow both light and hearty at the same time, and is often served as a primo (a first course). 
You might have a hard time finding it in trendy restaurants as it's a very traditional dish, but try the likes of Taverna dell'Oca – it's renowned for its regional dishes and warm welcome, as well as its unpretentious décor.
Bagna càuda
Originally created as a sort of fondue to serve alongside the last of the vegetables at the end of autumn, bagna càuda is a warm dip infused with garlic. It's utterly addictive – a combination of salty anchovies, oil, milk butter and cream seems to fuse the mountains of Italy and the seas of the Mediterranean together for a dish worth eating any vegetable for. 
Try dipping fennel, artichoke and celery into it at Porto di Savona for an inventive way to eat your greens.
 
Agnolotti
If you like the idea of a ravioli-like stuffed pasta dumplings, you'll love agnolotti. Each fresh pasta square is stuffed with a combination of roast beef, rabbit or pork, is seasoned with nutmeg, accompanied with steamed chard or spinach and is occasionally served in a meat-based broth or with sage and parmesan. 
Try this dish at Pastificio Defilippis enjoy it with a glass of the region's best wine.
Carne cruda all'albese
Feeling brave? Try carne cruda all'albese – essentially Italian style steak tartare, this raw meat is thinly sliced and marinated in lemon juice, salt, pepper and olive oil. 
You may also see it served with Alba white truffle or parmesan, and in winter, it's wonderful with orange slices and olives. Order it somewhere with a great reputation, such as Ristorante Solferino.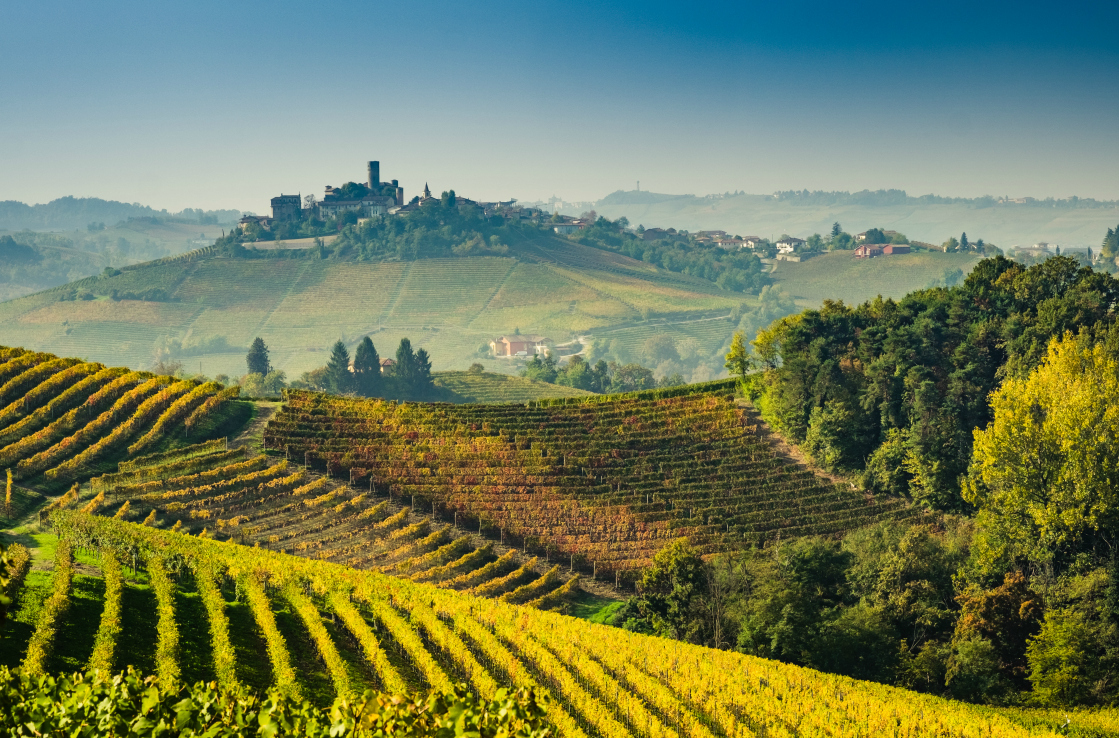 Brasato al Barolo
If you prefer your meat cooked to tender perfection, try the pièce de résistance of Piedmont cooking – Brasato al Barolo. Boneless cuts of chuck steak are marinated and braised in vegetables, spices, herbs and lashings of charismatic Barolo wine, while sharp bursts of juniper berries are carried along by the earthy flavours of sage, cloves and fresh thyme. 
Try it at Du Mondi Ristorante and admire the experts cooking in the pristine open kitchen.
Bignole
For something sweet, treat yourself to bignole. Much like little choux pastries, each bignole is filled with delectable cream, including creams flavoured with vanilla, hazelnut, chocolate and pistachio. Try bignole at Baratti & Milano - the place exudes old world charm and they taste especially delicious with a steaming mug of coffee or a hazelnut hot chocolate if you're feeling particularly decadent. 
Crema Gianduia
An Italian dessert paste made from hazelnuts, cacao and sugar, this original version of Ferrero's 'Nutella' was invented in Turin. The Piedmont region is peppered with trees that are heavy with sweet hazelnuts, and they're used to create a decadent, deep dark chocolate spread with a nutty taste. 
You'll find crema gianduia used in many Piedmont desserts, including a rich and indulgent gianduia torte. We recommend trying it at Pfatisch beside the train station – they have an array of expertly made pastries, so you'll be spoilt for choice when it comes to rounding off your trip with something sweet.
As well as offering an easy way to get around the city, hiring a car will also mean that you'll have the option to head deeper into the Piedmont region to explore everything from the snow-capped Alps to the Gran Paradiso nature reserve, along with the region's many monasteries and castles.
So, what are you waiting for? Buckle up and get ready to tuck into the best Turin has to offer.