Whether you're going on a city break or exploring the great outdoors, renting a Hertz car keeps you in control of your holiday and helps you get the most from your experience. Wherever you're going, we want to inspire you to explore and savour the journey.
With this in mind, we at Hertz want to help your journeys become as memorable as the destinations themselves. With you in the driving seat, you can stop off and find the hidden gems you might have otherwise missed, giving you a deeper sense of connection to the country you're visiting and great stories to bring back home.
We've teamed up with the travel experts from Culture Trip, the lifestyle and culture hub, to identify some of the best stops to enjoy when driving in Europe. This summer, why not stop before you get there, and discover new places that will transform your trip from a holiday to an adventure.
See below to find out some of our top stops on the drive from driving from Málaga inland toward the old town of Ronda.
Coffee at the Picasso Museum
Situated at the 16th century Palacio de Buenavista in the heart of the old town, the Picasso Museum makes for a pleasant stop on your journey. The people of Málaga are very proud of the fact that Picasso was born here and it was an important day when the King and Queen of Spain inaugurated the Museo Picasso in 2003.
We recommend the pretty internal courtyard for a great place to stop-off and refuel with a coffee before heading out of the city. If you've time, have a wander around this superbly maintained museum to see some of the finest works of Málaga's famous son, born just up the street on Plaza de la Merced in 1881 (also open to the public as a museum). The permanent collection features over 200 works from every stage of the artist's prolific career, and we recommend this as a great place to soak up some culture before heading back on the road.
Museo Picasso, Palacio de Buenavista, Calle San Agustín, 8, 29015 Málaga, Spain
Opening hours: July-August: open daily 10am-8pm, September-October: open daily 10am-7pm, November-February: open daily 10am-6pm, March-June: open daily 10am-7pm
Málaga Cathedral
After coffee with Picasso, before hitting the road once more, walk just five minutes and stop off at Málaga's great cathedral, known locally as 'La Manquita', or 'The One-Armed Woman', due to its uncompleted second tower. Built between 1528 and 1782 near to the site of an early Almohad mosque, original plans for this huge Renaissance and Baroque-style cathedral had included two towers, but the second was never built because of a lack of funds. Construction dragged on for over two hundred years before the Mayor of Málaga commissioned Aragonese architect José Martín de Aldehuela (1729–1802) to finish the cathedral off in the late 18th century. For architecture lovers, the Cathedral is a stunning mixture of Gothic, Renaissance and Baroque, reflecting the long period of construction. Inside, you will find the Museo Catedralicio (Cathedral Museum), as well as intricately carved choir stalls, sculpture by Pedro de Mena and a painting by Alonso Cano.
An important site for nearly a millennia, the Cathedral is well worth a visit for an insight into the history of Malaga- plot this stop on your map!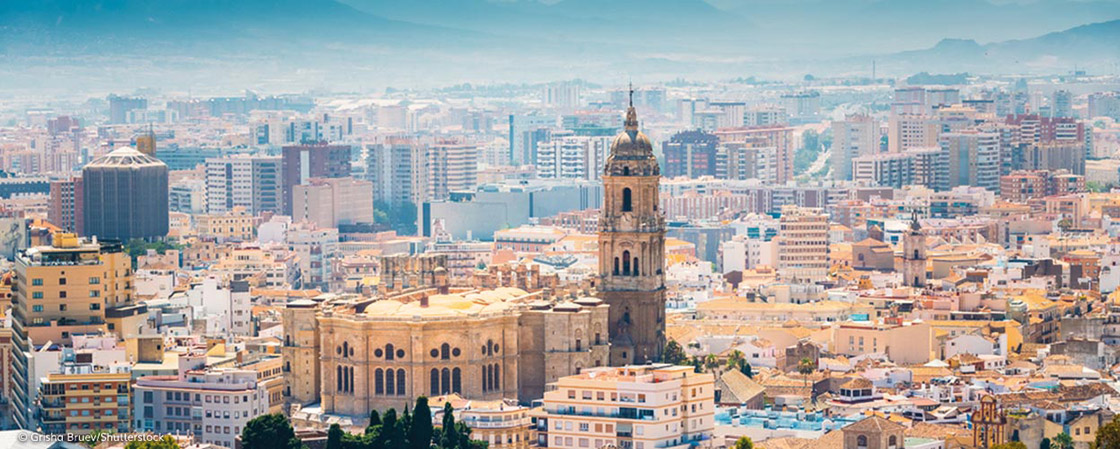 Málaga Cathedral, Calle Molina Lario, 9, 29015 Málaga, Spain
Opening hours: Mon - Fri: 10.00 - 18.00, Sat: 10.00 - 17.00 hrs, closed Sundays and holidays
Alcazaba Restaurant in Mijas Pueblo
After you've taken in Málaga's huge cathedral, it'll be time to break for lunch - the most important meal of the day in Spain and one which often lasts for two or three hours. For some of the best views in the province, head about 20 miles (30 mins drive) out of Malaga to the Alcazaba restaurant in the whitewashed village of Mijas, where donkeys are still used as taxis. Opened five years ago by a group of young entrepreneurs, Alcazaba offers a high-end, pan-Mediterranean menu that can be enjoyed in one of several spaces with vistas over the countryside and ocean. A must-have break from the drive for a meal with a view!
Alcazaba, Plaza de la Constitución La Alcazaba, 305 MIJAS (pueblo) Málaga 29650
Opening hours: daily 10:30 - 23:00 (restaurant), 12:00 - 16:00 and 19:00 - 23:00 (kitchen)
Ronda Old Town
You'll be reluctant to tear yourself away from Alcazaba, but next head to Ronda. Located about an hour and half's drive to the north of Mijas, it is well worth it and a great place to stop off on your journey. Surrounded by rich river valleys and sitting above a deep ravine, this beautiful clifftop town is a cherished memory waiting to happen.
Ronda was under Islamic rule from 712 to 1485 and La Ciudad remains as the original Moorish part of the town. A typically labyrinthine web of cobbled lanes, it centres around the main thoroughfare at Calle Armiñan. It is getting increasingly busy here so the best time to explore this ancient barrio is in the evening or at night, when most tourists are in their restaurants or hotels on the other side of the El Tajo canyon.
One of the most exemplary of Andalucía's distinctive white towns marked by their elegant whitewashed houses, we think this is a must-see at any time of year. Ronda is a stop off you won't forget in a hurry!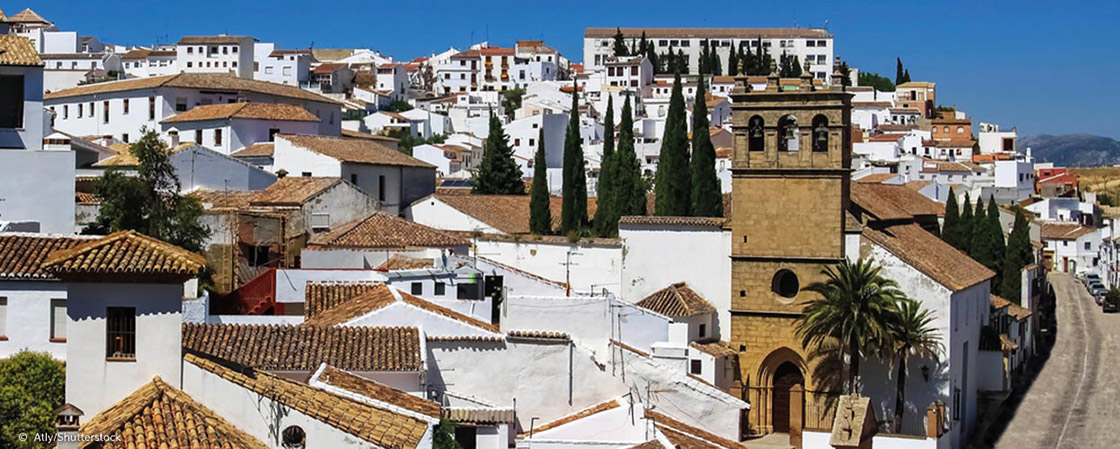 Ronda New Bridge
Cruise through El Tajo towards Ronda's epic Puente Nuevo, or New Bridge, which links El Mercadillo (The Little Market), the newer part of town. The Puente Nuevo is largest of three bridges that span the 120-metre-deep chasm that carries the Guadalevín River and a great place to go via. Completed in 1793, the bridge took over 40 years to build and offers unforgettable views over the El Tajo gorge. Whilst it's probably Ronda's most famous landmark, for just 2.50 euros you can park up and visit the museum in a little stone-walled cavern in the middle of the bridge, which was used as a prison throughout the 19th century. We think it's well worth the 40 years it took to build and is an impressive stop off on your journey!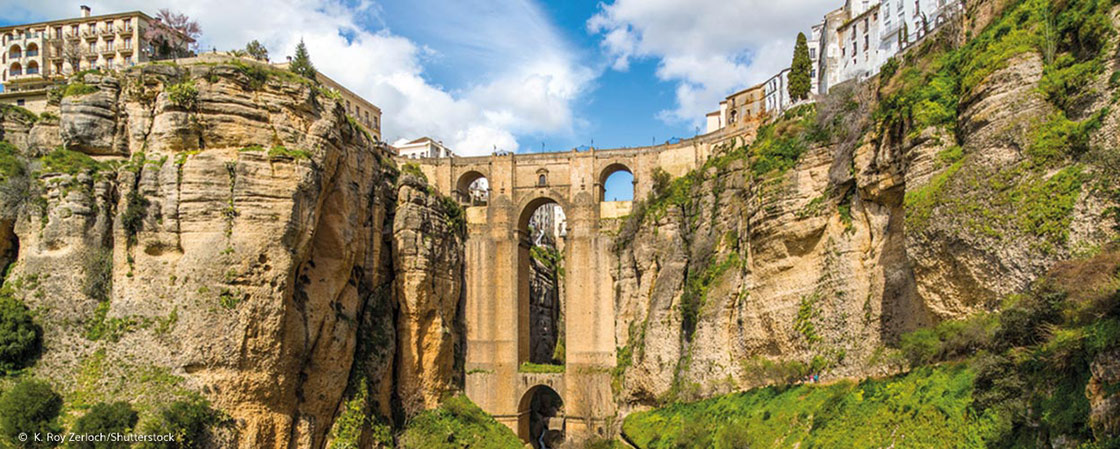 This summer, wherever you're going #goviahertz.