Whether you're going on a city break or exploring the great outdoors, renting a Hertz car keeps you in control of your holiday and helps you get the most from your experience. Wherever you're going, we want to inspire you to explore and savour the journey.
With this in mind, we at Hertz want to help your journeys become as memorable as the destinations themselves. With you in the driving seat, you can stop off and find the hidden gems you might have otherwise missed, giving you a deeper sense of connection to the country you're visiting and great stories to bring back home.
We've teamed up with the travel experts from Culture Trip, the lifestyle and culture hub, to identify some of the best stops to enjoy when driving in Europe. This summer, why not stop before you get there, and discover new places that will transform your trip from a holiday to an adventure.
See below to find out some of our top stops on the drive heading from Monnickendam via Amsterdam towards the famous windmills of Zaanse Schans.
Drive Through Monnickendam
Heading south on the drive from the top of Holland, stop off at the small settlement of Monnickendam. This historic and picturesque town lies on the banks of the Markermeer (lake Marken). Monnickendam is known for its prominent fishing heritage, and evidence of this remains in the form of its charming 17th century weigh house and picturesque harbour – a great place to stop off and admire the old Dutch architecture. What's more, Markermeer is a fantastic place to take part in some water sports, such as windsurfing and kitesurfing, and you can also rent boats from numerous nearby vendors.
A perfect place to pit stop on the drive around northern Holland for any adventurous types or for those wanting to a slice of traditional Netherlands architecture.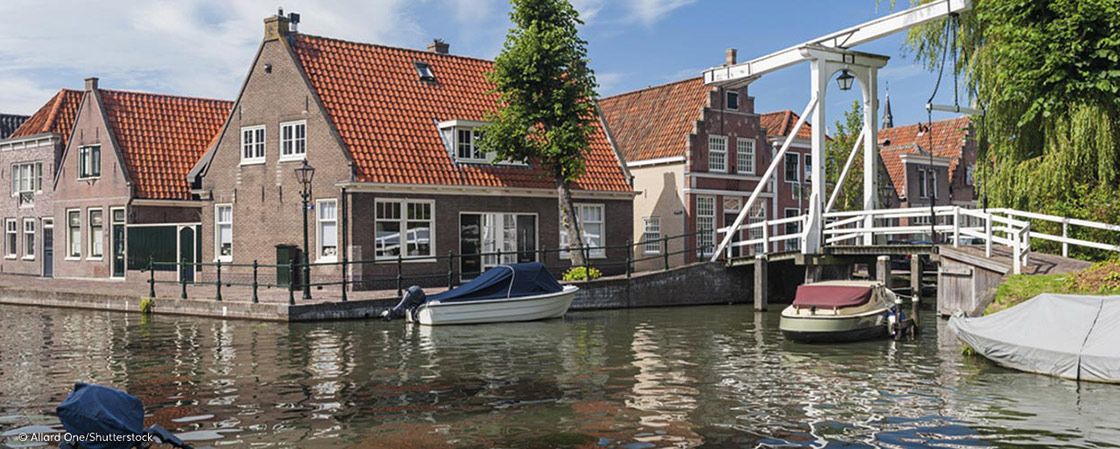 Broek in Waterland
Stop off at Broek in Waterland on the way back to Amsterdam. Almost half of Waterland consists of water (hence the name) and is mainly marshy wetland. Broek is just one of the nine historical villages that make up the region and is rich in history. After the Spanish troops largely destroyed the village during the Eighty Years' War in 1573, ship owners, captains, and rich merchants invested in the area and reignited the local economy, making it internationally renowned for centuries as an exceptionally clean and quaint part of Holland.
This rustic Dutch village lies just 6 miles due north from the capital city and has plenty to offer curious travelers. There are dozens of national heritage sites inside Broek in Waterland including around eighty beautiful pastel-coloured wooden houses with wonderful interiors, and a 17th century church dedicated to Saint Nicolas, the patron saint of seafarers. Whilst stopping off at the church, try to spot the elaborately painted wooden chest, it looks like it was full of pirate booty once upon a time…
Church of St. Nicholas (Sint Nicolaaskerk) Kerkplein 13, 1151 AH Broek in Waterland, The Netherland
Opening times: Sunday and Monday from 13:00 to 16:00, Tuesday / Saturday from 10:00 to 16:00.
Amsterdam City Centre
A stop off not to be missed on any visit to Netherlands, is a trip to the heart of Amsterdam's historic city to follow the famous waterways. The centre revolves around a series on concentric canals that were built during the 17th century. Here you'll find hundreds of important cultural sites dotted alongside the water, including Westerkerk church in Amsterdam's Jordaan district and the city's floating flower market where you can sample the best picks of Dutch floriculture. The 'Bloemenmarkt' has been at Amsterdam's Singel canal since 1862 and is the only floating flower market in the world, stop here to pick up some colourful tulip bulbs to take back home!
Flower Market in Amsterdam, Singel 630 to 600, 017 AZ Amsterdam
Opening times: Monday to Saturday from 09:00 to 17:30 and Sunday from 11:30 to 17:30.
Coffee at Cafe Louis
While in Amsterdam, take a well-deserved pit stop on Amsterdam's historic canal belt at this charming hangout on Singel. Besides excellent coffee, Café Louis also serves many lunchtime staples like toasted sandwiches, salads and burgers. While there's plenty of room inside, Café Louis also has a small canal side terrace where you can watch the world go by. A perfect place to stop, people watch and take in the atmosphere.
Café Louis Singel 43, 1012 VC Amsterdam, Netherlands
Opening hours: Mon- Thur 11.00- 01.00 hr, Fri- Sat 11.00 hr - 02.00, Sunday 11.00 - 23.00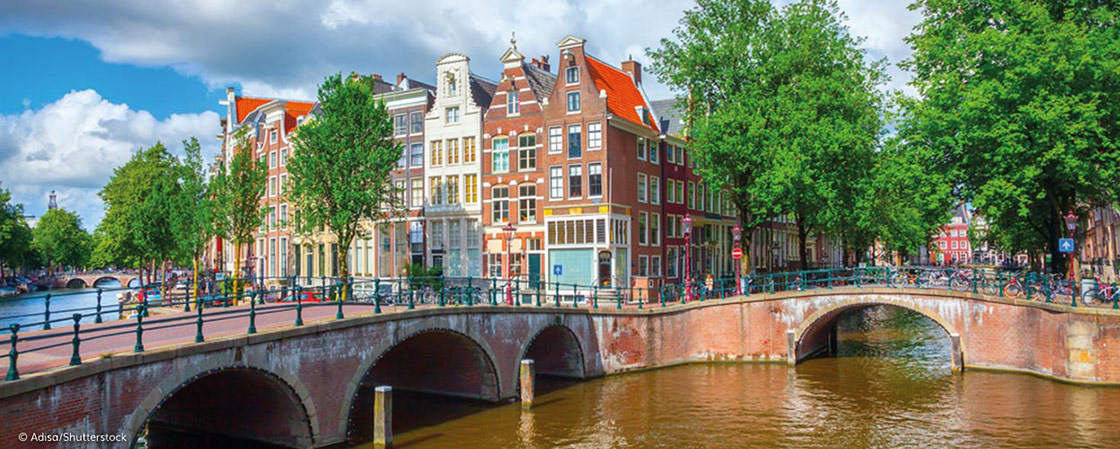 FOAM Fotografiemuseum
Ready for an artistic stop on your way through Amsterdam? Try FOAM Fotografiemuseum which features collaborations with both established and emerging photographers, offering a remarkable range of artwork on display inside the museum. Since launching in 2001 FOAM has worked alongside many groundbreaking contemporary artists including Ai Weiwei, Ren Hang and Helen Levitt. This is a must stop for an culture vultures, as well as having a great little Café for snacks and drinks.
FOAM Fotografiemuseum, Keizersgracht 609, 1017 DS Amsterdam, Netherlands
Opening hours: Mon-Wed 10am - 6pm, Thu-Fri 10am - 9pm, Sat-Sun 10am - 6pm
Zaanse Schans and its Windmills
On the drive out of Amsterdam, loop back out towards a neighbourhood in northern Zaandam and stop to see eight quintessentially Dutch windmills that date back to the 16th century. These colourful machines were originally located elsewhere in the Netherlands, but were moved to their current whereabouts around fifty years ago in order to create an amazing open-air museum. Stroll past the bakery museum and enjoy the smell of fresh bread, or take a look at the warehouse where clogs are made, and be sure not to miss the cheese factory. Both fun and educational, this truly unique and typically Dutch town is the perfect end on your drive out of Amsterdam.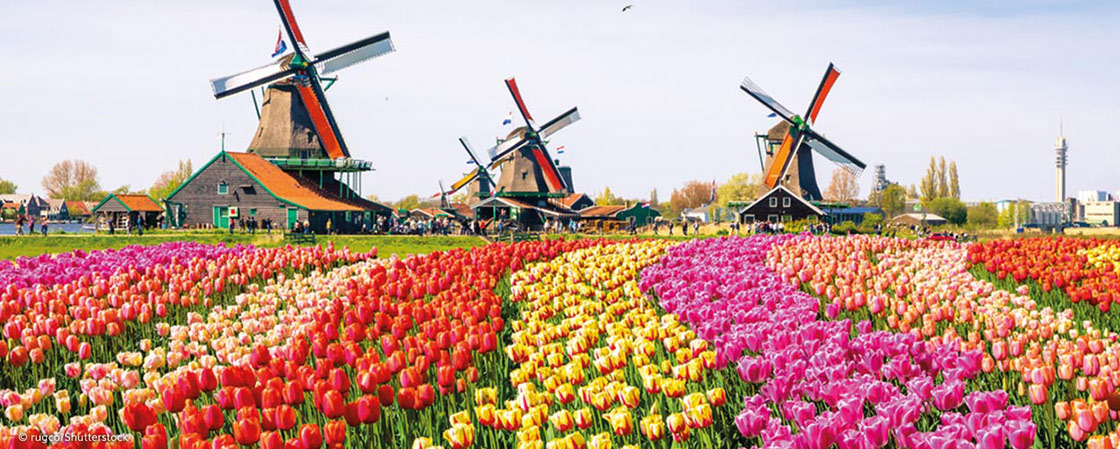 This summer, wherever you're going #goviahertz.