Famous for its stunning architecture and quaint cobbled streets, Truro is one of the smallest cities in England, with a population of around 20,000. It's also Cornwall's only city and centre for administration, leisure and retail. While it may be small, there are still plenty of things to see and do in Truro.
So, if you're thinking of visiting this charming Cornish city and would like to find out a little more, then you've come to the right place. Read on to discover the best things to do in and around Truro.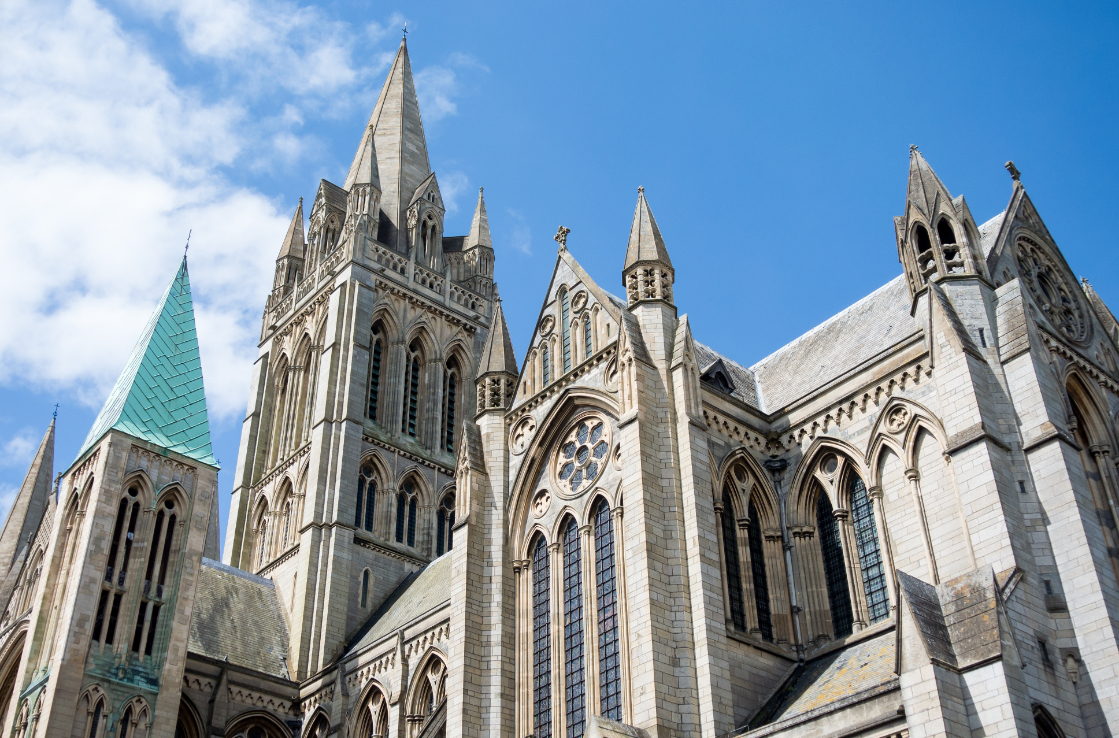 Truro Cathedral
St Mary's Street, Truro, TR1 2AF
Situated in the heart of Truro, this 19th-century gothic cathedral is what gives Truro its city status. Its 250ft high spire dominates the city, and can be seen for miles, making it one of the most iconic buildings in Cornwall.
It was constructed between 1880 and 1910 by John Loughborough Pearson and is one of only three cathedrals in the UK with three spires. Perhaps one of its most notable features is its stained glassed windows, which commemorate its founding.
Take a trip to Turo Cathedral and admire its stunning architecture, light a candle for a loved one, or learn more about its fascinating history with a guided tour.
Royal Cornwall Museum
25 River Street, Truro, TR1 2SJ
Founded in 1818 by the Royal Institution of Cornwall, The Royal Cornwall Museum holds an extensive collection of Cornish heritage, art, and culture. The Museum also houses a series of permanent exhibits featuring artefacts from the Egyptian, Greek, and Roman empires, as well as books and periodicals on the southwest of England.
On the first Monday of each month, the Museum has a 'relaxed opening' for those who would prefer a quieter and more peaceful visit. They even have 'chill-out' zones with sensory packs and ear protectors designed to make your visit more comfortable.
Lemon Street Gallery
13 Lemon Street, Truro, TR1 2LS
Located in a classic and elegant building, spanning over three floors, Lemon Street Gallery is one of the country's leading contemporary galleries. It occupies a range of modern and contemporary works, from both upcoming and established artists. As well as its eclectic programme of exhibits, it also features an established collection of publications.
Oh, and while you're here, don't forget to stop off for a bite to eat at The Gallery Café, where you can enjoy everything from sweet treats to freshly ground coffee.
Trelissick Garden
Feock, Truro, TR3 6QL
Located at Feock, near Truro, on the B3289 road just west of King Harry Ferry, Trelissick Garden is a charming country estate managed by the National Trust. It features a neoclassic house dating back to 1750, idyllic lawns and over 300 acres of diverse countryside.
Whatever the adventure, there's plenty to do at Trelissick Garden, come rain or shine. Enjoy coastal views of the Carrick Roads from the south-facing tea and coffee rooms at Trelissick House. Stroll through the panoramic parkland or venture out into the secluded oak woodlands.
Falmouth
Falmouth, TR11
Take the Maritime Line from the bustling city of Truro to the harbour port of Falmouth. With world-class beaches, Maritime museums and castles, and an array of independent shops and eateries, there's plenty to do in Falmouth.
The total journey time is around 30 minutes and there are three stops along the way, with the option to jump off and explore, should you wish to extend your trip. Dogs are also welcome on board and you can use the Maritime timetable or online journey planner to set out your journey in advance.
Llama Lland
Penare Farm, Shortlanesend, Truro, TR4 9DG
Llama's may not be the first thing that spring to mind when you think of Truro, but Llama Lland is just 3 miles outside of the city and will soon have you thinking otherwise. Set among a 140-acre farm, in the centre of the Cornish countryside, Llama Lland is one of the largest llama farms in the country and is definitely one of Cornwall's more unique attractions.
During your three-hour guided tour, you will get the chance to meet the fun-loving llamas and learn more about their individual personality and quirky characteristics. You'll also get to take your favourite llama for a walk among the picturesque woodland.
Cornwall's Area of Outstanding Natural Beauty
If you're looking for some of the best places to visit and around Truro, Cornwall's Area of Outstanding Natural Beauty consists of 12 separate geographic sections, ranging from rugged cliff lines to beautiful beaches and majestic moors. 
Whether you're exploring the central southern coast or the northern-most corner of Devon, we have various pick-up locations located across Cornwall, so you can discover the county's diverse coastline and luscious landscapes at your own pace.
Lemon Street Market
Lemon Street, Truro, TR1 2QD
Lemon Street Market is a popular shopping destination in the heart of the city. Split across 2 floors, you'll find everything from clothing and crafts to homeware, jewellery and more. It's even home to Lemon Street Gallery and an eclectic array of cafes, serving a selection of mouth-watering food and refreshments.
Centrally located on Lemon Street, the market is easy to get to from the city centre. It's also just a five-minute walk from Truro Cathedral and the Royal Cornwall Museum, should you wish to explore the city's key attractions along the way.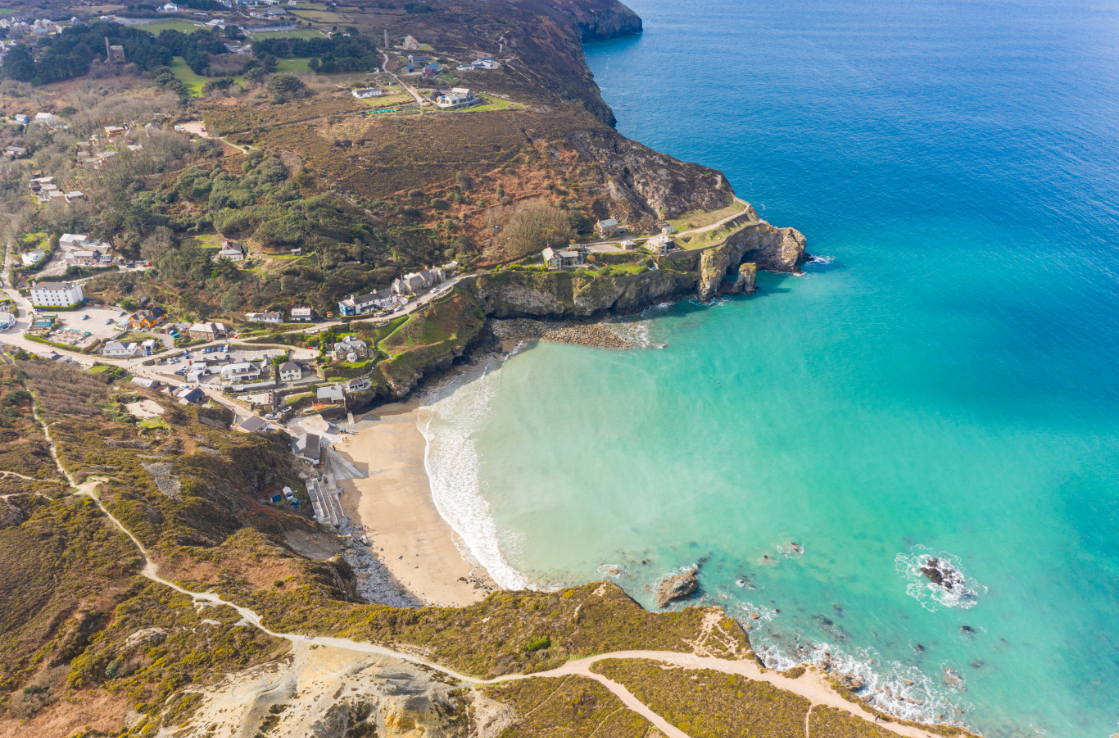 St Agnes
St Agnes, TR5
Although Truro is based inland, if you want to catch some of Cornwall's most stunning beaches, the coastal town of St Agnes can be reached in less than a 30-minute drive. There are a diverse number of beaches to enjoy here, but Trevaunance Cove is the main beach for the village of St Agnes and is ideal for surfing, swimming and body boarding.
The village itself is also worth a visit, with plenty of charming cottages, pubs and restaurants to admire. There's also a great selection of rooms, B&Bs and hotels in and around the area, should you wish to extend your stay.
Book your car hire in Truro and discover the city and beyond.