Thanks to social networks like Instagram we're snapping, tagging and sharing faster than ever, which is why you'll often find your feeds filled with fantastic food and stunning scenery from around the world.
To celebrate a century of Hertz car hire, we scoured Instagram's public data to compile the Hertz Travelgram guide to 100 of the most snapped and shared locations in five European cities.
By recording how many unique posts were made using their name as a hashtag, we found out which European landmarks are inspiring visitors to take the most pictures to share with friends, family and followers. Here's what we found…
The most Instagrammed landmarks across Europe
London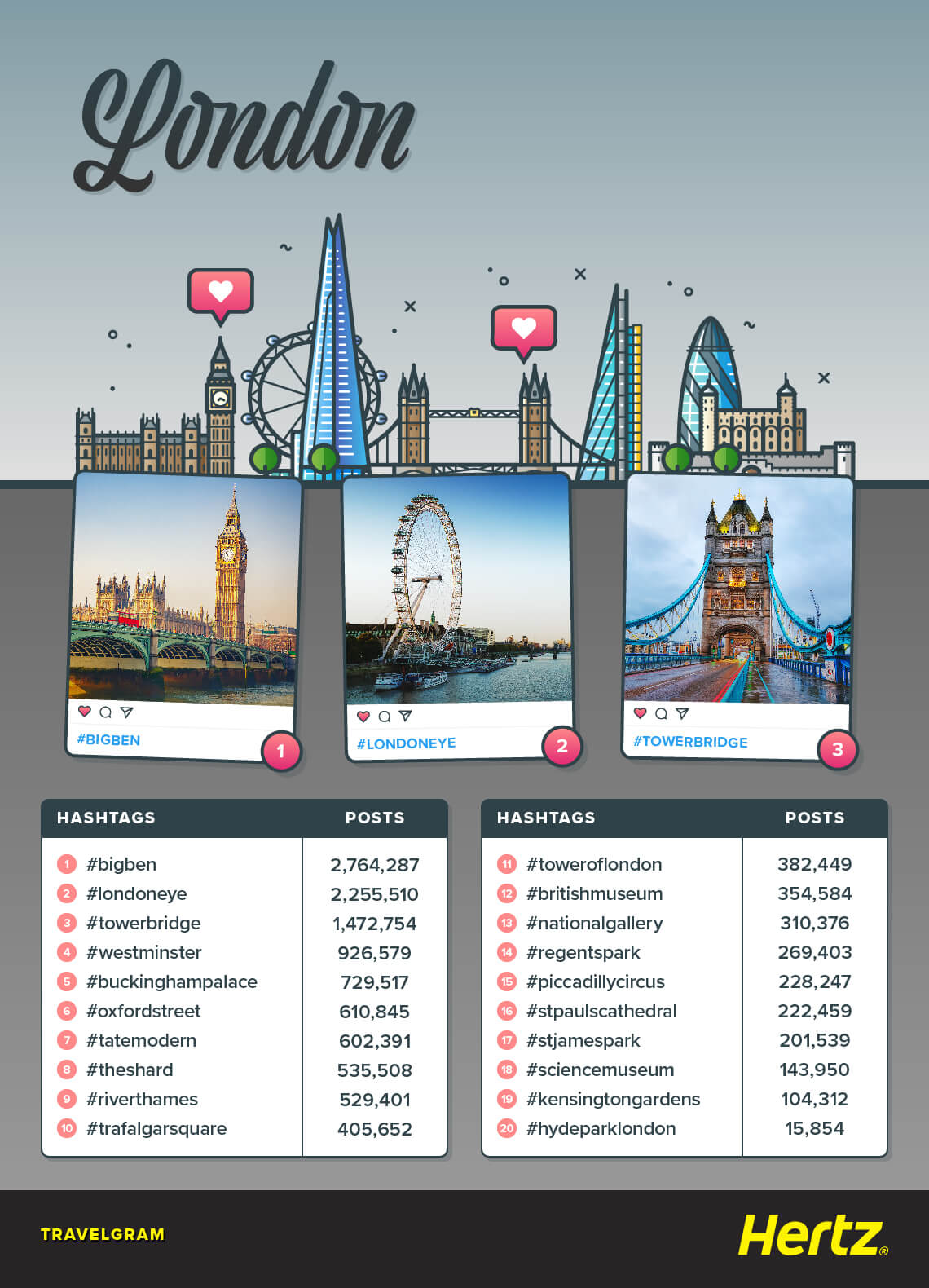 London has won hearts and minds online, with over 90 million picture-perfect depictions of legendary landmarks, modern feats of engineering and a huge raft of royal appointments. Tourists and locals alike are sharing their favourite memories and moments amid striking scenery and once-in-a-lifetime events.
The Elizabeth Tower has been shared 2.8 million times on Instagram since it was built in 1859. Better known as Big Ben, the tower is one of London's most iconic sights (and sounds) - and a mainstay of the London skyline in any Hollywood blockbuster. It's a magnificent presence even at night - the clock face is illuminated from within, casting a beautiful glow down onto the streets.
The London Eye is another of the capital's visual highlights. The Eye has been tagged on Instagram in 2.3 million photographs. From more than 400 feet in the air, visitors can enjoy unrivalled sights of London's South Bank.
Paris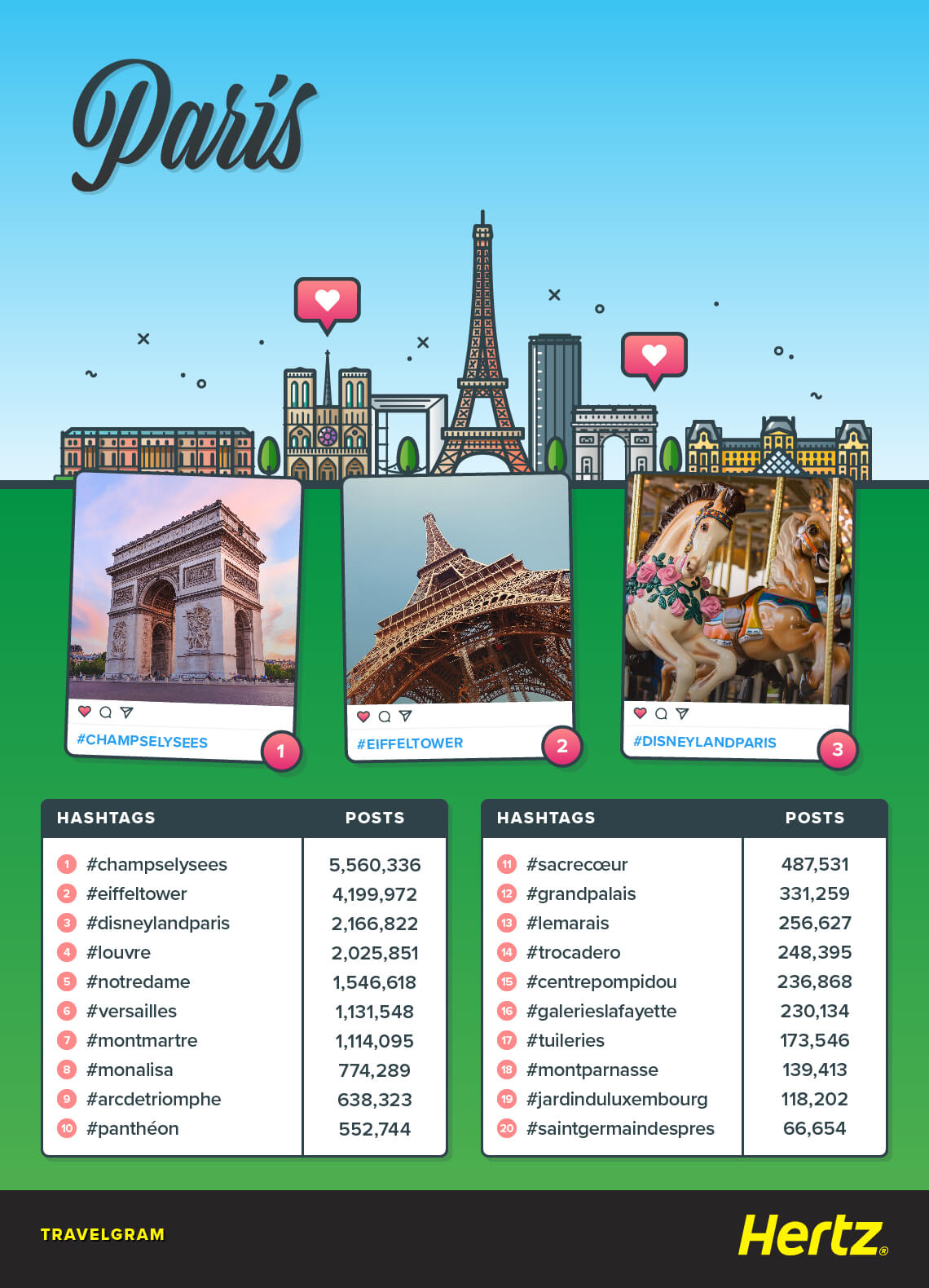 Nearly 77 million tagged photos of the French capital draw viewers into its riverside scenes, bustling streets and awe-inspiring attractions. With world-famous landmarks like the Eiffel Tower and Notre Dame keeping watch over this celebrated city, Paris' inimitable charm sparkles through any camera lens.
The Avenue des Champs-Élysées is a mile-long meander through the city's 8th arrondissement, up towards the magnificent Arc de Triomphe looming large over Paris motorists. Together they've been tagged on Instagram more than six million times, as tourists make their way up and down the storied street in search of haute couture and a bite to eat.
The Champs-Élysées comes to life with crowds whenever there's a big match or a new year to ring in, and is also where the Tour de France reaches its heart-racing climax.
One of Europe's most famous monuments, the Eiffel Tower, has been snapped and tagged on Instagram 4.2 million times. Whether admiring the views from 300 metres above street level, or getting some shots of the famous tower itself, tourists are captivated both by its physical wrought-iron form, and its life-affirming climb into the Paris sky.
Barcelona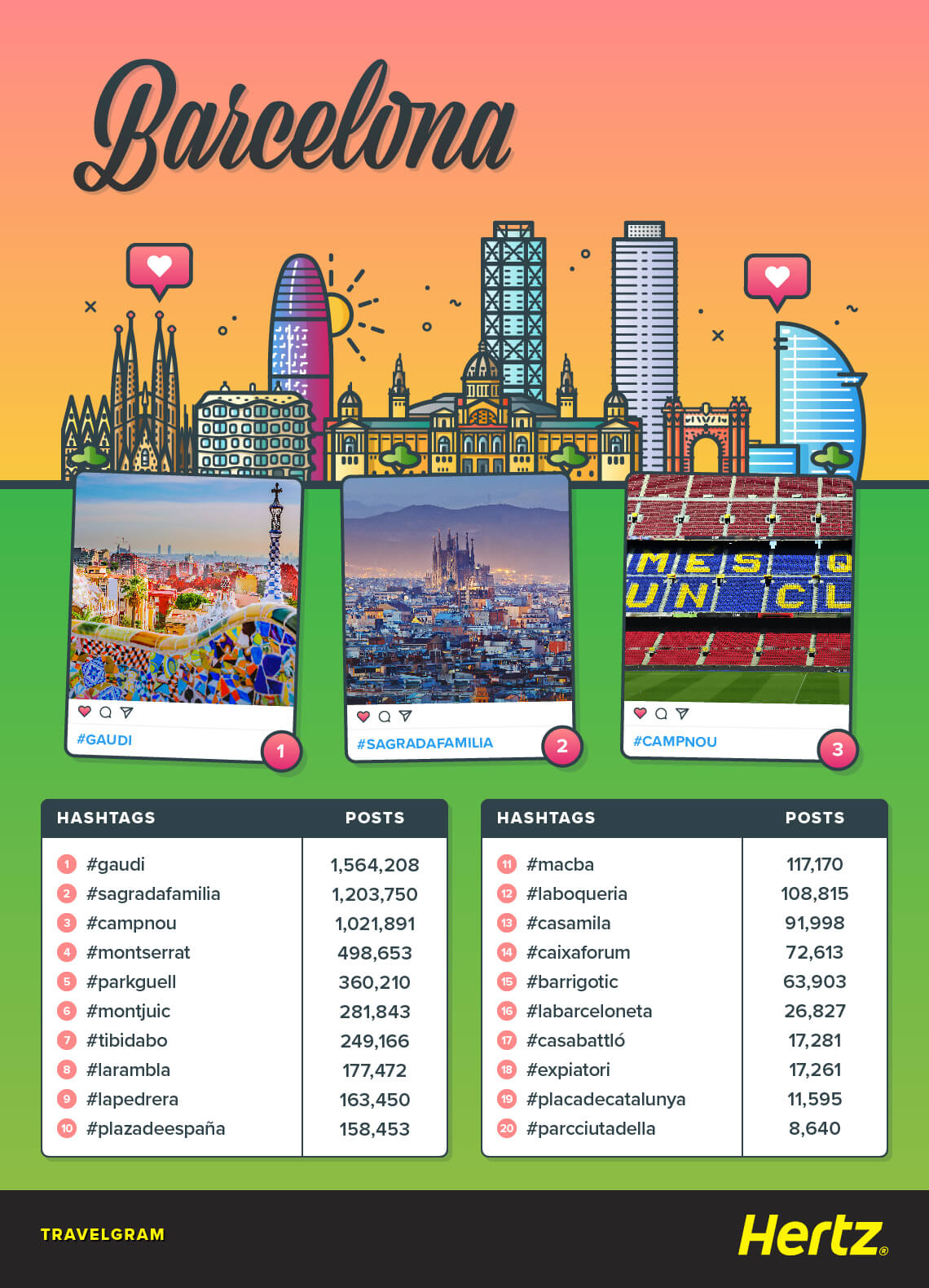 Barcelona's mix of ancient architecture, mouth-watering cuisine and its famous nightlife, all make for an appealing destination. And judging by the 35 million photos of the city, all three are providing plenty of memorable photo ops for visitors.
A breath-taking blend of Art Nouveau and Gothic architectural influences, Sagrada Família (1.2m Instagram tags) is one of Europe's most prestigious works-in-progress and the most visited monument in all of Spain.
Building of the basilica began in 1882, with a planned 18 spires to represent Jesus, Mary and the Apostles among other dedicated figures. Architect Antoni Gaudí's work here is immortalised on the UNESCO World Heritage Sites list; his name alone makes up some 1.5 million tagged photographs of wonders in and around Barcelona.
More than a million photographs on Instagram are dedicated to worship of a different kind – the Nou Camp stadium which has hosted footballing giants FC Barcelona for 60 years. Seating nearly 100,000 fans, the stadium has witnessed some great sporting moments including Manchester United's dramatic 2-1 win in the 1999 Champions League final and Barca's own domestic dominance.
Rome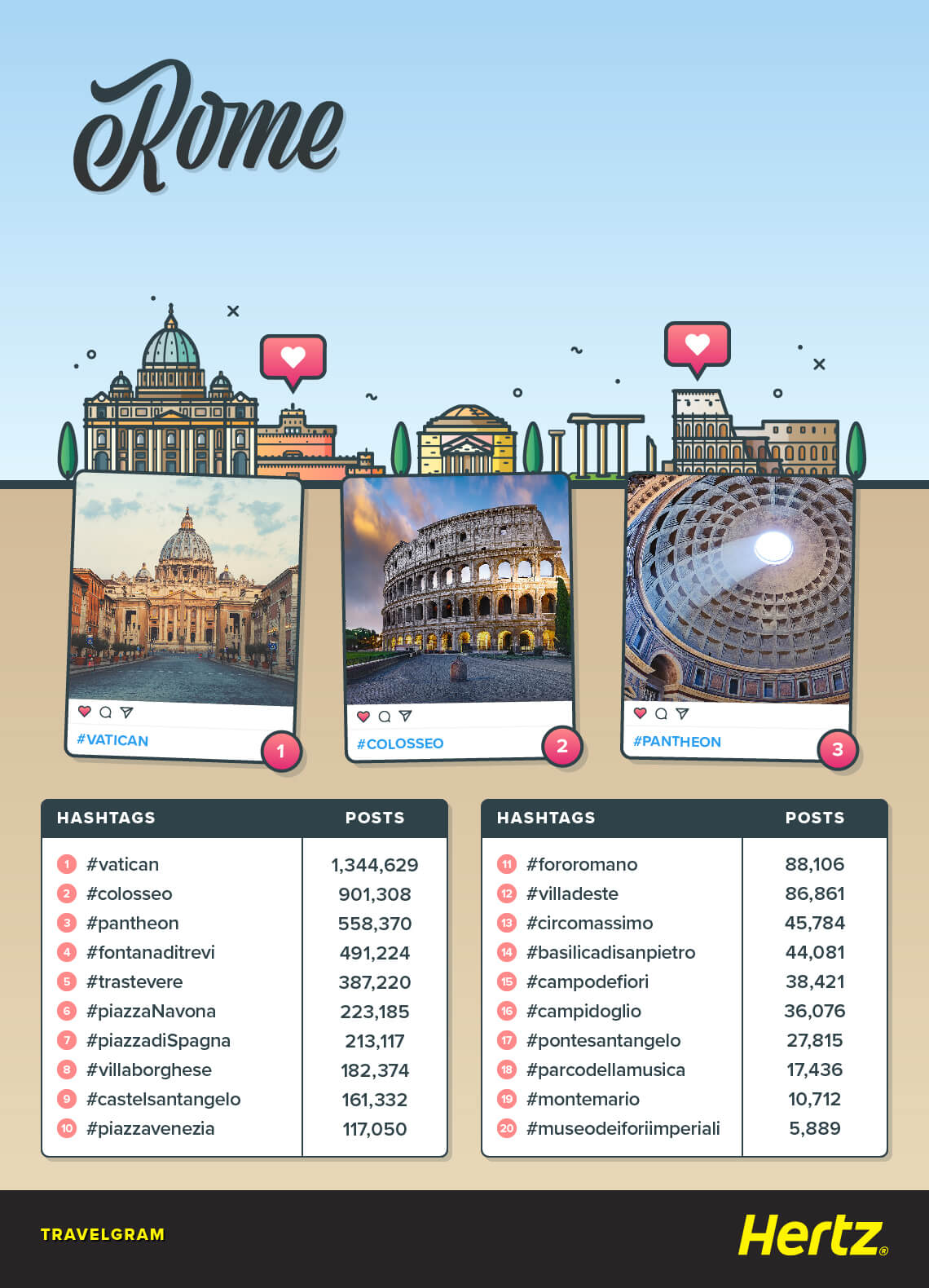 With fascinating Roman and medieval architecture, sprawling town squares and some of Europe's most beautiful parks and green areas, Rome has got it all. Work is always ongoing to uncover the archaeological secrets of Roman Italy, and it's one of the religious capitals of the world too.
St Peter's Square, the museums and the Sistine Chapel are all popular elements which make up the historic Vatican (1.3 million tagged pictures on Instagram). The Roman Catholic capital of the world, the Vatican is packed with the kind of striking architecture that Italy is so renowned for. The ceiling of the Sistine Chapel is one of the world's most iconic artworks – painted by Michelangelo, it depicts Bible passages including The Creation of Adam, which were strategically placed as a symbol of the path towards Grace as you enter.
One of the best examples of ancient Roman culture still standing, the awe-inspiring Colosseum counts for 900,000 pictures of Rome which have been tagged on Instagram. The vast amphitheatre held around 60,000 spectators for ancient entertainments, gladiatorial combat and re-enactments of famous battles. Legend has it that the arena was often filled with water so the Emperors could re-stage seafaring victories.
Berlin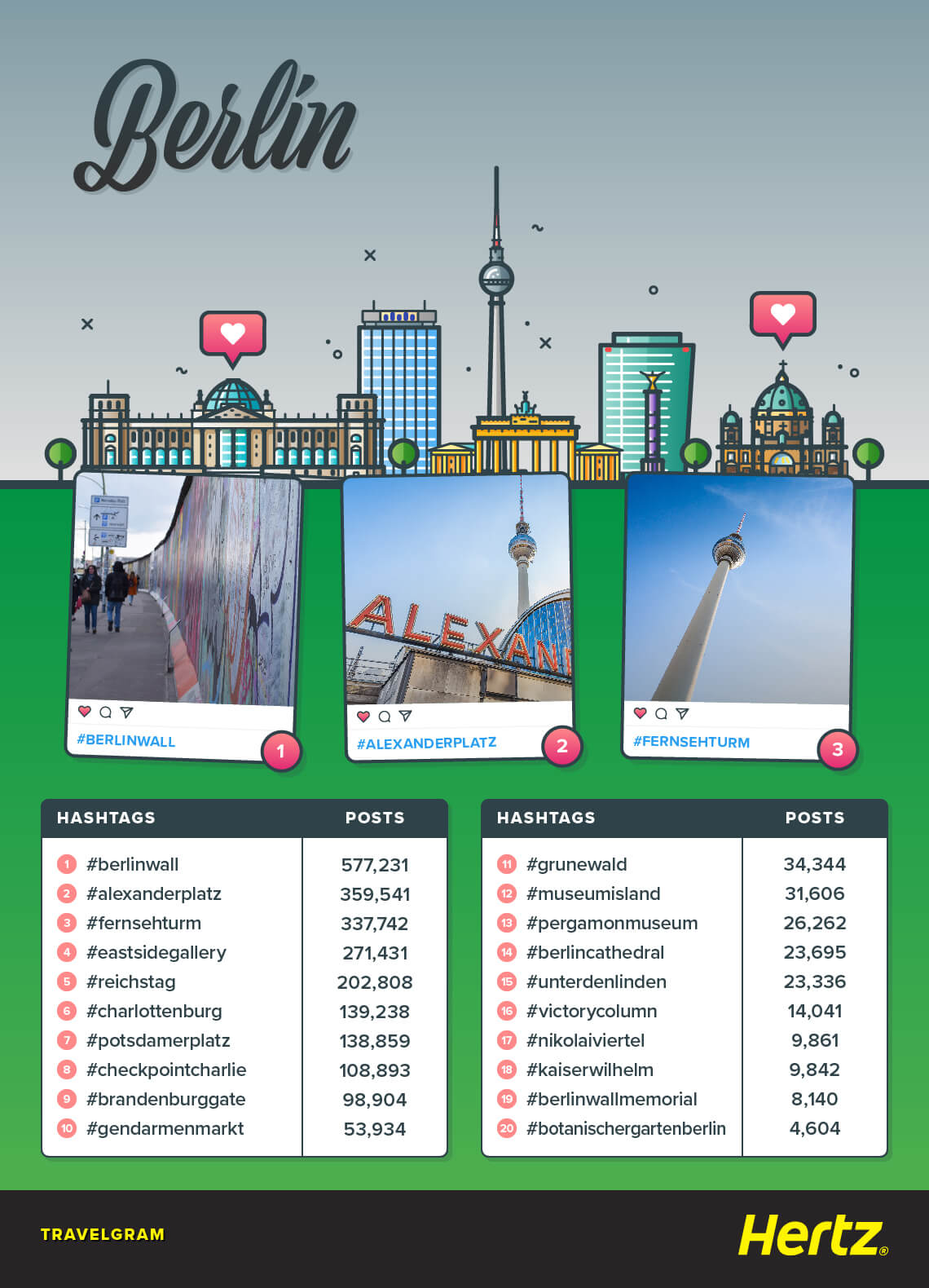 With over 26 million Instagram tags, it's small wonder that visitors to Berlin can find so much to capture. The German capital combines Cold War intrigue with eye-catching architecture both old and new as far as the eye can see.
Theremains of the Berlin Wall (577,000 pictures tagged)are just one example. Between 1963 and 1989 this 66-mile stretch of concrete was more than a symbolic divider. Although demolished in 1990, sections of the wall remain throughout the city, giving visitors an impression of the imposing structure which faced residents every day for decades. At the East Side Gallery (271,000 tags) there's a stretch of wall spanning the banks of the river Spree which has been covered with messages of peace and hope.
Like Big Ben in London, the Fernsehturm (338,000 tags) or TV Tower is always first in frame when there's a swooping skyline to be captured. Now open for tours, the TV Tower is one of the highest public viewpoints in Europe – and there's a café too so you can enjoy the views with a well-earned drink or bite to eat.
Guide to landmark photography
If you've been inspired by Europe's most impressive landmarks, here are a few tips on how to secure stunning shots  that will impress your friends on social media:
-       Recapture a classic. The hashtags are a great place to get started – find your favourites and see if you can recreate them.
-       Break the mould. If you want to try something different, take a good look around to see if there's a new angle to shoot from.
-       Get the settings right. Turn off the flash – natural light works much better whatever the time of day (or night). If there's a setting to take a series of pics at once, try it out – you never know which one will turn out best.
-       Experiment with filters. Whether it's a splash of sepia to an old inspiring landmark, or a way to make the blue skies even bolder, you can touch up your pictures to produce even more visually striking results.
-       Don't let the crowds put you off. A bustling place can add a sense of gravitas and wonder if you're able to capture that atmosphere.