Welcome to the wine capital of France. Bordeaux may not be as big or bold as Paris but it's certainly just as beautiful. Home to handsome 18th century buildings and stylish, leafy boulevards, this elegant destination is surrounded by vineyards, with many of France's finest wines produced in the nearby countryside.
If you're planning to explore the rural side of France or even head out to the coast, Bordeaux is the perfect destination. As well as villages and vineyards, there's a huge natural park peppered with lakes and pine forests within easy reach and beautiful beaches just an hour's drive away.
But make sure you don't leave Bordeaux before you've taken in all the best things on offer in this historic city. We've taken a closer look at some of its main attractions and some other highlights in the surrounding area.
History and architecture
The historic centre of Bordeaux, known as the Port of the Moon, was named a UNESCO World Heritage site in 2007. As you'd expect, there are a host of architectural treasures to explore here.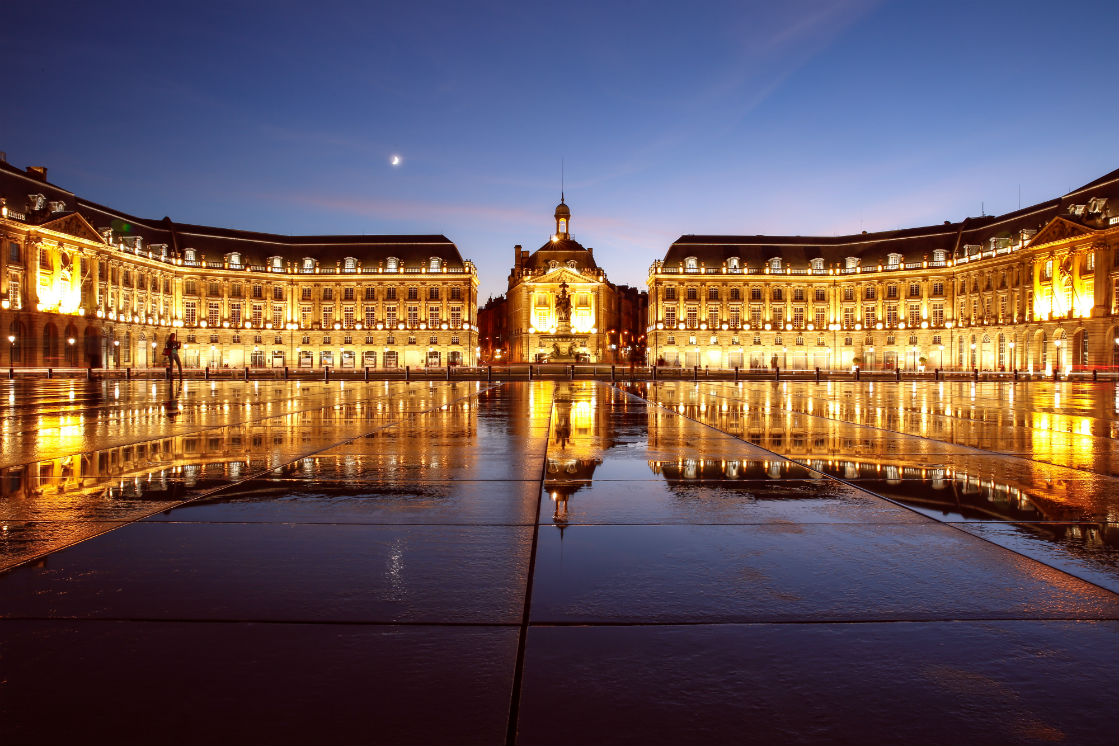 Many visitors choose to start their sightseeing with a trip to the city's most famous square, the Place de la Bourse. This graceful meeting point, constructed in the 18th century, has come to serve as a symbol of the city and is where some of its most spectacular sights can be found.
Designed by Ange-Jacques Gabriel, the personal architect of Louis XV, the square once featured a statue of the king right at its centre. This was destroyed during the French Revolution and in its place now stands the Fountain of the Three Graces, one of the most photographed monuments in the city, featuring three figures pouring water into the pool below.
While here, make a beeline for the Miroir d'Eau, a shallow pool that, when viewed from a distance, reflects the grandiose buildings all around it. This is the world's largest reflecting pool and is well worth a look - make sure you visit at night to get the best view.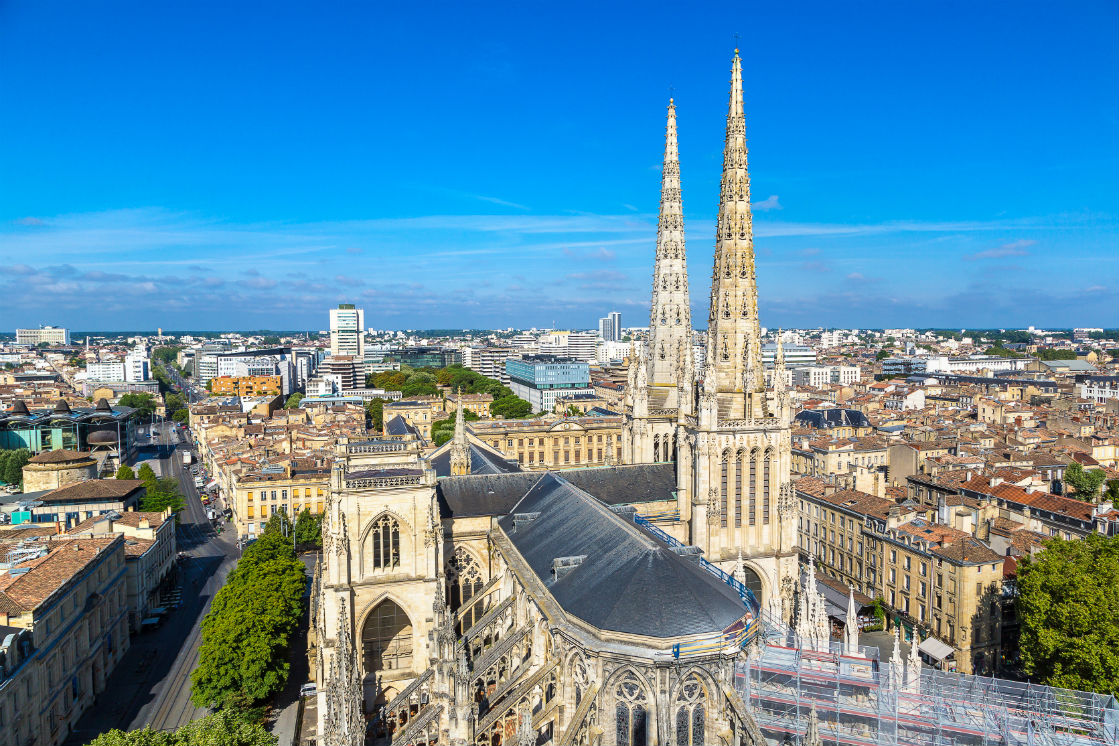 Less than a mile away from the Place de la Bourse you'll find another of Bordeaux's most famous buildings, Cathédrale St-André. The oldest part of this structure has stood at the site since 1096 but most of the parts visible today date from between the 13th and 14th centuries.
Admire the carved exterior before turning your gaze to the equally impressive Pey Berland bell tower, named after a former Archbishop of Bordeaux. This medieval Gothic structure had to be built on its own site because the cathedral tower was unable to hold the weight of its huge tenor bell. Head inside and climb the 229 steps to the very top of the tower, where you'll be rewarded with panoramic views of the city below. 
More architectural beauty can be uncovered at Triangle d'Or, where neoclassical masterpieces grace the trio of boulevards. Place de la Comédie is the epicentre, where the main streets of Bordeaux converge, including Rue Sainte Catherine. One of the longest pedestrianised shopping streets in Europe, it snakes through the city from north to south, from the Place de la Comédie to the Place de la Victoire. Enjoy a leisurely stroll browsing well-known stores and quirky boutiques.
Place de la Comédie is also overlooked by the Grand Theatre. This magnificent 18th century building is home to the Bordeaux National Opera, with live performances staged through much of the year. If you don't have tickets to see a play, ballet or opera performance you can still take a guided tour of the building. Its interior was restored in the early 1990s and today you can admire the lavish décor of blue, white and gold that reflects the building's 18th century heyday.
What to do in Bordeaux
Bordeaux has some truly world-class architecture, but that's by no means all that's on offer in this vibrant city. There are a number of fascinating modern galleries and museums, including the Base Sous-Marine at the Bassins à Flot on the Garonne River.
Get a glimpse into Bordeaux's maritime history at this former submarine base built by German forces during World War II. This imposing concrete structure now houses a modern cultural hub, with art exhibitions and live music concerts taking place all year round.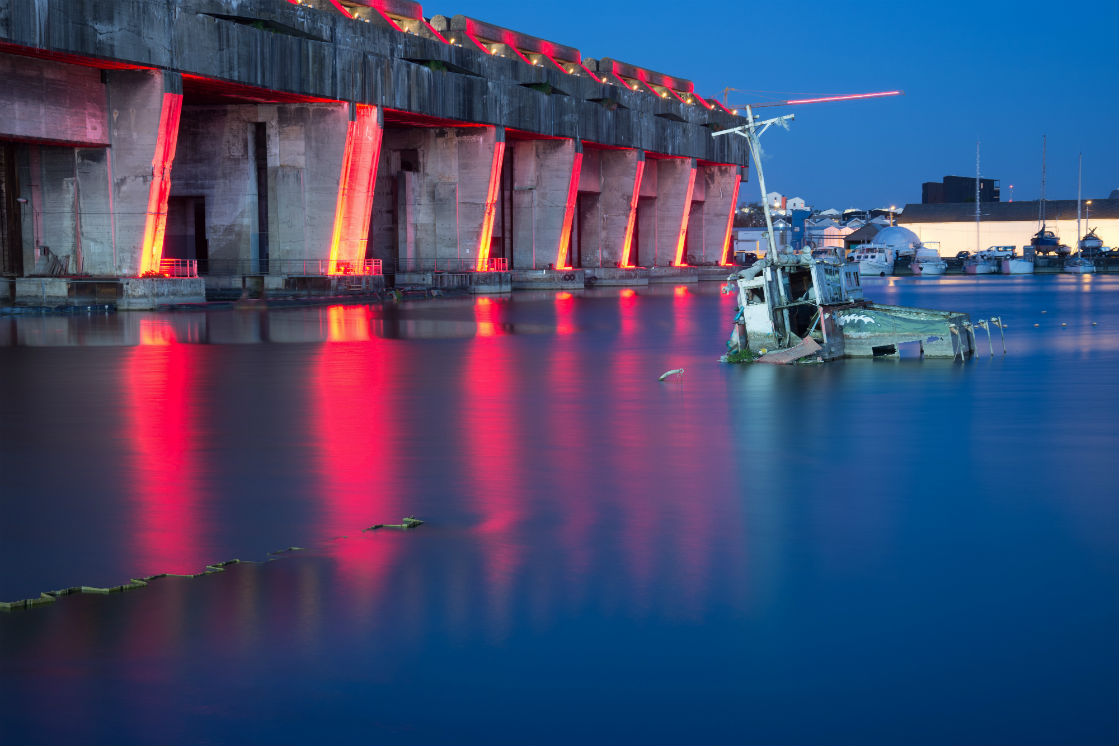 If you're eager to take in more modern culture during your stay, head to the Musée d'Art Contemporain – also known as CAPC. Venture to this restored brick warehouse on the banks of the river and explore three floors filled with modern art exhibitions, many created by artists from in and around Bordeaux. Guided tours are available at weekends and there's a café on the top floor where you can enjoy lunch with a view.
Also well worth a visit for art lovers is the Musée des Beaux Arts. Wander down the halls of this exquisite 18th century gallery and marvel at works by artists from France and Europe, including Picasso and Renoir among many others.
With architecture and art ticked off, turn your attention to the city's other great treasure, wine. Bordeaux won its place among the wine elite centuries ago and is proud of its position at the heart of the French wine industry. This passion is best demonstrated at La Cité du Vin, one of the top tourist attractions in Bordeaux.
The wine museum is housed in an impressive building on the banks of the river, its distinctive curved shape and gold-tinted panels making it an unmissable addition to the city skyline. Inside, take a tour to learn how vines are cultivated in different regions, as well as the cultural significance of wine through the ages. At the bar you can sample labels from all over the world, along with a number of grape juices. If you do sample the wine, make sure you're not doing any driving.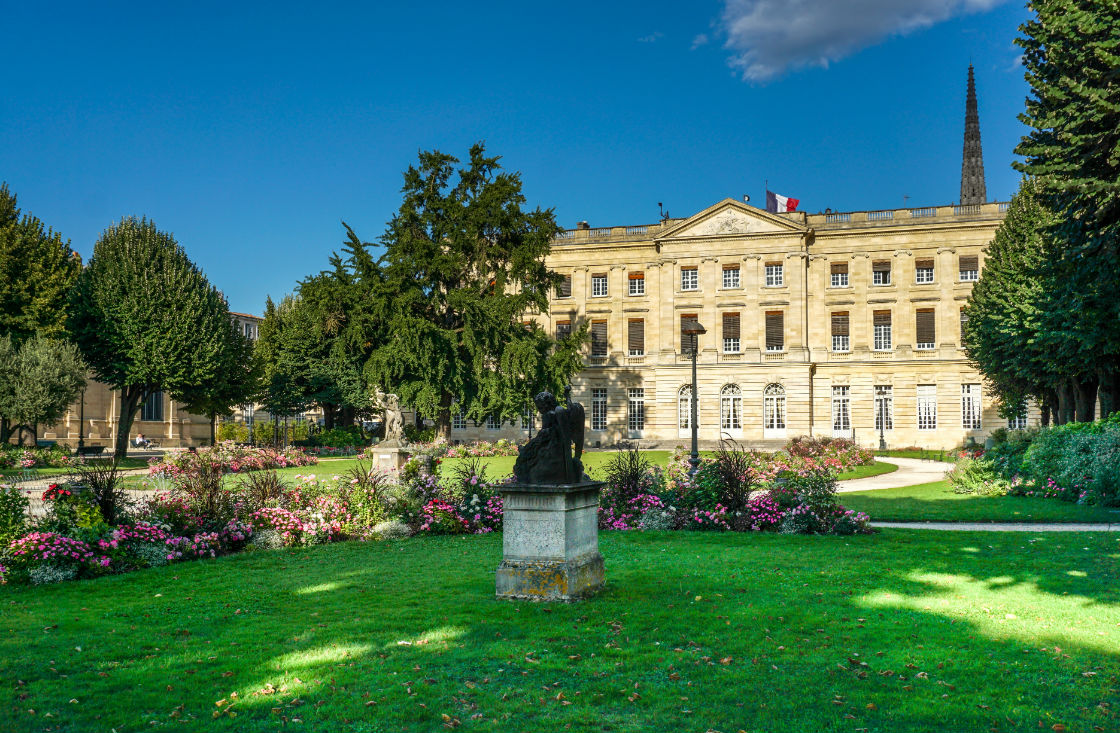 Take a break from all the sightseeing and uncover a calm oasis in Bordeaux's centre where you can relax with a picnic or just enjoy the scenery. The Jardin Public is a sprawling park right in the heart of the city. Inspired by the manicured gardens at the Palace of Versailles, it's home to beautiful flower displays and exotic plants as well as a lake and a restaurant serving lunches, hot drinks and ice cream.
Where to stay and eat in Bordeaux
Bordeaux hotels
Bordeaux may not be as big as Paris or Marseilles, but it certainly rivals these larger cities for stylish hotels and apartments.
If you're planning to indulge, try the five-star La Grande Maison de Bernard Magrez on Rue Labottière in the city centre. Housed in a former 19th century mansion, this hotel boasts sumptuously decorated rooms, complete with period furniture and a restaurant with two Michelin stars.
Also right in the heart of the city, opposite Le Grand Theatre, is Hotel de L'Opera. Some of its rooms have balconies with views of the opera house and the river, and all include private bathrooms and stylish décor. There's also a breakfast bar where you can fill up before a busy day of exploring the city.
For something a little different, head to La Villa Bordelaise, close to the river and the main shopping areas. With five rooms named after cultural figures, this guesthouse also has a peaceful garden and spa with a jacuzzi. Food is served in the lounge area and on the terrace, where you can relax with an aperitif in the evening. You'll also be perfectly placed to head out into the city to explore the restaurants and bars nearby. 
Bordeaux's best restaurants
Wine may have long been Bordeaux's most famous export, but the city now boasts a gourmet culinary scene to satisfy the taste buds of any keen foodie. Vibrant food markets, traditional neighbourhood bistros and fine dining restaurants all play a part in the gastro revolution here, providing a huge choice of dining styles and cuisines to sample.
During a day of sightseeing in the city centre, stop off at Le Bistro du Musée, opposite the cathedral. Here you can enjoy classic French dishes such as lamb shank and steak béarnaise, as well as plenty of seafood options.
For an authentic Bordeaux experience, try La Brasserie Bordelaise on Rue Saint-Rémi. The eatery specialises in rich meaty dishes, made using the finest local ingredients, with a huge variety of wines to accompany food. Juicy steak, grilled duck breast and foie grass pasta are among the top picks of the menu. 
If you're looking for meat-free meals in Bordeaux, there are some good options available. Try Kitchen Garden on Rue Sainte-Colombe, a vegetarian restaurant and juice bar where the menu changes daily depending on the ingredients available at the local market, or head to La Soupe au Caillou, in the heart of the Saint Michel district. This restaurant and tearoom offers tasty home-cooked dishes, with vegan and gluten-free options available.
Beaches near Bordeaux
Squeeze some time into your trip for a visit to the coast. There are lots of attractions on offer in the centre of Bordeaux but to really enjoy the warm sunny climate of southwest France you can drive just a short distance out of the city to one of the beaches nearby. We've taken a look at some of the best resorts within easy reach.
Take a scenic drive to Arcachonan idyllic seaside spot that's home to beautiful beaches with fine golden sand. One of the most popular is Pereire beach, with its long shoreline that boasts excellent sports facilities along with a shaded promenade and cycle paths nearby.

Slightly quieter is Eyrac beach, located at the entrance of the marina. This is the most sheltered of Arcachon's beaches and offers excellent views of the surrounding resort. But there are plenty of other options on offer, whether you're looking for a quiet relaxing cove or a large, family-friendly beach.
Arcachon is famous for its oysters – you'll see lots of poles rising out of the water that mark the locations of oyster beds. As you'd expect, there are plenty of restaurants where you can sample the town's most famous delicacy along with lots of other fresh seafood. Chez Pierre is one of the best – tuck into fresh oysters as you enjoy views of the seafront from the terrace.
Elsewhere on the coast is Lacanau, a surfer's paradise. Enormous waves roll in from the Atlantic and crash into the golden shores here, perfect for board masters. Not a surfing fan? The beach is more than eight miles long so there's plenty of space to find a peaceful spot for a seaside picnic or to simply soak up the sunshine.
Hikes and walks near Bordeaux
Bordeaux has some great beaches on its doorstep but it's also a perfect base for channelling your inner explorer and trekking through the French countryside.
Not far from the city is the Landes de Gascogne Regional Natural Park, a vast stretch of land along the South Gironde coastline that consists of pine forests, valleys and wetlands. Let the hustle and bustle of the city fade away and breathe in and enjoy the fresh country air.
There are plenty of hiking and cycling routes around the park, along with lakes where you can hire canoes, paddle boards and peddle boats. For some excellent scenery, head for the the Mios-Bazas trail, where you can enjoy hiking along a peaceful route surrounded by the Landes forest. The route ends in Bazas, a historic town surrounded by Bordeaux's vineyards to the north, with a number of historic sites including a Gothic cathedral dating back to the 13th century.




Whether you're planning a day of walking in the countryside, a trip to the beach or plenty of shopping and sightseeing, Bordeaux embodies the very best that France has to offer. To really make the most of your visit, car hire in Bordeaux allows you to explore the city along with some great attractions in the surrounding area.