Get your camera at the ready. The Grand Canyon, Arizona, is one of those wonders of the world that fills visitors with awe. It's not just the sheer scale of this geological marvel, but the sense of space, the colours that fill the air at both dawn and dusk, the feeling of mighty powers beyond our understanding.
It's the Colorado River that has carved the land here for millions of years, meaning you're seeing some of the oldest exposed rock in the world, in a panoply of hues and breathtaking formations. It's a place to gaze, sit, explore, hike, raft and camp, and you'll know the very best places to go with this ultimate guide.
Where is the Grand Canyon?
The Grand Canyon is in Arizona – although some people head here after visiting Utah, or Las Vegas in Nevada, the entirety of it is in Arizona.
It stretches for some 277 miles, spanning 18 miles at its widest point. It's in the northern part of the state, and the nearest city is Flagstaff, which is just over an hour away by car from the Canyon.
It all sits within the Grand Canyon National Park, which is visited by millions of people each year. One of the best ways to explore it all is with car hire in Arizona, as you can drive the length of the Canyon in about five hours.
When to visit the Grand Canyon
The lion's share of visitors head for the South Rim, as it's open all year round, while the North Rim is closed to cars from November to the middle of May. If you don't mind crowds, the Canyon shimmers and sparkles in summer, and there's more daylight too. If you're during peak season, make sure you book accommodation far in advance.
If you can choose, aim for autumn or March to May, when it's both quieter and cooler. In summer, the heat can vary, with the top temperatures – often too hot to hike – in the base of the Canyon. But what is 40°C by day can drop to below 10°C at night, so don't forget your blankets if you're camping out.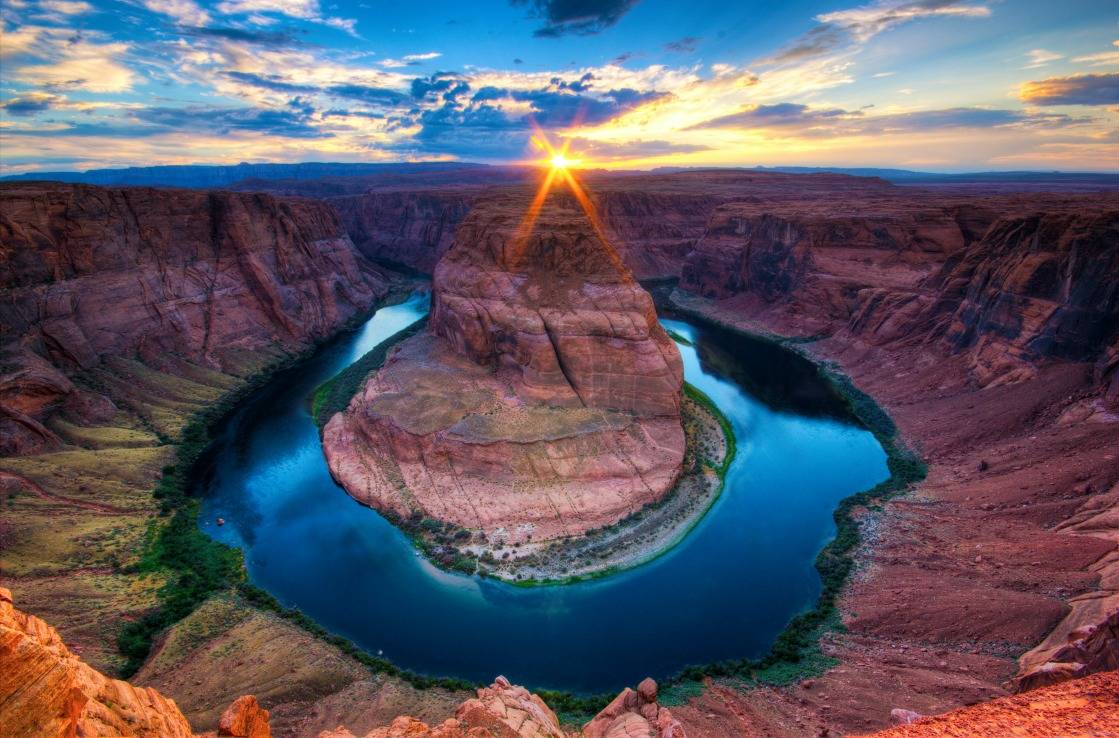 The hottest time of day is 10am to 4pm, roughly, and there are plenty of indoor attractions near the South Rim if you want to do your Canyon sightseeing when things cool down in the evening – it will still be light.
If you're planning a winter trip, be aware that much of the North Rim will be out of bounds due to snowfall, lasting until late spring. There's more to see on the South Rim, and more winter facilities, too. Again, temperatures fluctuate quite wildly, so make sure you pack some layers in your suitcase.
Where to stay around the Grand Canyon
Far and away the best place to stay when visiting the Grand Canyon is the South Rim. Because it's open all year, there are more hotels, lodgings, restaurants, attractions and things to do here – it's much more geared up for visitors than the North Rim, although the latter has some fine places to put down roots for your trip, too.
There are a number of lodges within the park itself, usually situated close to the edge of the Canyon. They book up for summer well in advance, so make sure you plan ahead if you want to stay at El Tovar, Bright Angel, Thunderbird, Maswik or Kachina Lodges. The first two are the prettiest, in great locations, while some of the others have the comforts of modernity.
There's only one place to stay below the rim of the Canyon, Phantom Ranch, reached on foot, mule or raft only. It's a simple, fuss-free place, without TV or phones – ideal if you want to escape the hustle and bustle.
Elsewhere, there are several towns and villages that are ideal for staying in. Grand Canyon Village is close to the main entrance and has a handful of hotels, while the town of Williams is on Route 66 and is a lovely, quirky place in its own right. If you're happy to drive, set up camp in Sedona or Flagstaff, which have a mixture of chain and independent hotels, as well as plenty of restaurants covering all bases.
The essential Grand Canyon
One of the great joys of the Grand Canyon is that it isn't just one centralised visitor attraction where people line up for their chance to peer over the edge. No, it's a huge park stretching for hundreds of miles with a huge range of places to visit and things to do.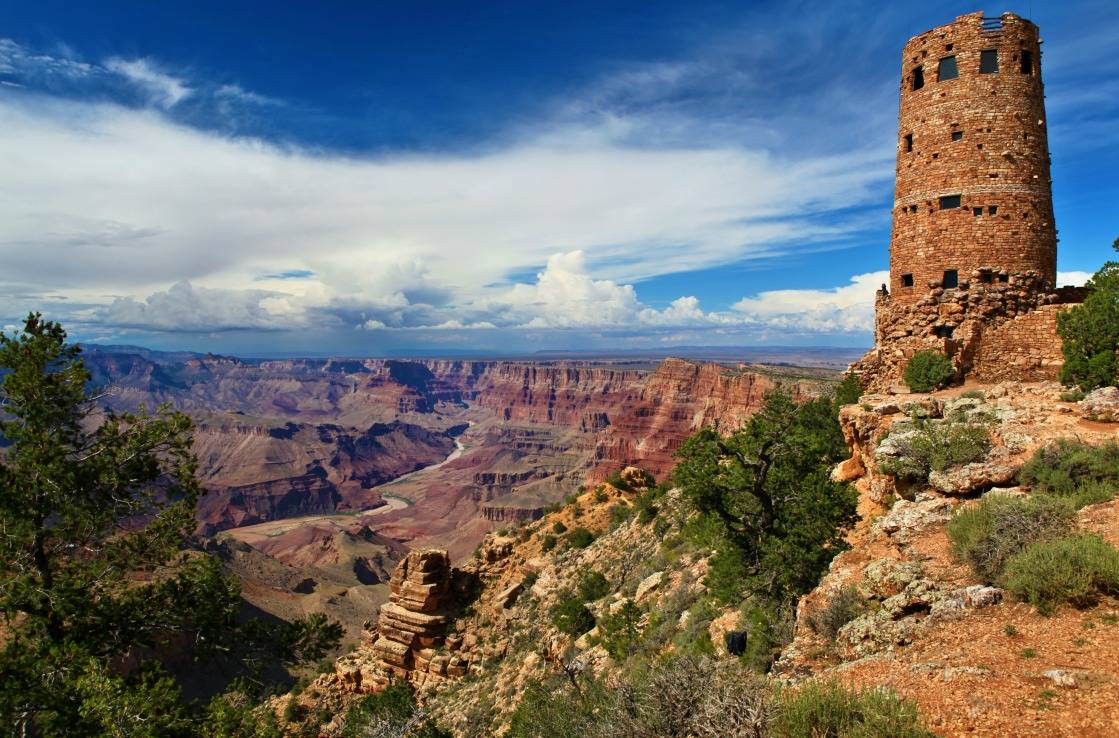 You can come here to gaze down from the rim at the rock and the billions of years of geological history it lays bare. Or you can come to gaze up at the stars, raft on the river and search out the vividly coloured, teetering rocks that defy gravity.
Visiting the North Rim
Remoter, quieter, but no less stunning, the North Rim is the part of the Grand Canyon that most visitors never see. Partly that's because of the winter weather closure – it's shut from mid-October to mid-May, but also because it's a little harder to get here. But it's worth it. This is a wild and rugged landscape, with great hiking trails at all levels, a visitor centre and no crowds to contend with.
You can tour with Rangers and learn about the local flora and fauna, or just take a scenic drive and enjoy the relative solitude.
Riding the river
If you descend to the base of the Canyon, you can have fun on the river that has, for time past counting, wound its way through the rock and formed this dramatic valley. You'll find quiet stretches where you can camp, organised tours and pontoon rides that navigate the smoother waters. You'll also find river rafting opportunities that are a bit more white knuckle for thrill seekers.
Organised boat trips can range from one day trips to a fortnight and can also be on anything from kayaks to larger boats – they're safe and well provisioned, but also very popular and so you'll need to book well in advance. As well as fun and thrills, you'll also see some spectacular sights.
A bird's eye view of the Grand Canyon
If hiking or rafting sounds too much like hard work, then opt for a helicopter tour and see the Canyon in comfort and luxury. There are plenty of operators in Arizona, and they're a great way to see the highlights from a perfect, bird's eye view.
Choose from options that include champagne flights, visits to the bottom of the valley, and even some that will fly you to a remote area where you can enjoy dinner for two as the sun sets. You can expect pilot commentary or audio guides to help you understand the major landmarks, and you'll see things you simply can't see from land.
For those who want the ultimate in romance, you can even book a helicopter wedding ceremony and marry your betrothed in the Canyon.
The spectacular Skywalk
Over on the West Rim, the Skywalk is the best vantage point for the Grand Canyon for those coming over from Las Vegas. It actually sits outside of the National Park on a Native American Reservation and, while expensive, is a never-to-be-repeated experience.
To get there, you'll have to park up and take the shuttle bus to Eagle Point. Expect queues at peak times, and you can't take your own photos on the Skywalk, but the clear glass offers a stunning view for those unafraid of heights.
Opinion is split on whether it's a must-do for visitors – some love the sensation of hovering above the Canyon, but the cost and the restrictions put some people off – especially when there are much more dramatic views to be found elsewhere in the National Park.
The Grand Canyon's other gems
The Grand Canyon doesn't have to be about ticking off the major sights and visitor areas. It's so huge that you may just find a quiet, less appreciated area that drives home just how sensationally beautiful it really is.
Perhaps that spot will be the otherworldly Antelope Canyon with its colourful waves of sandstone rock in seemingly impossible sinuous shapes. You have to book a tour to enter it – it's on a Navajo Reservation – but it's incredible.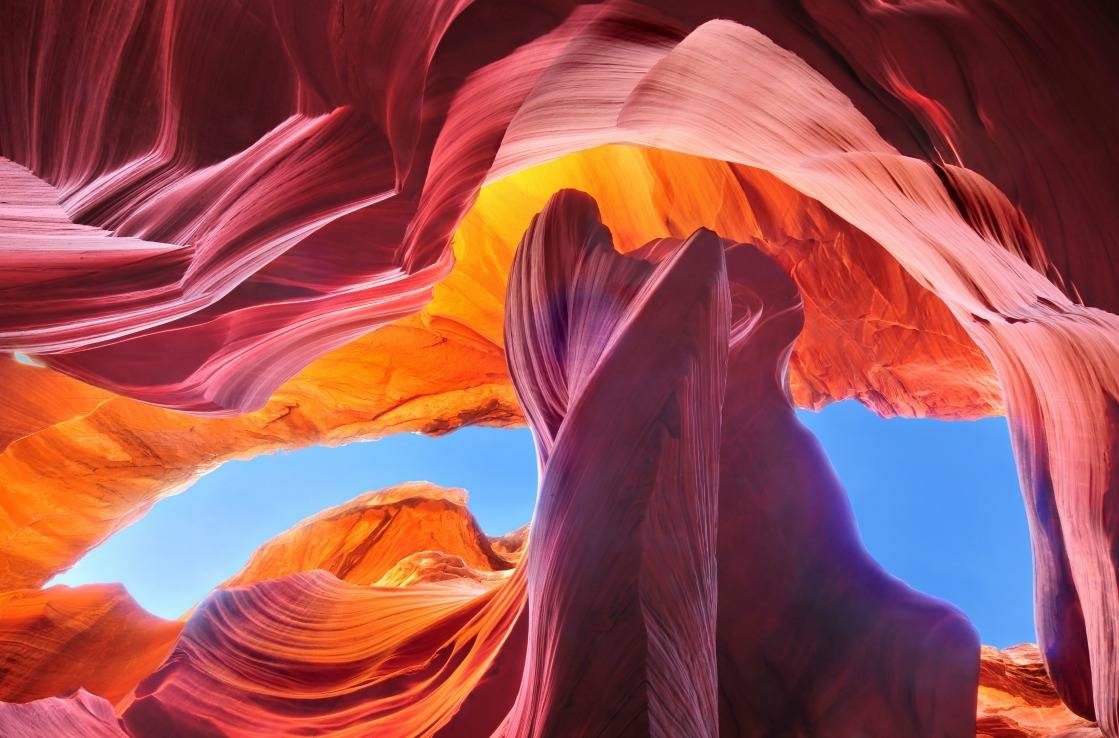 Or maybe it'll be Shoshone Point with its celebrated views. Many people never venture here as you have to cover the last mile on foot (don't worry, it's mostly shaded from the sun), so it's a lovely place to take an unforgettable visit away from the crowds.
Another of the pleasures around here is to search out Desert View and its 1932 tower. Some 70ft tall, it has winding stairs and stone slats to give you treasurable views.
With Arizona car hire, you can feel like you're on top of the world.