Most of us will need to hire a van at some point in our lives, whether it's to move into student digs or a new home, move back in with the parents (hey, it happens to the best of us), or to help with a big DIY or gardening project.
But before you book a van – make sure to have a read through our ultimate guide to hiring a Hertz van: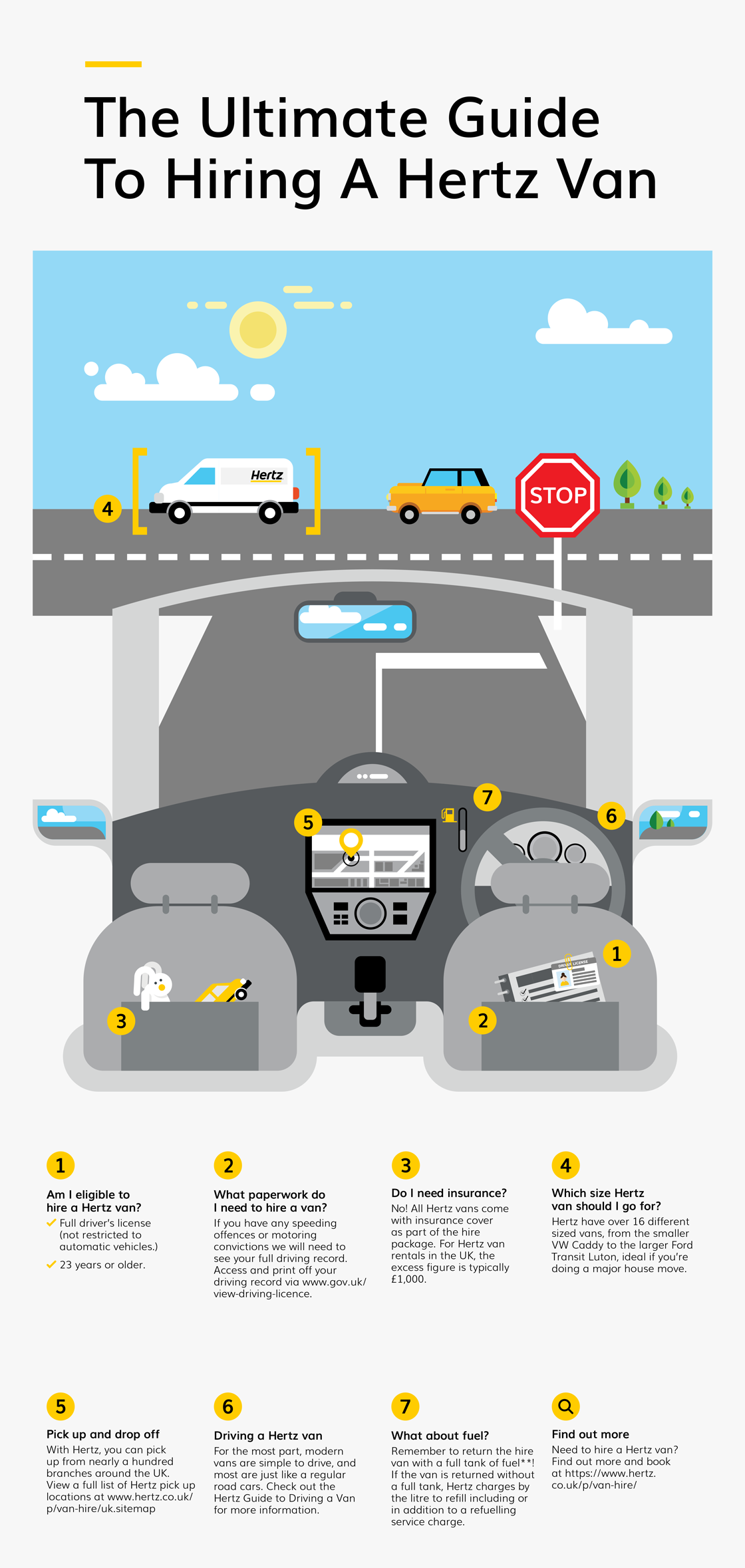 Age and eligibility
The good news is that you don't need any special qualifications to hire or drive a van, but you do need to meet certain criteria:
You must have a full UK driving licence (that's not restricted to automatic vehicles)
You must be 23 years or older (to drive a Volkswagen Caddy or Volkswagen Transporter category size vans)
You must be 25 years or older (to drive Hertz larger vans, like the Ford LWB Transit, LWB Mercedes Sprinter and the Ford Transit Luton)
Speeding offences or motoring convictions
If you have any speeding offences or motoring convictions – it's usually not a problem – but we will need to see your full driving record. There are two ways you can access your driving record:
You can use the government website to print out a copy of your Licence Summary, which is valid for 30 days
You generate a Unique Code, which Hertz can use to view your summary online. In both cases, go to https://www.gov.uk/view-driving-licence armed with your driving licence number, your National Insurance number and the postcode on your licence
Insurance – do you need it?
No! All Hertz vans come with insurance cover as part of the hire package. For Hertz van rentals in the UK, the excess figure is typically £1,000.
You also have the option to purchase Hertz' SuperCover protection if you'd like a totally worry-free hire arrangement*.
Pick up and drop off
With Hertz, you can pick up from nearly a hundred branches around the UK, with plenty handily situated outside town and city centres. So chances are you're only minutes away from your local branch. View a full list of Hertz pick up locations here.
Most customers tend to drop the van off at the same location they picked it up – but if you'd like to drop it off at a different location that may also be possible, subject to the vehicle type you are hiring and route that you intend to take.
A One Way Fee may apply for this service and you will be advised at the time of reservation if your journey is possible.
Fuel and returning the van
Most Hertz hire vans are fuelled with diesel. However, smaller models such as the Ford Fiesta van may be petrol powered. You can check availability and specifications with your local Hertz branch.
Regarding refuelling, you have three options:
Purchase the Hertz Fuel Purchase Option - A full tank of fuel is included in the hire charge and you don't need to refill before returning the van. Just remember, Hertz will not provide a refund if you return the van with a full tank of fuel.
Ensure you refill the van yourself with the correct fuel type**
If the van is returned without a full tank, Hertz charges by the litre to refill including or in addition to a refuelling service charge. Your hire agreement will indicate the specific charges.
Size matters!
Rent small with vans like a VW Caddy. Scale up to standard vans such as the Vauxhall Vivaro. Or go large with long wheelbase and bigger from the likes of the Ford Transit and Mercedes Sprinter.
Hertz have over 16 different sized vans to choose from – here are three of the most popular:
The VW Caddy
Ideal for transporting small items of furniture, gardening or sports equipment
700kg of total capacity
A load bay measuring 1.5 metres wide, 1.8 metres deep and 1.2 metres tall
The Ford Transit Van
The best option if you're moving large items of furniture
Up to 1,100kg total capacity
A very large load bay measuring 1.8 metres wide, 2.5 metres deep and 2.4 metres tall.
The Ford Transit Luton (also known as the Daddy of Hertz rental vans)!
This beast is ideal if you're doing a major house move with lots of furniture and other large items
A load space that's three times larger than the standard transit at 2.1 metres wide, 3.9 metres deep and 2.4 metres tall
Do you need help getting items in and out of van?
Getting large and heavy items such as furniture and home appliances like fridges and washing machines into and out of a van can be a challenge.
The solution is to hire a van with a built-in tail lift. This is a fold-out platform that lowers to the ground and then raises back up to the load floor, making is much easier and safer to load and unload large and heavy items.
Driving a Hertz van
For the most part, modern vans are simple to drive and have some great features, from reversing sensors to air-conditioning. Most are just like a regular road car, right down to features like ABS brakes, stability control systems, steering-wheel airbags and even stereo systems.
However, Hertz larger vans may be much bigger than any car you've driven before and particular care must be taken when loading and driving a van with heavy loads. To find out more, see the Hertz guide to everything you need to know about driving a van.
Need to hire a Hertz van? Find out more and book here. 
* The only exceptions are Hertz Wifi and Hertz NeverLost SatNav units and the keys to the van. Charges will be applied if those items are lost or damaged. You can check the availability of SuperCover with your preferred Hertz hire location.
**The location of filling stations vary, but in practice, Hertz asks that you refuel within 10 miles of the return location.