Heading to a festival this year? In case you're tempted to pack everything under the sun, we've put together the ultimate festival essentials checklist which should help you get organised.
In our list is a shorter checklist of items to carry into the concert area with you, and a longer list of camping essentials that will keep you comfy come rain or shine. (Hopefully, shine!)
We've also explained how we can get you to the festival in style and comfort, whether that's in a van (no one likes hauling a tent and chairs on a packed train), or by car...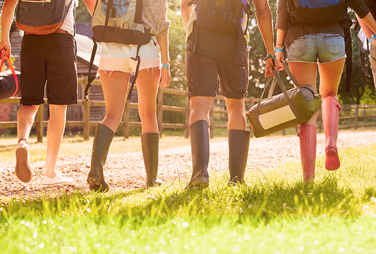 Deciding What to Pack for a Festival
Before we jump in headfirst, we'd like to note here that it's fine to stray from our festival packing list! But here are some quick tips to keep in mind as you decide what to bring, and what to leave behind:
●      Consider whether you actually need each item that you plan to bring
●      If you're going with a group, consider whether there are items you all can share. Think about pitching in for food, a big tent that will hold everyone, and other extras like a collapsible canopy
●      Know what's allowed on festival grounds and don't even think about taking risks by bringing in contraband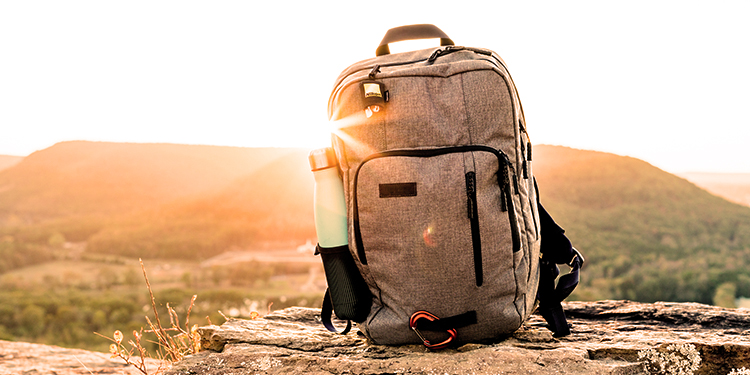 Packing Essentials for Concerts (Don't Leave these Items Behind in Camp)
Small, lightweight essentials get you into the festival and keep you comfortable. Keep them in a small rucksack or bum-bag right next to your body so nothing happens to them:
●      Your ticket
●       Your ID
●      Money / Cards
●      Your phone
●      Sunglasses
●      Hat
●      A tiny pack of tissues (in case the loos run out of toilet rolls)
●       A little packet of ibuprofen
●      A tiny container of hand sanitiser
●      A tiny container of sun cream
●      Tiny torch or head lamp if you'll be walking around after dark
●      A thin, lightweight poncho
Camping Essentials
You're camping, but that doesn't mean that you have to rough it. Here's a list of festival camping essentials that will make your area a comfy, welcoming place to spend your downtime.
●      Tent – Pick a tent that has enough room for you and your essentials, with enough height for you to stand up and walk around a little bit. If possible, choose one with a built-in "porch" where you can keep things like camping chairs, wellies, and other items secure. Bring a lightweight fiberglass hammer to ensure tent pegs are easy to secure.
●      Inflatable mattress – A roll mat is nice, but an inflatable mattress is even better. Be sure that you have a pump with batteries for re-inflating!
●      Bedding – You'll be sleeping on grass or another potentially uncomfortable surface, so consider taking one of these innovative backpacking pillows along. These pillows are tiny whilst deflated, and comfortably supportive once blown up. Bring a sleeping bag that's designed for the climate.
●      Earplugs and an eye mask – Festivals are loud, with light and noise that can continue 'round the clock. You'll be glad that you remembered these.
●      Camping chair – A foldable camping chair is essential for after-hours relaxation. If you want to go big, think about getting an inflatable sofa. Your friends will be amazed!
●      Collapsible canopy – A shade canopy is fantastic, great for keeping rain and sun off your cooking area and chairs.
●      Groundsheet – Place a tarp or a groundsheet under your tent to keep the floor dry and prevent the bottom of your tent from wear and tear.
●      Umbrella – Great source of portable shade, and essential for rainy weather.
●      Light Sources – You'll find that a hanging battery-operated lamp or two illuminates the inside of your tent beautifully, and for those after-dark trips to the loo or neighbouring campsites, a torch is essential.
●      Toilet rolls – Bring a little more than you think you'll need, but don't worry too much about running out since this is something you can probably purchase on-site.
●      Camp stove – If you plan to cook, bring along a stove, fuel, at least one versatile pan, a kettle, plates, cups, cutlery, and kitchen paper.
●      Washing up bowl – This is very helpful for washing up. Bring biodegradable washing-up liquid as well.
●      Reusable water bottles – You'll be glad you have water on hand for a little bit of washing up, cooking, etc. Collapsible water bottles save space when needed.
●      Trolley – if you'll be carrying water bottles and other heavy items long distances, consider bringing a trolley. Note that this might be useless in muddy weather; at the same time, it's definitely one of those things that will make life more comfortable.
●      Charger pack for your phone
●      Bin bags - They'll help keep your campsite tidy. And they aren't just for rubbish – they're great for keeping things dry and well-organised.
●      Clothes pegs - Handy for hanging wet items after the rain stops
●      Fun extras – think biodegradable glitter, body paint, inflatables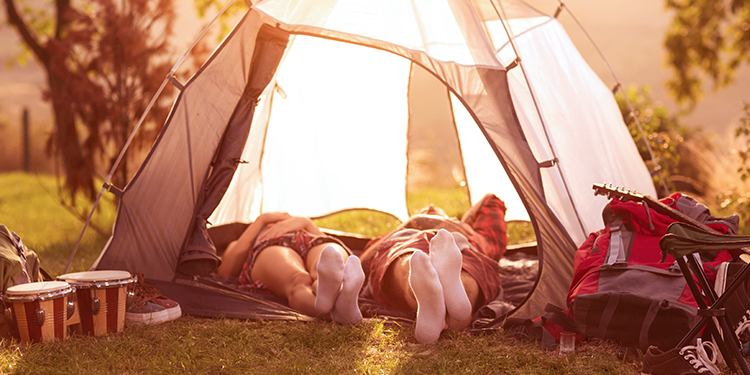 Food
Bring a big cooler for your food (as hopefully the British weather will be kind this summer)! Be sure to pay close attention to what's allowed and what's not in terms of packaging, i.e. whether glass bottles are allowed or not. Pack what you like! Here are some ideas to help you get started.
●      Coffee/tea
●      Biscuits
●      Fruit
●      Sweets and fruit
●      Nutritious drinks mixes with vitamins and electrolytes
●      Simple foods like couscous, quick rice, and dried noodles
●      Drinks, decant into plastic bottles if glass isn't allowed
Toiletries
Cleanliness is priceless, and a few essential toiletries will keep you feeling comfortable, especially if you'll be at a festival for a few days. Here are some suggestions.
●      Baby wipes
●      Face wipes
●      Biodegradable soap
●      Lightweight microfibre towel
●      Toothbrush, toothpaste, and dental floss
●      If you wear contact lenses, remember contact lense supplies, extra lenses, spare glasses
●      Shampoo & conditioner or dry shampoo if you're not certain of the shower situation
●      Hair brush and accessories such as clips and bands
●      First-aid kit and any essential medication
We're Here to Get You There...
Now that you know what to pack for a festival, consider how you'll arrive! Van rental is a fantastic way to travel in comfort and style, with room for your friends and your camping gear, all whilst saving wear and tear on your own car. This is a great way to split travel costs with friends, enjoy the journey together, and make fantastic memories that will last a lifetime.
Or, if you just need to hire a rental car or a vehicle with a bit more boot space, we have a huge range of cars to suit all budgets. Book direct with Hertz for the best possible rate.