Between its medieval cathedrals, illustrious landmarks, and cutting-edge technology, you won't run out of exciting things to do in Coventry. The city in the West Midlands is swathed in rich history, home to the legendary Lady Godiva and Saint George. But it has recently seen an urban resurgence and was crowned UK's City of Culture 2021.
This healthy blend of old and new makes Coventry the perfect destination to explore. Rest assured that your hunger for knowledge will be well fed as you meander the cobbled streets and quaint roads.
Hire a car in Coventry today and unearth England's hidden gem as you discover these top 10 attractions.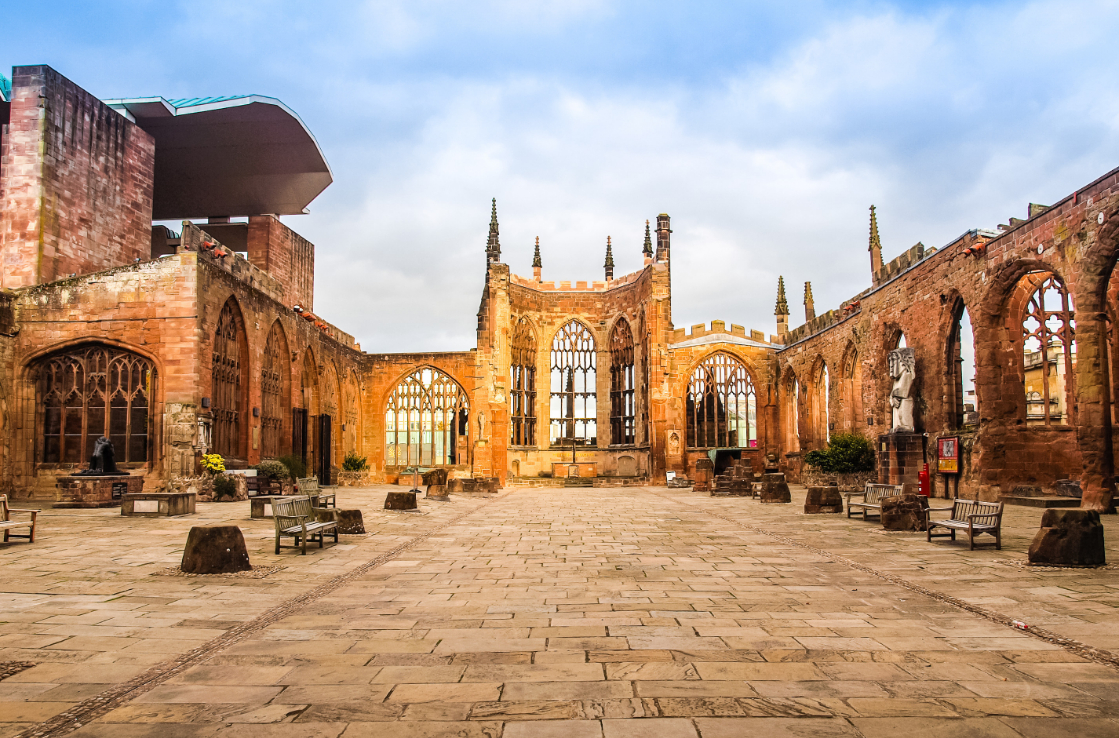 Coventry Cathedral
Priory Street, Coventry, CV1 5AB
Coventry Cathedral, also known as the Church of Saint Michael, remains one of the top things to see in Coventry. Revered as one of England's finest 20th-century buildings, the cathedral dramatically juxtaposes the remains of the old cathedral alongside it.
The original church sadly burned down following the Coventry Blitz in WWII, its remnants serving as a memorial. Designed by Sir Basil Spence, Coventry Cathedral's interior brims with 1950s and 60s architecture, with antique stone patterns and a renowned tapestry comprised of over 900 colours.
The cathedral is less than a 15-minute walk from the train station. Take a gander and marvel at the cathedral's intricate designs.
Coventry Transport Museum
Millennium Place, Hales Street, Coventry, CV1 1JD
The Coventry Transport Museum is a must-see if you visit Coventry – it is the birthplace of the British motoring industry after all. This vehicular hotspot draws car aficionados from across the UK to witness the beginnings of motor cars and bikes. Conveniently placed in the city centre, the museum is home to the largest collection of publicly owned vehicles.
Fuel your interest with the expansive collection showcasing the most innovative motor cars, commercial vehicles, and motorcycles of the last 200 years. Afterward, satisfy your need for speed and get acquainted with the world's fastest cars, Thrust SSC and Thrust 2.
The museum features an award-winning coffee house and picnic areas are dotted throughout to grab a bite between exhibits.
The Albany Theatre
Albany Road, Coventry, CV5 6JQ
Get involved in the thriving arts scene at the Albany Theatre, nestled in the heart of the city centre. The 1930s art deco auditorium is awash with rich heritage, comprising a proscenium arch stage and 620 seats.
Formerly a lecture hall for City College, the spectacular building today hosts over 80 shows a year. There's a wide range of touring shows and events guaranteed to suit all tastes – from professional ballet and comedy shows to off-Broadway specials.
The theatre, managed by the Albany Theatre Trust, encourages volunteers of all ages to participate with front-of-house, technical and administrative duties.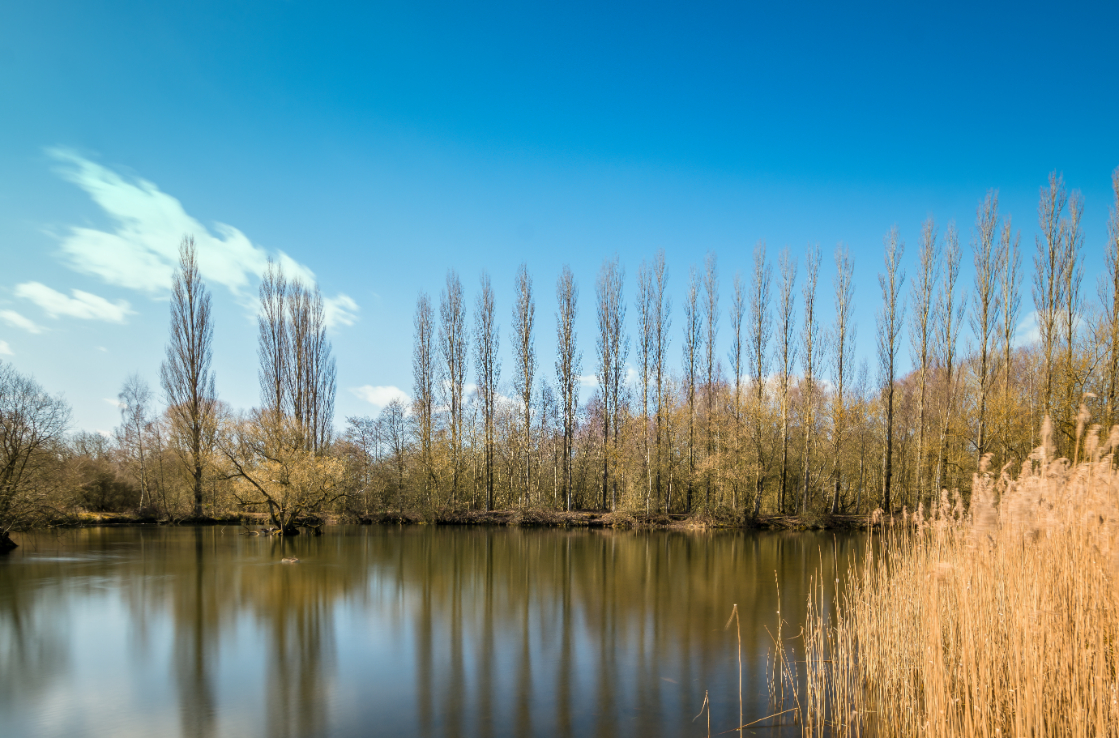 Brandon Marsh Nature Reserve
Brandon Marsh Nature Centre, Brandon Lane, Coventry, CV3 3GW
The Brandon Marsh Nature Reserve is a peninsula of wildlife set across 92 hectares. A haven for birdwatchers, the reserve offers a variety of grassland, calming reservoirs, reedbeds, and woodland.
Stop by one of the nine bird hides to see the area's finest fowl or explore the walking trails sprawled throughout the grounds. On your travels, you'll be able to spot the mouse maze, orchard, sensory garden, and undercover picnic spot.
Round off the day by visiting The Badgers Kitchen for food and refreshments. The Visitor Centre features a gift shop full of exciting animal-themed souvenirs.
FarGo Village
Far Gosford Street, Coventry, CV1 5ED
You won't find a finer example of Coventry's eclectic culture than FarGo Village. Located on the recently revived Far Gosford Street, this space boasts over 40 independent businesses. The Village is chock-full of niche artists' studios, food stalls, cafes, shops, entertainment spaces, and creative workshops.
It's also home to Sgt Bilko's Vintage Emporium, specialising in vintage and modern film, stage, and television memorabilia, and a street food hall serving up gastronomic goodness.
After exploring the distinctive shipping container stores and viewing the captivating street art and graffiti, catch an event at The Box. This multi-purpose event space offers a unique setting and is also home to several festivals and live performances.
Herbert Art Gallery & Museum
Jordan Well, Coventry, CV1 5QP
The Herbert Art Gallery & Museum cultivates art, history, and culture and is recognised as one of the top things to see in Coventry. Set in an impressive structure crowned with a ripple of glass, this space is jam-packed with archaeological relics, historic specimens, and visual art. You'll also learn the detailed history of Coventry from the 1500s onwards.
Wander through the building's exceptional architecture and interact with the latest displays. The Herbert also hosts the Coventry Archives, presenting historical documents, photographs, and archival resources. Book a special tour to uncover more of the city's rich history or join one of the inventive workshops for a more unique experience.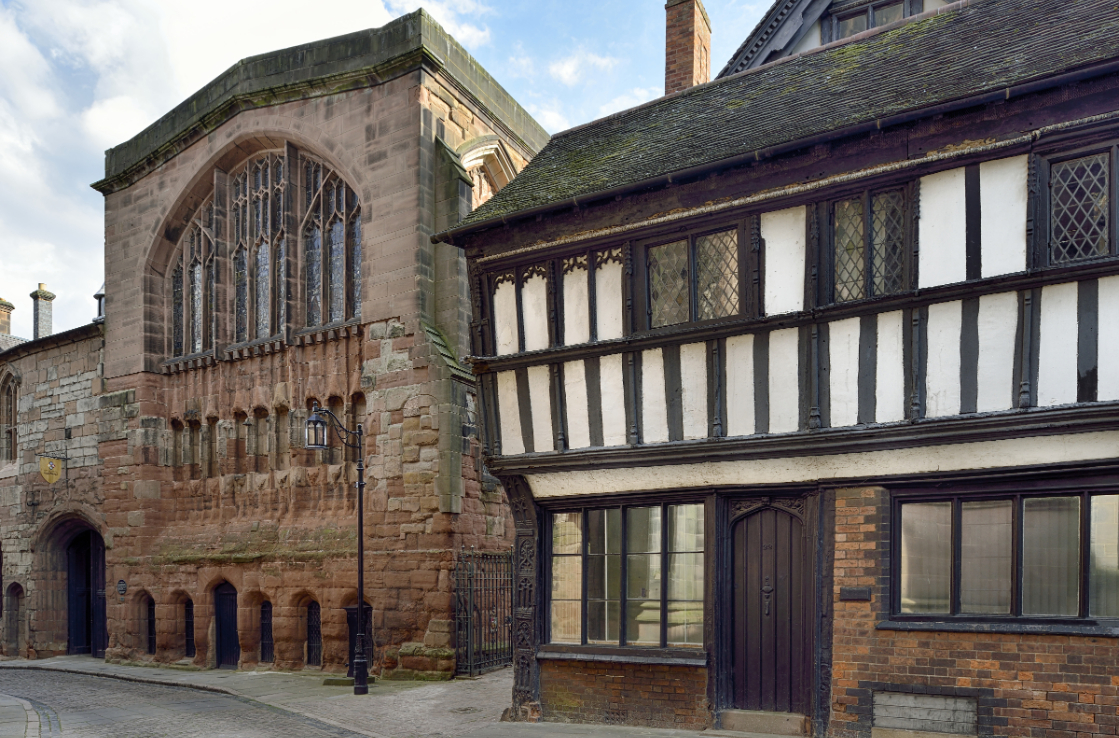 St Mary's Guildhall
Bayley Lane, Coventry, CV1 5RN
St Mary's Guildhall stands proudly beside Coventry Cathedral and is the epicentre of the historic Cathedral Quarter. This medieval monument was erected in 1352, making it one of Coventry's oldest buildings. The Guildhall served as a prison to Mary, Queen of Scots, and was also a regular theatre venue for a group of players with a rather prominent member: William Shakespeare.
Today, the refurbished space hosts weddings and private events. Inside you'll find, magnificent interiors, ancient furniture, and the Coventry Tapestry, 500 years old it is maybe the oldest medieval tapestry still at its original place in Britain.
During the summer, the Guildhall opens its doors to kids to provide family-friendly fun such as craft activities and ribbon weaving.  
War Memorial Park
Kenilworth Road, Coventry, CV3 6PT
War Memorial Park may seem like an unassuming expanse of greenery, but this space is steeped in history. It was established in 1921 in tribute to the Coventry soldiers who fell during WWI and is the city's largest park, spanning 48.5 hectares in size.
Within the lush greenery and cropped gardens stands the 90-foot War Memorial. The park features 800 memorial trees dedicated to those who lost their lives during war. Additionally, the Missing Faces project displays photos of 246 fallen locals.
Coventry Music Museum
80 Walsgrave Road, Coventry, CV2 4ED
Beyond the city's rich heritage and sacred history, you'll certainly find your groove at the Coventry Music Museum. Curated by music historian and journalist Pete Chambers and his wife Julie, this vibrant museum celebrates the music scene in Coventry and Warwickshire.
The cosy space boasts a 2-Tone village with a café and the Coventry Music Wall of Fame. Travel back to the noughties or "Pre Pop" and explore the exhibits, featuring artists like Delia Derbyshire, John Lennon, or The Primitives.
Arbury Hall
Windmill Hill, Astley Lane, Astley, Nuneaton, CV10 7PZ
If you're searching for things to do near Coventry, look no further than the fanciful Arbury Hall. This magnificent structure stands amidst stunning landscaped gardens overflowing with 18th-century heritage and over 100 acres of parkland. Located in Nuneaton, just a short drive from Coventry, this evangelical building boasts stunning Gothic Revival architecture and elegant interiors. 
Originally built on the ruins of a 12th-century Augustinian Priory, the building housed the Newdegate family for over 400 years. The Hall itself is a small facet of Arbury Estate, which comprises a collection of residential properties and Astley village.
Hire a car with Hertz and explore all the best things to do in Coventry with ease.