It seems it pays to think big in Utah. Mile after mile of vast open plains, peaks and mesas, highways that cut through the desert... even the transport comes on a grand scale. Everyone drives 4X4 pick-up trucks. At least that's what it feels like after my arrival in Salt Lake City for my first ever visit which just happens to coincide with a heavy fall of snow.

My plan to take in ski country and a five-hour road trip to Zion National Park, calls for an AWD - given the weather - and a sat nav - given my lousy sense of direction. Kitted out by Hertz, I depart from the airport, brimming with enthusiasm. Nothing like being prepared.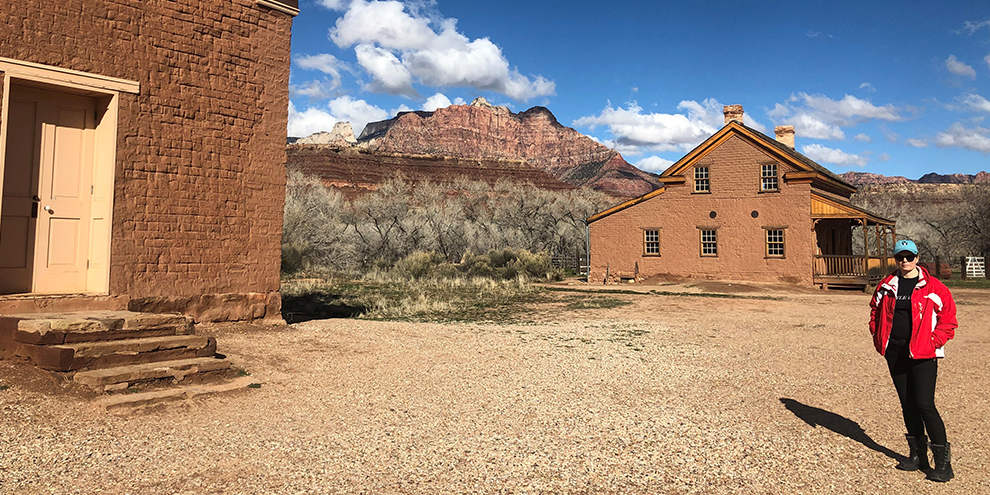 While ski areas near Salt Lake City are plentiful, it only takes me 35 minutes to get to Park City. The popular one-time Winter Olympics host is also home to the arty Sundance Film Festival and, quite apart from its amazing snow, the town has a quaint charm and is definitely worth a visit. There are even a few Banksys dotted around the town, and I'm delighted to stumble across a couple of them.

Skiers won't be disappointed in the neighbouring Deer Valley resort which is only a 10-minute drive or so from Park City. Utah has registered 'The greatest snow on earth' as a trademark and it's easy to understand why. After whipping up quite the appetite on the slopes there's plenty to tantalise the tastebuds too. I fill up on spicy food at Good Karma on Prospector Ave. Or on the opposite end of town, Ghidotthi's on Market Street serves up all the Italian classics and then some.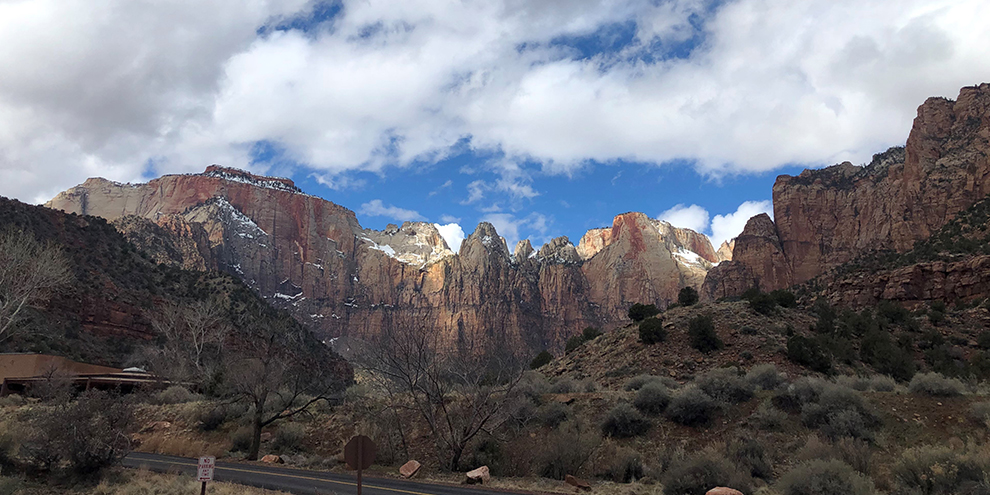 Then it's off to Sundance Mountain Resort, roughly a 45-minute drive away. The route takes you along picturesque mountains and frozen lakes, before the turn off for the narrow canyon that leads to Sundance. The resort itself is built from numerous cabins which lends it a rustic charm and is definitely one of the highlights of the trip. Dinner at the Owl Bar is not to be missed either. You may even run into Robert Redford himself. Although I'm disappointed, I've just missed him it seems.
And so to Zion National Park. Point the car south on Highway 15 towards Springdale town, the gateway to the park. The area is movie-set pretty, red and pink sandstone all the more striking against the backdrop of blue skies. Lunch at Oscar's café sets you up for a hike of the Narrows inside the popular park. The trick is to bring plenty of water and snacks and heed park rangers' advice.

If a hike doesn't sound like your cup of tea head from Springdale and drive to Rockville. Just off the beaten track you'll find Grafton Ghost town, where parts of Butch Cassidy and the Sundance Kid were filmed. You'll find yourself humming 'Raindrops keep falling on my head' for the rest of your time in Utah!
Naomi Richardson is a journalist who has enjoyed various roles in her 21 years with Independent News and Media, Ireland's largest newspaper group. When she's not at her desk, she's outdoors, gardening, walking, hiking, skiing, swimming or negotiating peace between her two teenagers.
To book your car hire in Utah click HERE