This summer we unveil the latest addition to our Adrenaline Collection of high performance models from two of the biggest names in sports automobiles.
We're adding the latest version of the Ford Shelby GT-H – a car which was first launched in 1966 as the Shelby Mustang GT 350-H, powered by a mighty V8 Ford engine. This combination of raw power and sleek design quickly became a much sought-after classic - there was even a 40th anniversary version made in 2006 which, again, soon became a collector's piece.
Now, 50 years on Ford and Shelby have collaborated once again, and we're delighted to announce that a limited number of these new cars will be joining our Adrenaline Collection, available to hire from selected locations in the States.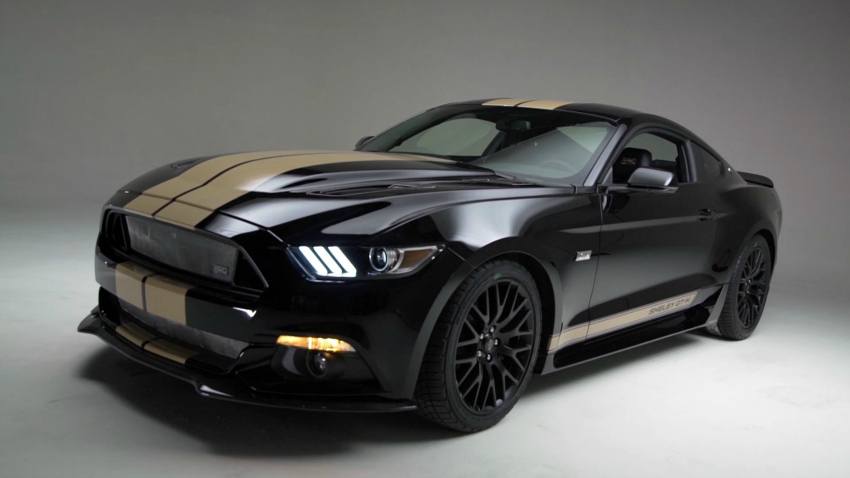 So what makes this version of the GT-H so special? Well, let's start with the engine. The huge 5-litre V8 is capable of an awesome 435bhp. And, just to show the car means business, this is coupled with a special performance touring exhaust which creates a powerful rumble even at idling speed.
All this power needs suspension to match, so the car comes with a wide range of sophisticated features. The Ford Racing Handling Pack includes tuned dampers, sway bars and lowered springs. 19-inch aluminium wheels combined with the superior performance of Michelin tyres complete the 'Stang's sure-footed set up.
The stylish looks of the GT-H also go hand in hand with its great performance, and the car combines the classic black and gold styling of its previous iterations with a number of discreet and unique elements of Hertz branding. To complete the car's high performance looks, there is also a Shelby-designed vented bonnet as well as a rear spoiler.
But, most importantly, when you get behind the wheel of the Ford Shelby GT-H you're not only enjoying sheer raw power and precision, you're also experiencing true automotive history and heritage.
The car will be available from selected airport rental locations in the following states:
         Arizona
         California
         Florida
         Georgia
         Illinois
         Michigan
         Nevada
         North Carolina
         Tennessee
         Texas
         Washington
Wherever you pick up and drive a car like this it's going to be quite an experience, but we're certain that some roads are going to be more thrilling than most. Pick up the car rental in San Francisco then imagine snaking your way up the Pacific Coastal Highway, with stunning scenery matched only by breath-taking performance. Alternatively, if you're bound for the hallowed Las Vegas you could open up on the empty desert roads by day, and turn heads along the Strip by night.
No matter where you drive the GT-H, or for that matter any car from our Adrenaline Collection, you're sure to benefit from choosing a model from our range of exclusive and high performance cars.