Spain's Costa Blanca has been an alluring holiday destination for decades. Boasting an abundance of golden beaches and the warm, inviting Mediterranean beyond. Here you can find lively resorts with a buzzing nightlife and quieter, unspoiled old towns ripe for discovery.
Whether you're planning on relaxation or an action-packed break, this is our essential guide to this holiday haven.
The best beaches on the Costa Blanca
While 'Costa Blanca' translates as 'White Shore', the natural colour scheme here is blue and gold. Cloudless skies, azure water, and golden sand beckon - and you can take your pick of beaches that are full of life or quiet, secluded coves that you'll have all to yourself.
Beaches near Alicante
Some of the city beaches are perfectly lovely – and come complete with bars, cafes, and restaurants to find shade and refreshments. In Alicante, choose from the urban stretches of Postiguet or Albufereta. Even better, drive a short way out of the city to Playa de San Juan for 3km of soft sand and sunbeds to rent.
Beaches near Benidorm
Benidorm has family-friendly beaches such as Poniente and Levante, with plenty for kids to do besides swim and build sandcastles.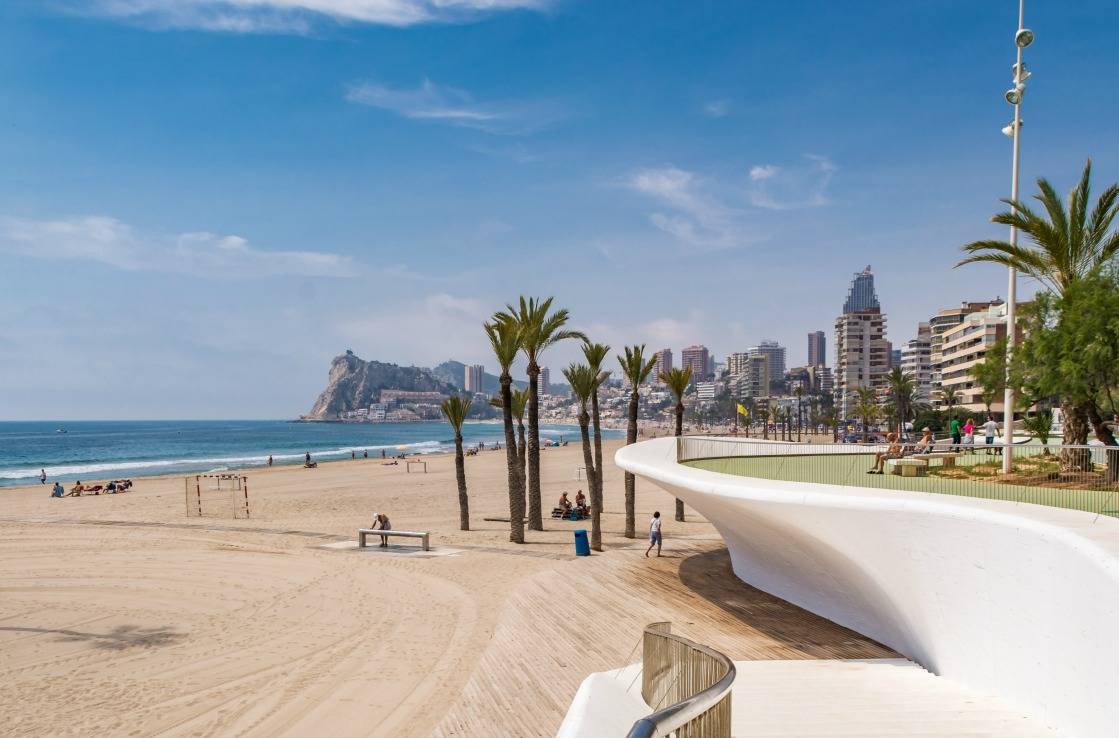 For something a little quieter, seek out the hidden cove at Finestrat or find relative solitude at Mal Pas. However, even the busiest beaches in this area are all blue flag rated for cleanliness and safety.
Unspoiled spots
Generally, the further north you head on the Costa Blanca, the quieter it gets. For some peace, Dénia is a petite city about 40 minutes' drive from Benidorm. There's a superb sweep of beaches in the city, while the coves beyond are packed not with people but marine life and wild flora.
If you're after activities, you'll find everything here from sailing schools to diving lessons. For the former, Altea is the place to be. If scuba diving is on the agenda, head for the Cape of San Antonion, between the stylish resort of Javea and Dénia – it's a marine reserve with wonderfully clear water.
The Costa Blanca cities to visit
If you want to go off the beaten track in the Costa Blanca, then Benidorm and Alicante are not for you. These are hugely popular resorts – and deservedly so. To attract so many people, they must be doing something right. However, there are plenty of quietly beautiful spots too. Take your pick of our favourite Spanish cities.
Benidorm
Benidorm is a home from home – with added sunshine – for many Brits, with its famous high-rises, plenty of all-day breakfasts and karaoke bars. But it's also a great place for families, with plenty of activities and theme parks in the vicinity. Looking for a pretty place to explore? The old town of Benidorm has retained a lot of its charm.
Alicante
Alicante is only slightly less popular, but its old town - El Barrio – is much prettier and packed to the rafters with culture (and numerous fine tapas bars). Here you'll find art galleries, Gothic buildings, a 'Modernista' market, 17th-century churches, and an impressive castle. Join the locals in a stroll along the famous promenade and then dip your toes in the sugar-soft sand.
Elche
It's only 30 minutes' drive south-west of Alicante, but Elche feels like a world apart. The pace of life is different here - it's inland, it's not all about the sea - but it does offer a captivating glimpse into Spain's past.
The wonderful palm groves have stood here since the Phoenicians planted them, while there are plenty of Islamic elements to the buildings that speak of a time under Moorish rule.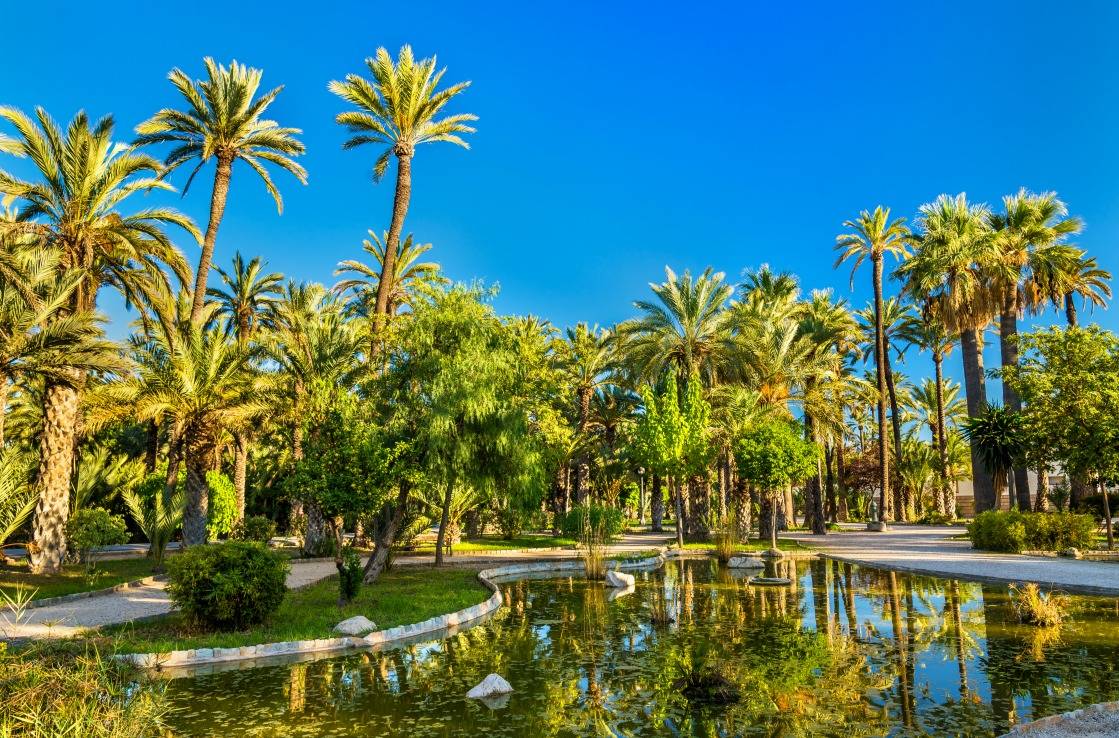 This sunny city is also famous for an annual cultural event. The Misteri d'Elx – or Mystery of Elche – is a medieval play that is performed over two days every August, as it has been for centuries.
Dénia
Dénia is one of the smaller cities on the coast, and despite having a port – ideal for hopping on board and setting sail for the Balearic Islands – is perfect for a more peaceful Costa Blanca trip.
Like many of its fellow coastal cities, it has an old town that's worth wandering through, a castle and picture-perfect beaches. However, you'll find some of the more boutique-y places to stay on this stretch, as well as plenty of brilliant restaurants.
The Costa Blanca's must-see attractions
If you can tear yourself away from the sizzling Spanish sunshine and fabulous food, there are plenty of things to see and do on the Costa Blanca. From art galleries full of contemporary and classical pieces, hidden castles and buildings that span the ages, there's plenty of ways to fill the long, sunny days.
MACA
For a crash course in modern Spanish painting, look no further than MACA (Museo de Arte Contemporaneo) in Alicante. Tucked away in the shabby chic streets of the old town, this bright and airy gallery is home to daring Dali pieces, the marvellous Miro, and the peerless Picasso.
Castillo de Santa Barbara
There's history of a different kind at Alicante's castle, the Castillo de Santa Barbara. Dating from the 9th century when the Moors built it, this hilltop fortress has been claimed, conquered and changed numerous times over the years – even being used as a prison at one point. Today, it hosts a fine museum and a lift to save your legs from climbing to the top.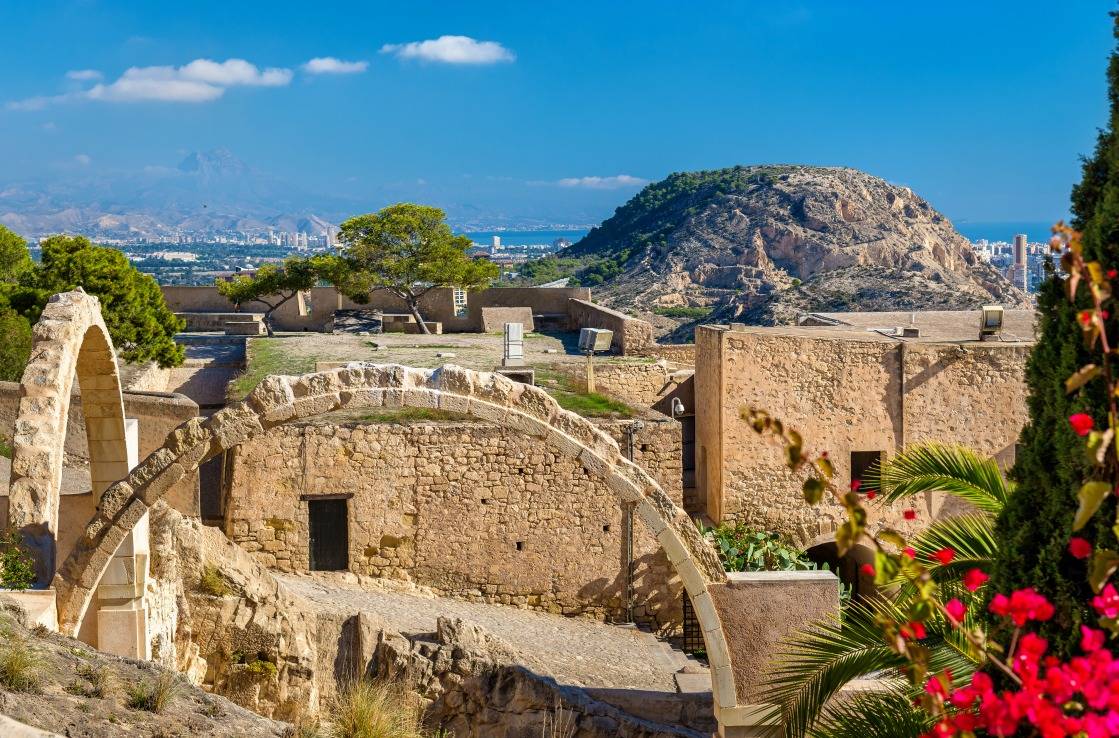 Theme parks
As befits a coast that's known for putting families at the forefront, the Costa Blanca is full of water and theme parks – perfect for wearing the children out and having some fun yourself too.
Terra Mitica is one of the best, with themed areas whisking you away to Rome, Greece, and Egypt and rides that range from gentle to hardcore. Defeat the minotaur in the labyrinth and reach more than 60 miles per hour on the hair-raising Titánide rollercoaster.
This theme park is right next door to Terra Natura animal park – just ten minutes' drive down the road - which is home to more than 200 species including parrots, monkeys, and elephants.
Feeling hot? Cool off at Aqua Natura with its water slides, pools and sea lion show. If you're staying close to Benidorm, go to Aqualandia and hold your nerve on the highest waterslide in Europe – Big Bang.
Natural wonders
For something more picturesque, drive to the Algar Waterfalls - ten miles or so from Benidorm. The natural beauty of the setting combines with the soothing sound of falling water. In the high season, you can take a refreshing dip in one of the natural pools, before enjoying a picnic on the sun-kissed cliffs.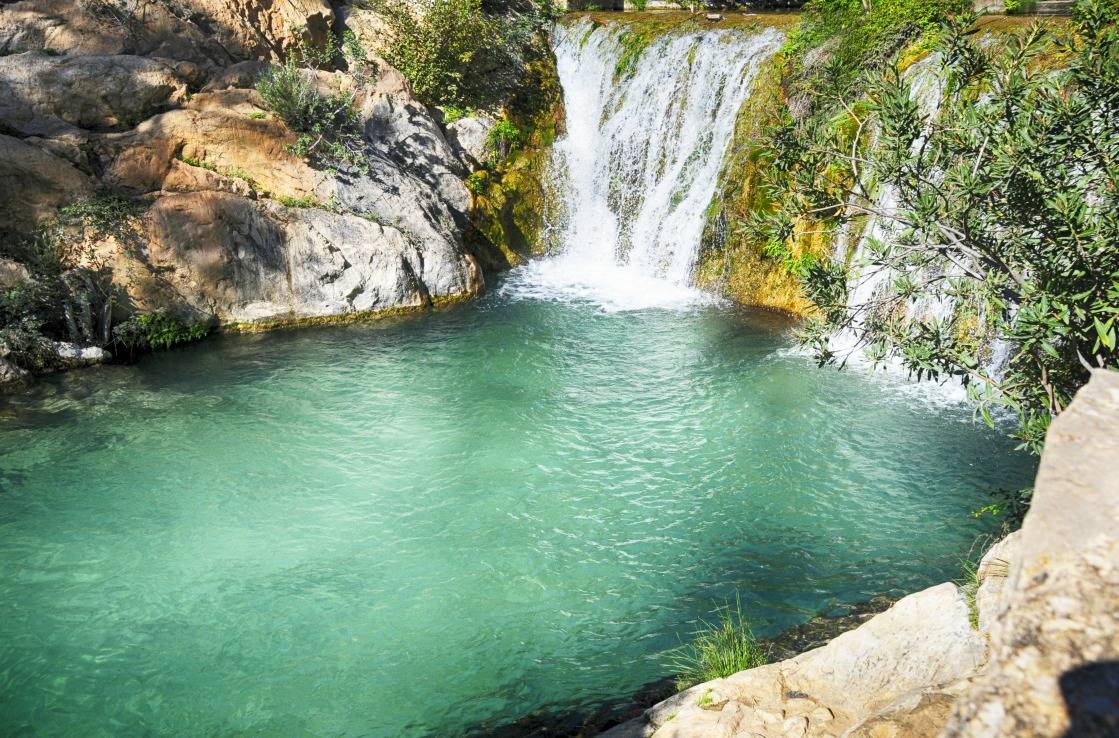 The best places to eat on the Costa Blanca
Knowing where to eat on the Costa Blanca will help you avoid the overpriced tourist traps, the places selling a pale facsimile of 'international food' and follow your nose to the best restaurants the coast has to offer.
You'll find most cuisines represented here, but for the very best experience, you want local Spanish produce from land and sea. The rule of thumb about dining with the locals applies as much here as anywhere – this is where you'll find authentic food priced fairly - but there are also dazzling gourmet experiences on the menu.
The seafood can be spectacular here, such as the paella at the popular Cala de Finestrat just up the coast from Benidorm. In the city itself, dine under the stars on superb, juicy steaks at Amigos – there's a separate gluten-free menu too.
Perhaps the best restaurant for a blowout in Alicante is Monastrell, a Michelin-starred joint. It's decadent yet playful, with fish crackling snacks and black truffle ice cream.
The real star – well, three of them in fact – is to be found in Denia. Quique Dacosta's restaurant of the same name has been ranked in Europe's top ten for the last five years and serves up stunning takes on modern Spanish food. Book ahead for the most sought-after tables in the area.
The best Costa Blanca day trips
It doesn't matter if you're staying in the city or using a holiday resort as your base, the Costa Blanca is a joy to explore, with some of the real gems being hidden a little out of the way.
Hiring a car will let you explore the small but dramatic Guadalest, a village nicknamed the 'Eagle's Nest' because it's perched on top of a breathtaking valley.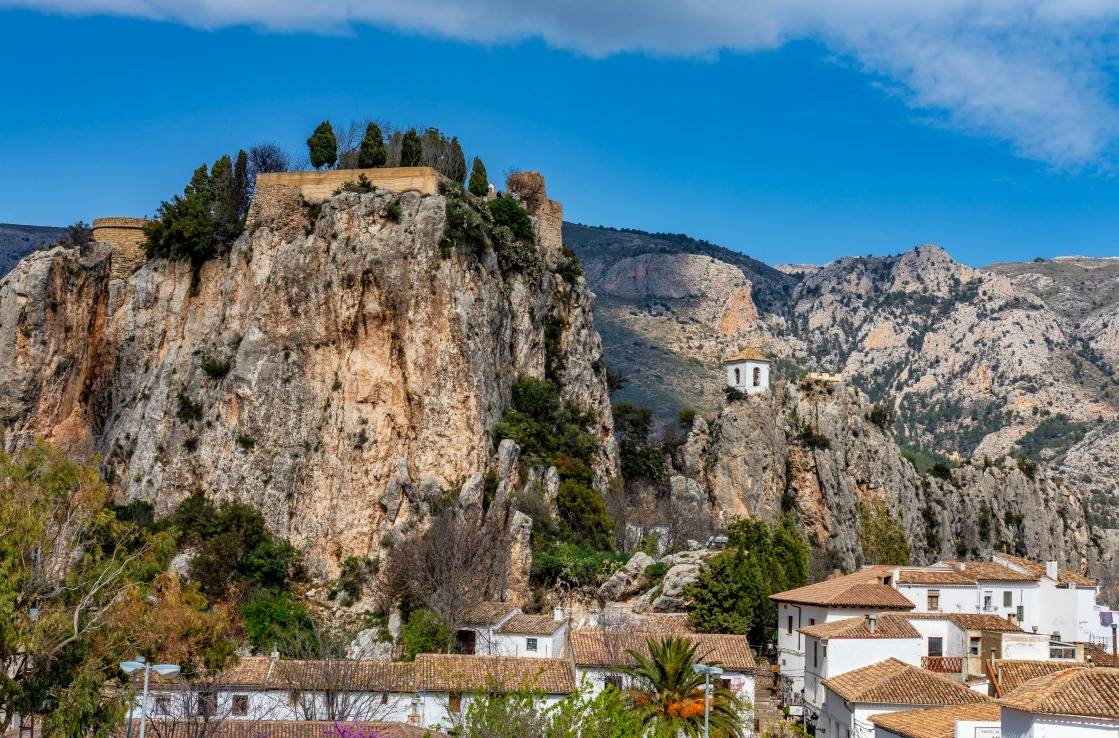 Calpe is famed for its striking off-shore rock, the Peñon de Ifach, which rises from the sea like Poseidon. It also has a number of perfect beaches, a Moorish quarter and more than its fair share of great restaurants and pretty churches.
Altea, which is only a short drive from Benidorm, is a marked contrast to its nearby neighbour. It's a low-rise city that gleams in the sun, with cobbled streets, a fishing harbour, and a relaxed pace of life that's an antidote to the buzz of the main resorts.
You can get more of this chilled vibe in Polop, built into a hill with a castle on top. The medieval streets drip with their own atmosphere, street markets are thronged with locals and the views soothe the soul.
Enjoy all the highlights of this ever-popular Spanish getaway when you hire a car in Alicante.