There's a real buzz about Los Angeles, whether you're cruising down Hollywood Boulevard, walking in the footsteps of stars on the Walk of Fame or surveying the city – and the galaxy – from the Griffith Observatory. Choosing what to see first can be difficult, but so can working out where to stay in Los Angeles. We thought we'd look at some great areas you can visit and why they may be perfect for you on your trip to La La Land.
Heading Downtown
Downtown Los Angeles is often overlooked by visitors, but it's an incredibly lively place with scores of attractions, including the fantastic L.A. Central Library, The Last Bookstore and the Downtown Artwalk. DTLA, as it's known, is on the rise, and with it has come an upsurge of affordable tourist hotels replacing or updating the business-oriented Los Angeles hotels of the recent past. Prices are rising as gentrification continues apace, but you can still find boutiques on a budget here, with decent doubles for just over £100.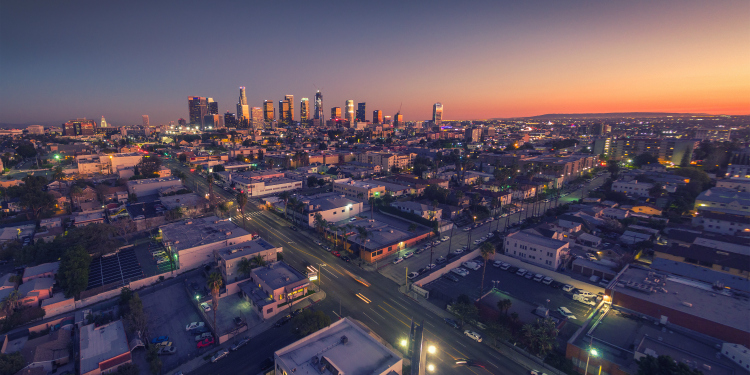 Go Mandarin in Monterey Park
Lying some 9 miles to the east of DTLA, Monterey Park is a culturally diverse area well known for its proliferation of Chinese businesses and restaurants. The area is full of noodle and dim sum restaurants, as well as Asian groceries and bakeries. Barnes Park hosts a Cherry Blossom Festival every spring and Cinco de Mayo celebrations on May 5th. As it's not a traditional tourist area there are only a few hotels, but this is a very affordable place to stay, with budget rooms available across the mostly chain hotel branches, often for under £100 per night.
Valley life at Sherman Oaks
When considering the best places to stay in Los Angeles, Sherman Oaks is an interesting choice if you fancy a slice of 'valley life'. Situated in the San Fernando Valley, to the west of Studio City, it's home to many stars. The local mall, The Sherman Oaks Galleria, is where Fast Times at Ridgemont High, Valley Girl and Commando were filmed. Hotels here tend to be from the major chains, with prices starting at just over £110 and heading up. But with many charming areas in this suburb, AirBnB may be a good option.
Culver City cool
Lying just north of the airport, Culver City used to house many of the largest movie studios, including MGM, and its streets have featured in hundreds of films and TV shows. It's a place with an arty feel, full of tiny galleries and theatres, giving it a bohemian vibe. It's perfect for those wanting a Los Angeles hotel away from the city's bustle but close enough to access all the main attractions. Apartments and B'n'Bs are in abundance, while mid-range hotels vie for business with a couple of more upmarket options. Expect to pay £150-250 a night to stay here, depending in whether you want luxury or just a place to rest your head.
Whichever neighbourhood or hotel you choose to make your home during your visit, you'll be just a drive away from all the wonderful things packed into Los Angeles. It's a city known for its reliance on the car, such is its scale, and so car hire in Los Angeles is essential so you can navigate this vast and fascinating place.