Throw a dart at a map of Spain, and the chances are you'll land on a brilliant road. The country is full of twisting ribbons of asphalt, wrapped around mountains, gliding through olive groves and clinging to the coast.
In this guide, we've picked five of our favourite roads in Spain – each one close to an airport. You can find even more inspiration in our European Road Trip Planner.
1. Ancient towns of Andalusia
Route time: 5 hours, 120 miles
Nearest airport: Malaga Airport (AGP)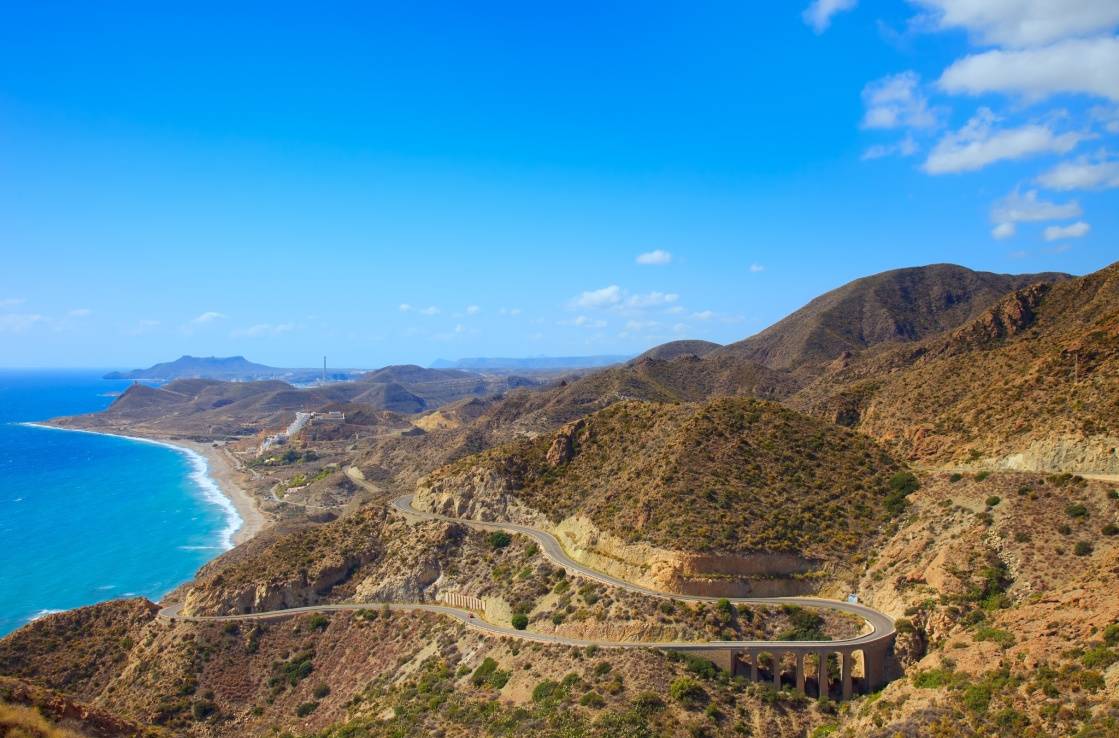 For glistening views of the Alboran Sea and whitewashed towns, find the N-340 between Malaga and Almeria.
The road was once Spain's answer to Route 66, stretching 755 miles from Malaga to Barcelona, but most traffic now uses the nearby A-7 motorway – and that's made this 120-mile Andalusian section something of a gem.
Along the way, you'll see Solobreña and its 10th-century hilltop castle, beaches – such as the secluded and stony Playa de la Rijana, and Marbella's sandy Playa de Calahonda – and the beautiful village of Adra, which dates back to the 8th century BC.
Game of Thrones fans may should drive beyond Almeria to Cabo de Gata Park and Torre de Mesa Roldan, which were both featured in the hit series.
2. The olive groves between Seville and Malaga
Route time: 3 hours
Nearest airports: Seville Airport (SVQ) and Malaga Airport (AGP)
This stunning scenic route zig-zags its way through some of Andalusia's most beautiful green spaces and down to Spain's southern coast.
Leaving Seville on the A-4, your first stop should be Carmona, just a 30-minute drive east. This hilltop town is built on more than 5,000 years of history and it's also where you can sample some of Spain's freshest olives.
Andalusia is Spain's leading grower, possessing the majority of the country's 2.5 million hectares of groves – that's an area larger than Wales, covered in 300 million trees growing 250 types of olive. The most common type around here is the pical olive, favoured for the high-quality olive oil they produce.
From Carmona, it's an easy drive – perhaps with a Mediterranean picnic along the way - through the cobbled roads of rural towns like Marchena before turning onto the A-92. Pass through flowering countryside of Los Llanos before continuing south to Malaga's coastline on the A-45.
3. The mountain climbs of El Chorro
Route time: 2 hours
Nearest airport: Malaga Airport (AGP)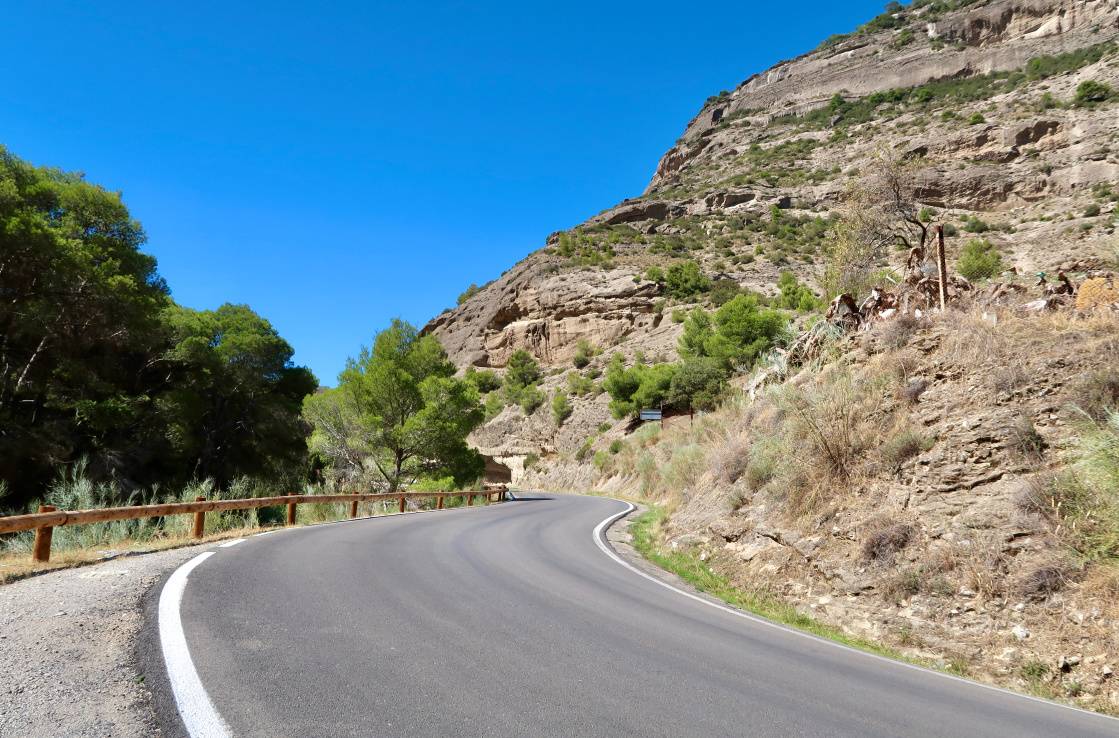 Head approximately one hour out of Malaga, along the A-357, and you'll soon find yourself climbing up the mountain roads and joining the MA-5403 towards El Chorro. The higher you rise, the more breathtaking the views become. You'll be hard-pressed to decide where to stop for the best photo opportunity.
Not only is the drive staggeringly beautiful, you've got a choice of routes. The A7077 or the A-343 (then MA-447) offer twisting, narrow roads which snake through small villages, creating a more technical and challenging driving experience.
Stop at the Conde de Guadalhorce Reservoir for an adventurous detour, and head out across suspended walkways for breathtaking views of lush green trees and bright turquoise waters.
4. A romantic drive from Santander to Gijon
Route time: 4 hours 30 minutes
Nearest airport: Santander-Seve Ballesteros Airport (SDR)
Driving along the coastal road from Santander to Gijon should take less than two hours and provides a great chance to take in the glittering views of the Bay of Biscay.
Drive west along the A-8 to hug the coastline throughout your journey. Don't forget to stop for a fresh seafood lunch at one of the coastal villages, like Llanes, to complete your memorable drive.
If you've got a little extra time of your hands, head inland and climb the mountain roads of the N-621, N-625 and N-630. This snaking journey takes you through the mountains and brings you right back up to the coast. With its mix of coastal and mountain roads that weave through rock gorges, green coastal views and lush meadows, this route is ideal for drivers looking for an authentic taste of rural Spanish driving.
Use the N-621 to drive through the snow-topped mountains of Parque naturale de Fuentes Carrionas before joining the N-625 into Leon. Stop here to enjoy a meal at Leon's only Michelin-starred restaurant Cocinandos. As you set off again, take the N-630 back towards the coast, following signs for Gijon.
5. Journey through Valle del Jerte
Route time: 1 hour
Nearest airport: Madrid-Barajas Adolfo Suárez Airport (MAD)
For a rustic adventure, set your sights on the Valle del Jerte. Further inland than other routes on our list, the N-110 takes you through this valley, starting at the town of Plasencia. Affectionately termed the 'Pearl of the Valley', Plasencia is known for its medieval walls, Romanesque cathedral and the gorgeous greenery and lakes of Parque de Los Pinos.
The valley, gorge and mountains create a stunning and unique landscape. More about the valley views than the thrill of twisting corners, this is the perfect road for photography enthusiasts.
With sloping hills full of lush greenery and white cherry blossoms, there are very few places more beautiful. Keep an eye out for the El Mirador de la Memoria as you pass through El Torno – these staggering sculptures were built to commemorate the Spanish Civil War.
There are many exciting and breathtaking routes to follow in Spain. Hire a car with Hertz in Spain today and set off on your Spanish adventure.