Manchester is a city packed with passion and pride, home to footballing monoliths, magnificent museums and a spirited music and arts scene. There's plenty to explore further afield too. With car hire from Hertz, you can discover much of northern England, from rolling hill walks to charmingly British town centres.
Hop in your Manchester hire car and start exploring. Here's our list of the best day trips from Manchester.
1. Chester
How long does it take to get there? 1 hour
How far is it? 40 miles
Step back in time in charming Chester, just a short drive from central Manchester. One of Britain's oldest cities, ancient Chester is a living, breathing exploration into the nation's past.
Take to the city walls and explore Roman history on these millennia-old parapets, or wander among the medieval half-timbered houses and shops of the Rows. The Meadows are a pretty place for a picnic, a short walk from the city centre.
2. Delamere Forest
How long does it take to get there? 1 hour
How far is it? 35 miles
Get back to nature along the woodland trails of Delamere Forest. Located over the border in Cheshire county, along the M56, this sweeping pine-forest is packed with outdoor activities for you to stretch those legs. Hire a bicycle for some easy off-roading or stroll among the tree trunks on one of the many walking routes through this scenic forest landscape.
Visit prehistoric bog land hidden deep in the woods, an area that has remained relatively untouched for centuries. Black Lake is the most famous of these quagmires, with dark and pungent peat giving the water is murky moniker. Quiet visitors may be able to spot rare birds among the treetops, including woodpeckers, nuthatches, and tawny owls.
3. Blackpool
How long does it take to get there? 1 hour
How far is it? 50 miles
For a traditional seaside adventure, head to the Victorian-resort town of Blackpool. Famed for its rollercoaster packed Pleasure Beach (postcode FY4 1EZ) and shops selling sticky rock, this seaside town has seven miles of sands to relax on.
A great summer escape when the weather is warm, Blackpool is a favoured coastal retreat away from the bustle of Manchester's city centre. Tuck into tasty fish and chips as you stroll along the promenade.
4. Edale, Peak District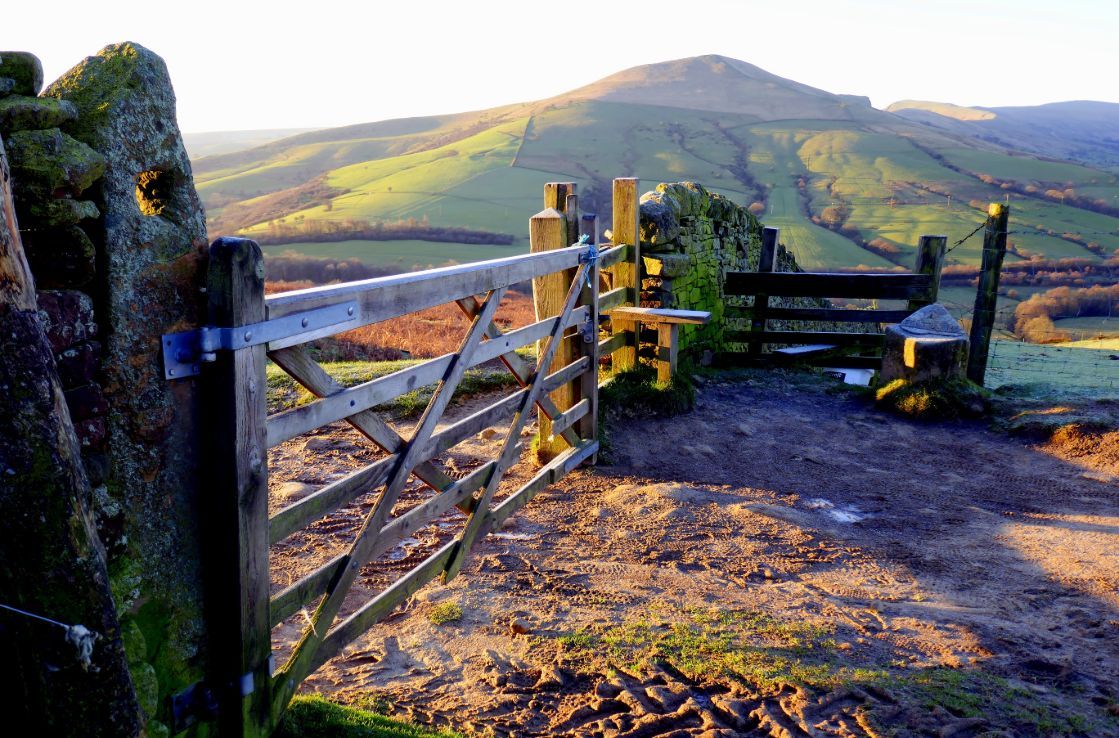 How long does it take to get there? 1 hour
How far is it? 30 miles
Pretty Edale marks the beginning of the Pennine Way, the 268-mile walking route that runs from central England to the Scottish borders. Though traversing the full distance on your day trip might be a hard task, there are plenty of short walks between Edale and the surrounding villages in England's stunning Peak District.
Edale to Castleton is a relatively unchallenging nine-mile round trip that crosses the back of several short hills. The walk tracks through Winnats' Pass and culminates in a modest amble along the Great Ridge. From this high point in the Peak District, you'll be able to see across the valley below for breath-taking views of the Derbyshire countryside.
5. Kendal and the Lake District
How long does it take to get there? 1 hour, 30 minutes
How far is it? 70 miles
The pretty market town of Kendal lies at the southern end of the stunning Lake District. Watched over by 13th-century castle ruins, Kendal is a short distance from the waters of Lake Windermere.
Whether you choose to drive or walk the nine miles to Windermere's shores, this corner of the Lakes landscape is a delight to explore, home to inspiring scenes of grassy hillsides, tranquil boating lakes and captivating village retreats. Soak up the views from the water aboard a hired boat or kayak.
Be sure to sample some famous Kendal Mint Cake – a regional favourite and a hiking essential – before you leave.
Hire a car with Hertz to discover everything the eclectic Manchester and beyond has to offer.