If there's one thing Leeds locals love more than their city, it's having some of Britain's best scenery on their doorstep. The iconic Yorkshire Dales, striking Pennines and both east and west coasts are all well within driving distance.
So why not combine Saturday nights in the city with Sunday morning adventures? Hire a car in Leeds with Hertz and head out on these great Yorkshire day trips.


1. Holmfirth
How long does it take to get there? 45 minutes
How far is it? 25.1 miles

Aside from the witty banter shared between its elderly townsfolk, one of the main draws of long-running TV sitcom Last of the Summer Wine was the heavenly views of Holmfirth depicted throughout the programme's lengthy run. A decade off the air hasn't stopped hardcore fans flocking to the charming Yorkshire town from all over the world.
Here among the cobbled streets and rolling hillsides, visitors can clap eyes on Nora Batty's famous steps and have a bite to eat in Sid's Cafe – both sites which featured regularly during 31 series of the classic sitcom.
Two reservoirs near the village are perfect for short walks – Digley Reservoir takes in wide open fields and woods, while Blackmoorfoot Reservoir is a lovely spot for some birdwatching.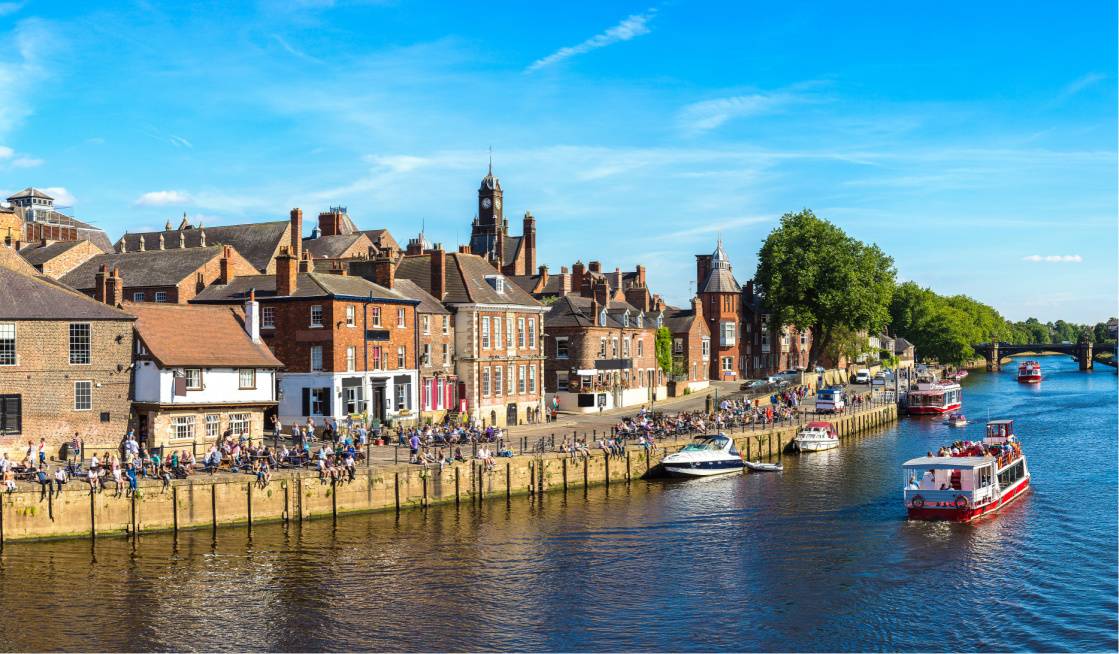 2. York

How long does it take to get there? 41 minutes
How far is it? 24 miles


Regularly top of the European pops for travel, a visit to York takes you back in time through cosy medieval streets and quaint vintage shops. York goes back even further – see the nation's best-preserved city walls surrounding Viking-inspired attractions and roads that once bore Roman footsteps.
See it all for yourself at one of the many museums and tours dedicated to digging up local history. The National Railway Museum is the pride of British and international rail heritage. Climb aboard a variety of models from across the ages, or experience the latest technological leaps including the Shinkansen – a Japanese bullet train.
Or taste the distinct heritage of the area at York's Chocolate Story – an ode to the Rowntree family who put York on the foodie map.
3. Hebden Bridge 

How long does it take to get there? 49 minutes
How far is it? 29.2 miles

Perfectly placed in the Pennines between Leeds and Manchester, Hebden Bridge has a host of shops and galleries to explore, as well as breath-taking countryside to soak up. The town is another famously photogenic Yorkshire spot – the TV series Happy Valley was filmed in and around Hebden Bridge.
Steep hills and canalside views are typical of the town, which also has a market in the main thoroughfare four days a week. Cast your eye over some prized local wares and duck into one of Hebden Bridge's many independent shops.
Gibson Mill was one of the nation's largest wool producers. Tucked into beautiful National Trust property at Hardcastle Crags, both are well worth a visit. The mill has restored its old water wheels to fully power the property, while the Crags offer woodland walks and space to relax.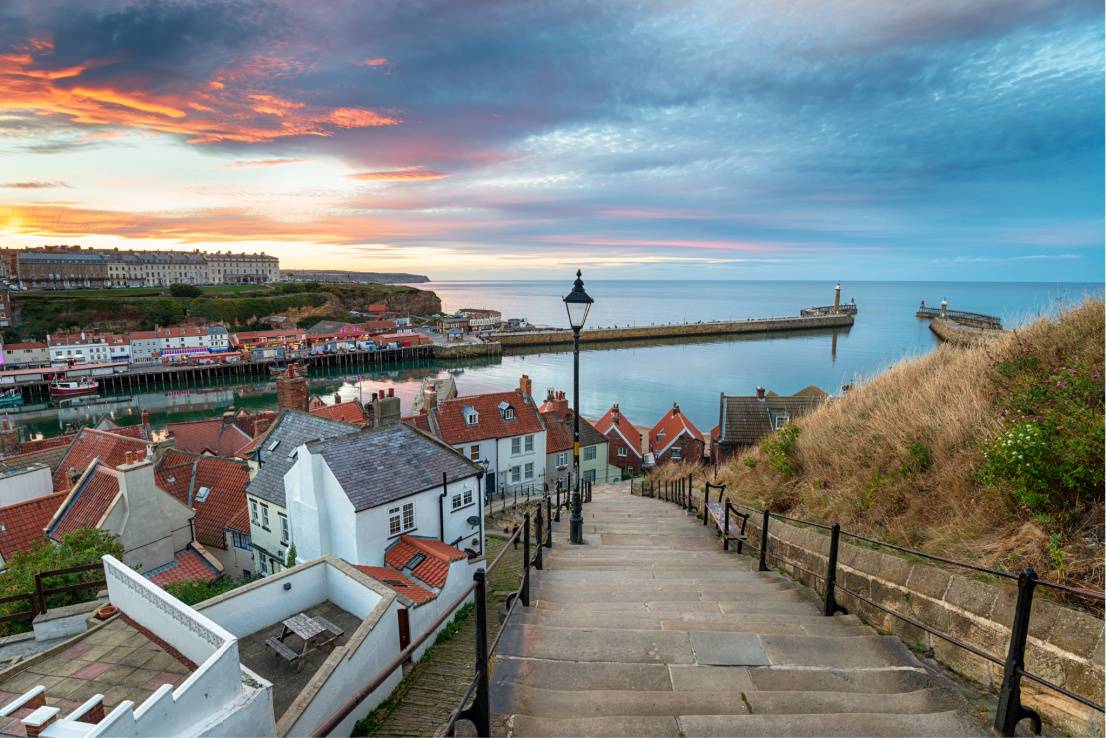 4. Whitby
How long does it take to get there? 1 hour, 46 minutes
How far is it? 72.4 miles
A favourite for lazy seaside days, Whitby's beaches boast good clean fun and some great places to explore.
Climb 199 steps to see St. Mary's Church and admire the views of the harbour below. Don't worry if you can't make it in one go – there are plenty of benches to rest along the way. These steps were mentioned in Bram Stoker's original Dracula novel, as if the physical exertions weren't scary enough.
Wind your way through small cobbled streets and sample some of the town's legendary fish and chips before dropping in at one of the fascinating local museums. Follow in the footsteps of Whitby resident Captain Cook and explore his life's accomplishments or sign up for a scare at Bram Stoker's Dracula Experience.
5. Knaresborough
How long does it take to get there? 40 minutes
How far is it? 18.3 miles

Hilly Knaresborough offers keen walkers another feast of sights and scenery over the river Nidd. The old market town is filled with ancient streets and stone staircases winding their way along the water.
Visit the local markets for the chance to taste delicious regional produce or enjoy a quiet break on the promenade – the only thing missing from the seaside feel is the sea itself.
Mother Shipton's Cave holds legendary tales of folklore – not least the story of the Petrifying Well, which was said to turn objects into stone. The surrounding parkland is among Britain's best for walks – journey alongside the river to uncover more mysteries of this pretty wooded area.