Travel to captivating Biarritz and discover a landmark in European surf culture as well as a luxury beach holiday destination in the Bay of Biscay. Nestled on the Atlantic coast of southwestern France in luscious Basque Country, the legacy of Biarritz's surf scene goes back to the late 1950s where the love of surfing blossomed.
Since then, these Atlantic waves have become highly coveted with world-leading surfing competitions, festivals, and prestigious surf schools. Waves are enjoyed year-round due to reliable ocean swells and despite changing seasons.
Boasting five-star hotels and stunning art deco architecture, the varied culture and beaches of Biarritz attract tourists and action-seekers of all varieties. So, where should you head to first?
Le Miramar
Parking: Indigo Biarritz Sainte Eugenie
2 Pl. Sainte-Eugenie, 64200 Biarritz, France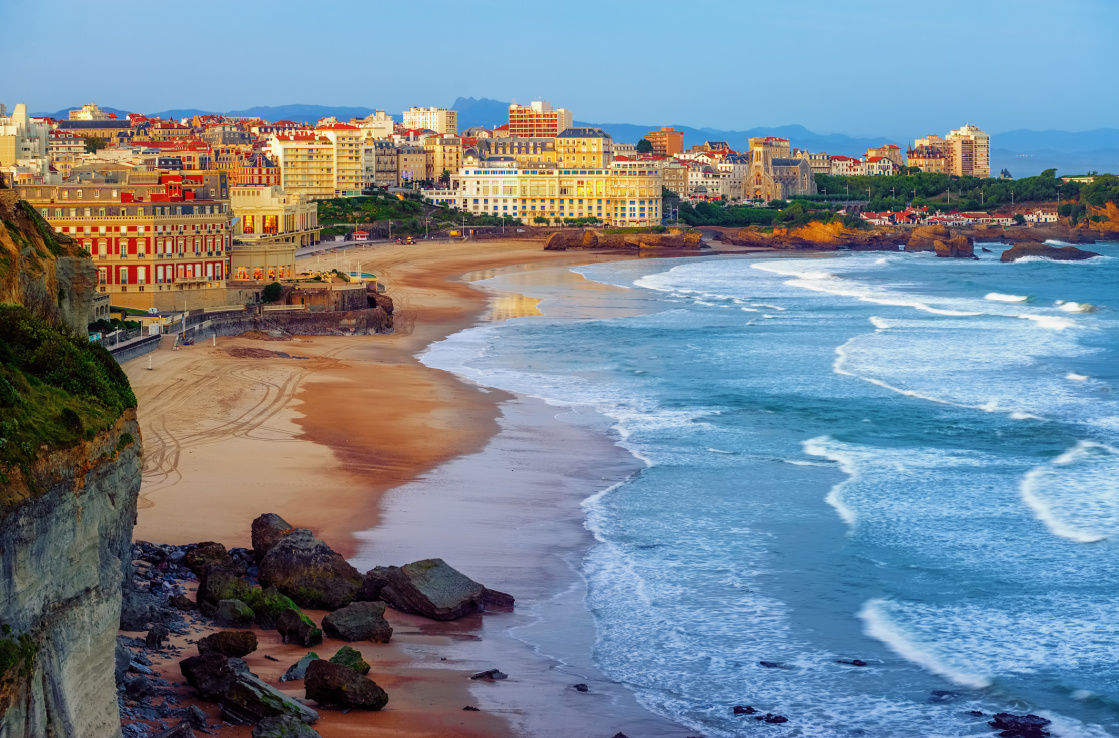 One of several central Biarritz surf destinations and beaches, you can find Le Miramar Plage north of Le Grande Plage promenade and beach. Miramar mostly consists of sand and rocks and is the nearest beach to the coastal town's signature lighthouse - Phare de Biarritz. The lighthouse characterises the stunning silhouette of the city along with the natural landmark Pierced Rock, roughly 50 metres from the shoreline.
If you're looking for a Biarritz beach that has it all, you're in the right place. Miramar is close to amenities while less crowded than La Grande Plage beach further south. The depths of sand and rocks allow for some great waves here – up to three metres in height.
During summer months, you can expect some crowds, as the beach hosts luxury beachside hotels such as Hotel du Palais and Sofitel Miramar Hotel. Be wary of casual swimmers sharing the sea and make sure to catch the sunset on the promenade for breathtaking views of the beautiful skyline.
Le Grande Plage
Parking: Indigo Biarritz Sainte Eugenie
2 Pl. Sainte-Eugenie, 64200 Biarritz, France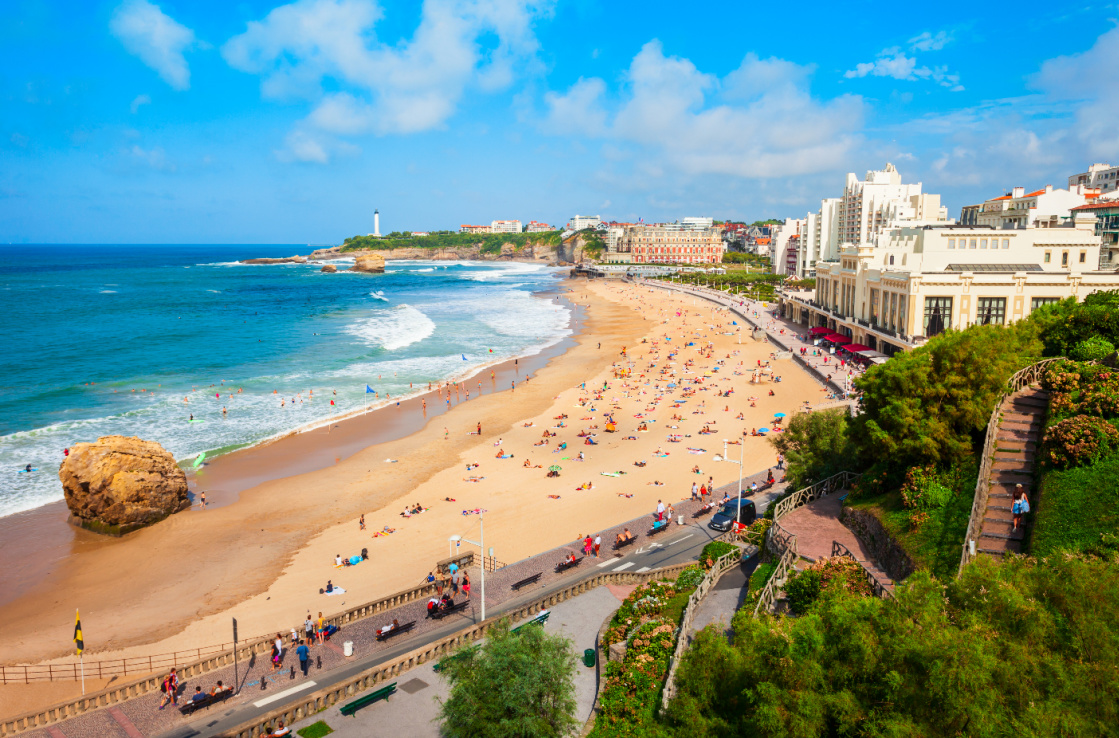 Nestled right by the buzz of the town centre, the beach of La Grande Plage is most popular with tourists while still offering choice waves. Enjoy stunning views of the promenade while close to the unique boutiques and fresh seafood restaurants Biarritz is known for.
Situated near some of Biarritz's most interesting buildings, including Sainte-Eugénie Church and the grand seafront Casino Barrière, you'll be nicely positioned for city tours, delicious beignets, or steak and frites baguettes by the ocean.
If you're in Biarritz and looking for things to do, Le Grande Plage makes for a great day out. Due to its central locale, the beach is enjoyed by lots of casual swimmers and sunbathers. On a perfect day, waves can really pick up for some excellent swells and can vary from season to season, which can be a handful for some beginners.
During the end of summer, crowds eventually subside while warm summer air lingers. This is a great time for intermediate and experienced surfers to practice without travelling further afield.
Parking is accessible close by but can be well sought after. If you can guarantee parking with one of the many picturesque hotels and villas local to the centre you'll be within easy walking distance.
Le Cotes des Basques
Parking: Biarritz Beach Cote Des Basques
64200 Biarritz, France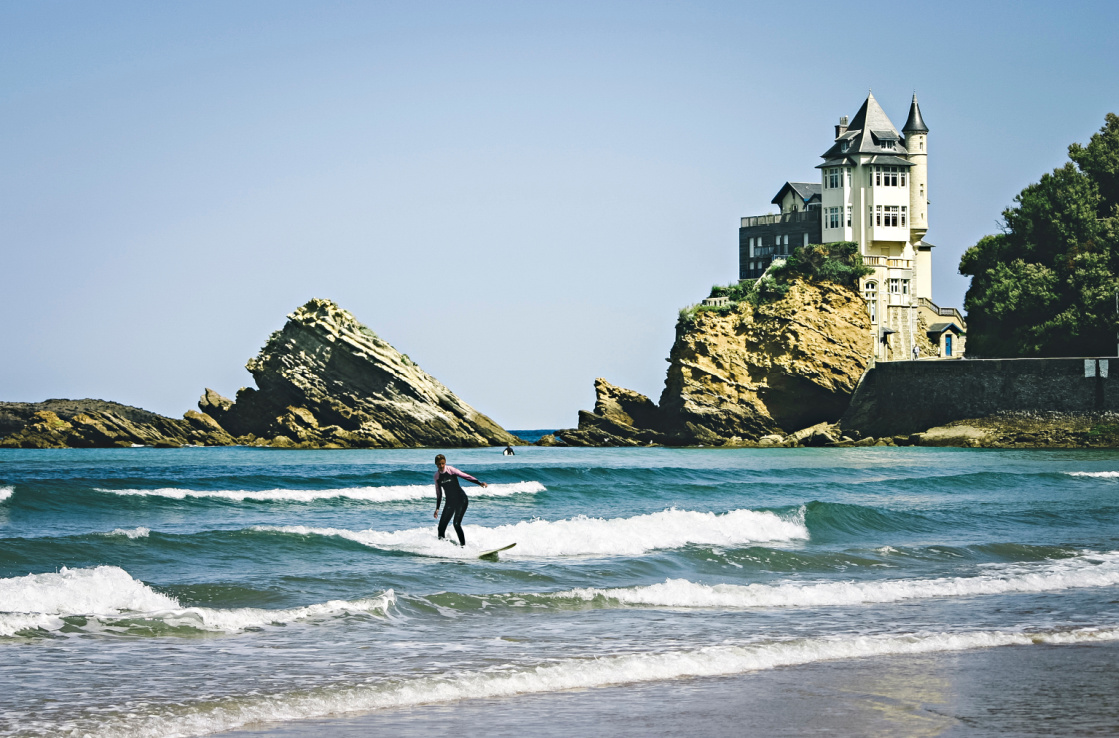 If you follow the path from La Grande Plage, around Port Vieux, and head south away from the town centre, you'll find the iconic La Cote des Basques. Considered one of the best beaches to learn how to surf, you'll be met with sleek, mellow waves – popular with longboard surfers.
Some of the most prominent surf schools can be found here at La Cote des Basques, making the beach a choice spot for many Biarritz surfers and for an unforgettable holiday while learning the popular watersport.
Highly recommended is Jo Moraiz, known for being the first surf school in France. Recognised by theFrench Surf Federation, Jo Moraiz was established in 1966 with renown for high quality teaching. With plenty more surf schools at your fingertips, learn from weathered masters as a beginner or introduce the kids while they're young. Everyone can learn a trick or two and have some fun in the surf.
The beach can get busy during peak times between June and September due to the number of prestigious surf schools in the area. Low tide is considered the best time for beginners to practice.
Even experienced surfers should stay wary of high tide here, particularly during winter and spring. The sea will occupy most of the beach while waves can quickly introduce you to dangerous rocks submerged by the ocean.
Marbella
Parking: Clientele Moulin de Chabiague
Rue du Moulin de Chabiague, 64200 Biarritz, France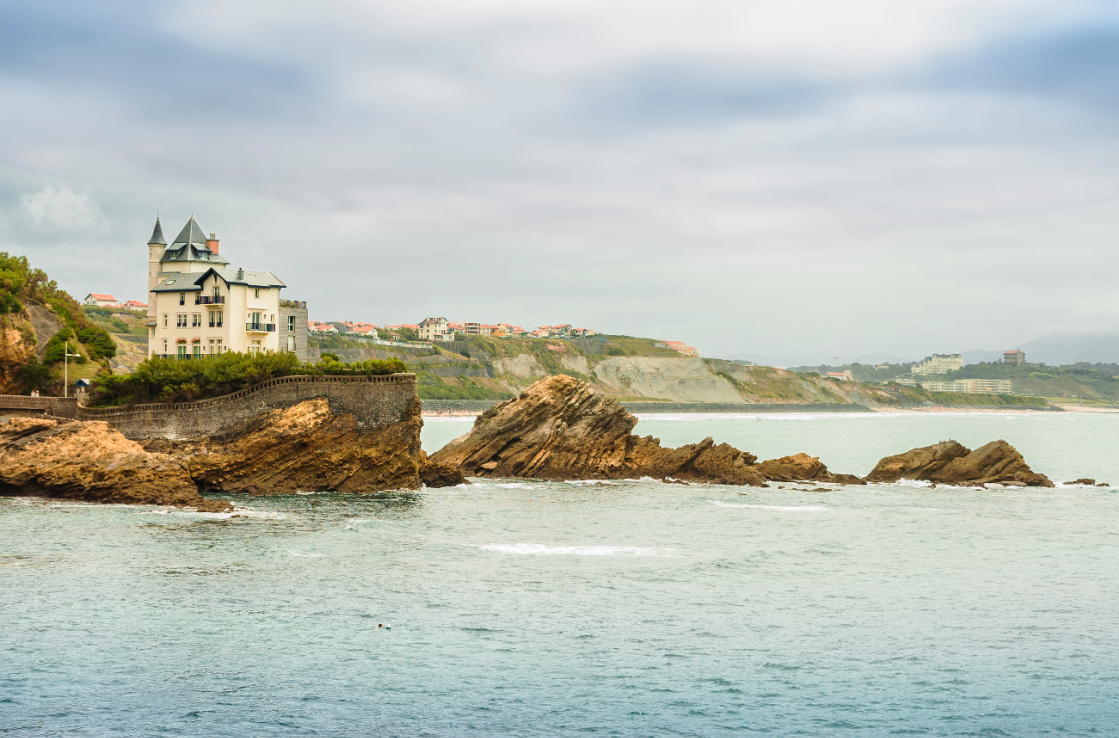 If you're wanting to surf in Biarritz but are looking for a quieter experience away from the bustle of the central beaches near the town centre, head south of La Cote des Basques to find the sandy shores of Marbella Beach.
Framed by a sturdy rock face, it is slightly more difficult to access than other beaches, with steep steps and rocks to scramble over – though you will be rewarded for the effort. In Biarritz, some of the best things to do are often hidden away.
Marbella Beach is beautifully untouched with scenic views of the Spanish Pyrenees mountains. You can walk the picturesque coastline from Port Vieux, or, alternatively, drive ten minutes from the centre through residential Biarritz with free parking local to the beach.
You can rely on decent waves year-round, making this beach popular with casual swimmers, surfers, and bodyboarders alike. You can also find the Marbella Surf Club here, proving you can catch a good ride.
Stay cautious of any exposed rocks as the swells carry you, though lifeguards frequently patrol this beach during peak summer months. While there is a cafe with breathtaking views of Marbella Beach and the wider coastline, there are no local surf stores so ensure you bring equipment with you.
La Milady
Parking: Clientele Moulin de Chabiague
Rue du Moulin de Chabiague, 64200 Biarritz, France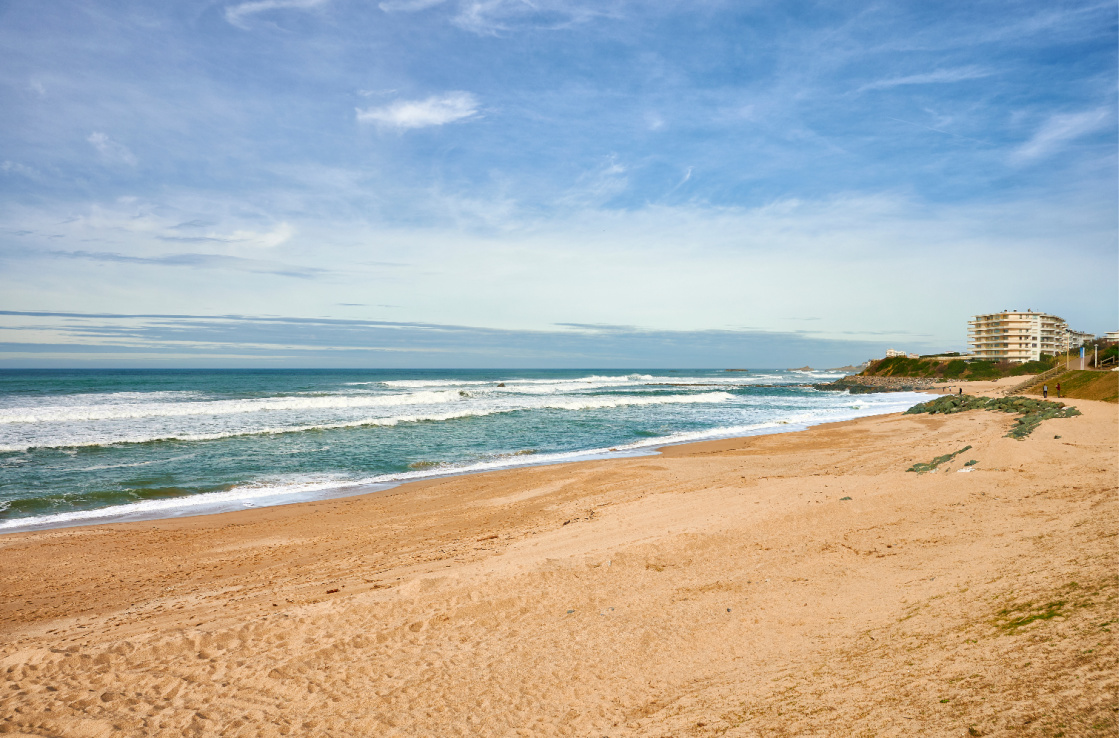 Furthest afield of our selection of Biarritz surf beaches, but only a stone's throw away from Marbella, Milady Beach offers some great waves for any keen surfer. You can expect fewer tourists than the likes of central La Grande Plage, though it can get very popular with locals all the same.
Enjoy this stunning sandy beach with equally exceptional views of the Spanish coast and Pyrenees. You can also find restaurants and local cafes for amenities with access to parking.
Known for having a combination sand and rock bottom, beginners are recommended to venture out during low tide. More experienced surfers can enjoy mid-tide swells for short, fun rides with a nice shore break – but watch out for the rising ride, as breaks can become harsh.
As with many beaches in Biarritz, stay wary of rocks and remain cautious for any riptides if you're a less advanced surfer. Milady Beach is family friendly and great for reduced mobility access, classified as a Handiplage with tiralos and Handisurf facilities.
Enjoy the world-famous swells of the Biarritz surf with Hertz. Hire a car in Biarritz and start your adventure.