With summer well on its way and the holiday season approaching, there's no better time to explore the coastline of the United Kingdom. The south of Wales offers some of the most glorious beaches in the country and with temperatures of around 17°, the area can be a pleasant day out.
Hiring a car in Swansea and taking a tour of some on the beaches and bays in and around the area could be the perfect way to spend a warm summer weekend.
Take a look at some of our favourite places to see:
Rhossili Bay
This three-mile long stretch of stunning sand has actually been named as the Best Beach in Britain by TripAdvisors Travellers' Choice and, to make it even more impressive, it has not only received this accolade once, but twice. As part of the Gower Coast Path, Rhossili Bay is home to one of the most famous landmark in Gower, Worms Head.
With numerous awards under its belt, Rhossili Bay is a great place for a family outing.
Langland Beach
A popular tourist destination due to the accessibility and cafes on offer, Langland beach is the perfect place to take the family. With a Blue Flag award, the beach is known to attract surfing enthusiasts from far and wide, and life guards patrol the coastline during the high season.
Three Cliffs Bay
With a trio of linked peaks and a stretch of golden sand, Three Cliffs Bay is one of the most photographed places in the peninsula. With the cliffs themselves, sand dunes, the salt marshes and a castle to complete the picturesque surroundings, the bay can make for a romantic and relaxing day out.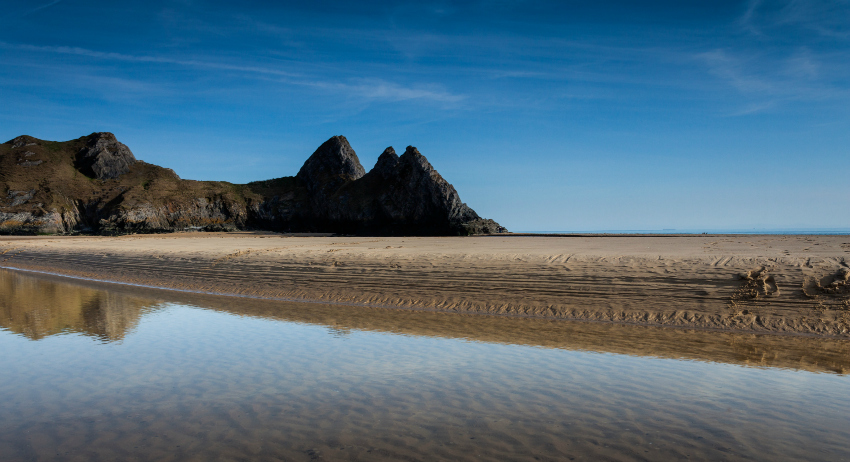 Mewslade Bay
The unspoilt, dramatic scenery at Mewslade could be one of the best kept secrets of the Welsh coast. The area does attract climbers and fishermen, but there are no shops and no lifeguard's patrol this beach, so caution should be taken if entering the water. A snug beach sits at the bottom of the small valley, meaning the views are breath-taking.
Oxwich Beach
The two and half mile stretch of Oxwich Beach is fringed with sand dunes, salt marshes and woodland. Another popular beach to visit, Oxwich offers visitors amenities, easy parking and plenty of room to spread out and enjoy the warm summer weather.