One could spend all summer (and a little bit of Autumn) traversing the USA attending the dozens of Pride celebrations that take place across the country. 
Even though June is the official Pride Month that kicks off the celebrations in Los Angeles, New York and San Francisco, travelers are spoilt for choice of Pride parades from coast to coast, with some taking place as late as November. 
This year consider taking your pride beyond your intended destination and make the most of your travel plans with these drivable day trip ideas within easy reach of the biggest and best Pride celebrations of 2018.
New York Pride, New York - 30th June 
NYC Pride is expecting an epic 'Pride Island' this year - themed 'Defiantly Different' and to be headlined by none other than the diva from Down Under: Kylie Minogue! Additional musical performances will include Swedish song-writer Tove Lo and 9th season winner of Ru Paul's Drag Race Sasha Velour. As is tradition, a large fireworks display will close the event and the end of NYC Pride on Sunday, 24 June 2018. 
So many cities are within close range on the east coast, but a favourite day trip out of New York is the two-hour drive to Philadelphia - a city with rich history, pop culture credentials and its own thriving LGBT scene. The best daytime photo ops in Philly include 'The Rocky Steps' - the iconic stairs from the movie 'Rocky' giving tourists a popular photo-op and views of the city, the famous indoor farmer's market Reading Terminal Market and the striking Barnes Foundation - a modern building home to paintings by artists including Picasso and Renoir, African sculpture, Native American textiles and more.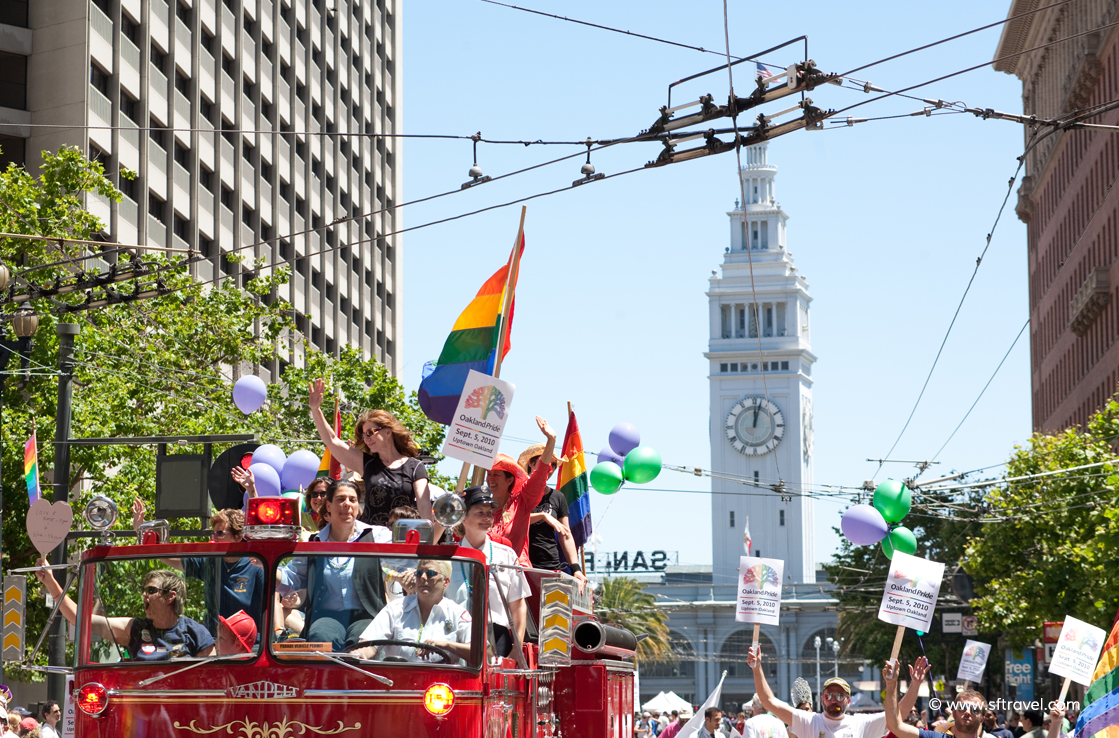 San Francisco Pride, California - 29-30th June 
The San Francisco Pride Celebration and Parade is the largest gathering of the LGBT community and allies in the nation, with pride goers visiting from all over the world. 2018 promises to offer no shortage of camaraderie and revelry with queer singer Khelani taking the main stage at 5:30PM on 24 June, with fellow headlining acts from Sister Roma of the Sisters of Perpetual Indulgence and Ru Paul Drag Race Alum (and SF native) Honey Mahogany. 
While San Francisco itself is a beautiful city with plenty of access to nature (from beaches to forests), an hour and a half drive north to Guerneville puts travellers at the feet of Redwood trees and on the streets of a historically gay-friendly town in Sonoma. Guerneville is where San Francisco denizens of the 70s would come to escape the city. Today, the quaint main street maintains its charm while also housing some of the area's most delicious new restaurants and bars like El Barrio, owned by lesbian chef and entrepreneur Christ Luedtke (who also owns local Boon Hotel and Spa).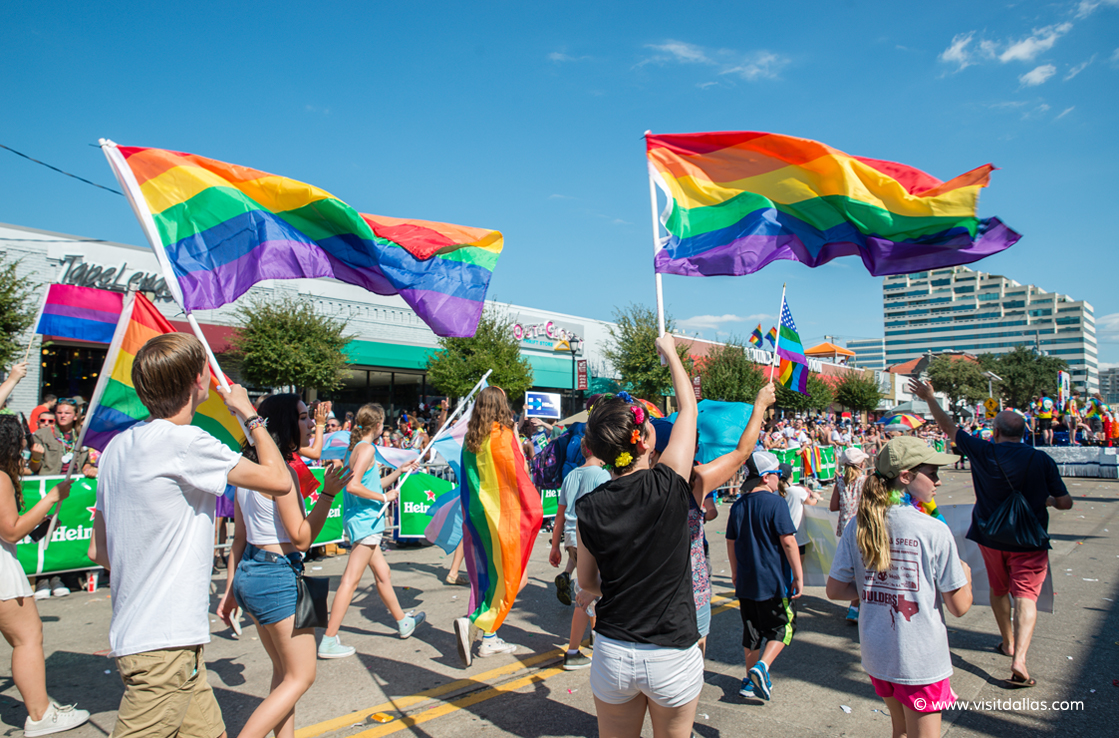 Dallas Pride, Texas - TBC 
Dallas is home to the USA's sixth-largest LGBT population, and the city's various neighbourhoods are teeming with attractions and distractions for pride goers. Worth exploring is the Dallas Arts District - home to permanent installations at the Nasher Sculpture Center and the free Dallas Museum of Art. Dallas Pride 2018 includes the Music Festival in the Park on Saturday, 15 September, and followed by the 35th annual Alan Ross Texas Freedom Parade on Sunday, 16 September. The Festival in the Park will be held in Reverchon Park from 11am to 7pm on the Saturday preceding the Parade. 
For travellers interested in scuba diving, in Texas you don't need to drive all the way to the ocean; you just need to drive an hour outside of Dallas to the Athens Scuba Park. At this seven-acre lake, novices to experts can take to the water to explore over 35 sunken wrecks including country music legend Ray Price's tour bus, Clint Eastwood's houseboat and a sunken Lockheed C-140 airliner!
Orlando Pride, Florida - 04-06th October  
The big day for Orlando Gay Pride (also known as Come Out With Pride) is Saturday 13 October. The festival takes place on the leafy shores of downtown's Lake Eola (usually this runs from 12:00pm to 9:00pm) and features a family zone, food vendors and a Come Out With Pride Marketplace with more than 150 organizations and businesses. The festival culminates with dinner and fireworks at the Lake Eola Promenade. 
For a break from Orlando's buzzing amusement parks, consider a two-hour drive to Florida's west coast for a beach day at Caladesi Island State Park in St. Pete / Clearwater - rated the number one beach in the USA this year by TripAdvisor. The beach receives much attention and praise for its crystalline quartz sand, turning clear waters a sparkling blue. Caladesi can be reached by ferry, private boats or a long walk north from Clearwater Beach. Guests can roll along the beach via boardwalk trails and can also jump into the blue-green waters of the Gulf of Mexico via kayak or canoe through tangling mangroves.
Las Vegas Pride, Nevada - TBC October  
The theme for this year's celebration, Sin City's 35th Pride, is 'All You Need Is Love'. MGM Resorts International presents the Annual PRIDE Night Parade on 19 October, which traditionally takes place Downtown, along 4th Street, one block from Las Vegas Boulevard. Pride Family Festival takes place 20 and 21 October. 
From Las Vegas, one of the Seven Natural Wonders of the World is just a day trip away - it's only about a two-and-a-half-hour drive to the Grand Canyon. The ideal location to visit is the Grand Canyon Skywalk: a horseshoe-shaped cantilever bridge with a glass walkway 4,000 feet above the Canyon floor, giving visitors an unbelievable view and perspective of the grandeur of the Grand Canyon. There's plenty of other experiences, from white water rafting down the Colorado River to hiking scenic trails, that will take you deeper into the Grand Canyon.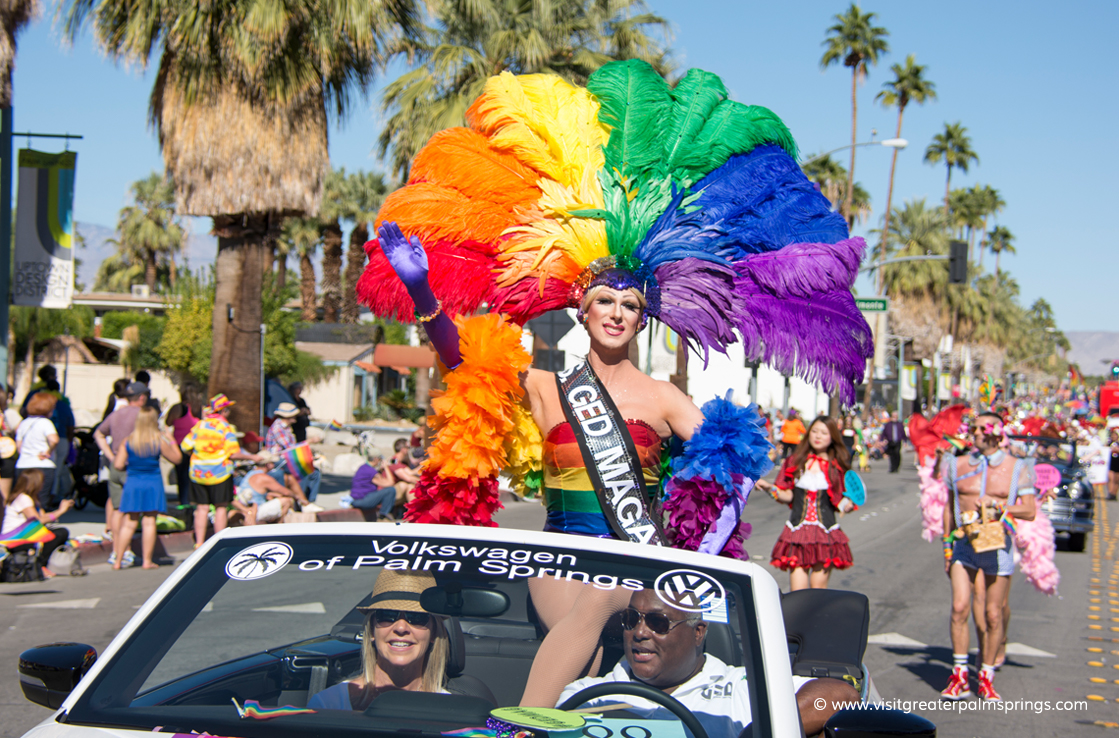 Palm Springs Pride, California - 01-03rd November  
Palm Springs is one of the last prides of the year, held in November because the heat of the desert gives way to gloriously warm days and fresh nights, ideal for celebrating and exploring the area. The Pride Parade takes place on Sunday 4 November, and stops off in the Uptown Design District at Tachevah and heads down historic Palm Canyon Dr. Over 60,000 spectators are expected to take to the palm tree-lined streets to see the floats meander down. 
'Magic Hour' in Palm Springs happens at sunset, when the sun setting behind the valley mountains plays a symphony of dramatic colour effects on often-cloudless skies. Nowhere is the magic hour better enjoyed than in Joshua Tree National Park. Named for the twisting Joshua trees that pepper throughout various rock formations, Joshua Tree is just over an hour drive from downtown Palm Springs. The feast for the senses lasts for some time after sunset, when the shadows of the mountains, rocks and trees change and dance with each other until nightfall. 

Book your USA car hire for any of these Pride events, or suggested day trips, from £22 per day.