Presenting the chance to escape bustling city life and get to grips with the best nature has to offer, stargazing in the UK should be at the top of everyone's bucket list. There is a plethora of stargazing hot spots around Wales, England, Northern Ireland and Scotland, many of which have been awarded Dark Sky Reserve status as a credit to just how clear the skies and planets are to the naked eye.
Whether you choose one or go on a stargazing road trip, hire a car from Hertz to make the very most out of your trip. Not sure where to go first? Check out our list of the best places to go stargazing in the UK below.
North York Moors National Park
Lodge Lane, Danby, Whitby, North Yorkshire, YO21 2NB
Home to three dark discovery sites, North York Moors National Park boasts incredibly clear views of the milky way and around 2,000 stars. Home to striking flora and fauna, this vast national park spans a whopping 1,436 square kilometers across Scarborough, Thirsk and Teesside. It's without a doubt one of the best places to go stargazing in the UK but is also well worth exploring during the day if you want to escape to the countryside. Whether you're laying down to stargaze or on a hike, the sound of trickling streams and soft winds brushing through the heather will put you at complete ease.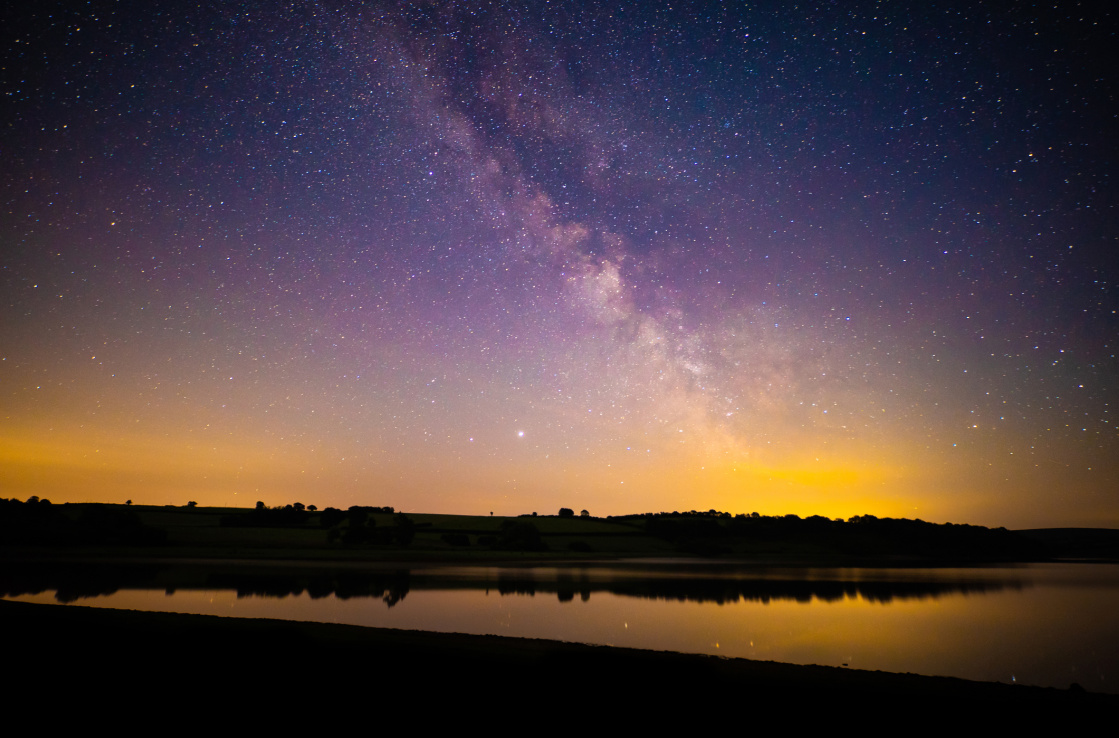 Exmoor Dark Sky Reserve
Exmoor National Park Authority, Exmoor House, Dulverton, Somerset, TA22 9HL
Named as Europe's first dark sky reserve in 2011, Exmoor Dark Sky Reserve's lack of pollution allows you to gaze up at thousands of stars, including the milky way.
To get the very best out of your trip, plan around the annual autumnal Exmoor Dark Skies Festival. Immerse yourself in nature while spotting stars as a group, taking part in nighttime wildlife tours and meteor walks as well as listening to talks by experts.
The festival typically spans over two weeks and includes surrounding businesses, so why not hire a car in Somerset and enjoy a holiday to this idyllic part of the country? That way you'll be able to enjoy one of the best places to stargaze in the UK at night and the warm, welcoming atmosphere of this shire county during the day.
Northumberland National Park
Northumberland National Park, Eastburn, South Park, Hexham, Northumberland, NE46 1BS
Having been awarded gold status by the International Dark Sky Association, Northumberland National Park is an official dark sky site in the UK. There are several sites within the park that are away from light pollution – why not take time to hike through the park and see them all? The scenic nature of the park is sure to leave you with a sense of calm.
Better yet, the park is just a 20-minute drive away from the Kielder Observatory, a public astronomical observatory nestled in the peaceful Kielder Forest. It's well worth driving to both locations for an awe-striking night of star gazing in Northumberland. Plan your visit around one of the many events hosted in the Kielder Observatory, including expert talks, workshops and information on using the telescopes to spot patterns in the sky.
Cairngorms National Park
14 The Square, Grantown on Spey, Scotland, PH26 3HG
The UK's largest national park, Cairngorms National Park is a picture-perfect mix of rugged landscapes and pitch-black skies. The Dee and Don valleys draw in visitors from all over the world, as well as the famous dark skies that make it perfect for spotting stars from afar.
Nestled in the Scottish Highlands, Inverness is 45-minute drive away from the west side of Cairngorms National Park while Aberdeen is an hour away from the east side. It's well worth exploring these historic cities – spend the day exploring museums and settling down at a teashop before heading to the park to stargaze.
Lake District National Park
Low Gillerthwaite Field Centre, Ennerdale, Cleator, Cumbria, CA23 3AX
Residing in England's most remote valley, it should come as no surprise that the secluded Lake District National Park is in this list of must-see stargazing spots in the UK. There are a plethora of stargazing events held by Low Gillerthwaite Field Centre throughout the year, as well as a planned calendar so you can see natural wonders such as meteor showers, eclipses and new moons. Amble through the rocky terrain, listening to the sound of the many lakes as you find a spot to settle down and gaze up at the sky.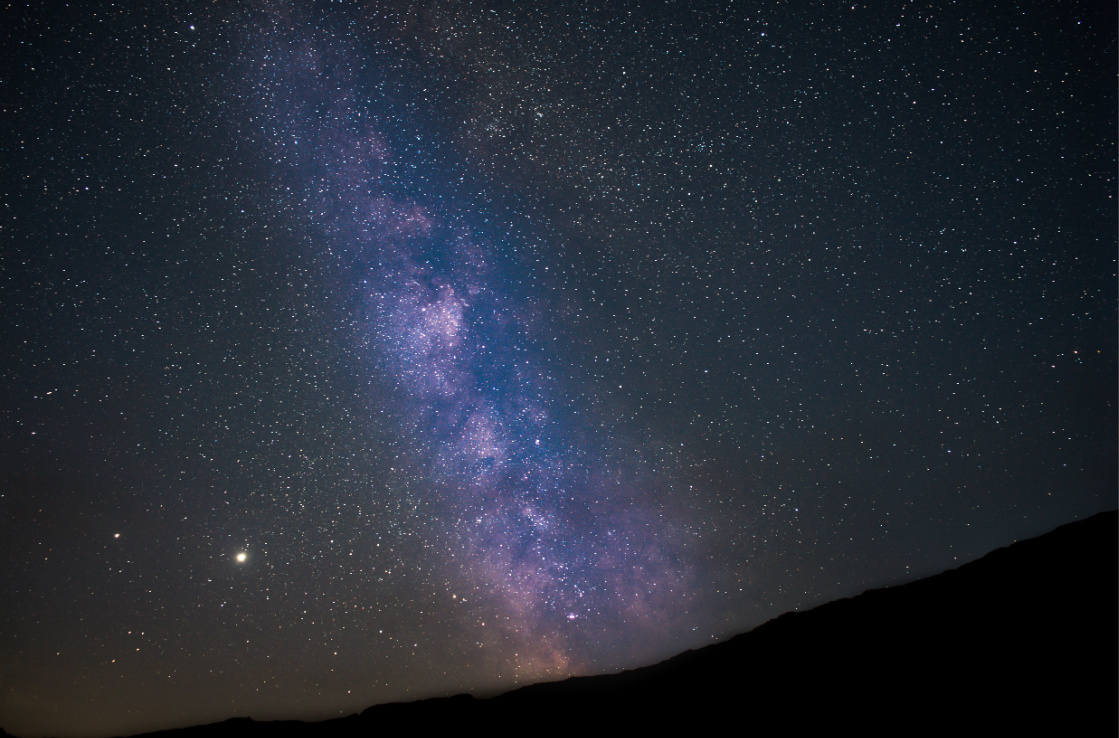 Snowdonia Dark Sky Reserve
Penrhyndeudraeth, Gwynedd LL48 6LF
Snowdonia is known for its volcanic rock covered landscape, lofty peaks and striking hiking trails, but did you know that parts of the national park are some of the few official dark sky areas in the UK? Popular spots include Llyn y Dywarchen; Llyn Geirionydd; Llynnau Cregennen; Bwlch y Groes and Tŷ Cipar.
Wales is an incredibly beautiful part of the UK, with commitments to preserving naturally beautiful areas like Snowdonia. This, alongside the lack of bright lights, is what makes this national park a treasure when it comes to spotting stars.
Galloway Forest Park
Galloway Forest, Creebridge, Newton Stewart DG8 6AJ
Thought to be the largest forest in the UK, Galloway Forest Park has been a designated dark sky site since 2009. With verdant hills, peaceful lochs and mountaintop views, Galloway Forest Park is over 300 square miles of unbeatable natural beauty. You'll see up to 7,000 stars at this remote, quiet park, as well as a numerous flora and fauna.
Visit one of the three visitor centres – located in Glentrool, Kirroughtree and Clatteringshaws – to find out more about the stars. Each one has dark sky information points to help you get the very best out of your trip.
Yorkshire Dales National Park
Bainbridge, Leyburn, DL8 3EL
The unspoilt Yorkshire Dales is famed for its sloping hills, diverse wildlife and incredible countryside views, but did you know it also contains four dark discovery sites? Hawes and Malham national park centres, Buckden car park and Tan Hill inn all boast dark skies away from the bright lights of a bustling city, ensuring you can stargaze in peace.
As well as being a year-round hot spot for stargazing in the UK, the Yorkshire Dales National Park is the third location of the annual Dark Skies festival. If you can plan your visit around this event, you'll be rewarded with rocket-making workshops, events, pop-up planetariums and more.
South Downs National Park
North St, Midhurst GU29 9DH
Awarded dark sky reserve status in 2016, you can see both the Milky Way and Andromeda galaxy can be seen from South Downs National Park. There are a total of seven stargazing sites within the park, including Winchester Science Centre and Planetarium, Butser Hill, Devil's Dyke and Birling Gap. Why not holiday in the nearby Farnborough and see as many of the seven as possible?
The South Downs National Park is part of the annual Dark Skies Festival, where you can enjoy night hikes, star parties and workshops. Plan your visit around this event to learn more about the planets, sky and stars.
Carrick-a-Rede
119a Whitepark Rd, Ballintoy, Antrim, Ballycastle BT54 6LS
Located on the beautiful Antrim Coast of Northern Ireland, Carrick-a-Rede is a 250-year-old fisherman's bridge across rugged cliffs. This bridge is a landmark in the area, pulling in tourists from all over the world and is a top attraction. Not only is it a striking sight during the day, but it's just as stunning at night.
Having been declared a Dark Sky Site in 2014, the coastline has some of the darkest skies in Northern Ireland. Where better to see the stars and galaxy from atop this famous rope bridge? There are regular stargazing sessions hosted by the Northern Ireland Amateur Astronomy Society and National Trust, too.
Regardless of which stargazing spot you head to, make sure your journey is stress-free by renting a car from Hertz.