Step into Olbia and you'll soon be taken by a city with two very different sides. Renowned for its historic centre and commercial heart, you'd be excused for getting lost in this alone. But scratch beneath the surface and you'll find something completely contrasting.
This scenic Sassari city is a treasure trove for beach lovers. Olbia's beaches are famed for their crystalline waters, rugged coves and sands white enough to give the Caribbean a run for its money.
It's the surrounding landscape that truly sets Olbia apart from its rivals. Hire a car in Olbia and get lost in this beautiful, rugged coastline with complete freedom.
Pittulongu Beach
With breathtaking views of Isola Tavolara, the seaside haven of Pittulongu feels a world away from the bustling city. It sits just 15 minutes from Olbia Airport, making it an easy first stop on your Sardinian adventure. Joining the SP82 provincial road is the easiest way to reach these magical sands, which are spread across four beaches:
       La Playa
       Pellicano
       Mare Rocca
       Pittulongu Beach
You'll be spoilt for choice if you're looking to stay here, as there's a rich selection of hotels, rental apartments and B&Bs. Dine at family-friendly restaurants overlooking the ocean and picture-perfect beaches or take to the waves to join the surge of people trying their hand at windsurfing.
Cala Banana Beach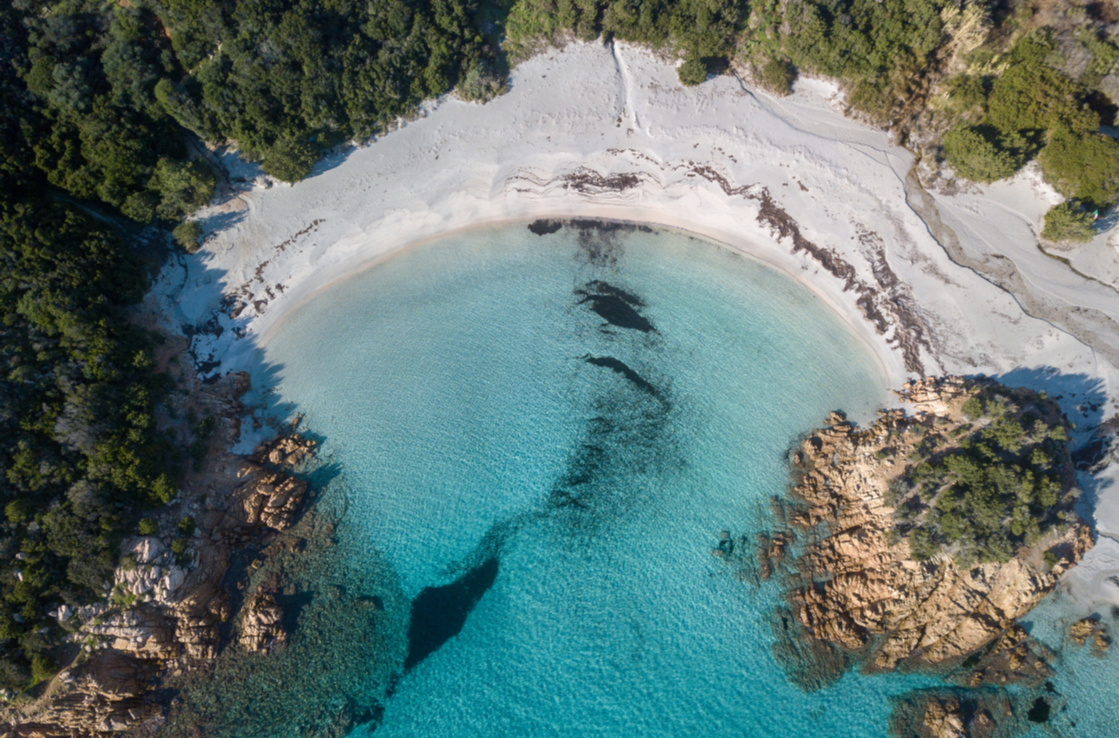 Cala Banana Beach is just a stone's throw from Pittulongu and is proof that good things come in small packages. Take the SP82, joining Località Nodu Pianu, and you'll find yourself beside the distinctive cobalt blue waters in no time.
Spacious parking means you can soon be lapping up your beautiful surroundings. Admire the flowering wild lilies or look out across the marina as you enjoy a picnic or snacks from the nearby kiosk.
The low seabed makes Cala Banana Beach perfect for snorkelling or paddling. Take a stroll to Nodu Piano Beach – another of Olbia's smaller beaches – as it's just over a nearby rocky barrier and low sand dunes.
Del Principe Beach
A gem in Sardinia's crown, Del Principe Beach lives up to its regal title. It will take you just over 30 minutes to reach from Olbia but take your time along the scenic route. Follow the SP94 as it snakes through the greenery of Costa Smeralda.
Dazzlingly white sands are framed by the rich burgundies and greens of the surrounding flora, while large rocks jut out to mark the beach's parameters. Join the many people who snorkel in the crystal-clear waters or take a short walk into the nearby village of Cala di Volpe. Or why not just kick back, relax, and take in the beautiful Sardinian coast?
Capriccioli Beach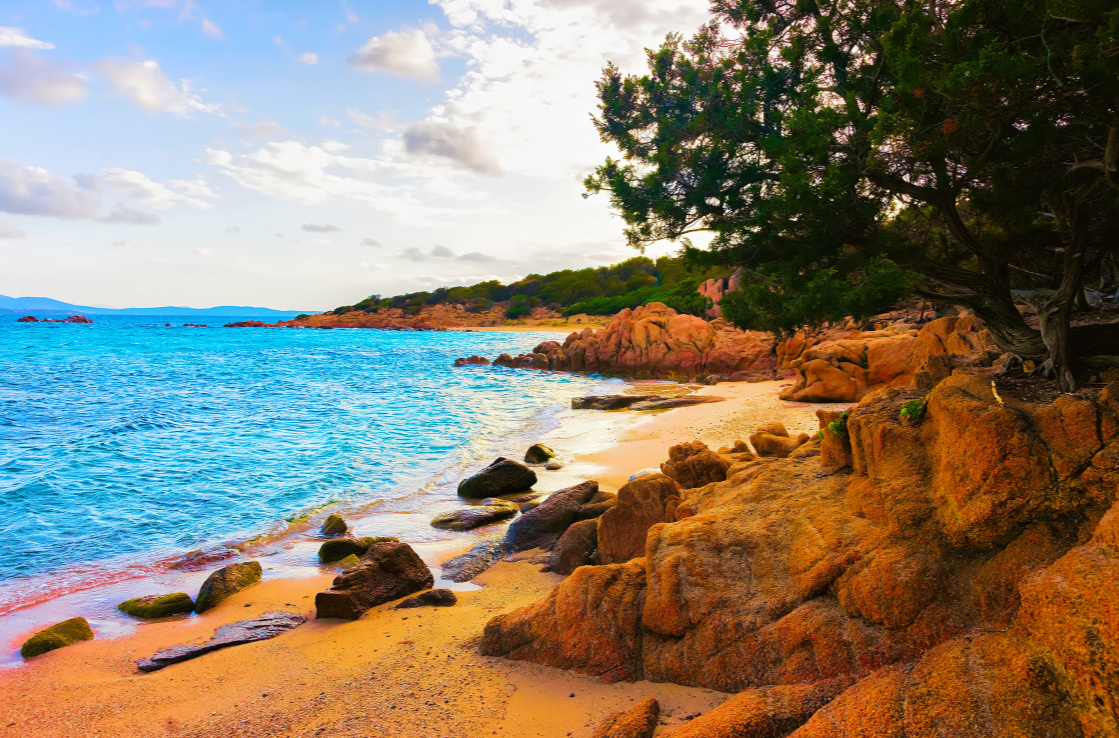 Olbia's very own blockbuster beach can be found at Capriccioli, just a six-minute drive from Del Principe Beach via the SP160. Back in 1977, its azure waters were showcased in cinema, becoming iconic when James Bond's Lotus Esprit emerged from them.
Set close to some of the smaller beach resorts in Sardinia such as Romazzino and Golfo Pevero, this Sardinian escape boasts a handful of restaurants and incredible backdrops perfect for envy-inducing photos.
Del Dottore Beach
'Doctor's Beach' is one of those dreamlike locations where white boats seem to bob in mid-air, thanks to the translucent emerald oceans. Experience them yourself by driving south past Olbia Airport on SS125 for about 30 minutes.
It's a popular place for scuba diving, but this lick of soft sand is just as suited to romantic strolls or relaxing afternoon walks. Make sure you pack a picnic, as it's a secluded spot, ideal for getting away from it all.
Punta Volpe Beach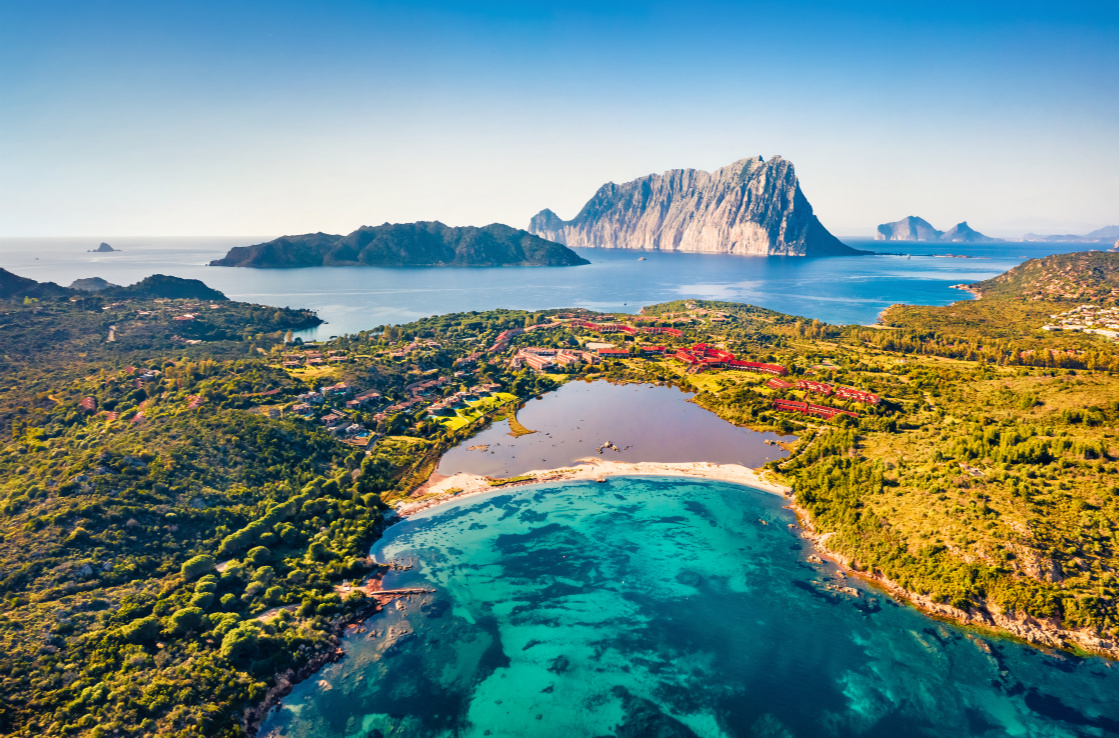 Find tranquillity in the lively Porto Rotondo region of northern Sardinia at Punta Volpe Beach.  Sink your feet into the soft yellow sands or paddle in the calm seas at this coastal hideaway.
Although it's well-connected, via the SS125, SP73 and SP99, the crescent-shaped beach feels hidden away. Pack up your picnic, take a short scenic drive from Olbia, and reach Punta Volpe in less than 30 minutes. Snorkel, sunbathe, or soak up the peaceful atmosphere – there's something for everyone. 
Stay nearby when the sun sets and get a taste of Porto Rotondo's nightlife.
Salina Bamba Beach
Looking for something a little unique? Drive from Olbia city centre to Salina Bamba Beach in around half an hour using SS125.
It's one of the most unusual beaches in Sardinia, owing to its recognisable shape. The rocks, greenery and dusty white sands create a land bridge between the lagoon and the open ocean.
The waters are flecked with colour, thanks to their rocky underlays and dense salt deposits – another chance for a great photo opportunity, this time against a mountainous backdrop. Stroll along the coastal crevices towards Belvedere a Capo Coda Cavallo for other incredible vistas.
Di Porto Istana Beach
At Porto Islanta, the beach is just the beginning. This otherworldly section of Sardinia is defined by unspoiled hideaways, stretching for miles, and unrivalled views of wild Tavolara Island.
As you might expect, the Marine Protected Area of Tavolara Punta Coda Cavallo is home to some of the most diverse sea life in Sardinia's waters. It's perfect for soaking up some of Sardinia's 335 hours of monthly sunshine and also boasts some fantastic hiking trails. Plus, there's a Michelin-star restaurant waiting to be discovered in the nearest village.
Drive south-west on SS125 before turning left at Murta Maria to reach Porto Isanta from Olbia. Its proximity to Olbia and great connections to the rest of Sardinia – including Nuoro and cultural Cagliari on the island's southern edge – make Porto Islanta a perfect location for sand-and-sunshine holidays or road trips along the picture-perfect coast.
Start planning your itinerary for Olbia's best beaches. Book your Hertz car hire today.