San Diego is a city bathed in quiet confidence. In contrast to the bright lights and glamour that define nearby LA, San Diego's patchwork of interwoven communities give it a laid-back feel. It's a place that flawlessly marries cultural city-break and sun-drenched beach vacation, gently backing up its claim of being 'America's finest city'.
The Big Bay waterfront helps San Diego live up to its name, and in this guide we discover the best this history and culture-rich harbour has to offer.  
Hop aboard the Star of India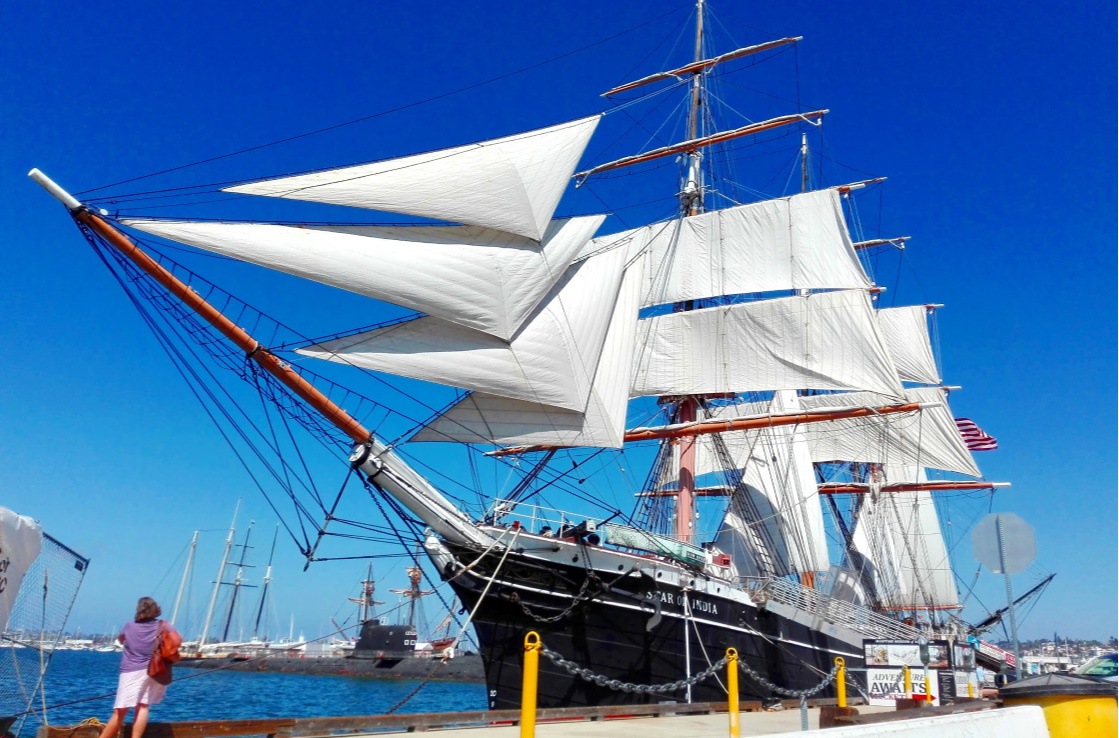 Among a wide collection of ships and exhibits at the Maritime Museum in North Harbor, the main attraction has to be the Star of India.
Built in 1863 in Ramsey, Isle of Man, the ship's maiden voyage included a collision and a mutiny – thankfully, its luck changed. By the time it was laid up in 1926, it had circumnavigated the globe 21 times and made 22 Alaskan voyages.
Today, the ship sails only once a year, giving visitors plenty of time to hop aboard and step back in time. Visit the captain's quarters or learn more about how sailors in years gone by heaved the sails guiding the ship across the seven seas
Dine in Seaport Village
A sprawling waterfront haven for foodies, Seaport Village is where you'll find the best of the city's seafood restaurants with extra diversity for other palettes.
Eat breakfast at Buster's Beach House and Longboard Bar for a view of the marina while enjoying coastal cuisine, like their popular crab cake benedict. Stick to seafood for dinner at Harbor House Restaurant – a local favourite – with their shellfish sampler, an impressive array of oysters, mussels, shrimp cocktail and clams.
Chill-out around Pacific Beach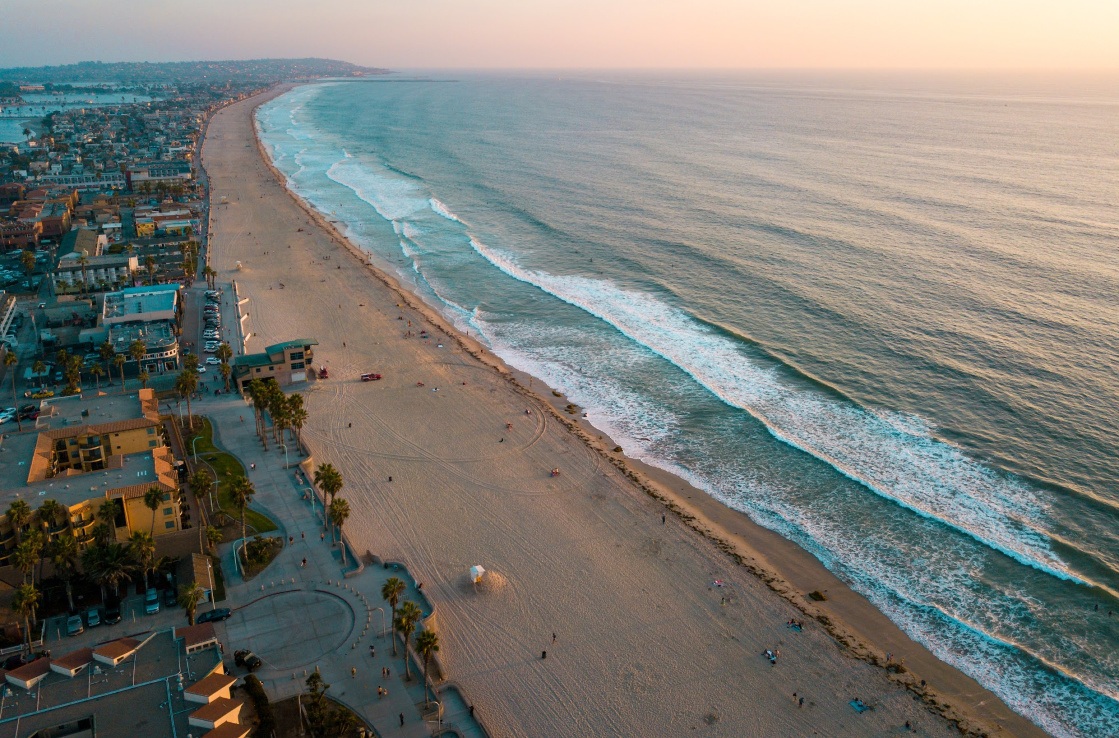 Pacific Beach is a local favourite that gives a warm, sandy welcome to visitors. Affectionately dubbed 'PB' by locals, you'll find this stretch of beauty between the Crystal Pier and Pacific Beach Drive.
With opportunities to sunbathe, surf, fish or join the regular yogis in their sun salutations, it's a perfect spot for fun and relaxation. Lined with a plethora of charming shops and restaurants to wet all appetites, an entire day can be spent enjoying Pacific Beach.
San Diego's finest talent
The Embarcadero marina brims with street artists and performers. Here, you can have your fortune read, your caricature drawn and your mind blown with magic tricks.  Some of the more famous regulars include a marine veteran with a chatty flock of parrots, and a rock artist who builds his creations through stone stacking.
Cruise the Big Bay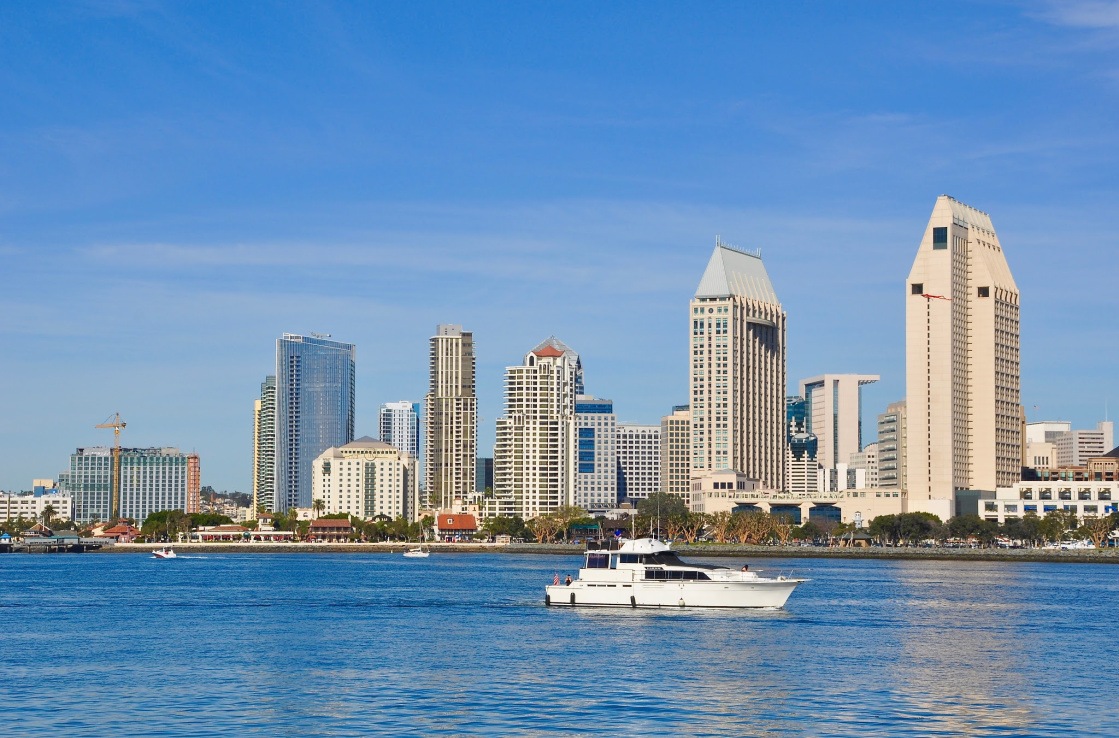 San Diego may be a city that loves looking out over the water, but it's well worth taking a trip on one of the many cruises to look back at its sprawling skyline.
As you glide under the iconic Coronado bridge, it's a view to make you see the city from a new perspective, a curious clash of skyscrapers and sand, cultures and cuisines – the ingredients that make this place America's finest city.
Enjoy the famous Big Bay and the city beyond with Hertz car hire in San Diego. Hertz has locations across the city, as well as at San Diego's airport, Lindbergh Field.