Dotted with beautiful country parks, packed with coastal walks and home to a thriving port,  Plymouth is perhaps Devon's most recognisable destination. This scenic coastal city is a playful scene of history, dramatic outdoors, and awe-inspiring architecture.
Nestled between steep rocky shorelines, forests, and grasslands, Britain's Ocean City is packed with fun, adventure, and cultural significance. There's of things to do in Plymouth, so start discovering the best of it with our guide.
Royal Citadel
Royal Citadel Plymouth, Lambhay Hill, Plymouth, PL1 2PD
Built in the 17th century to fortify the coastline from invaders and home-grown rebels, this dramatic fortress is one of Britain's top heritage historic sites. The Royal Citadel was the most significant barricade for the English for over 100 years and the military regularly strengthened its towering 20-foot walls.
Earlier Tudor forts lend heavily to the design of this fortress that is currently used by the UK military and houses the 29 Commando Regiment. Make sure to plan your trip and check the website for guided tours of the Royal Citadel in advance.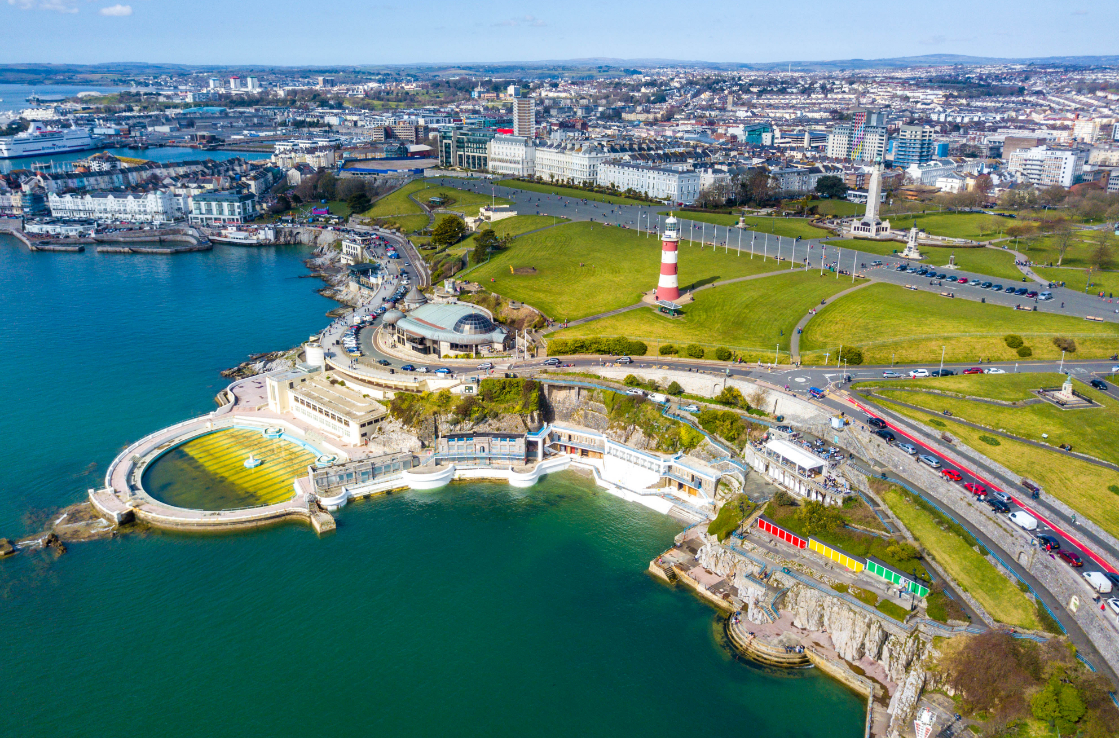 Barbican
Barbican, Plymouth, UK
Plymouth's history was curved by the fortunes of sea, trade, and battle. Nowhere is this more evident than Barbican. This site is a living piece of history and one of Plymouth's best-kept attractions.
Barbican's cobbled streets are lined with Elizabethan houses, independent shops, art galleries, museums, and cafes. If you're looking to pick up a souvenir, this is the best place to buy authentic Plymouth relics.
There's also plenty of ocean-themed entertainment for the entire family to enjoy, including  treasure trails, tall-mast-ships, pirate puppets, and mermaid encounters. Make sure you check out their website for detailed information on upcoming events and entertainment before your visit.
Saltram National Trust
Saltram, Plympton, Plymouth, PL7 1UH
A short 20-minute drive away from the Royal Citadel is a mansion packed with treasure, history, stories, intrigue, families, and children. Here you'll discover a Grade I listed mansion from the days of George II.
Once deemed as an architectural marvel and the most impressive country house in Devon, Saltram is one of the finest examples of early Gregorian architecture. Impressively, it still to retains much of its original decor.
This historic Plymouth attraction is located within proximity to the city centre and boasts a vast lush green parkland spanning 500 acres.
National Marine Aquarium
Rope Walk, Coxside, Plymouth, PL4 0LF
The largest Aquarium in the United Kingdom can be found in the Ocean City of Plymouth. This is one of Plymouth's most loved and popular attractions, especially among the young crowd.
Immerse yourself in the deep blue ocean life and learn about the wonderful underwater species that help to stabilise our atmosphere. The Aquarium is split into four separate zones, with each zone exhibiting fascinating sea creatures.
The adventure usually starts in the local waters of Plymouth Sound. This national treasure, that's run by Ocean Conservation Trust, houses over four thousand animals and is responsible for leading conservation work.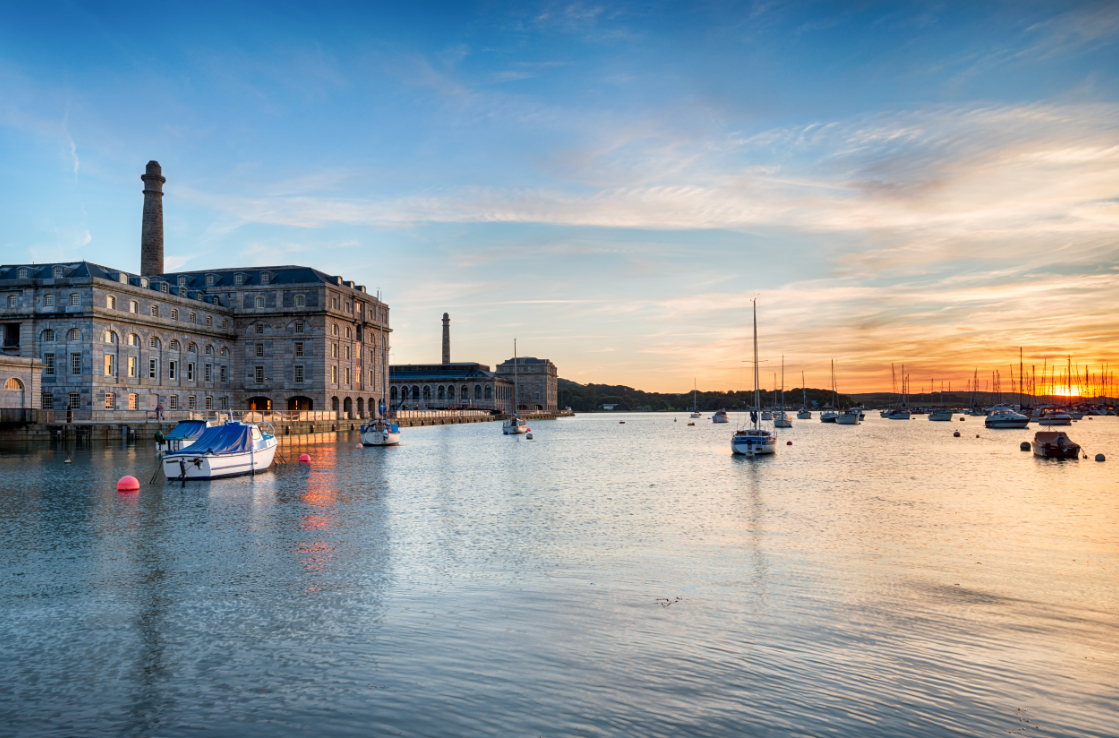 Royal William Yard
Royal William Yard, Plymouth, PL1 3RP
Come and explore Britain's glorious naval history and mind-blowing architecture of the lost time. Constructed between 1826 and 1831, this site is steeped in history. Many consider this assembly of navy buildings to be one of the most significant of all historic military architecture in Britain.
The Royal William Yard boasts the largest collection of Grade I army buildings in Europe and has been transformed into a popular venue for cultural events. There's an open-air cinema, theatre productions, and handcraft market that draws in both locals and tourists alike.
Charles Church
Plymouth, PL4 0BA
One of the most famous historic relics of Plymouth is a 17th-century parish church that was founded in 1640. Charles Church enjoyed little visibility back in the but now it's an A-list tourist destination.
The church serves as a sad shell of wrath and destruction of WWII. In 1941, Nazi German bombers bombed the church and burned it.
Today, the scorched remains of the structure serve as a memorial for the civilians who perished on the fateful nights of 21-22 March 1941. Over the years, this ancient parish church has also become a popular Plymouth tourist attraction.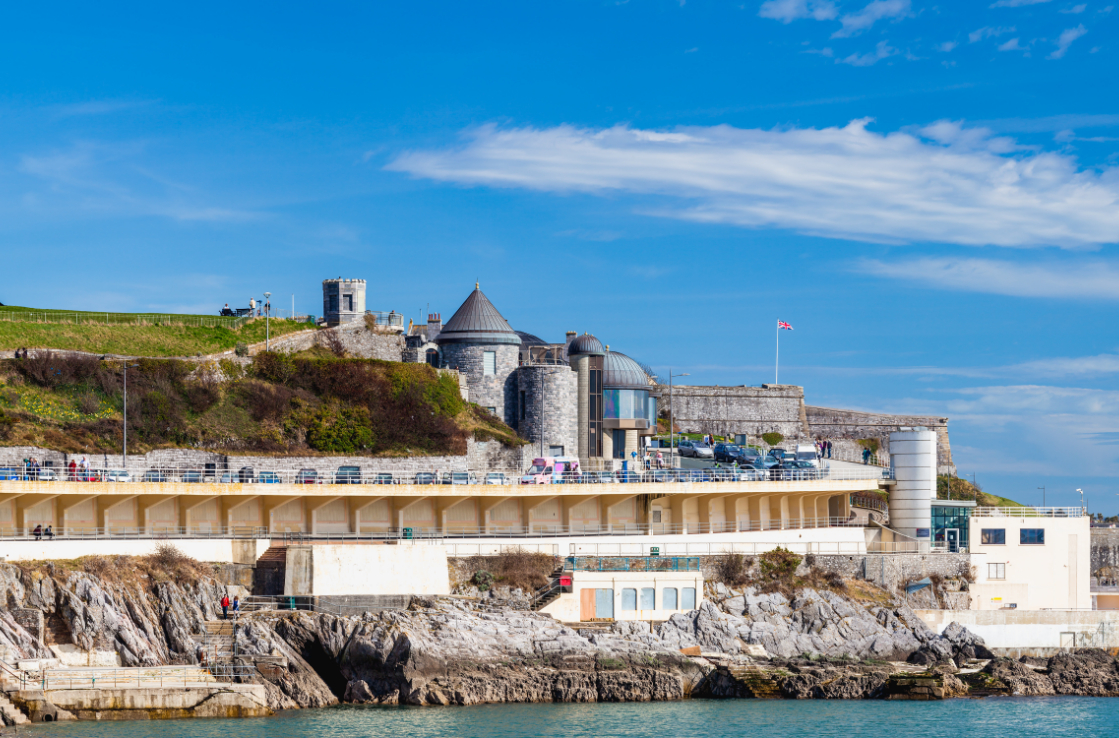 Smeaton's Tower
W Hoe Road, Plymouth PL1 2NZ
Less than a couple of miles away from the Royal William Yard is a keynote attraction in the South West, Smeaton's Tower. The lighthouse that currently stands on Plymouth's Hoe is a completely restored version from the original structure that was built on Eddystone reef around the mid-18th century.
Later in 1880, it was discovered that the structure was eroding the rock structure beneath. It got dismantled stone by stone and was later reconstructed in its current resting place.
Visit to discover what was considered a pioneering step in lighthouse design and the blueprint for future structures. There are also fantastic views available of the coast below.
The Box
Tavistock Place, Plymouth PL4 8AX
Looking for a one-stop-shop for everything from Egyptian history, and fine arts, to a la carte dining? Welcome to The Box - Plymouth's multi-million-pound culture and heritage site.
A long-planned redevelopment of the former Museum and Art Gallery and Central Library began in 2017. It preserved the stunning structure while expanding its facilities with a sleek, modern extension.
The Box was inaugurated with three major exhibitions, one of them being their flagship event Mayflower 400: Legend and Legacy. The Permanent Collection in the museum takes you through Plymouth's past and gives you an insight into the life of early settlers. Here, you also get to uncover the momentous voyages that began in this port city.
Reserve your car hire from Hertz today and experience all the wonderful things to do in Plymouth.