New Discovery: Hudson Yards in New York City
Just when you think Manhattan ran out of space for a fresh crop of skyscrapers, Hudson Yards comes into sight. The grandest development on the island since Rockefeller Center—and the priciest project on record—sparkles into the skyline with manicured plazas, anything-you-desire shopping, and restaurants to make you salivate. Add in a state-of-the-art multidisciplinary cultural center called The Shed, a climbable sculpture named The Vessel, and a dizzyingly high observation deck dubbed The Edge, and you'll see why the West Side has never been so desirable.
Where to stay: Hotel Americano's walking distance to Hudson Yards—plus a rooftop pool and restaurant—leave little else to desire in this hip boutique accommodation. Luxury fitness brand Equinox is also debuting their highly anticipated wellness-focused hotel right inside Hudson Yards in June 2019.
While there's so much to explore in this shiny newborn district, its location also gifts an easy escape out of Manhattan via the West Side Highway, avoiding inner-city gridlock. After discovering Hudson Yards, satisfy your countryside cravings with a heritage-filled road trip up the scenic Hudson Valley. Pick up your ride at the Hertz on W 34th Street and make your way upstate.
First Stop: The Giant Sculptures of Storm King Art Center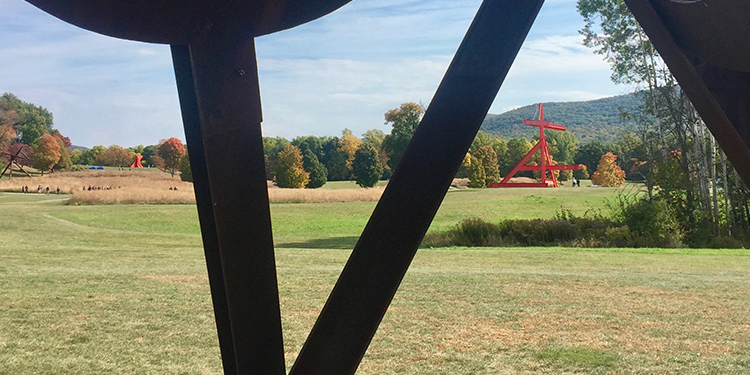 After you've taken in the photogenic Hudson Yards Vessel, your route up the Hudson Valley will reveal even more wondrous works of art. On a 500-acre plot an hour north of New York City is Storm King Art Center, one of the most celebrated (and largest) open-air museums in the United States. Founded in 1960, the Center evolved over time from a small museum for local painters to a magnetic destination for the greatest contemporary artists of the century.
With Storm King Mountain as a backdrop, the hilly landscape serves as the canvas for over 100 large-scale sculptures installed in the fields and forests of the grounds. Make sure your phone is fully charged for this trip—the photo opps are limitless as you meander on-foot or pedal through on two wheels. Sculptures range from the truly gargantuan (stand beneath Zhang Huan's nine-metre-tall Three Legged Buddha!) to more subtle works built quite literally into the grassy terrain, like Maya Lin's Storm King Wavefield. Other highlights include Roy Lichtenstein's Young America (a sailboat painted with a Pop art mermaid), Alyson Shotz's oft-Instagrammed Mirror Fence, and Isamu Noguchi's famed Momo Taro.
Second Stop: Historic Mansions and Hiking Trails in Cold Spring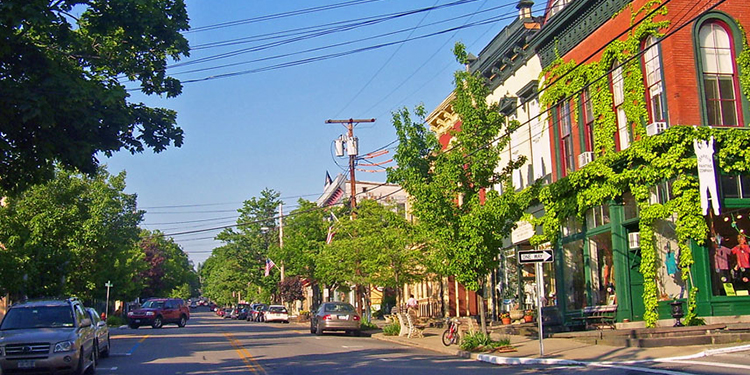 A former artillery hub during the American Civil War, Cold Spring is widely considered a quintessential "upstate" getaway for New Yorkers seeking nearby respite from the concrete jungle. Submit to Cold Spring's hypnotic charms with a stroll down Main Street, where you'll find an impressive roster of independent boutiques and farm-to-table restaurants. For lunch head to Hudson Hil's Cafe to enjoy tasty locally-sourced meals in a converted 19th century train depot, then shop the elevated curation of home goods at Burkelman. If you're there on a Saturday, the outdoors Farmers' Market at the historic century Boscobel House is the perfect place to sample produce and provisions from around the Hudson Valley.
Cold Spring's location on the eastern banks of the Hudson River also grants spectacular views of Storm King Mountain, and for adventure-seekers, access to the scenic trails and historic ruins of Breakneck Ridge.
Where to stay: Rest your head at the centrally-located Cold Spring Bed & Breakfast to recharge before a morning hike or ferry ride to the enigmatic Bannerman Castle.
Third Stop: Contemporary Art and Pub-Hopping in Beacon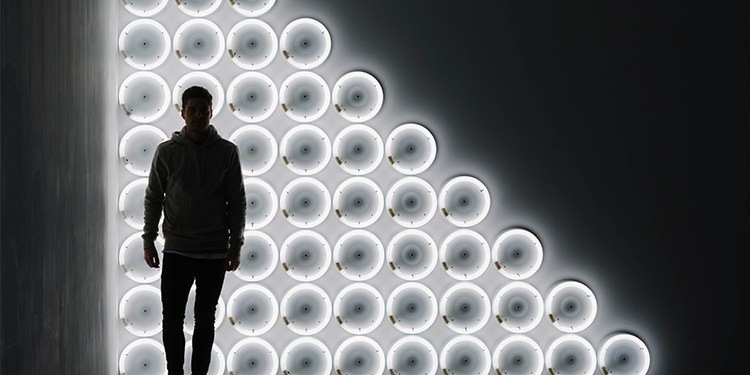 The cultural renaissance of the Hudson Valley is perhaps best seen in the post-industrial town of Beacon, about a 15-minute drive from Cold Spring. Beacon landed on the map in 2003 after the nonprofit Dia Art Foundation opened their second outpost in a former 28,000-square-metre Nabisco factory on the river. (The original venue, slated to reopen from renovations in 2020, is located near Hudson Yards in the Chelsea neighborhood.) Featuring works from the 1960s to present day within its indoor and outdoor exhibitions, Dia:Beacon is contemporary art lover's dream, with names such as Andy Warhol, Dan Flavin, and Agnes Martin making an appearance.
After perusing the gallery, zip over to Main Street to savor Beacon's thriving scene of gastropubs with a bite and a tipple at Hudson Valley Brewery (which spotlights rotation of "pop-up kitchens") or Dogwood's 16 beers-on-tap and hyper-local fare.
Where to stay: The historic Roundhouse Beacon is perched atop the town's emblematic waterfalls, plus stylishly modern guestrooms and a superb in-house restaurant render it the ideal upscale country hotel.
Fourth Stop: Antiquing and Delectable Dining in Hudson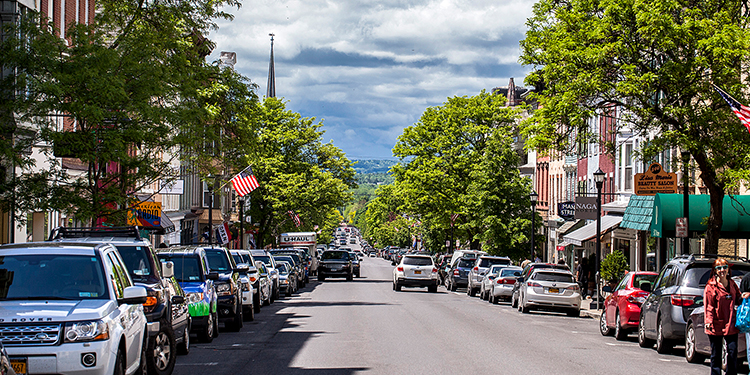 Your next stop along the valley is Hudson, whose creative energy has earned it the nickname "Brooklyn North." While its old-town appearance may be the antithesis of Hudson Yards's glimmering glass buildings, Hudson can certainly compete in the shopping department. Replete with high-end furniture showrooms and renowned antiques dealers, Warren Street is where you can easily shell out thousands on one-of-a-kind finds and handcrafted goods.
Hudson also surprises in the culinary department with options ranging from low-key retro-style meals at Grazin' Diner to fine dining at retro-chic Fish & Game.
Where to stay: Snag a room at WM. Farmer & Sons, a rustic-chic lodge with a fabulous restaurant of the same name.
Final Stop: Racetracks and Mineral Springs in Saratoga Springs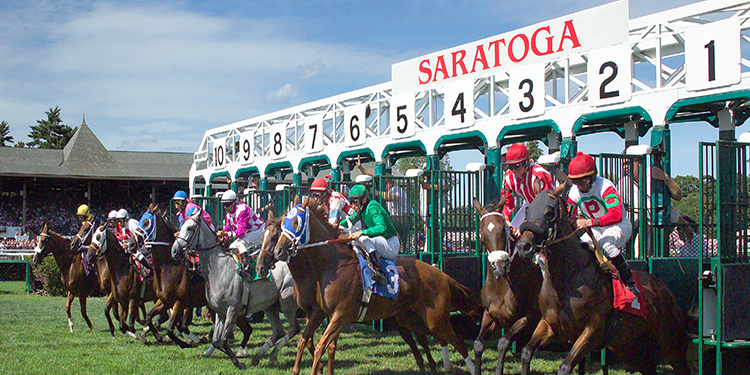 Curious what to expect at your final stop? Just refer to the Saratoga Springs slogan: "Health, history, and horses". Since the 14th century, the area's natural springs have been revered for health-promoting properties—and the fact that you can still drink from them today. You can find watering holes throughout Saratoga Spa State Park and even downtown, in Congress Park, so always keep a cup or empty bottle on hand. Each water source tastes different according to its unique mineral composition, and all are safe for imbibing.
"History" refers to the impressive number of historical sites, from the Roosevelt Baths to the many museums that dot the downtown core. One spot you can't miss is the National Museum of Racing and Hall of Fame, which is devoted to the achievements of American Thoroughbred race horses, jockeys, and trainers. It's also great context as you discover the main draw of Saratoga Springs: "horses".
The Saratoga Race Track has gone a long way from hosting the city's first thoroughbred horse race in 1863, when the Saratoga Racing Association was established. In recent years, the spectacle has attracted over one million visitors during the summer season—you'll want to include yourself in that count!
Where to stay: Before returning to New York City, spend a night at the stately Pavillion Grand Hotel, which is celebrating its 200 year anniversary this year. It's located right off of lively Broadway, which has tons of restaurants, bars, and shops in the beating heart of downtown Saratoga Springs.
Paul Jebara is a New York City-based freelance travel writer and photographer who's really good at vacation. Follow his adventures on Instagram @pawljebara.