Many of the Balearic Islands' best beaches can be found in Mallorca, sending holidaymakers from across Europe and beyond flocking to its shores. This gem in the Mediterranean features thousands of miles of coastline, dotted with secluded coves, azure waters, and golden sands.
Each one offers a different kind of coastal experience too. With beaches perfect for relaxing with a good book, letting off steam with watersports in the warm waters and those perfect for families enjoying an unforgettable day out, the choice is quite amazing.
We've profiled the island's 10 best in our guide, so you can start planning your coastal adventure today.
Caló des Moro
Less than a 15-minute drive from the charming town of Santanyí, you'll find one of the best kept secrets in southeast Mallorca. What Caló des Moro lacks in size, it's less than 40 metres long in total, it more than makes up for in beauty.
These serene sands are surrounded by clear cliffs and crystal-clear azure water, perfect for enjoying a relaxing swim in this sheltered cove. It's a relatively hidden beach and can be reached by car but parking up and walking down to the steps that lead down to the beach is recommended.
Playa de Muro
Known as the Caribbean of Spain, the magnificent beauty of this beach is unmatched. Stretching nearly four miles, Playa de Muro is one of Mallorca's largest sand beaches, lapped by calm turquoise waters and soft white sand – made for fun-filled family days out.
The tranquil waters are complimented by family friendly activities further up the beach, with watersports available for thrill seekers, like jet-skiing and paragliding. If a relaxing walk among nature is more your thing, the beach is also a 15-minute walk, or five-minute drive, from the S'Albufera Natural Reserve.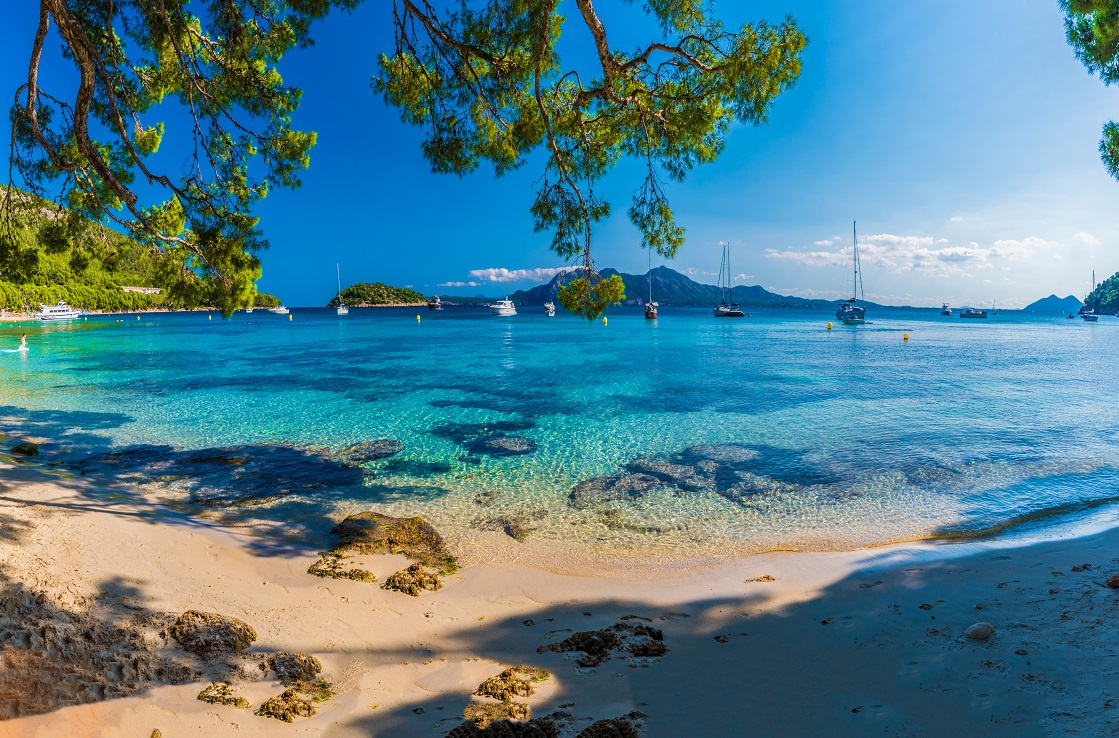 Playa de Formentor
This beautiful natural beach features a breathtaking backdrop of the Tramuntana Mountains and is surrounded by pine trees that offer shade from the Mallorca sun. The shallow water and wave protection makes the beach great for children, and with two restaurants close by, you can enjoy delicious cuisine right by the beach.
Parking is available nearby and a lookout point can be found a few kilometers from the beach – made for capturing that holiday selfie. Playa de Formentor is less than seven miles (11km) away from the town of Puerto de Pollensa by car, an ideal excursion after a morning on the sands.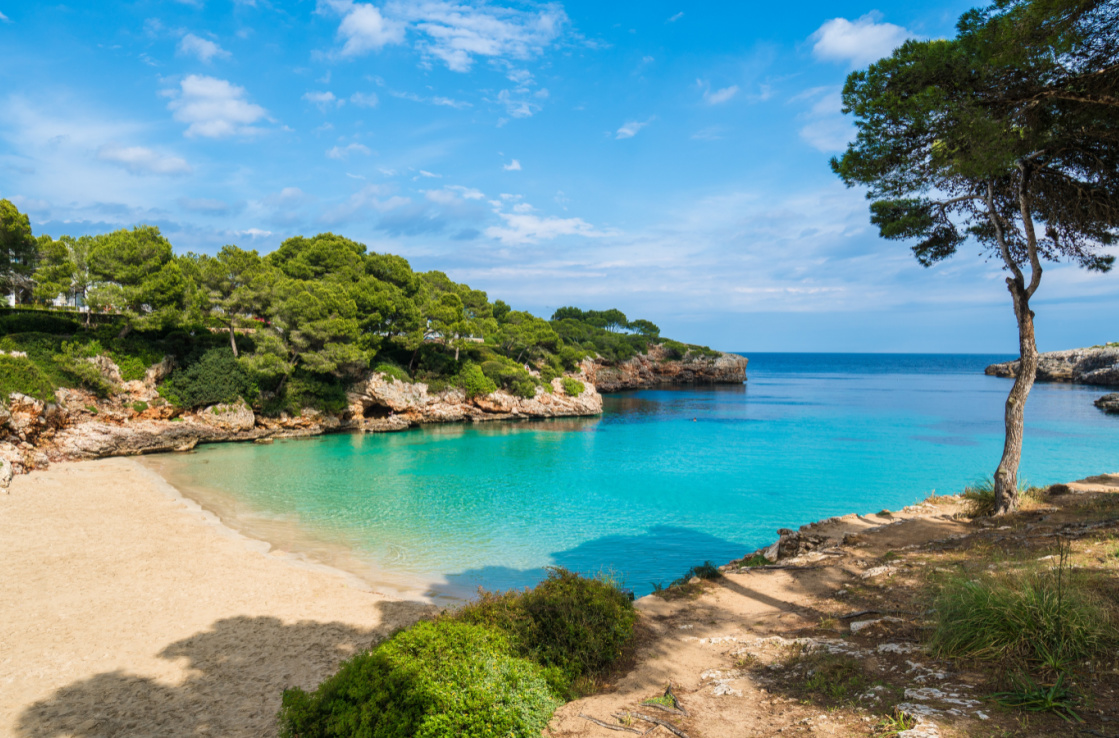 Cala d'Or
The holiday resort of Cala d'Or is home to many beautiful bays, ideal for family-friendly holidays and romantic retreats alike. The name translates to 'Golden Bay', thanks to the beautiful waters, golden sands, and picturesque town – whose streets are authentically Balearic, with white two-storey cubic houses dotting the landscape.
The waters are clear, ideal for swimming and snorkeling – if you're lucky you may spot some marine life near the cliffs. Nestled in the centre of Cala d'Or, you'll find the Cala d'Or Yacht Club. With approximately 600 moorings, it's one of the biggest marinas in Mallorca and well worth a visit.
Ca'n Pere Antoni
Ca'n Pere Antoni is renowned one of the best beaches in Palma de Mallorca, mainly due to its closeness to Palma city centre – just a 10-minute drive away. This does mean that it can get a little busy during the summer months, but the incredible views of Palma Cathedral, La Seu, are not to be missed.
The beachfront is ideal for sunbathing and there's also outdoor pursuits available too, with a promenade and cycle path to explore. While you're in the area, why not explore the 'Old City's' beautiful architecture – located just behind the cathedral.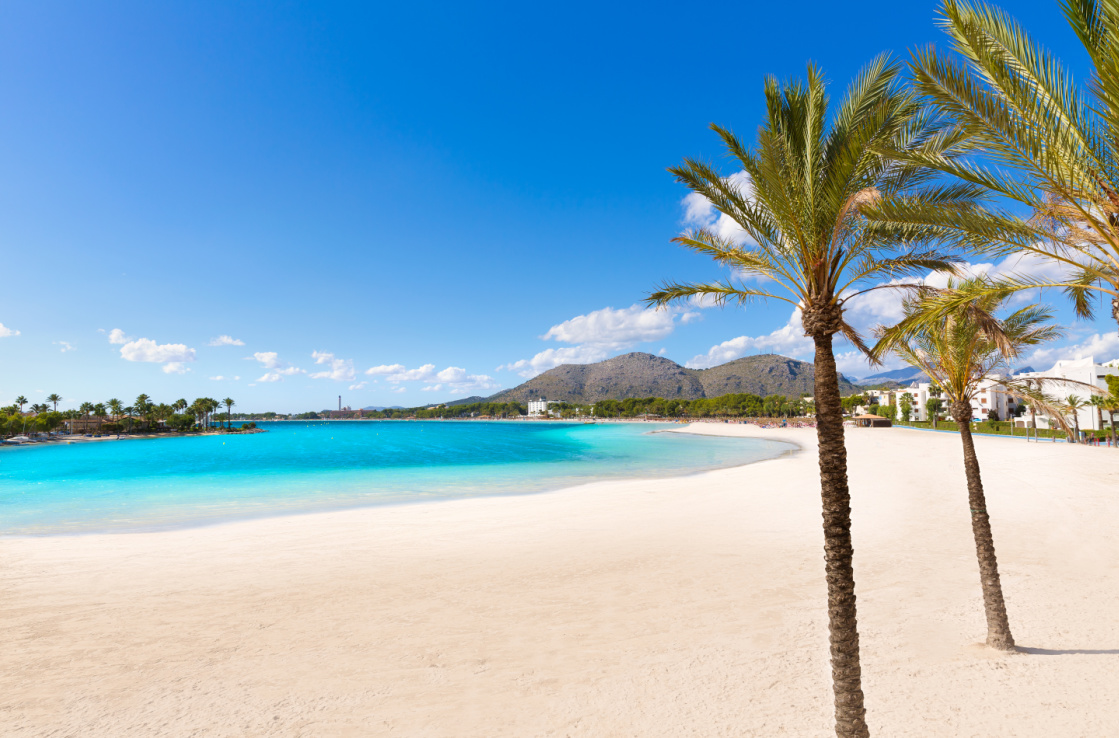 Playa de Alcúdia
Playa de Alcúdia is the largest beach in all the Balearic Islands, stretching nearly four miles long. Known as the 'Golden Mile', its golden sands are perfect for sun lounging and turquoise waters, calm enough for a gentle swim.
Take the plunge and book onto one of the many boat trips that leave these shores, including deep diving adventures or luxury cruises. For some family fun, why not take to the water in a rented pedalo? Park for free at one of the car parks close by to enjoy the beach or explore the resort of Port d'Alcúdia.
S'Amarador
You can find the breathtaking beach of S'Amarador in the Cala Mondrago Nature Reserve, surrounded by towering pine trees and offering glorious views. The 145-metre stretch is great for families, with shallow waters and enough space for kids to play, while adults can enjoy the sun loungers and nearby beach bar.
It's the perfect place to relax in pure tranquility, away from any watersports, apart from magnificent boats that anchor in the bay. You can easily visit Cala Mondragó, within the Cala Mondrago Nature Reserve, by following the mountain path that connects the two beaches.
Sa Calobra
Sa Calobra is the home of two of the best beaches in Mallorca, separated by the river gorge – Torrent de Pareis. Nestled in-between rugged cliffs, the beautiful scenery of either beach is not to be missed. This delightful slice of Mallorca has bright turquoise waters and a mixture of sand and pebble beach.
Enjoy peace and quiet with no water sports and watch the sunset come rolling in at the end of another day in paradise. Reach Sa Calobra by car along a winding road, starting at the MA-10 junction, with spectacular views – look out for safe spaces to stop and take in the scenery.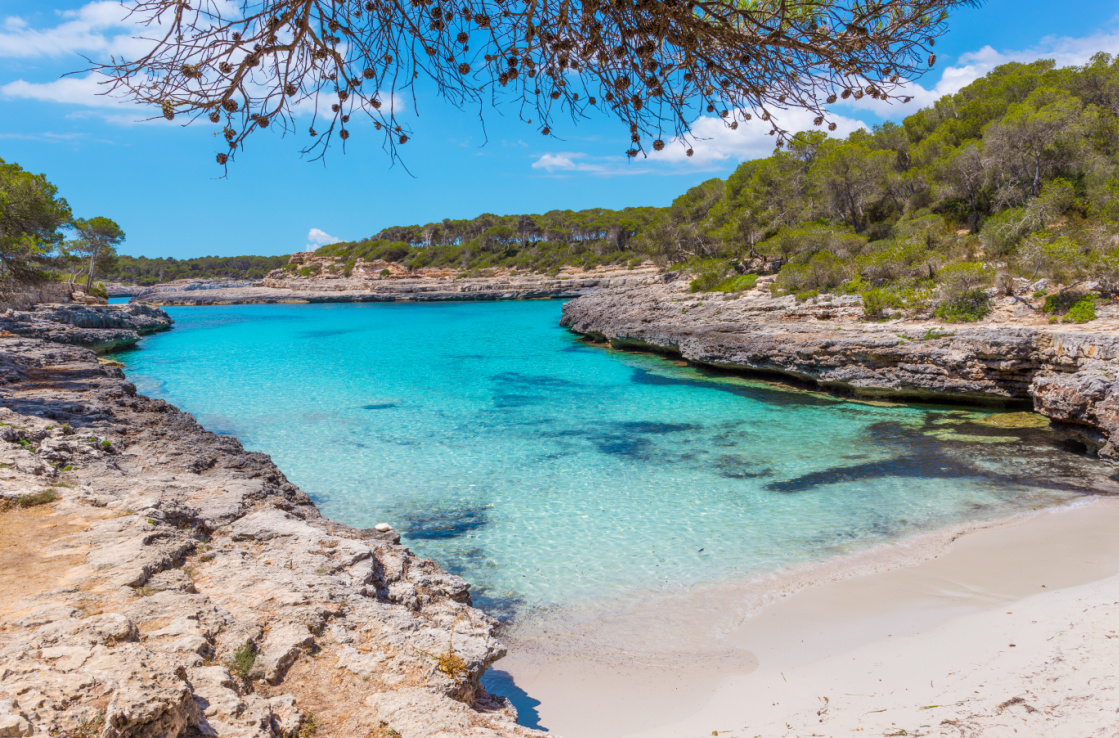 Mondrago Natural Park
The Mondrago Natural Park is home to a few of the best beaches in Mallorca, all with white sand and bright, jewel-coloured waters. Situated in south Mallorca, the nature park is located within the district of Santanyí and is just 15 minutes away from the Cala d'Or resort.
Discover magnificent cliffs surrounding the wetland of Ses Fonts de n'Ali, home to migratory birds and other wildlife, such as Algerian hedgehogs and hares. Follow the winding nature trails to discover spectacular viewpoints and explore one of the beautiful bays, including Cala Mondragó and Cala S'Amarador.
Cala Santanyí
Cala Santanyí beach is the perfect way to explore the dreamy Mediterranean sea. Surrounded by pine trees and rocky cliffs, the beach hosts bright blue waters and soft sand. Enjoy a whole host of family-friendly activities, including snorkeling, canoeing and paddle boating. The calm waters make this beach great for swimming, too.
Cala Santanyí is easy to access by car, less than five minutes away from Santanyí. You can park at the large carpark on the beach, or along the streets close by. Sample local cuisine at the delicious restaurants that line the beach.
Rent a car with Hertz to start your adventure in Mallorca. Experience the azure waters and white sand beaches of the Mediterranean Sea today.