Maine is the ideal place for a road trip to explore vast forests, the jagged cliff-lined coast and a smattering of seaside villages. Every step on the state's shoreline offers natural beauty and quintessentially New England structures, including one of the state's most iconic features - lighthouses.
Each of Maine's 65 lighthouses have their own story to tell, having safely guided ships home for centuries. On land, they're also perfect for guiding road trippers exploring the state in their hire car.
Here's our pick of the most historic and scenic lighthouses in Maine.  
1. Boon Island Light: Boon Island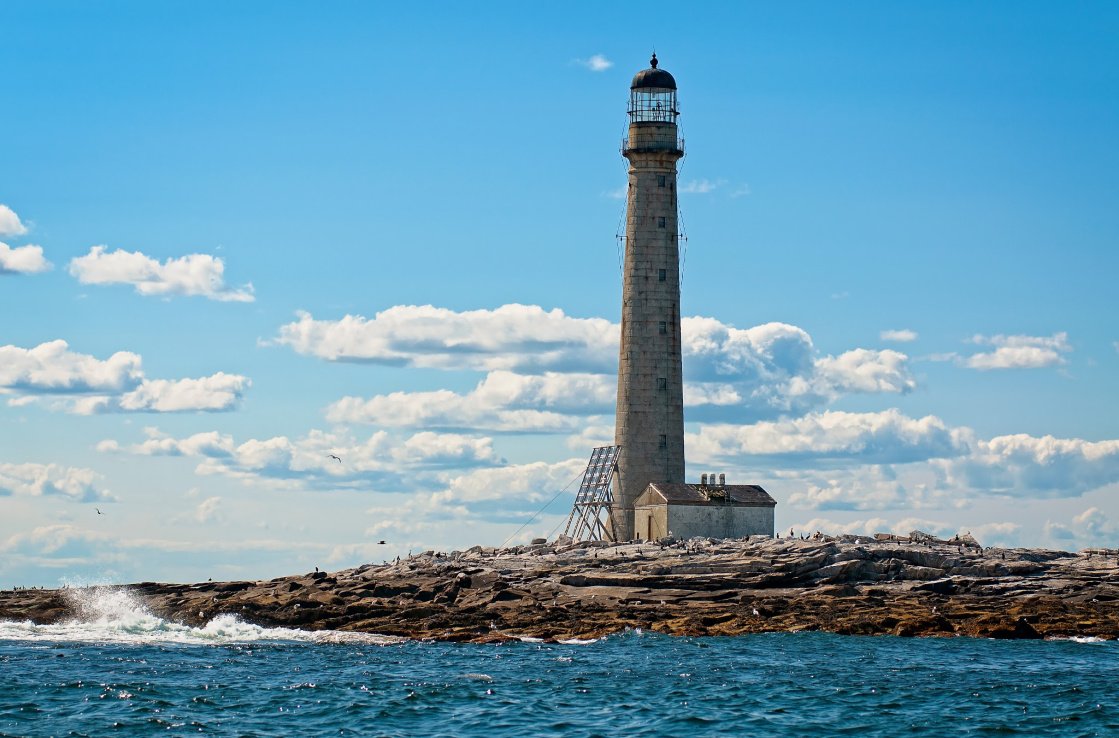 First on our list - and at the southernmost point of this road trip - Boon Island Light shines brightly from the small island just off the coast of Cape Neddick. Standing at 40metres (133 feet), it's the tallest of Maine's lighthouses. Its original Second Order Fresnel lens – known as the invention that saved a million ships – was automated in 1980 when it was damaged during a turbulent storm. The light has since been automated with a solar beacon, helping ships find their way home. While the lighthouse can be seen from York Beach, it's better to see it from the water on a local lighthouse cruise leaving from nearby Kennebunkport.
2. Portland Head Light: Cape Elizabeth
Portland Head Light was first illuminated by oil lamps in 1791, making it the oldest of Maine's historic lighthouses. The structure sits on the rocky coastline of Fort Williams State Park and guides oncoming ships into the Casco Bay area in the Gulf of Maine. Explore the surrounding park and tour the old fort structures while taking in impressive ocean views. Stop by the museum in the original keeper's quarters to uncover the lighthouse's history, before finishing your trip with a Maine foodie classic. The local Bite into Maine truck runs between May and October, serving delicious lobster rolls to visitors. Parking is available on site.
3. Seguin Island Light Station: Bath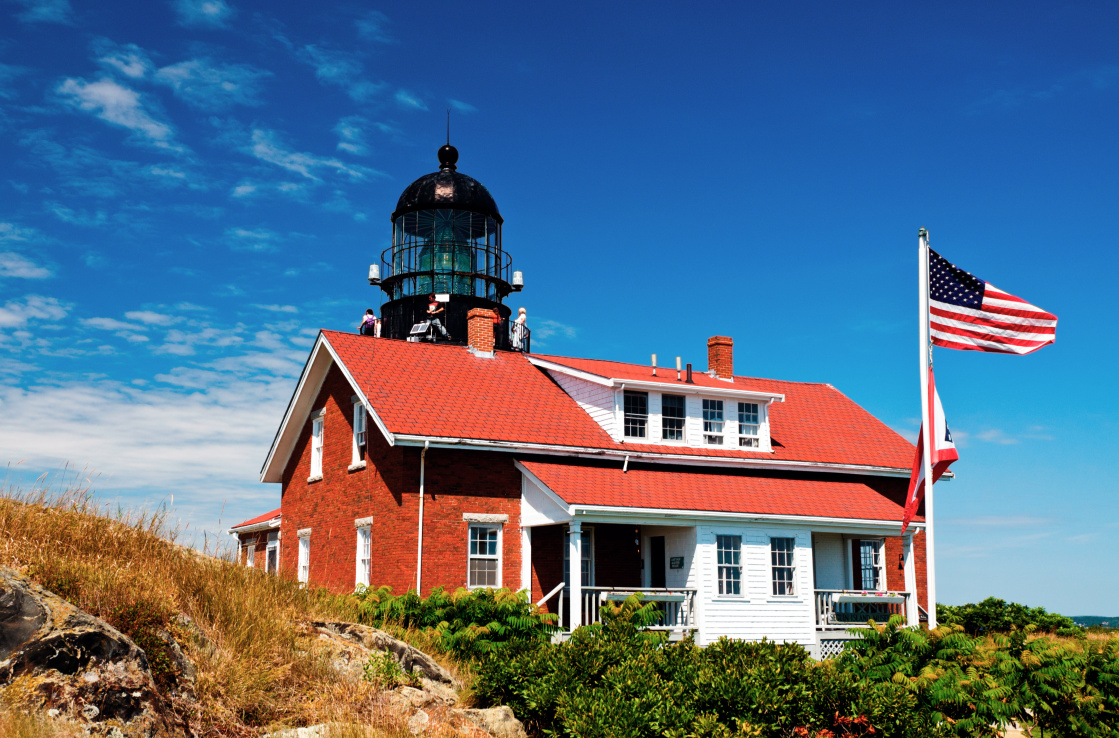 This lighthouse was built in 1795 by order of the first US President, George Washington, and has its own place on the US National Register of Historic Places. It's notable for being the second oldest of the state's lighthouses, and for its nine-foot Fresnel lens that can be seen from more than 20 miles away. To see it up close and personal, park up and hop aboard the Seguin Island Ferry at Popham Beach. Your ticket includes your journey to and from the island, as well as a guided tour of the lighthouse by the local keepers. You'll even have time to explore the island's 64 acres of beaches and trails.
4. Pemaquid Point Lighthouse: Bristol
Pemaquid Point is so famous its image is depicted on Maine's commemorative quarter, released in 2003. It was built in 1827 by order of John Quincy Adams (the sixth President of the US) and is still fully operational today. The structure itself reaches 24 metres (79 feet) atop its rocky perch. Park up next to the main building and step into the original lighthouse keeper's house to explore the Fisherman's Museum and find out more on local nautical history.
5. Marshall Point Lighthouse: Port Clyde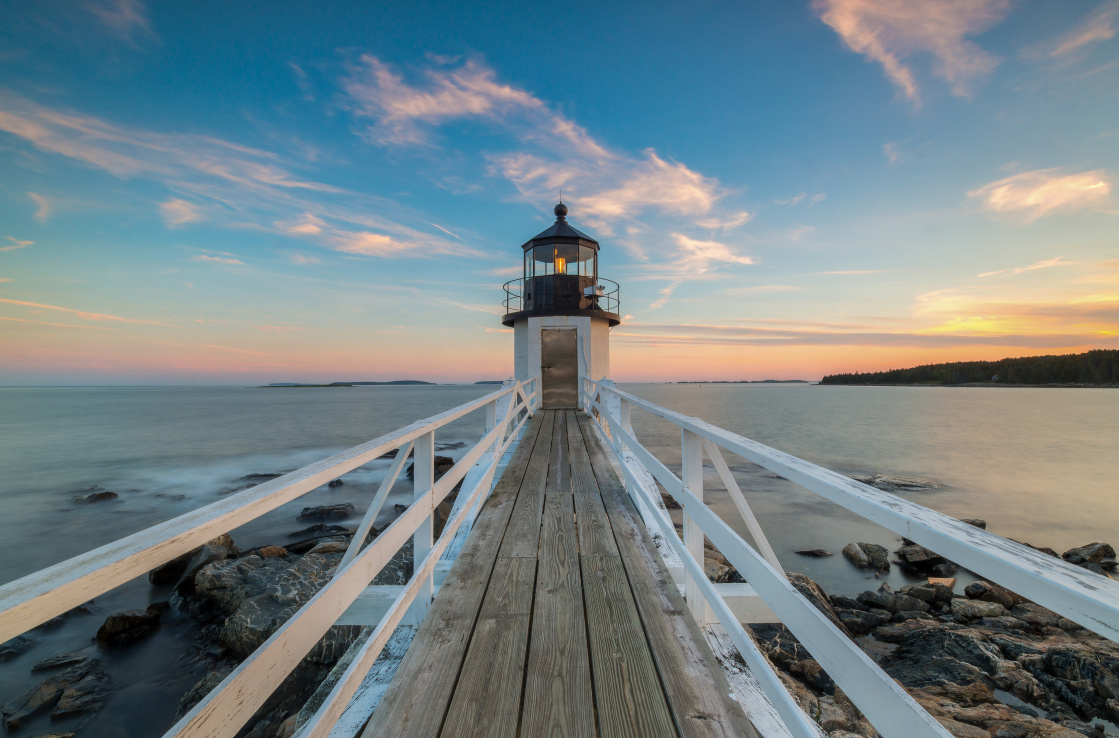 Film buffs may recognise Marshall Point as the end point for Tom Hanks' cross-country trek in Forrest Gump. Many visitors now snap pics of each other running toward the seven-metre (24-foot) structure in true Gump style. Park up, take your short sprint and photo, then hike over to the quaint fishing village of Port Clyde, where you can feast on seafood and take a wildlife cruise. On your journey you may see a flock of puffins, or even the odd minke whale briefly surfacing for air.
6. West Quoddy Head Lighthouse: Lubec
Experience life as a lighthouse keeper by booking in for a memorable night or two at West Quoddy Head Lighthouse. Wake up to the sounds of the waves in one of the last candy cane-striped lighthouses in the country. The lighthouse was built in 1858 and is the last in Maine to use the old-fashioned Third Order Fresnel lens. Aside from authenticity, the lighthouse has other perks. It's located in Lubec, the easternmost point in the US. From here, you can spy the New Brunswick cliffs of Canada.
Get your New England lighthouse road trip off on the right foot when you book car hire in Maine.