Whether you're going on a city break or exploring the great outdoors, renting a Hertz car keeps you in control of your holiday and helps you get the most from your experience. Wherever you're going, we want to inspire you to explore and savour the journey.
With this in mind, we at Hertz want to help your journeys become as memorable as the destinations themselves. With you in the driving seat, you can stop off and find the hidden gems you might have otherwise missed, giving you a deeper sense of connection to the country you're visiting and great stories to bring back home.
We've teamed up with the travel experts from Culture Trip, the lifestyle and culture hub, to identify some of the best stops to enjoy when driving in Europe. This summer, why not stop before you get there, and discover new places that will transform your trip from a holiday to an adventure.
See below to find out some of our top stops on the drive from historic Edinburgh to the beautiful Scottish coast.
Royal Mile
Connecting the magnificent Edinburgh Castle, perched high on an extinct volcano, and the splendid Palace of Holyroodhouse, the Queen's official residence in Scotland, Edinburgh's Royal Mile is bursting with things to see and do—the perfect first stop on your drive to St. Andrews.
The Mile is sprinkled with numerous attractions such as the warren of hidden streets at The Mary King's Close, the Scottish Storytelling Centre, St Giles' Cathedral, as well as some of the best eating and drinking spots in the city. Be sure to also visit the ultra-modern Scottish Parliament. Tours of the building are free, and you can take in the impressive art collection and watch parliament debate.
For the month of August, the Mile is famously bursting with acts promoting their shows during the Edinburgh Fringe, the largest arts festival in the world. You'll find numerous quirky shows that are reasonably priced (or free!) as well as catching some of the most famous faces in theatre.
For shopping, you will find plenty of opportunities to buy cashmere, tweed, tartan and speciality Scottish food and drink. We simply couldn't talk about Scotland's capital without directing you to the Edinburgh Mile—it really is a must see for any trip to Scotland!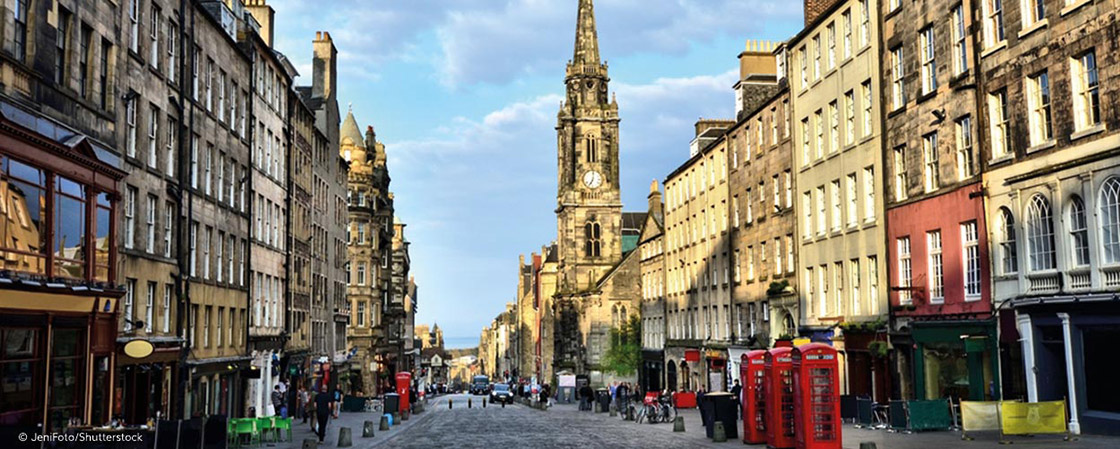 Cramond Falls
Placed on the edge of Edinburgh, we recommend any travelers to stop off at the fairytale village of Cramond. The Romans built a fort here in the 2nd century AD, but more recent archaeological excavations have revealed evidence of a Bronze Age settlement dating from 8500 BC, making it the oldest-known human site in Scotland. This ancient village rich in history is perfect for a family day out or simply a relaxing stroll with its sandy beaches and pretty walks along the water, offering views of Firth of Forth.
A particularly beautiful sight to behold is the white cascading gushes of water at Cramond Falls. The waterfall here is guarded by rows of leafy trees along the River Almond making it by far the prettiest place to pause on your trip from Edinburgh to St Andrews. Make sure to stop by the converted 17th Century Grain Mill now Cramond Falls Café for a pot of tea and a slice of cake.
Cramond Falls Café 10 School Brae, EH4 6JN
Opening hours: Daily 09.00 – 17.00
Forth Bridge
Edinburgh's own Golden Gate, the Forth Bridge is a great place to go via on your journey out of the city. Having been voted Scotland's greatest man-made wonder in 2016, it is considered an iconic structure and is a UNESCO World Heritage Site. Constructed between 1883 and 1890 as a railway crossing from South Queensferry to North Queensferry, its striking red colour and three prominent towers add a dramatic punctuation to the Firth of Forth (the famous estuary of several Scottish rivers). This impressive feat of engineering is a must see for any trip!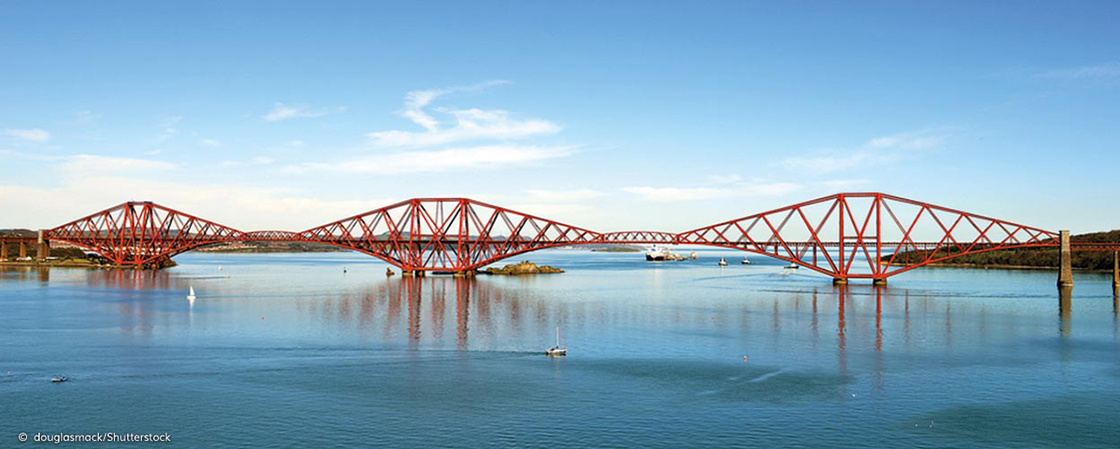 Elie Lighthouse and Lady's Tower
The twin towns of Elie and Earlsferry merge together to create a larger community along the shore of Ruby Bay, one of the widest and prettiest stretches of coastline in Fife. Here you'll find two lovely stops. One is Elie Lighthouse built in 1908. Very easy to get to, just find the well signposted Ruby Bay car park, and then walk out towards it for an extremely photogenic piece of maritime history surrounded by swirling Scottish seas. The other is Lady's Tower, a ruined tower located beside Ruby Bay on the Fife coast near to Elie. It was built during the 1770's for Lady Janet Anstruther who liked to skinny dip here and would send out her servants to warn local residents of her imminent swimming and to keep away from her tower!
It is well worth a stop off at these two quirky seaside sites, and a possible a dip for the brave! No permission from Lady Janet Anstruther needed…
Hertz has car hire available from both within the city centre and at Edinburgh Airport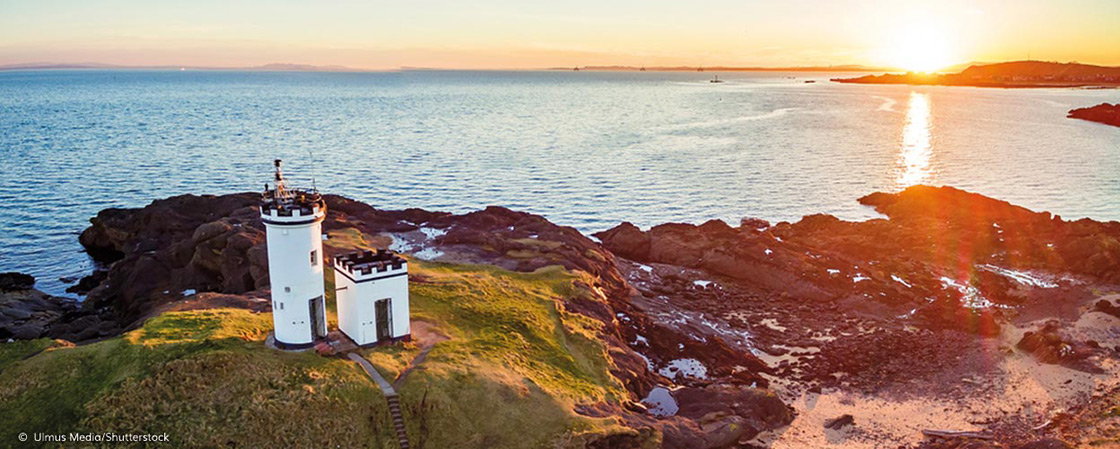 This summer, wherever you're going #goviahertz.