Whether you're looking for a quick foodie pit stop because the kids are hangry or want an epic roast to break up the journey home, Angelica Malin – editor-in-chief of About Time magazine – can point you in the right direction. As a regular restaurant reviewer and food writer, Angelica certainly knows her sourdough from her sauerkraut. Here she's chosen 21 of the best spots to make your #goviahertz detour more gourmet…
Where: M25 – Surrounding London
1. The Runnymede-on-Thames Hotel
If you've never had a picnic on a boat, you need to schedule a stop at the Runnymede Hotel. They offer boat rentals featuring drinks coolers and a Bluetooth stereo to hook your music up to. Order the pre-packed picnic with handmade sandwiches, cheese, olives and bubbles, of course.
Set the SatNav to: Windsor Road, Egham, TW20 0AG
Route: 5.1 miles off the M25 (via junction 13 - Windsor Rd/A308)
2. Brewhouse Café, Knole House
A stone's throw away from the M25, I'd recommend stopping off at Knole House's Brewhouse Café for an amazing cream tea and slice of homemade cake. Set within an amazing deer park, the cafe's roof top terrace has beautiful views and they serve old-fashioned ice cream for sunny days. There's also a "Grab & Go" outlet in the courtyard for in-car treats.
Set the SatNav to: Knole House, Sevenoaks TN15 0RP
Route: 4 miles off M25 the (via Dibden Ln)
Piccolino La Griglia is a local favourite in Virginia Water and serves authentic Sicilian dishes – perfect for a lunch stop. Opt to sit on the all-weather terrace (it's just had a summery makeover!) and start by sharing some small plates – Bresaola, Buffalo mozzarella and salami. For a traditional main, try the British lamb with mashed potato and crispy courgette fries.
Set the SatNav to: London Rd, Virginia Water GU25 4QE
Route: 5.9 miles off M25 the (via junction 13 M25 and A30)
Where: M1 – Heading north from London to Sheffield or Leeds
4. Eat Tokyo
If you need a quick bite, Eat Tokyo is an authentic Japanese restaurant and serves up sushi, sashimi, hot dishes and great noodles. Definitely try the spicy tuna rolls and miso aubergine. To taste it all, order a Bento Box, which features everything plus Japanese salad and steamed salmon.
Set the SatNav to: 14 N End Rd, Golders Green, London NW11 7PH
Route: 2.1 miles off the M1 (via Tilling Rd)
5. The Great Barn Restaurant, Hardwick Hall
Hardwick Hall, an Elizabethan country house, is home to The Great Barn Restaurant, which serves tasty British-inspired cuisine. Whether you're after a traditional afternoon tea with buttery scones, a relaxing lunch or a Full English, this is the place to pin on the map for British fare.
Set the SatNav to: Doe Lea, Chesterfield S44 5QJ
Route: 3.5 miles off the M1 (via Mill Ln)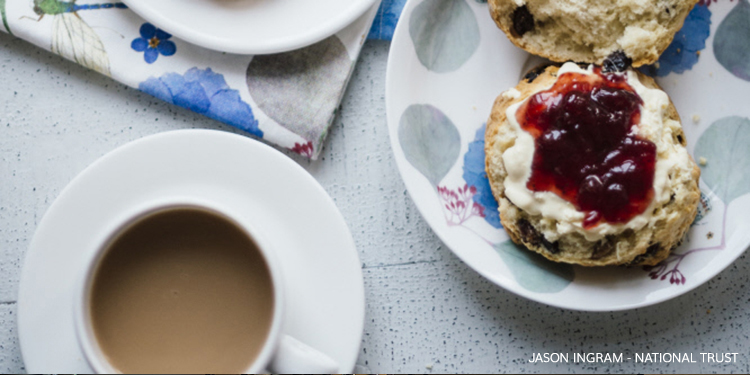 6. Courtyard Café, Nostel Priory and Parkland
The café at this National Trust property is as much worth a visit as the house and grounds! Most of the ingredients are grown in the kitchen garden, so they go straight from the ground onto your plate, and the seasonal menu is a treat. All profits go back into the conservation of Nostel Priory, so there's even more reason to indulge.
Set the SatNav to: Doncaster Road, Nostell, Wakefield WF4 1QE
Route: 8 miles off the M1 (via Denby Dale Rd/A636 and Doncaster Road/A638)
Where: M4 - En route to Bristol, Bath or Oxford
If you're heading west out of London, Kew Gardens is a beautiful spot to stop off and is also London's largest UNESCO World Heritage site. You'll have to pay for entry, but it's well worth it – The Orangery serves unique dishes for breakfast and lunch. Think hot waffles with caramel apples, gin and tonic salmon salad and plenty of seasonal veggies. Or, if you're stopping by for a special treat, try Peyton and Byrne's homemade chocolate cake with a cup of Earl Grey.
Set the SatNav to: Royal Botanic Gardens, Kew, Richmond, TW9 3AE
Route: 3.7 miles off the M4 (via N Circular Rd)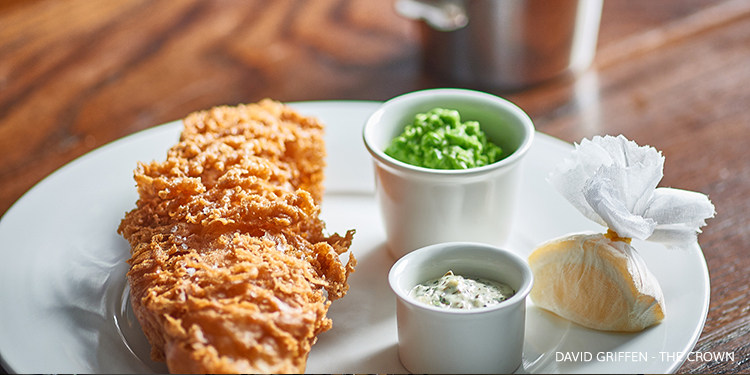 Bray in Maidenhead is a mecca for foodies thanks to Michelin star restaurants aplenty. Heston Blumenthal's The Crown champions the best of British produce and the dishes are unforgettable. The menu is all about simple ingredients executed with amazing precision. Try the salt baked celeriac soup, fish and chips with crushed peas and chocolate parfait with honeycomb. Dreamy.
Set the SatNav to: High St, Bray, Maidenhead SL6 2AH
Route: 1.9 miles off the M4 (via A308)
9. The Olive Tree & Garden Room, Celtic Manor Resort
End your weekend in style with a Sunday lunch at The Olive Tree restaurant. Based at the Celtic Manor Resort in Wales, this is the best of the six on-site restaurants. Take your pick from their delicious carvery, fresh seafood and decadent desserts, all with a live jazz band on Sundays. I'd go for the roast beef with Yorkshire pudding and all the trimmings.
Set the SatNav to: The Celtic Manor Resort, Caerleon, Newport NP18 1HQ
Route: 1 mile off the M4 (via Coldra Roundabout)
Where: M60 – Surrounding Manchester
10. The Boathouse
You can watch water skiers and sailing while having lunch at The Boathouse, as it overlooks a pretty water park. Stop for a drink – the outside bar is always busy or schedule in a lunch stop and tuck into their juicy beef burger with crispy bacon.
Set the SatNav to:  Sale Water Park, Rifle Road, Sale M33 2LX
Route: 1 mile off the M60 (via Cow Ln)
Table 10 is a classic cocktail bar in Manchester that also serves gluten-free brunch and lunch. Try their eggs Benedict with smoked salmon, red onion and capers if you're feeling fancy, or bacon and chorizo scramble with cheddar for something with a kick. It's perfect after a long drive home after a stag or hen do!
Set the SatNav to: 10 Northenden Rd, Sale M33 3BR
Route: 2 miles off the M60 (via Broad Rd)
For classic Italian dinner, Benvenuto is the place. The menu is packed with fresh pizzas, pastas and steaks for the ultimate comfort food. Definitely order the spaghetti with homemade meatballs. Carb. Feast.
Set the SatNav to: 96 Mill Lane, Denton, Manchester M34 7RU
Route: 3.4 miles off the M60 (via A6017)
Where: M6 – En route to Birmingham and up to Carlisle
13. George and Dragon, Clifton
Growing and rearing much of the food in their gardens and fields at nearby  Askham Hall, The George and Dragon is all about local produce, I'd opt for the 40-day dry aged Shorthorn Cote de Boeuf (it's a guest on the menu from time to time!). The setting is idyllic too, with the coaching inn set within a country estate and lovingly restored by local craftsmen.
Set the SatNav to: George and Dragon, Clifton, Near Penrith, Cumbria, CA10 2ER
Route: 3.3 miles off the M6 (via junction 40/A6)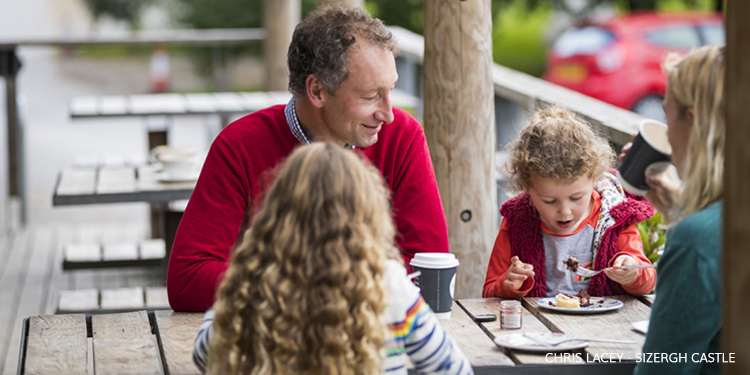 Pay a visit to Sizergh Castle at Helsington if you feel like a mini adventure en route. There are brilliant wildlife walks and nature trails and the café serves food grown in their own garden. For a classic British lunch, try their cheddar and red onion marmalade sandwich followed by a slice of succulent peach and almond tart.
Set the SatNav to: Sizergh, Kendal LA8 8DZ
Route: 4.8 miles off the M6 (via junction 36/A590)
15. Alexandros Greek Restaurant & Take Away
This Greek restaurant in Carlisle serves divine Greek food and they've also got a deli for grab-and-go Greek wraps, dips and salads. Try their fried halloumi with warm pitta bread, then don't forget to pick up some heavenly baklava for the road.
Set the SatNav to: 68 Warwick Rd, Carlisle CA1 1DR
Route: 1.7 miles off the M6 (via A69)
Where: M8 – Connecting Glasgow and Edinburgh
16. Glasgow Botanic Gardens Tearooms
Drop in for tea at Glasgow Botanic Gardens on your way north. The Tearoom is a traditional affair serving up classic afternoon treats and the homemade fruit scones are the real deal with clotted cream and preserve.
Set the SatNav to: 730 Great Western Rd, Glasgow G12 0UE
Route: 5.6 miles off the M8 (via junction 17/Great Western Rd)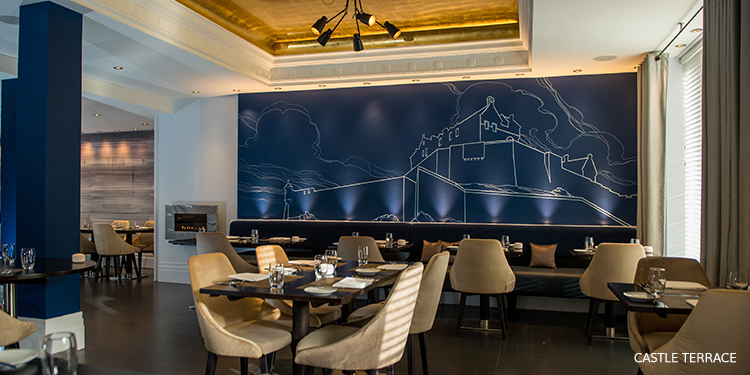 17. Castle Terrace
Edinburgh has an incredible food and restaurant scene, and the Castle Terrace is the place for Michelin-star dining. You might need to book in advance, so save this for a special trip rather than just dropping by. Their set lunch is unforgettable, including mackerel tartare, Ayrshire pork with artichokes, pan-fried fillet of North Sea cod, Blacketyside farm raspberries with white chocolate mousse and more.
Set the SatNav to: 33-35 Castle Terrace, Edinburgh EH1 2EL
Route: 5.5 miles off the M8 (via W Approach Rd)
18. Tony Macaroni
If you're a fan of sourdough, you have to try the pizzas at this Italian chain. It's a real family favourite with a separate area for the 'bambinos' so perfect if you have everyone in tow. If you're overwhelmed by the choice, go for the Friarielli pizza with a crispy sour dough base, spicy Italian broccoli and Italian sausage.
Set the SatNav to: The Hub, Almondvale Cres, Livingston EH54 6QX
Route: 4.8 miles off the M8 (via junction 3/Starlaw Rd)
Where: M90 – Edinburgh to Inverness
19. The Lovat Hotel
If you're in for the long haul, start the drive with a hearty breakfast at The Lovat Hotel. The restaurant is all about luxury comfort food and there are loads of Scottish treats to try, from traditional black pudding to haggis caught from the hills, local salmon and smoked haddock with poached eggs.
Set the SatNav to: 90 Glasgow Rd, Perth PH2 0LT
Route: 2.9 miles off the M90 (via A93)
Just off the M90, the Roost Restaurant is co-owned by Masterchef of Great Britain Tim Dover, so you know the food is going to be great. Their menu is really imaginative and colourful, including honey-roasted yellow carrot soup, Scrabster cod fillet and Jerusalem artichoke risotto.
Set the SatNav to: Forgandenny Rd, Kintillo, Bridge Of Earn, Perth PH2 9AZ
Route: 5.6 miles off the M90 (via A912)
If you're in need of a relax, this elegant restaurant in Kinross-shire looks over fishing lochans and the Lomond and Ochil Hills. However, the menu is far from traditional with local ingredients given a delicious oriental twist. I love the sweet and sour Cantonese pork escalope and the grilled goats cheese with hazelnut crust.
Set the SatNav to: Heatheryford, Kinross KY13 0NQ
Route: 1.4 miles off the M90 (via junction 6)

Inspired to try a detour with a Hertz hire car? Find out more and book here.