One of the best things about road trips is those brilliant pit stops along the way. But for serious coffee lovers, sub-standard roadside coffee and less than perky piccolos from an unknown café can really disappoint. To save you from crummy coffee, The Girl in the Café Celeste Wong has pinpointed the best brews worth taking a Hertz Go Via detour for. As an award-winning barista and coffee blogger, she certainly knows her beans…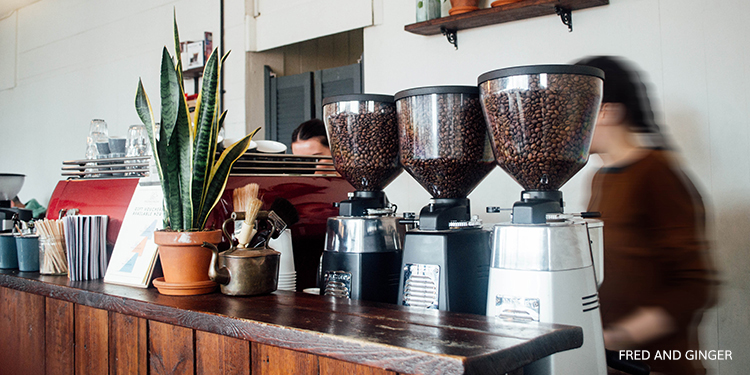 Where: M25 – Surrounding London

1. Fred and Ginger
This Nordic-style café serves up the best espresso this side of the M25 and hosts regular guest coffees, including Campbell & Syme, Round Hill Roastery and Bonanza Coffee Berlin to name but a few. Grab a cup and a croissant whether you're on your way out or back into London – it's the ultimate antidote to the daily grind.
Set the SatNav to:38 High St, Kings Langley WD4 9HT
Route:M25 (1.1 miles (via Watford Rd/ A4251)
2. Charlie's Coffee and Company
At Charlie's Coffee and Company, all the baristas are passionate about making amazing coffee, their signature blend is a must-taste and the lemon and almond cake goes especially well with it. You can also take one of their bags of beans to go and enjoy wherever you're headed.
Set the SatNav to:87 London Rd, St Albans AL1 1LN
Route: 3.2miles off the M25 (via Watford Rd/B4630)
3. Giro Cycles
This is a great spot if you're en route to a cycling adventure on the South Coast of England. It is on the way to the South Downs or Eastbourne where there are plenty of trails for fans of two wheels. Stop in for a caffeine fix (they use Surrey-based organic Bean Berry Coffee), sit back and enjoy one of their amazing breakfasts, from banana and peanut butter on toast to breakfast burritos.
Set the SatNav to:2 High St, Esher KT10 9RT
Route: M25 via Fairmile Ln and A307

Where: M1 – En route to Sheffield or Leeds
4. 200 Degrees Coffee Shop and Barista School
If you're going north from Nottingham or Sheffield towards York, take this stop off in Leeds. Part barista school, part workspace, part coffee shop, 200 Degrees is a really unusual spot. The latte art is on point and the sandwiches are equally Instagram-worthy. They also have locations in Nottingham, Cardiff, Leicester and Birmingham.
Set the SatNav to: 31 Bond St, Leeds, LS1 5BQ
Route:3.9 miles off the M1 via Pontefract Ln/ A63 and A63
If you're going north from the Home Counties to Sheffield and beyond, stop in at Greenhood Coffee house. It has a real community feel, a dedicated brew bar and some amazing guest specialty coffees from around Europe, like Five Elephant (from Berlin) and La Cabra Coffee Roasters (from Denmark), as well as other UK micro roasters.
Set the SatNav to: 38 High Rd, Beeston, Nottingham NG9 2JP
Route: 3.7miles off the M1 (Stapleford Rd)
Take a break from the M1 at this Nordic-inspired café. Overlooking an English churchyard, the interior is just as quaint. They use London's Workshop coffee and feature a brownie of the week each week, so hopefully you'll luck out on the chocolate brownie with peanut butter cream!
Set the SatNav to:22 Norfolk Row, Sheffield S1 2PA
Route:3.9 miles from M1 (Sheffield Rd)
7. Tamper Coffee, Sellers Wheel
If you're on the M1 between Nottingham and Leeds, pop into Sheffield. I love that this café prides itself on 'Kiwi coffee culture', which is all about sipping and socialising together. They use Ozone Coffee Roasters (a New Zealand-owned London roaster) and are open late on Fridays, so it's a great spot to stop for dinner to break up the Friday night drive.
Set the SatNav to: 149 Arundel St, Sheffield S1 2NU
Route: 4.8 miles off the M1 - Meadowhall Roundabout (Via A6109)
Where: M5 – Exeter to Birmingham
8. Café Kino
With floor-to-ceiling windows and stylish booths, Café Kino is the perfect spot for healthy fare, especially for veggies and vegans. Everything here is locally-produced and organic – from the cakes to the burgers and falafel (which is homemade on site). They also use a local fair-trade coffee roaster and you can opt for homemade almond milk in your coffee or tea.
Set the SatNav to:108 Stokes Croft, Bristol, BS1 3RU 
Route:5 miles from the M4 or M5
If you're on the way to Newport or down towards Exeter along the M5, stop off at Tradewind Espresso for brunch (anytime before 3pm). Things-on-toast take centre stage but there's also colourful salads and their version of a fry-up. The interior is like something out of Kinfolk magazine and the coffee – Roasted Rituals Coffee – is great. Try bottled cold brew if you're driving in summer.
Set the SatNav to: 118 Whiteladies Rd, Bristol, BS8 2RP
Route: 4 Miles from M5 via A4018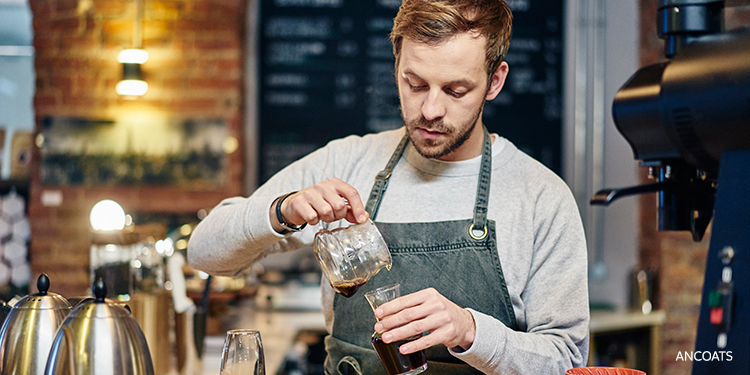 Where: M60 – Surrounding Manchester

10. Idlehands
This place is currently planning a big re-opening, coming back bigger and better with coffee, treats and… pies. They have rotating guest roasters (including Coffee Collective, Man vs Machine and Square Mile), plus you can get a great cup of Yorkshire Tea! Look out for their pop-up shops in the meantime.
Set the SatNav to:32-34 Dale Street, NQ, Manchester, M1 1FY
Route: 4.2 miles from M60 Via Rochdale Rd/A664
11. Ancoats Coffee
Ancoats roast its coffee on site and is set in a historic former cotton mill – a cosy and unique change of scene from the road. You can tuck into sandwiches, soup and cakes with plenty of vegan options, too.
Set the SatNav to: 9, Royal Mills, 17 Redhill St, Manchester M4 5BA
Route: 4.2 miles from M60 Via Rochdale Rd/A664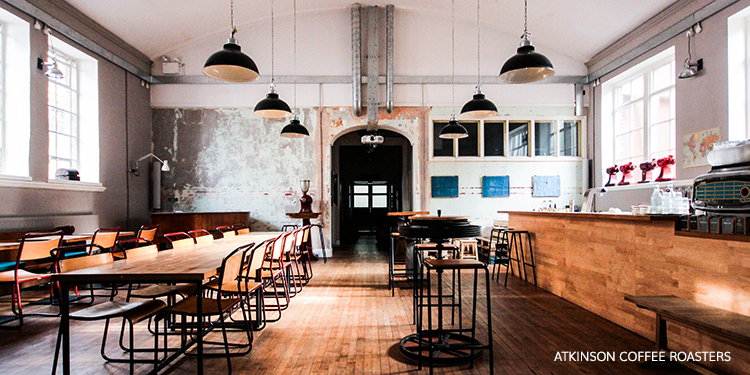 Where: M6 – En route to Birmingham and up to Carlisle

12. Tebay Services
If you're on the way up to Scotland, a stop off at Tebay is a must. Completely different from the average motorway services, on site you'll find a boutique hotel, farm shop and café. They have both north and south-bound services and are open 24-hours. My top tip? Pick up a bottled cold brew with one of their legendary sausage rolls.
Set the SatNav to: Westmorland Place, Orton, Penrith, Cumbria CA10 3SB
Route: 0.1 miles from M6 (junction 38)
Atkinson has two cafés close by the M6, both in beautiful locations. The Hall looks like a rustic old school with lots of natural light – perfect for snapping your coffee. Even Gandalf is a fan… yes, Sir Ian McKellen has visited! The Music Room is located nearby too, with the same speciality coffees in a more traditional café.
Set the SatNav to:The Hall, Lancaster, 10 China St, Lancaster LA1 1EX or The Music Room, Lancaster Sun St, Lancaster LA1 1EW
Route:1.8 miles from M6 or 2 miles from M6 via Newlands Rd
Where: M8 – Connecting Glasgow and Edinburgh

Artisan Roast is one of the most popular cafés in Edinburgh (so expect queues in rush hour) and only 6 miles from the M8 so a worthy fuel-up stop, especially if you're heading towards the M90 or M9. They roast their own amazing coffee and have an ever-changing lunch menu, and if you've never been, you can always have a wander in Edinburgh after.
Set the SatNav to:100A Raeburn Pl, EH4 1HH, Edinburgh
Route: Off M8 via A90
15. Dear Green Coffee Roasters
Glasgow-based Dear Green regularly hosts pop-up collaborations with local artists and makers, so drop by for a dose of culture as well as coffee. They have batch brews of Kenya Jokambu from their sourcing trip to Nyeri earlier this year, but don't expect any milk as they don't agree with milk production. Americano it is!
Set the SatNav to:227 Gallowgate, Glasgow G1 5DX
Route:1.4 miles off M8 via Anderston Quay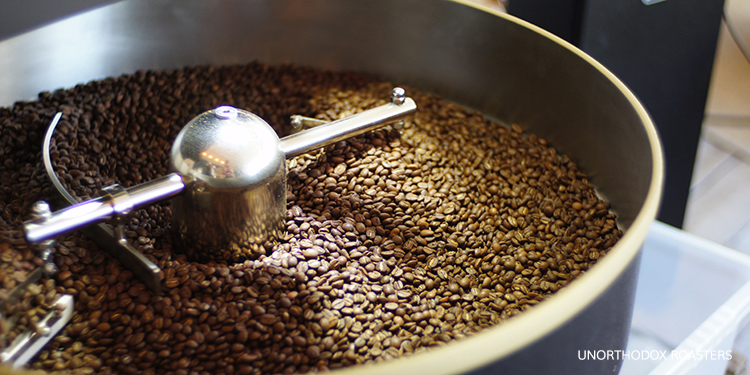 Where: M90 – Edinburgh to Inverness

Only a mile from the M90, the owners at Unorthodox are really passionate about making specialty coffee accessible, which is why they offer kits for brewing at home. They source their coffee from some of the best raw green bean importers in Europe and it's worth a pit stop for pressing pause on your journey.
Set the SatNav to:129 High St, Kinross, Scotland KY13 BAQ
Route: 1 mile off M90 (Via Station Rd)

17. Craigies Farm Deli and Café
If you're venturing further into Scotland with a pooch in tow, have a cup together at the Canine Café at this Scottish farm. It's a great place to stretch your legs with an outdoor area for dogs where they can play, plus great walks around the grounds.
Set the SatNav to: South Queensferry, Edinburgh EH30 0AR
Route: 3.2 miles off M90 via B800
Where: M4 - En route to Bristol, Bath or Oxford

18. The Press Room, Twickenham

If you're on your way out of London on the M4 or even the M3, a quick stop-off at independent coffee shop The Press Room in Twickenham will set you on your way. Their motto is, "life is too short for bad coffee…" so you can rest assured it will be good. Fuel up with a flat white or decadent hot chocolate melt and slice of cake while people watching, or if you're in a hurry, buy a bagel for the road.
Set the SatNav to: London Rd, Twickenham TW1 3SZ
Route: 3.5 miles off M4 (via A310)

19. Baila Coffee and Vinyl
If you're looking for a stop after Reading and before Bristol, this café is close to the M4 and a super cool pit stop for browsing vinyls. It has a retro punk vibe and they serve the prettiest flat white, sandwiches, craft beer and Karma Cola.
Set the SatNav to: 85 Victoria Hill, Old Town, SN1 3BB
Route:1.2 miles off the M4 Between Reading and Bristol
Serving 'doorstep' sandwiches made with artisan sourdough and rye breads and coffee by Round Hill roasters (based in Somerset), this is the perfect refuel stop if you're heading out to Bristol or Bath. I'd recommend leaving here with a loaf of bread or bag of coffee – breakfast sorted.
Set the SatNav to: 11 Faringdon Rd, Swindon, SN1 5AR
Route: 2.8 miles from M4 (Croft Rd, Via A4361)
21. No 12 Easton
This sweet corner café and deli has show-stopping cakes and, if you're travelling late, they do burger nights. They use Extract Coffee Roasters for their full-of-flavour beans and can you also grab some essential groceries from the deli on your way out.
Set the SatNav to:12 High St, Bristol BS5 6DL
Route: 5 miles off M4 at junction 19, exit onto M32

Inspired to try a detour with a Hertz hire car? Find out more and book here.