Between the heights of the Dolomite mountain range and the run of resorts along the magnificent Milky Way, an Italian skiing holiday represents the height of luxury leisure. If you're thinking of heading for the slopes this winter, but aren't sure what to expect, our guide to Italy's best ski resorts can help you decide what will best suit your travel plans.
Ski resorts near Milan
If you're looking to combine your ski trip with a little city sightseeing, there's no better place to start than Milan. Hire a car in Milan, and you're mere hours away from some of the country's best ski destinations. You'll have plenty of time to explore the city and enjoy a drive through the scenic Lombardy region on your way to the slopes.
Bergamo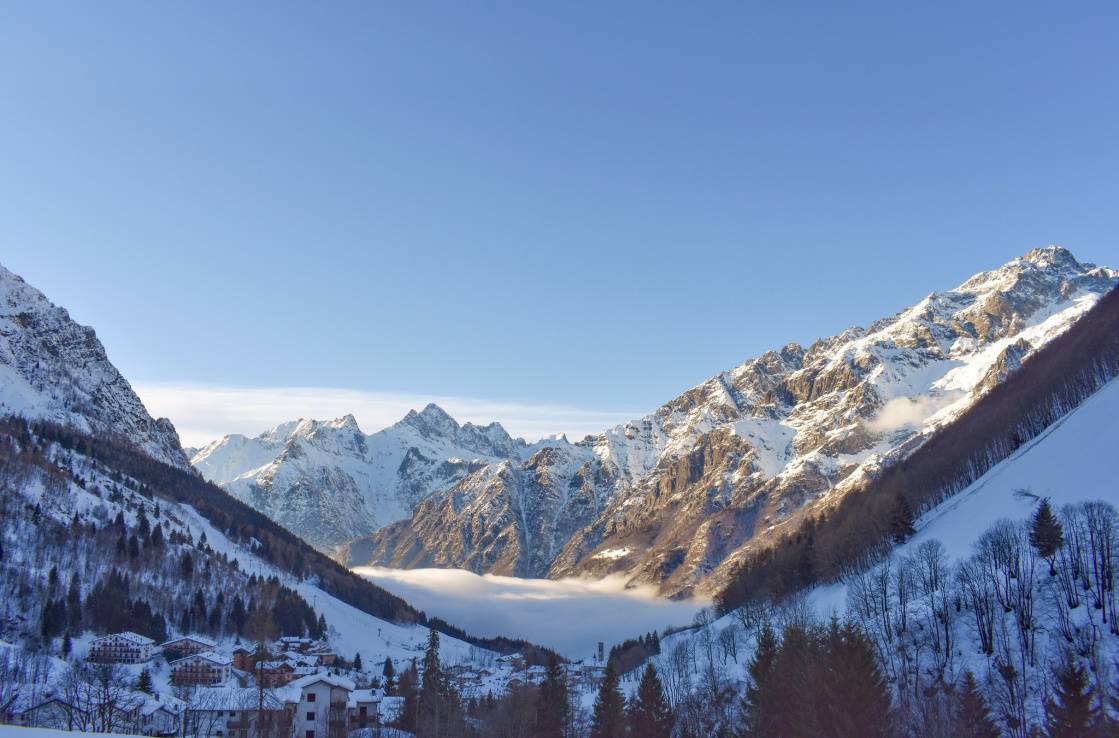 Just a quick zip along the A4 motorway, or autostrada, brings you to Bergamo's burgeoning ski scene. Gromo-Spiazzi is a treasure – a medieval village set in the lush forests surrounding the region. It features a choice of eight refreshing routes catering to beginners and experts alike.
There's also a cross-country trail spanning 7.5km of the region's most astonishing scenery. Meanwhile, at Monte Pora, choose from more than a dozen ski routes. Spend your evening under the stars and tackle superb slopes amid more dazzling medieval scenery.
Aosta Valley
Two hours' drive from Milan – or around 90 minutes from Turin – you'll find some of rural Italy's finest surroundings. Roman ruins, villages swaddled by hills – and the beauty of Mont Blanc and Matterhorn.
The Aosta Valley is also home to some of the best ski resorts in Europe.
Courmayeur sits at the foot of Mont Blanc with a range of slope difficulties. Though best suited for intermediate skiers, there's plenty of choice for experts too.
Pila is a more intimate resort where beginners can find their feet on a selection of gentler slopes, including the famous Baby Pila. This beautiful setting is just a short gondola ride from the sleepy town of Aosta itself, where ancient monuments and amazing backdrops combine for one of Italy's trademark strolls.
Ski resorts in the Milky Way region
The Via Lattea, or Milky Way, sits on the French border, and links several top-class ski resorts and 400km of ski runs. About 90 minutes' drive from Turin, the scenery is spectacular, and the resorts full of character. Whether you're heading for the snowboard parties with friends or searching for a family-friendly atmosphere, the Milky Way has something to suit every type of ski retreat.
Claviere
The finest family-friendly resort in the Milky Way ski area, Claviere combines numerous nursery slopes for beginners with access to a more varied mix of runs.
Treat the kids to some off-slope winter activities with outdoor ice rinks, sledging and snowmobiles to clamber aboard. After a hard day's fun, take your pick from a dozen restaurants serving up staples of Italian cuisine.
Sauze d'Oulx
Another charming medieval village in the mountains, Sauze d'Oulx offers a range of runs for all experience levels. Beginners will feel at home on the Sportina run, which tends to be less clogged than its neighbouring Clotes route.
More experienced skiers should head for Sestriere – a slalom course used in the 2006 Winter Olympics. While Sauze d'Oulx was once thought of as 'Ibiza in the snow', these days it takes a much more laidback feel.
Ski resorts in the Dolomites range
In the Italian Alps, the South Tyrol region borders Austria to the northeast and forms part of the mighty Dolomite mountain range. Conditions up here are perfect for taking to the slopes, which is why you'll find so many resorts catering to all types of ski holiday-makers. The culture is a little different too. The region was historically part of Austria, so you'll see the gradually shifting landscape as you drive the two and a half hours from Venice.
Ortisei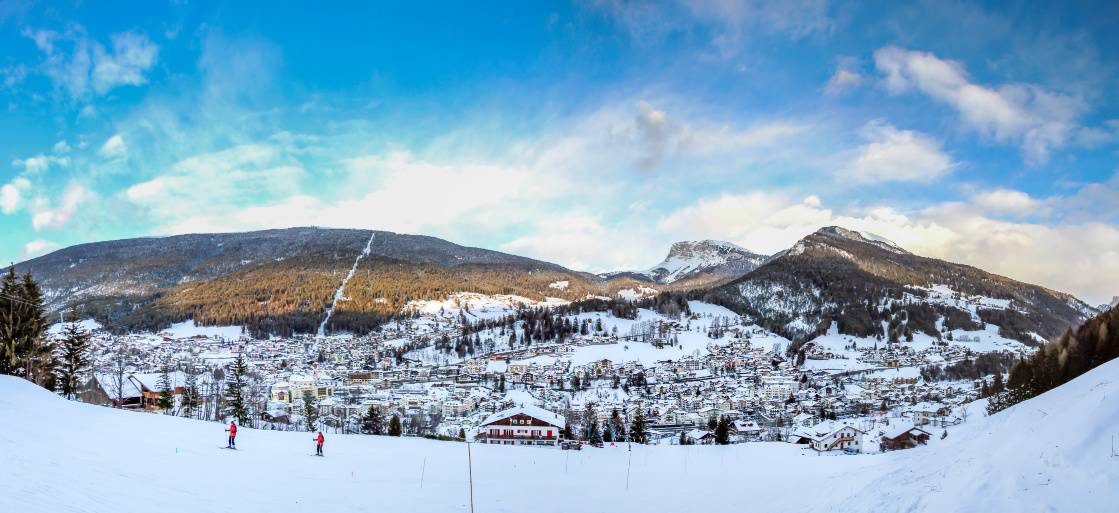 The Austro-Italian vibe is strong in Ortisei, where Ladin cuisine mixes influences to create great dishes like meaty casunziei, a close relative of ravioli, and turtres – a fried pastry stuffed with spinach.
On the piste, Ortisei has even more to offer. With access to the Sella Ronda, a 26km circular route taking in dramatic views and lush forests, and the wider Dolomiti Superski area, Ortisei is a great place to stretch your ski legs.
Corvara and Colfosco
Sharing the same jaw-dropping views at the foot of the Sella group, the villages of Corvara and Colfosco are a great place to start your Sella Ronda route. A seven-minute gondola separates the two stops, with plenty of places to stop and admire the view along the way. Make Corvara your après-ski stop for some delicious food and drink in one of the many restaurants.
Can't wait to start your ski trip? Hire a car from Milan, and you're just hours away from the very best ski resorts that Italy has to offer.