Inverness: Your gateway to the epic NC500
Inverness is the capital of the Scottish Highlands – famed for its castle, culture and legendary loch monster.
But it's also the starting line for the North Coast 500 route. This 516-mile round trip will show you the very best of Scotland – from calm lochs to epic mountain ranges, desolate moors to white-sand beaches.
This circular route is best experienced in an anti-clockwise direction – heading north from Inverness to Caithness. From there, you'll head westward along the north coast of Scotland, tracing the northernmost reaches of Britain. You'll then continue the loop back down the west coast before heading back towards Inverness.
The trip can take up to a week but it's worth every mile. We've compiled the best things to do on this epic journey – so whether you're looking for seafood, scenery or surfing, we've got you covered.
Explore Inverness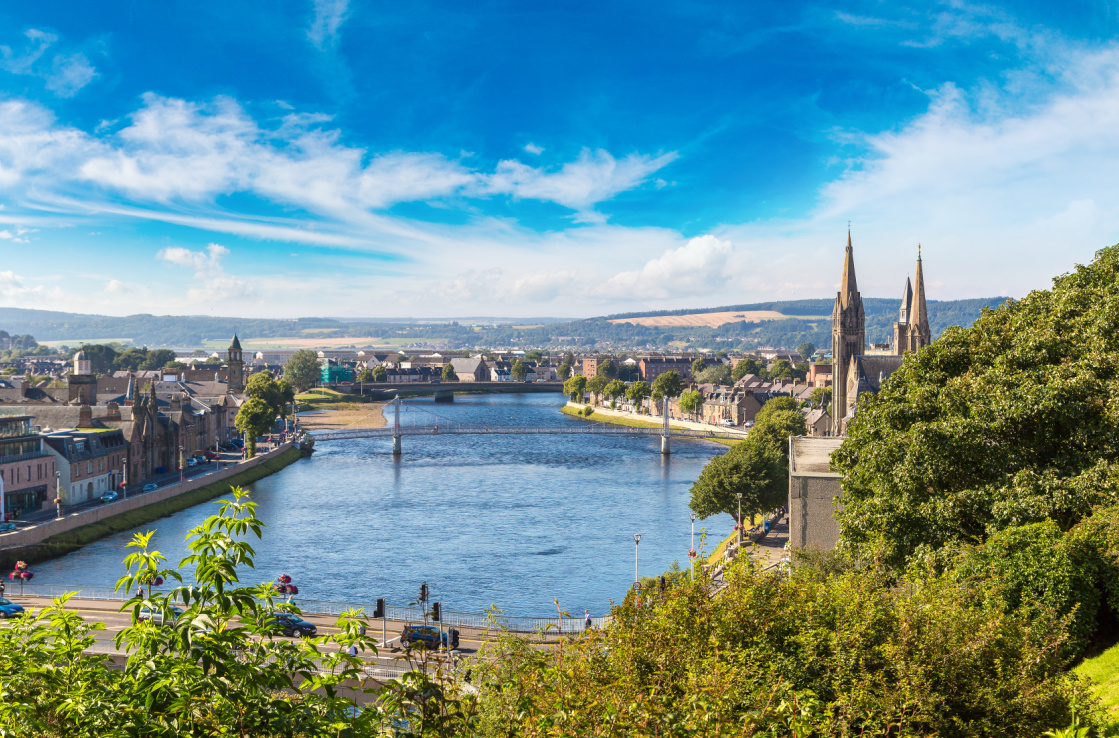 Inverness is one of Europe's fastest-growing cities and is known as the 'happiest place in Scotland'. Take a stroll through these quaint streets nestled in the Highlands, and you'll start to understand its popularity.
This serene city is set on three bodies of water. Loch Ness welcomes many a monster-hunter, especially in the summer, but is also a must-visit spot for hiking, boating or salmon fishing.
From the Loch, the River Ness flows wide and shallow through the heart of the city, giving Inverness a unique, tranquil atmosphere. The river empties at the Moray Firth, which looks out on craggy mountains, rugged islands and the North Sea.
On dry land, you'll find plenty to entertain you. Inverness is known for its excellent restaurants, art galleries, shopping and architecture. Explore the history of Scotland at the well-regarded Inverness Museum and Art Gallery, before mooching around the city's charming shops and Victorian Market. Acclaimed Scottish restaurants like the Mustard Seed or The Kitchen showcase the best local produce from river, sea and mountain.
Book your spot at the Inverness Museum and Art Gallery
The Black Isle
After you leave Inverness, you'll cross the Moray Firth to the Black Isle. Here, you'll find prehistoric sites, rugged hills and beautiful coastline.
The Black Isle is a foodie pilgrimage due to its abundant local produce, so don't miss the acclaimed Scottish seafood and pizza joint Sutor Creek. You'll also find delicious local langoustines at the Allangrange hotel – a great place to stop for the night.
If you're looking for some outdoor adventure, there are incredible cycle and walking routes across the Isle. Just off the coast, you'll spot dolphins and whales. Hop aboard a boating tour to see them up close.
Book a dolphin-spotting boat trip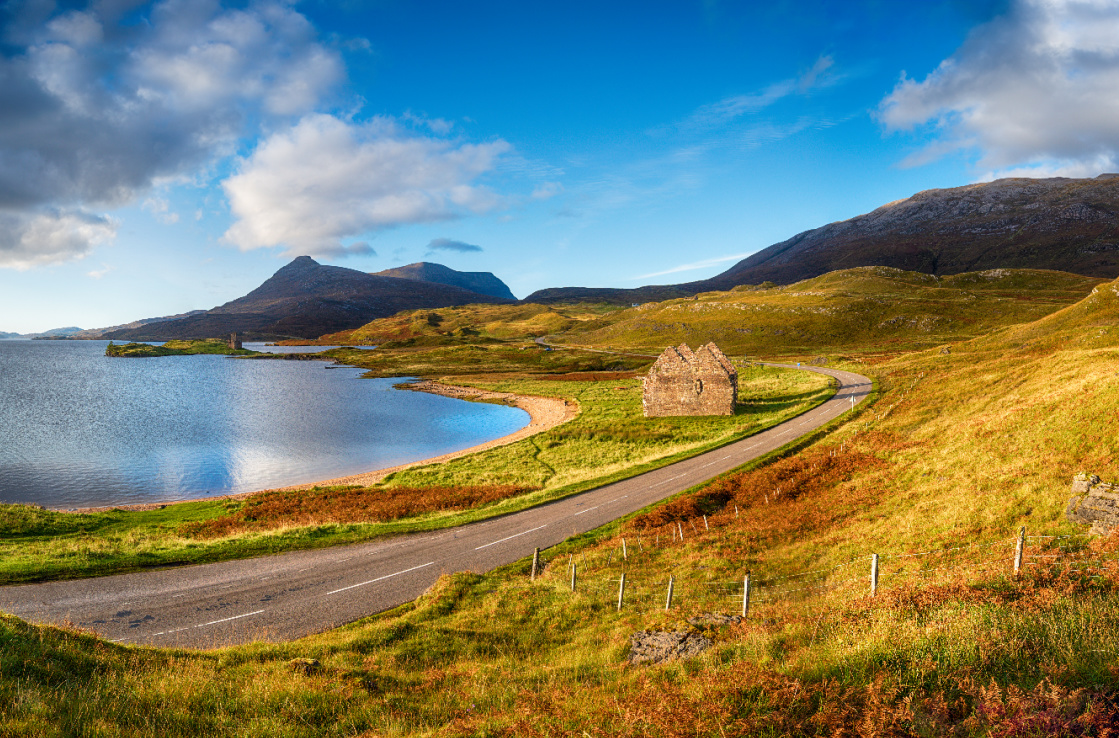 Easter Ross
After exploring the Black Isle, you'll head up the coast to Easter Ross. This ancient Pictish area is the perfect stopping point to take in some history.
The 18th century Fyrish monument has a unique place in local lore. Built to keep the local populace in work, this unusual and imposing arched monument provides impressive panoramic views across Aberdeenshire. It's well worth the pleasant climb up the hill.
Elsewhere on Easter Ross, you'll find quaint fishing villages and a thriving local community of artisans, distillers and food producers. Woodland and coastal walks abound.
Caithness
Caithness is the north easternmost point of the NC500 and is home to John O'Groats. A selfie there is obligatory.
Just 30 minutes down the road, you'll find Dunnet Head. Fun fact: Dunnet Head is actually the northernmost point in Britain. John O'Groats' is the most northerly village.
Technicalities aside, Dunnet Head is a beautiful untamed area with unique wildlife – particularly birds. Head to the nature reserve to find puffins, guillemots and kittiwakes nesting, swooping and squawking on the craggy cliffs.
Nearby, you'll find the surfing town of Thurso – stop here to catch a wave or grab lunch. For the latter, head to the Captain's Galley for sustainable local seafood and friendly service.
Visit Dunnet Head nature reserve
Sutherland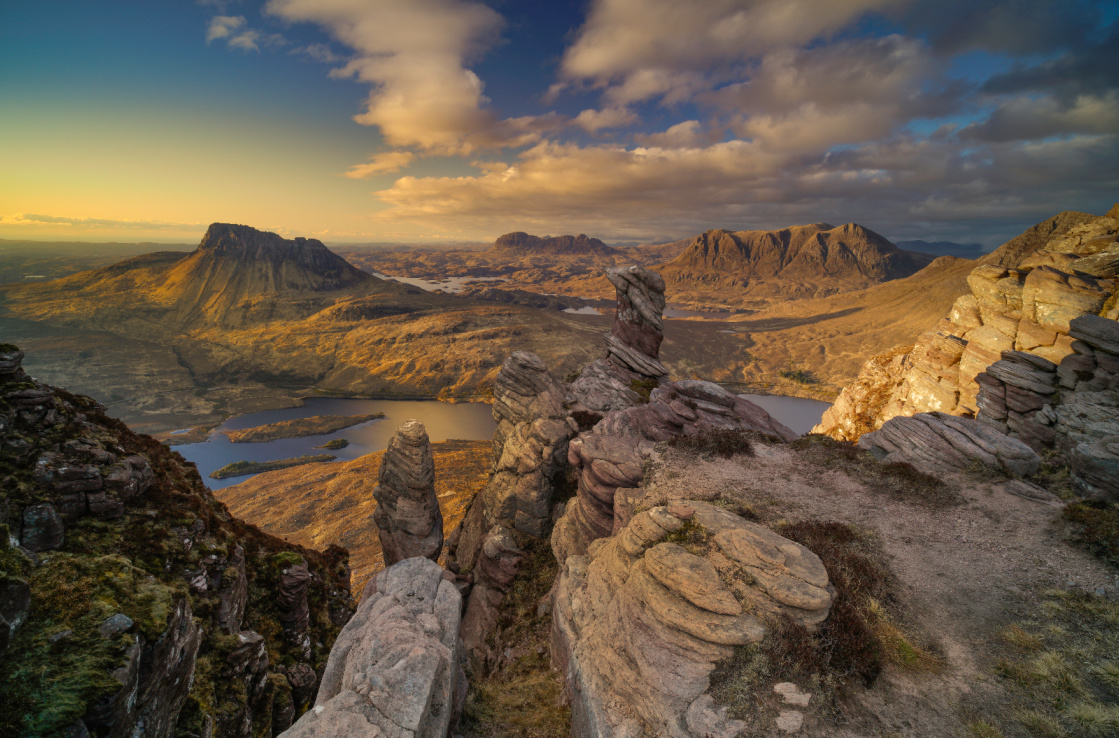 From Caithness, the route runs into the historic county of Sutherland, where the scenery becomes even more dramatic. Here, the mountains meet the sea – and almost every mile offers something new.
Heading west, you'll first hit the shallow loch, Kyle of Tongue. Next, you'll pass white beaches, scattered villages, picturesque harbours, and castles straight from fairy tales.
If you're looking for a rest, head to Durness. Make this thriving coastal village your base to explore the beautiful coves and pristine, turquoise waters of the area. Smoo Cave and its spectacular waterfall are a must-see. Try Cape Wrath for a more intrepid adventure.
Further along the route, you'll encounter similar geological drama in Loch Assynt's striking mountains. Ullapool is another beautiful fishing village to park up for the night.
Wester Ross
From Sutherland, you'll head southward into Wester Ross – the last leg of your journey.
Expect beautiful coastal paths and views over the Isle of Skye. Off the coast, you'll find dolphins, whales, and even basking sharks at certain times of year.
Glen Torridon makes a great hiking stop. Once you've worked up an appetite, the Applecross Inn offers delicious locally-sourced pub grub – and has comfy rooms too.
From there, head back east – where the return to Inverness will serve as the chequered (or tartan) flag of your road trip.
Tips for your trip
All of the above locations are worth a holiday in themselves – we've only picked out some of the best bits. Make sure to do some research before you set off on your journey so you don't miss anything you'll regret.
The North Coast 500 Standard Membership provides a range of benefits – from maps to full itineraries. It's a good place to start planning your trip.
Much of this 516-mile road is single lane. Be aware of other motorists and take your time. The NC500 isn't a race, but an amble. For more precarious mountain passes and coastal roads, drive carefully and allow overtaking.
If you're looking for the perfect set of wheels for your NC500 roadtrip – we've got you covered. Hire a car in Inverness to start your epic journey.