From taking a stroll along its iconic beaches to exploring sights off the beaten track, discover the best of an exciting US city with our essential guide to five things to do in Miami.
Haulover Beach Park
Undeveloped coastal stretches are hard to find near Miami Beach itself, but drive north for around 30 minutes and you can reach Haulover Beach Park – nestled next to the ocean, with the nearest condos and highways hidden from view by tropical vegetation.
Tucked between Bal Harbour and Sunny Isles Beach, this 1.4-mile stretch of boasts 177 acres of unspoiled waterfront. It dates back to the 1940s and has been enchanting visitors ever since with its pristine white sands, lush coastal vegetation, and thrilling surf.
The park includes what the authorities tastefully call a 'clothing optional' stretch of beach, but the area as a whole is family friendly and staffed by volunteers who have been trained in what constitutes reasonable etiquette.
There are food and drink concessions on hand as well as chair and umbrella rentals and restrooms. There are also a few picnic tables dotted around, with barbecue pits for cooking. Be prepared to get down there early if you want to claim one, though.
Beyond the great American pastime of barbecuing and beautiful clear waters to swim in, kite-flying is a favourite activity on a windy day, and there are also various on and offshore options for fishing if that's what takes your fancy.
If you find yourself with a canine pal in tow, they'll be allowed onto the beach at certain allotted times, and there's a dog park to keep them busy the rest of the time.
It's worth noting that it does tend to get busy at the park around holidays and weekends. Sunday between 11am and 3pm is peak time, so you might want to plan ahead in case of traffic and car park closures.
Wynwood Art Walk Block Party
Creativity is part of Miami's DNA, and nowhere is this more apparent than when you wander into Wynwood. Among the concrete buildings and old warehouses, you'll find an assault on your senses in the form of graffiti and urban art. Wynwood Walls, perhaps most famously, is an open courtyard that's been entirely taken over by murals and street art.
You can find plenty to keep you interested at any time, but the best way to experience it has to be the Wynwood Art Walk Block Party if the timing works out. It started as a gallery night and has ballooned into a massive event that includes art, food, music, and vendors selling all sorts of interesting wares.
Taking place on the second Saturday of every month, the event kicks off in the evening and rolls on into the night.
There's no one way to experience it. The art is at the heart of the event, with galleries opening their doors and the street art always offering something special. Food trucks rock up with interesting cuisines from around the world, while restaurants do a roaring trade.
There's a kids' paint zone if you want to make it a family affair, but a lot of people show up to dance the night away to hip hop, EDM, pop and rock played by local DJs.
Meanwhile, all the goodies on offer at the artisanal market really are something else.
If you time your visit right, you might also be able to see the Miami leg of Art Basel. One of the most important art shows in the world, it takes over not just Wynwood but much of the rest of Miami, too. Expect upwards of 250 galleries to be in attendance and more cool parties than you can wave an espresso martini at.
It goes on for four days and includes special exhibits that show work from leading galleries from North America, Latin America, Europe, Asia, Australia, and Africa. Here, you can see the best of modern and contemporary art and catch the next generation of stars on the rise.
Biltmore Hotel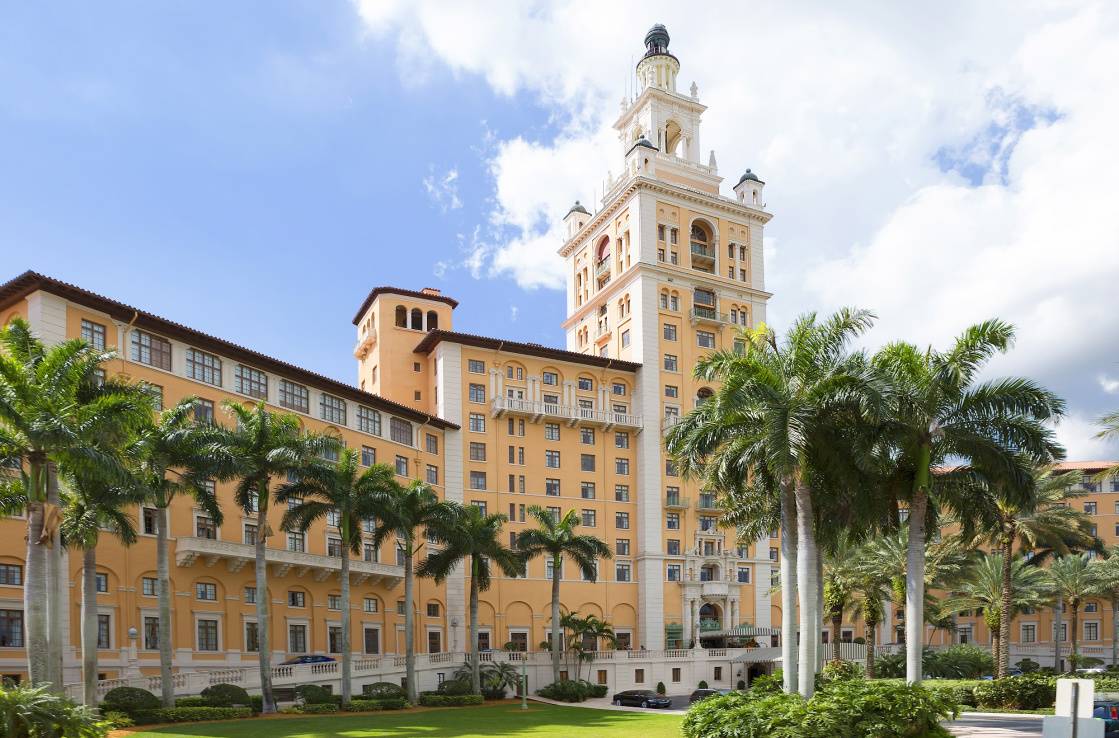 Close your eyes and imagine the peak of American art deco glamour. Now scale it up a bit – and scale it up some more. That's what you can expect from the embodiment of sheer luxury and glitz that is the Biltmore Hotel.
Boasting vaulted ceilings covered in hand-painted frescos, marble columns, flashy glass fixtures, carved mahogany, lavish gardens and travertine floors – and even a looming Moorish tower inspired by an iconic landmark in Seville – the Biltmore was built by George Merrick in the 1920s to embody his concept of 'the city beautiful'. Bringing together Italian, Spanish and Arabic influences with the Floridian landscape, it's an ode to opulence.
It's also a history capsule of glitz and glamour in Miami. Over the years, visitors have included British royalty, US Presidents, film stars such as Ginger Rogers, and music legends like Bing Crosby. For a time these celebrities would be taken around the hotel's grounds by gondola via the on-site canal system, but that particular indulgence has, alas, been consigned to the past.
Al Capone once had a speakeasy there, and the ghost of fellow mobster Thomas 'Fatty' Walsh – gunned down here in 1929 – is said to haunt the suite that bears Capone's name.
On-site, you'll find a spa, a championship golf course, an incredible pool (complete with statues looking on and its own waterfall), a cutting-edge gym, upmarket shops, numerous bars and lounges, six different places to eat and even a culinary academy.
The Biltmore is a real glimpse into true American grandeur.
All Day might very well be the best coffee shop in Miami, although to be fair it may also have outgrown that label at this point.
It was started as a labour of love by co-owners Camila Ramos and Chris MacLeod. Camila has an Eater Young Gun Award under her belt and as a competitive barista was the South East Champion and fifth in the whole United States back in 2014, so she knows a thing or two about coffee. Chris, meanwhile, also owns the iconic Miami bar The Corner. It's no wonder, then, that they got off to a flying start when they opened in 2016.
All Day eschews the global coffee shop visual language of exposed brickwork and reclaimed wood counters in favour of a bright and breezy feel that's more in keeping with Miami's upbeat vibe.
The food, meanwhile, is exactly what you'd want from a modern coffee shop – but done that little bit better: with yolk-broken marbled egg, Florida sage-sausage, brie and herb aioli on a homemade English muffin, for example.
A short, sweet selection of craft ales and wine has just joined the menu too if you've parked up for the evening, rounding out the package.
Bill Baggs Cape Florida State Park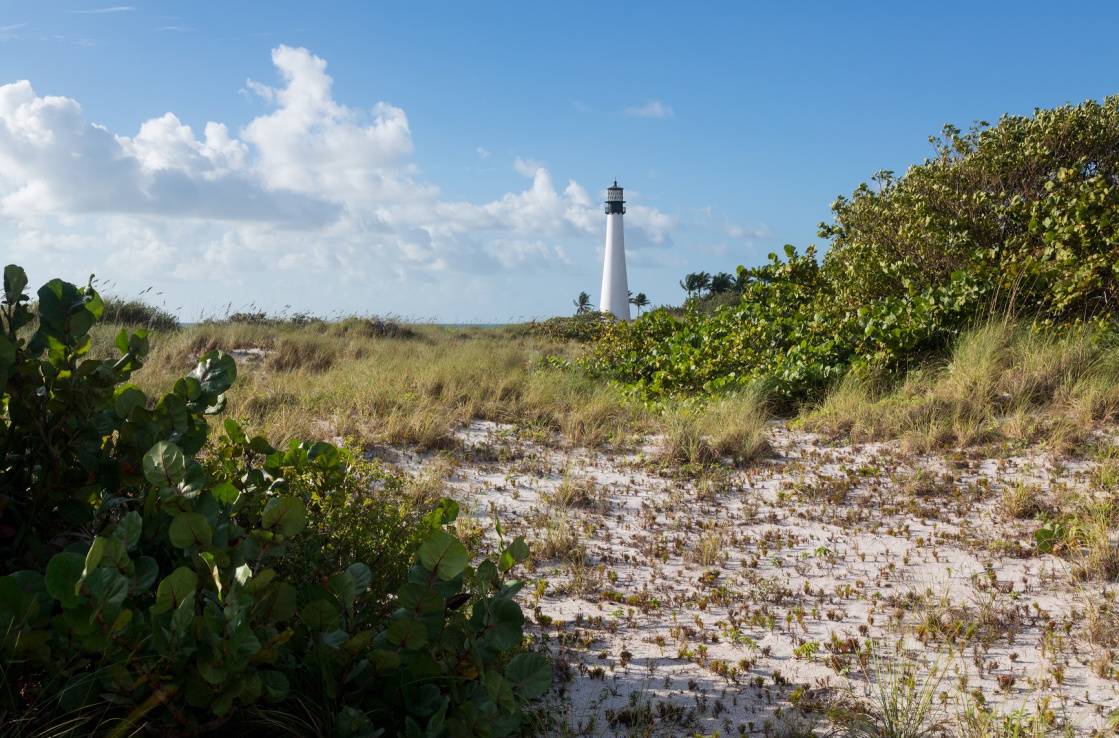 Bill Baggs Cape Florida State Park is probably best reached in a hire car, and it will certainly reward you for your 30-minute drive.
Dominating the peninsula to the south of Miami, the park is a 494-acre slice of the Florida wilderness that will scratch your nature itch, especially if the Florida Keys feels a little too far while you're staying in town.
Behind the treeline is a knot of mangroves, roots and vines all lurking in Florida wetlands, while on the shoreline you'll find beautiful, unspoiled beaches.
It's all very accessible thanks to a network of boardwalks and trails. The best hiking and running is located to the west side of the park, with a northern trail that will take you right through the wetlands.
There's also 1.5 miles of paved cycle path and a host of unpaved but rideable service roads if you want to explore the park by bike or by rollerblade. Alternatively, there are a couple of spots where you're permitted to launch a boat, so you could opt to paddle round the park. It's possible to rent a kayak if you don't have your own.
If you can, go see the park's famous lighthouse – Cape Florida Light – while you're there. There are tours during the day on most days and the top offers excellent views of the park and ocean.
Or, if you just want a nice spot to chill out, the beach is well served with rental chairs and umbrellas. It has consistently been rated as one of the best in the US by coastal expert Dr Stephen Leatherman of Florida International University, aka 'Dr Beach.'
Miami has plenty of options to keep you entertained, whatever your tastes. It has art and culture on every street corner, beautiful beaches, excellent food and a happy-go-lucky vibe that will lighten anyone's trip.
Whether you're looking for a slice of culture or to immerse yourself in nature, a family trip or a romantic break, this city has a host of wonders to discover when you hire a car in Miami.