Tuscany's landscape is truly beautiful. A rustic region of Italy which has captivated visitors for hundreds of years with its medieval hilltop towns, found in and amongst the vineyards, dense forests and rolling fields.
Start your adventure with car hire at Florence Airport, giving yourself the freedom to see every part of this picturesque region you want. Florence is the perfect base, with some of the most heavenly hilltop villages in Tuscany on its doorstep – indeed, more than 20 towns are within two hours' drive.
Collect your car and head off into the Tuscan hills, driving from town to town, stopping for an afternoon or perhaps a romantic weekend. With this guide to the most enchanting hilltop towns in the region, you can plan the perfect route for your Italian adventure.
Colle Val d'Elsa
Clustered on top of a hill, the medieval town of Colle Val d'Elsa might look modest - but it has its claims to fame. This is the birthplace of Palazzo Vecchio and Arnoldo di Cambio, two visionaries involved in the incredible design of the Gothic masterpiece, Florence Cathedral. It's also renowned for making crystal, with local shops lining the crooked streets, selling beautiful, hand-cut crystal glasses and vases. Stroll around Colle Alta, the old town, where you'll find revered buildings such as the Conservatory of San Pietro, and then head through the stone tunnel to discover the town's most delicious restaurants.
Driving time from Florence: 55m
Monteriggioni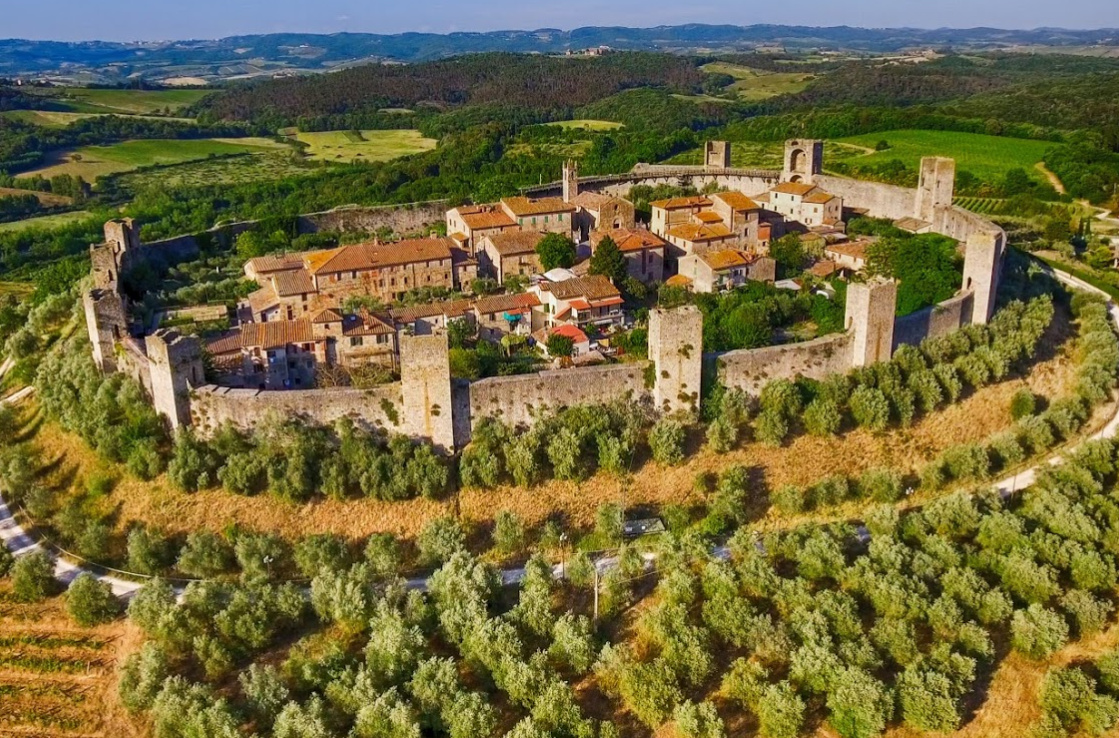 As you approach Monteriggioni you'll feel like you're stepping onto the set of a historical movie. The whole town is enclosed within a medieval wall, punctuated by 14 watchtowers, which keep a careful watch over the lands below. It hails from the 13th century, built as an outpost to defend against the forces of Florence during medieval conflicts. Inside, you'll find a modest village with a pretty church and a quiet, relaxed atmosphere, making it feel as though it has been perfectly preserved.
Driving time from Florence: 1h
San Miniato
The mid-point between Florence and Pisa is the small town of San Miniato, a celebrated stop on the gastronomic map of Italy. If you like indulging in a truffle or two, come in November, when three consecutive weekends are dedicated to the White Truffle Showcase.
It's a beautiful destination all year round though, with medieval cobbled streets hiding churches of a similar vintage. You can climb the 12th century bell tower of the cathedral for views over the surrounding lands, but the best vistas are found at the top of the Torre di Frederico II.
Driving time from Florence: 1h
Certaldo
When you reach Certaldo, park up the car on the outskirts. You can then either take a scenic funicular to the top of the hill or stretch your legs with a walk up the slope. The winding streets here reveal their story slowly, telling you how the town developed from an Etruscan settlement into a medieval maze.
Walk down Via Boccaccio, the main street, where the red terracotta buildings glow in the sun and friendly restaurants welcome you inside for a homemade feast, just like mama makes it.
Driving time from Florence: 1h
San Gimignano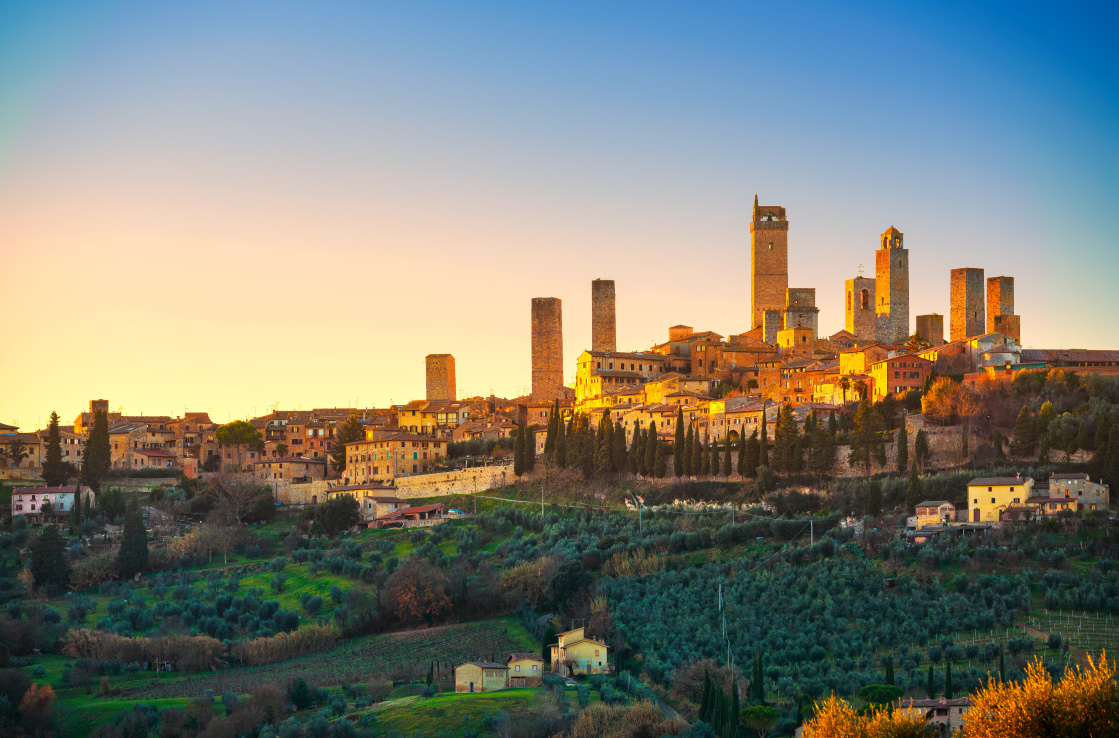 Nicknamed 'The City of the 100 Towers' – even though there were only 70 – San Gimignano is a sensational part of Italy and a UNESCO World Heritage Site. The jewel of the town is the 14 remaining towers, iconic shadows in the midst of the Tuscan countryside.
On a hot summer's day, cool down with a cone piled high with gelato from Gelateria Dondoli - the owner is a former world champion, known for sensational flavours ranging from spicy vanilla to tangy pink grapefruit.
Driving time from Florence: 1h 10m
Siena
In the small city of Siena, the Piazza del Campo is the heart of the action. Once a Roman marketplace, this square is still the life soul of the community, home to the prized 14th-century fountain known as Fonte Gaia.
It feels like a pint-sized Florence, with its own pieces by Italy's Renaissance heroes Michelangelo and Donatello on display, as well as atmospheric alleyways and a beautiful cathedral – the Duomo – to admire inside and out. Climb the 300 stairs of the Torre del Mangia tower for one of the most far-reaching views in Tuscany.
Driving time from Florence: 1h 15m
Montepulciano
Montepulciano is a name synonymous with wine, but the grape grown in these parts is tasted in bottles of Vino Nobile - not the Montepulciano d'Abruzzo, which is grown elsewhere in Italy. There's also the wealth of beautiful vineyards surrounding this hilltop and a range of incredible wine-tasting experiences on offer. Park up the car for the evening, book into a local hotel and indulge in a glass of the region's finest grape.
Driving time from Florence: 1h 30m
Volterra
Fans of the Twilight film saga already make pilgrimages to Volterra, but regardless of your taste in movies, you'll adore this archetypal Tuscan town. Admire the fine details of the cathedral before making your way down the cobbled streets to the spectacular Roman theatre, estimated to be around 2000 years old. As the sun goes down, dine on seasonal Tuscan classics at Enoteca Del Duca, an authentic Italian restaurant in a beautiful medieval setting.
Driving time from Florence: 1h 30m
Anghiari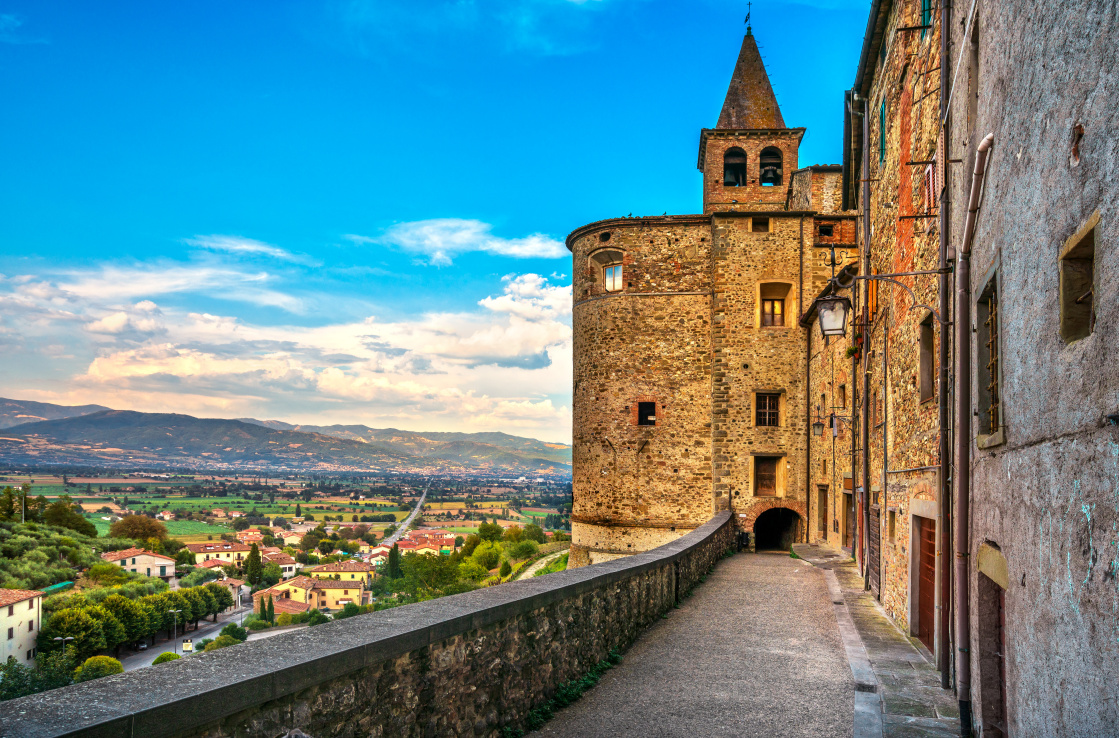 Overlooking the Tiber Valley, the story of Anghiari revolves around a dramatic battle between Florence and Milan back in 1440. Today, however, this fortified setting is much more serene. The historic Campano tower stands out above the ancient walls, close to the collection of local museums and castles that make idling away a day here such a pleasure. Visit in spring for the annual craft fair when the town really comes alive.
Driving time from Florence: 1h 35m
Montefollonico
The higgledy-piggledy streets of Montefollonico, close to Montepulciano, lend a unique charm to this hilltop setting. This is the home of Vin Santo, the famed Italian dessert wine. There's a festival dedicated to it every December, but even if you need to hit the road it's a magical sight with medieval entertainers like musicians and jugglers filling the town. The rest of the year, it's veritably sleepy, one of Tuscany's best kept secrets.
Driving time from Florence: 1h 35m
Poppi
Poppi is, indisputably, one of the most memorable Tuscan towns. With its upper and lower towns speckled over the hillside – Poppi Alta and Ponte a Poppi – it seems to reach higher than most. The splendour of it all is topped by the Guidi castle, a 13th-century fortress which is imposing without and beautifully decorated within, with fine frescoes and a noted library.
Driving time from Florence: 1h 40m
Cortona
The green valley shimmers in a beauteous panorama when you look out from Cortona, an old town seemingly placed perfectly on a high hill. Head into the warren of hilltop streets to visit Museo Diocesano, where you'll see masterpieces by the famous Renaissance painter Fra' Angelico, a former resident of Cortona. There are also extensive sections of ancient Etruscan walls to be seen here, which fortified the town more than 2000 years ago.
Driving time from Florence: 1h 40m
Pienza
There's a reason for the beauty and bold buildings of Pienza – it was the birthplace of Pope Pius II. Once he was elected pope in 1458, he decided, with the help of an architect, to lavish new buildings upon his home. Over the course of four years, he transformed this barely-known place into one large Renaissance masterpiece - and the city has barely changed since. Every corner is an idyllic vista of rustic stone houses and tumbling garden balconies.
Driving time from Florence: 1h 40m
Montalcino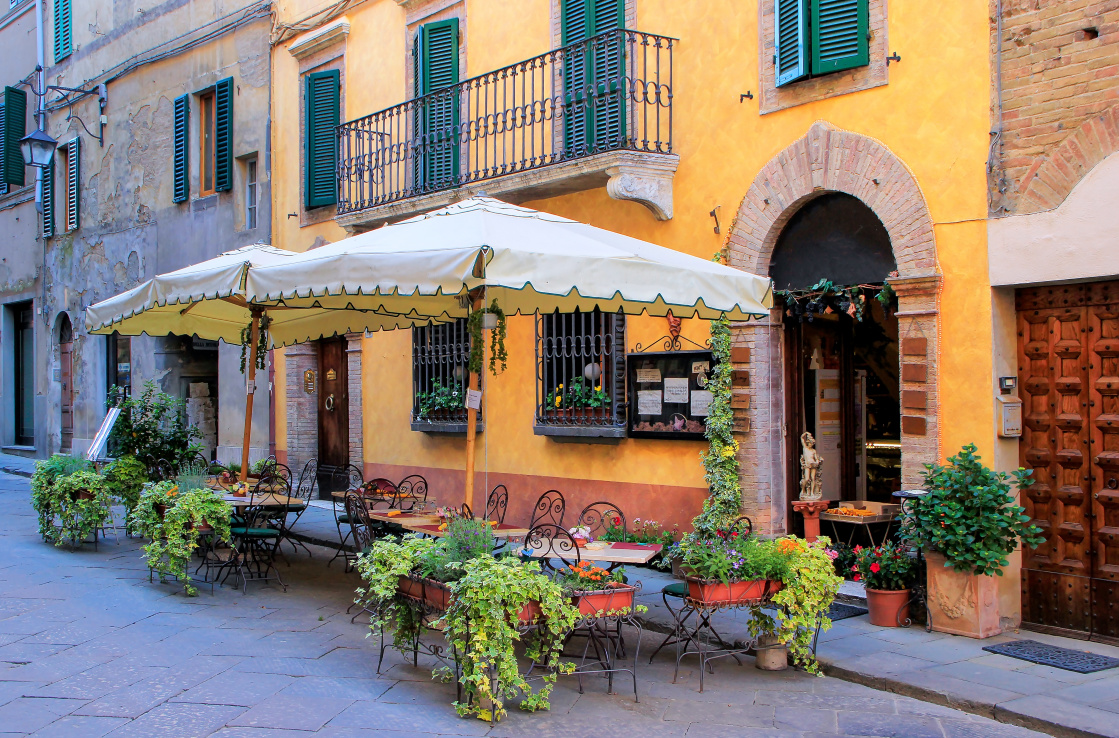 If you're driving to Montalcino, try and stay the night. This town is home to one of the legendary Italian red wines – Brunello di Montalcino – and it would be sacrilege to visit without trying it. It's also a winning spot for history buffs and gourmands, with wonderful tavernas and a museum dedicated to the local truffle.
Driving time from Florence: 1h 50m
Barga
Petite and perfect in almost every way, Barga is a symphony of photogenic streets close to stunning mountains and hills. The Romanesque cathedral is one of the best in Italy but even the most modest medieval buildings add up to more than the sum of their parts. There's a British tinge to the town too – many Bargans emigrated to Scotland, and their descendants have since returned – where else in Tuscany would you find an annual fish and chips festival?
Driving time from Florence: 1h 55m
Bagno Vignoni
Roosting on a hill above the Val d'Orcia, Bagno Vignoni is a little different from many of its counterparts. There's no stone piazza at its centre but, instead, a large pool that is the source of the town's hot springs. For centuries, locals and visitors alike have taken advantage of their alleged healing properties. Pope Pius II is said to have visited in the 15th century, some 400 years after Roman Emperor Federico II had a mud bath there.
Driving time from Florence: 2h
All of these heavenly hilltop towns tempt. Whether you want to visit several or head for the one that seems perfect for you, then hiring a car in Florence is the best way to get there. It's so much more than a means to an end - driving through the valleys is all part of the Tuscan experience.