Walls adorned with vibrant street art. Plazas bustling with people diving in and out of tapas bars. The smell of spicy chorizo and patatas bravas wafting through the air. This is Embajadores, in central Madrid - a barrio that is fast gaining a reputation as one of Europe's trendiest cultural hotbeds.
Embajadores is the reigning 'Coolest Neighbourhood in the World' according to a poll by Time Out in 2018. It's an animated corner of the Spanish capital, home to much of the city's immigrant population, where the flavours, aromas and traditions of the world blend together in a crazy, colourful mish-mash that has placed this district firmly on the map.
So, take a stroll through the high-storey streets and alleys, and explore Madrid's melting pot.
Where to eat in Embajadores
It should be no surprise Embajadores' eclectic mix of cultures comes out in the local menu. There are many wonderful restaurants, bars and eateries to try - here are our favourites.
Sala Equis
Relax with a drink at the ultra-trendy Sala Equis, one of Madrid's premier nightspots. Located in the historic building that was the capital's last adult cinema, this long-standing landmark still has an affinity for entertainment.
Catch the latest and greatest in Hollywood and independent cinema in the screening rooms, or just enjoy the ambience of the trendy bar and street-style tapas restaurant, which offers a range of European and global delights.
El Rincon del Cabo
A cosy spot serving up traditional tapas as it should be. This little restaurant may sport a no-frills interior, but the focus is on the food. Choose a range of classic Spanish dishes to make the most of the experience, from stuffed empanadas pastries to moreish croquetas.
Taberna el Sur
Tuck into the authentic tastes of Spain at this critically acclaimed restaurant. Alongside an authentic spread of tapas, you can indulge in fresh seafood and the flavours of the Mediterranean - from shrimp risotto and chili-garlic prawns to heaped portions of colourful paella.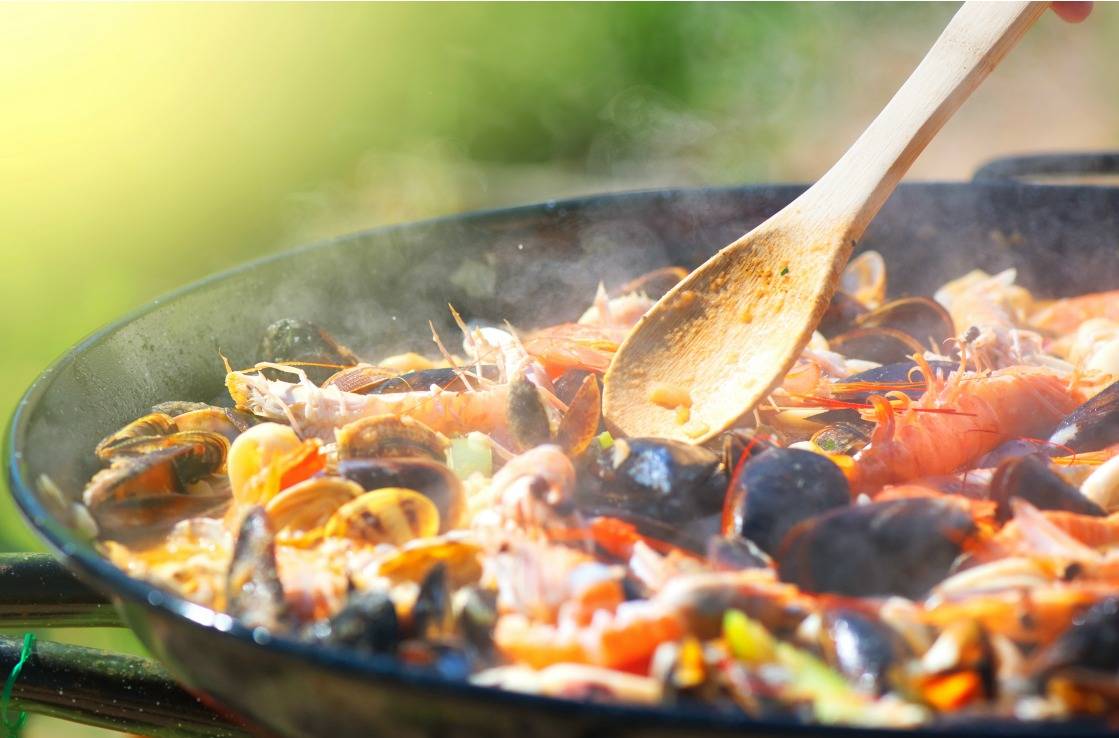 Where to stay in Embajadores
From artistic to affordable, there are plenty of places to stay in Embajadores that put you in a prime position for discovering the neighbourhood. Plus, with several metro stations dotted around, you can venture into wider Madrid too. Here are a few of our top hotels in the area.
Artrip Hotel
Sitting in the vibrant Lavapiés district, this hotel remains true to the Embajadores' affinity for art, with the works of local artists decorating the walls. The hotel itself is just a short walk from the central streets and the nearest metro stop.
The Westin Palace Hotel 
Just a short walk from Embajadores district, this five-star hotel was built on the orders of King Alfonso XIII in 1912. A hotel fit for royalty, luxury is the focus here. Suites are decorated in stunning splendour and a glorious high-ceiling dining room is perfect for spending an evening in. 
Apartamentos El Rastro
Centrally located close to the Puerta de Toledo, these self-catered apartments feature all the mod-cons necessary for a relaxing few days in the Spanish capital. Larger rooms feature a spacious lounge area for reclining after a day's sightseeing, and some boast a terrace for enjoying breakfast in the sun. 
There are plenty of delicious tapas bars nearby should you want to sink your teeth into Spanish cuisine. 
What to see in Embajadores
Wander around Embajadores and explore the barrio's quirky street art installations, popular weekly market and sun-bleached public plazas. Here are some of the things you can't miss.
Tabacalera
Once one of Madrid's largest tobacco factories, this 18th-century edifice is now a flourishing cultural hub, with spaces for concerts, art exhibitions and community-run workshops.
With four storeys to explore, there's enough street art, music and food to keep you there all afternoon. Be sure to hang around until early evening, when the former industrial building is transformed into a wonderfully diverse music and dance centre.
La Casa Encendida
Another example of new life being breathed into old Spanish architecture, La Casa Encendida acts as a hub for the districts cultural sector.
Home to avant-garde art exhibitions, workshops and film screening rooms, the elegant 'Burning House' feels like it totally encapsulates what this artistic corner of Madrid is truly about.
Where to go after Embajadores
There's so much more to Madrid. Once you're done with the bustling barrio of Embajadores, why not explore the other neighbourhoods of this iconic city? Discover wider Spain by hiring a car with Hertz - the artistic city of Barcelona is a six-hour drive away, while you can reach the fabled resort coasts of Alicante in four hours.