If you love the talent, drama and passion of live entertainment, you're in for a treat in Cardiff. Wales' lively capital buzzes with a young student population, and its revitalised waterfront is home to some of the best music, theatre and dance in the United Kingdom. In fact, its venues and concert halls draw visitors from far and wide for highbrow humour and family entertainment. So whether you're visiting to enjoy a show or simply want to soak up the atmosphere, here's where to consider.
The Gate Arts Centre
If you enjoy live performances with an intimate feel, head straight to the Gate Arts Centre. Located right in the heart of the city, this renovated church regularly hosts live music, dance, drama and art exhibitions, producing an atmosphere that's somehow both cosy and professional. You'll enjoy a clear view of the large stage area from the pews, which is just as well because there's plenty you'll want to see. From folk acts commanding your attention with little more than an acoustic guitar and their voices, to youth orchestras performing big band classics, it's well worth paying it a visit. 
Wales Millennium Centre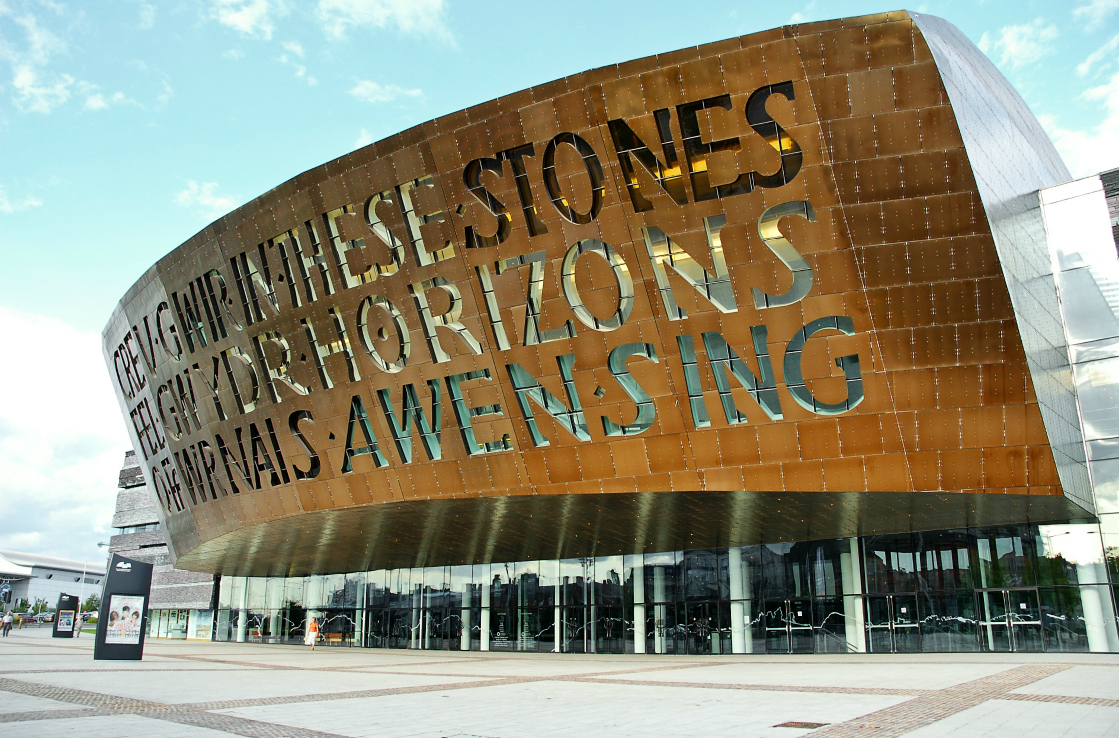 A couple of miles' drive south of the Gate Arts Centre is the Wales Millennium Centre (easily reached by car, if you've hired one) – and it's certainly somewhere you'll want to see. It's Wales' number one visitor attraction, drawing over 1.5 million visitors a year. This architectural masterpiece combines modern design with rustic materials, and is worth visiting for its aesthetics alone. Additionally it's perfectly constructed for various types of production,  so expect outstanding acoustics if you're watching a ballet, opera or musical (or any other form of live entertainment for that matter) and keep an eye on what's on for a show that suits you down to the ground. The theatre has recently staged energising performances of Hairspray and conversations with author Philip Pullman, and is set to host an equally diverse calendar of events in the coming months.
New Theatre
For a traditional theatre experience, consider booking tickets for a show at the (somewhat bizarrely named) 'New' Theatre. This Victorian theatre was built and rebuilt during the 19th century following a fire in 1877. Nowadays, it offers the quintessential theatre experience of charming red curtains, balcony seating and gilt detailing, and hosts some of the best live entertainment in Cardiff. Recent productions have included tear-jerking performances of Blood Brothers and goose bump-inducing shows such as The Woman in Black.
The Other Room
If you want a theatre experience unlike anything else in Wales, book a couple of the 44 seats at The Other Room. Cardiff's first pub theatre is known for hosting intense, modern plays that put an emphasis on Welsh and Wales-based artists. Having won plaudits for its incredibly high calibre of talent and artistic vision, The Other Room is breaking new ground in Cardiff's live entertainment scene. Brace yourself for daring plays, side-splitting comedy and live music in a venue so intimate and visionary it will leave you breathless.
There's no doubt that Cardiff boasts some of the UK's most interesting touring venues. So, book yourself a ticket to a show if you happen to be paying the city a visit – it's an experience you don't want to miss.