The Welsh capital welcomes thousands upon thousands of tourists to the country's south coast every year. Cardiff promises everything from castles and country parks to waterfront attractions and iconic Welsh landmarks.
Whether you're visiting the city on a day trip or staying for a little longer, you're in for a treat. Discover the 10 best things to do in Cardiff with our guide.
1. Cardiff Castle
Castle Street, Cardiff, CF10 3RB
Perhaps this city's most popular attraction is Cardiff Castle. It's a 2000-year-old tale of Roman prowess, Norman steadfastness and Victorian fantasy, set in imposing structure that attracts millions of tourists.
It's a charming place with an air of romance and many of the rooms you can explore carry a theme. There's the Arab room, a Winter Smoking Room, and even a nursery with tiled murals.
2. Cardiff Bay
Cardiff, CF10
There are no tropical islands with white sandy beaches here, but Cardiff Bay offers plenty of landmarks and sights to discover by the water. The vast waterfront is home to the Welsh Parliament, alongside the Millennium Centre and Cardiff Bay Wetlands Reserve.
If you're travelling with family, grabbing a bite to eat is easy, as there are a host of restaurants to choose from. Highlights if you're visiting with kids is Techniquest, a fun, educational, science-discovery centre on the Bay. It offers hands-on practical lessons for kids and grown-ups alike.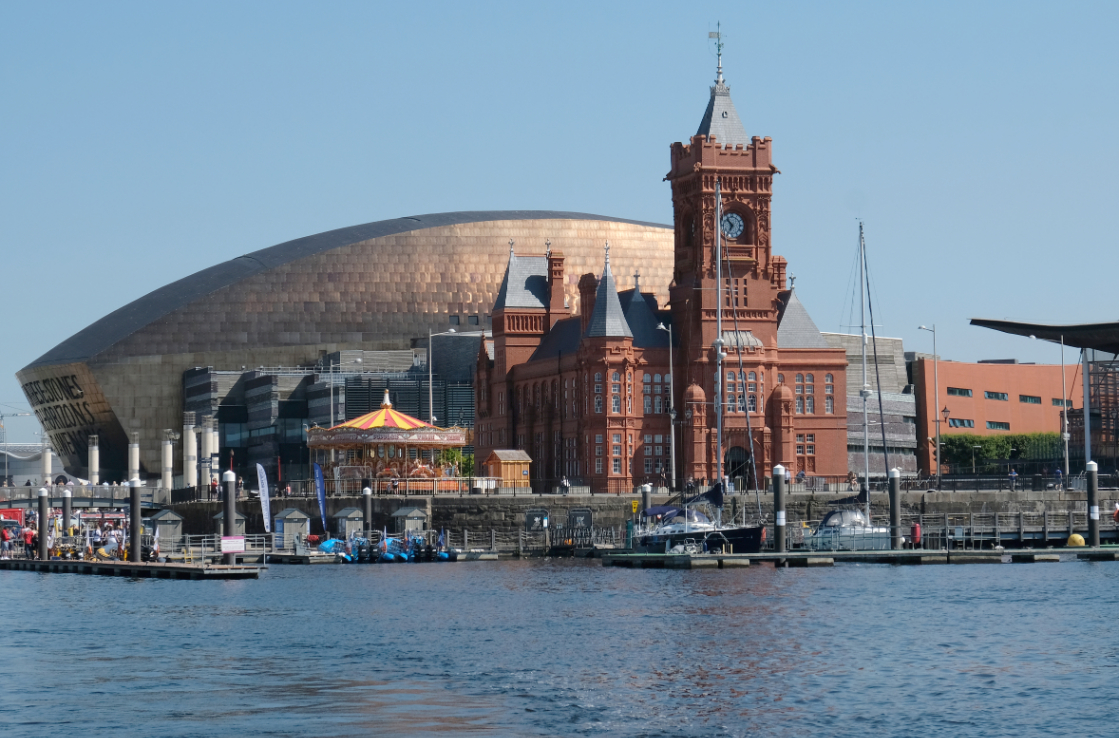 3. Wales Millennium Centre
Bute Place, Cardiff, CF10 5AL
You don't have to be an opera fan to enjoy the grand architecture of the home of arts in Cardiff. Beyond the captivating glint of its copper and slate exterior is a world of arts and entertainment for all.
Here, you can come for a night of La Boheme, or enjoy an evening with the kids watching the forever classic The Lion King. The Millennium Centre in Cardiff has become a cultural hub for the city and is a perfect place to enjoy live entertainment in the city all year round.
4. National Museum Cardiff
Cardiff, CF10 3NP
Don't miss a trip to the National Museum when you're in Cardiff, an attraction that has something to discover for the whole family. A fascinating tale of Wales unfolds, starting from the Big Bang, and going all the way to modern European art.
Children get a chance to step into the Jurassic age and meet the giants that ruled the earth 220 million years ago. For art lovers, the museum showcases one of Europe's finest collections of arts spanning five hundred years. Whether you're interested in French Impressionism or art in Britain, you'll find it here.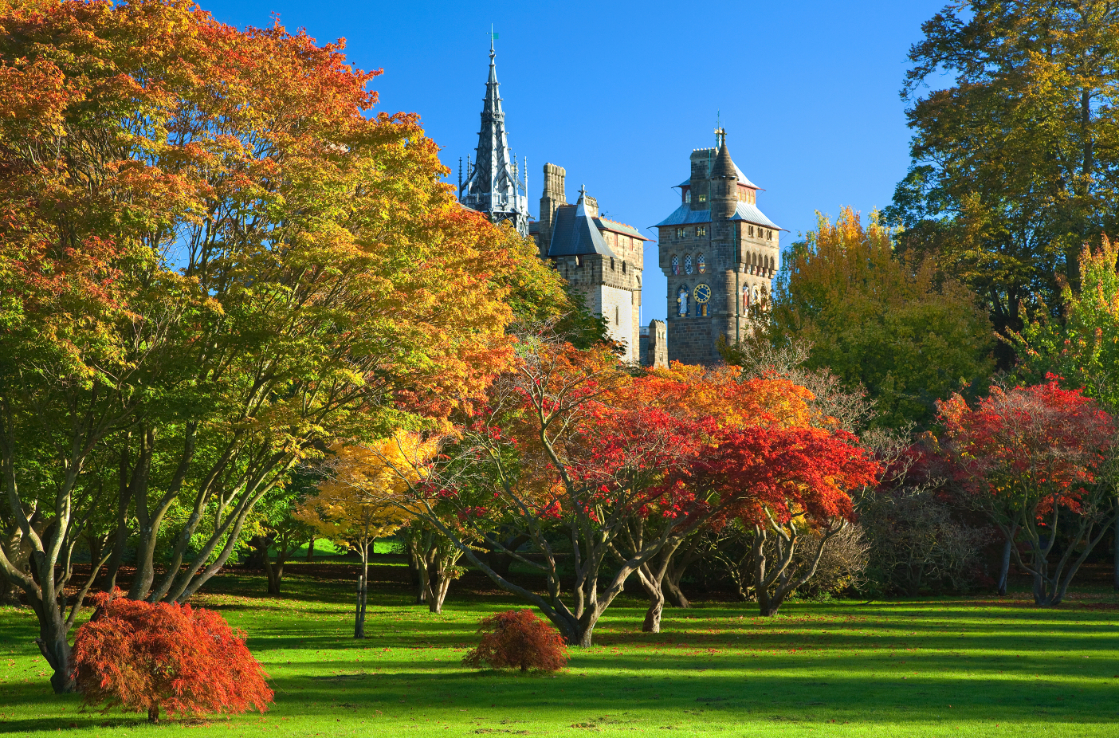 5. Bute Park
North Road, Cardiff, CF10 3ER
This lush vast green expanse in Cardiff is a great place to unwind and rejuvenate on any sunny day. The carefully manicured parkland, which is named after the 3rd Marquess of Bute, once formed the grounds of Cardiff Castle.
The park offers plenty of attractions to keep you busy. There's a visitor centre, three cafes, a plant shop, and 130 acres of beautifully landscaped garden. It's enough to keep you occupied for an entire afternoon. If you love wildlife, Bute Park will not disappoint, as the park enjoys an abundance of birds, insects and animals native to these lands.
6. Llandaff Cathedral
Cathedral Close, Cardiff, CF5 2LA
For many, a visit to the towering Llandaff Cathedral is the number one place to visit in Cardiff. The impressive Cathedral was built on the ruins of its predecessor in the 1300s. It now ranks as the most popular church in Cardiff.
You don't need to be of a certain faith to enjoy this special place – the church welcomes all irrespective of gender, creed, race, and sexuality. So, feel free to drop in with your friends and family and marvel at the impressive architecture.
7. Victorian Shopping Arcades
Castle Street, Cardiff, CF10 1BU
For those who want a respite from cookie-cutter shopping malls, the Victorian Shopping Arcade is a refreshing change. Get a taste of 19th-century history while shopping for authentic Welsh craftwork and woollen items. These charming, covered paths once allowed the locals to shop indoors in cold and rain.
There are over 2,500 feet of arcades to explore and it might be a good idea to start the journey at the Royal Arcade. Many of the shops look unchanged after hundreds of years as if frozen in time. If time permits, try a few other arcades too – the High Street Arcade and Castle Arcade are both popular choices.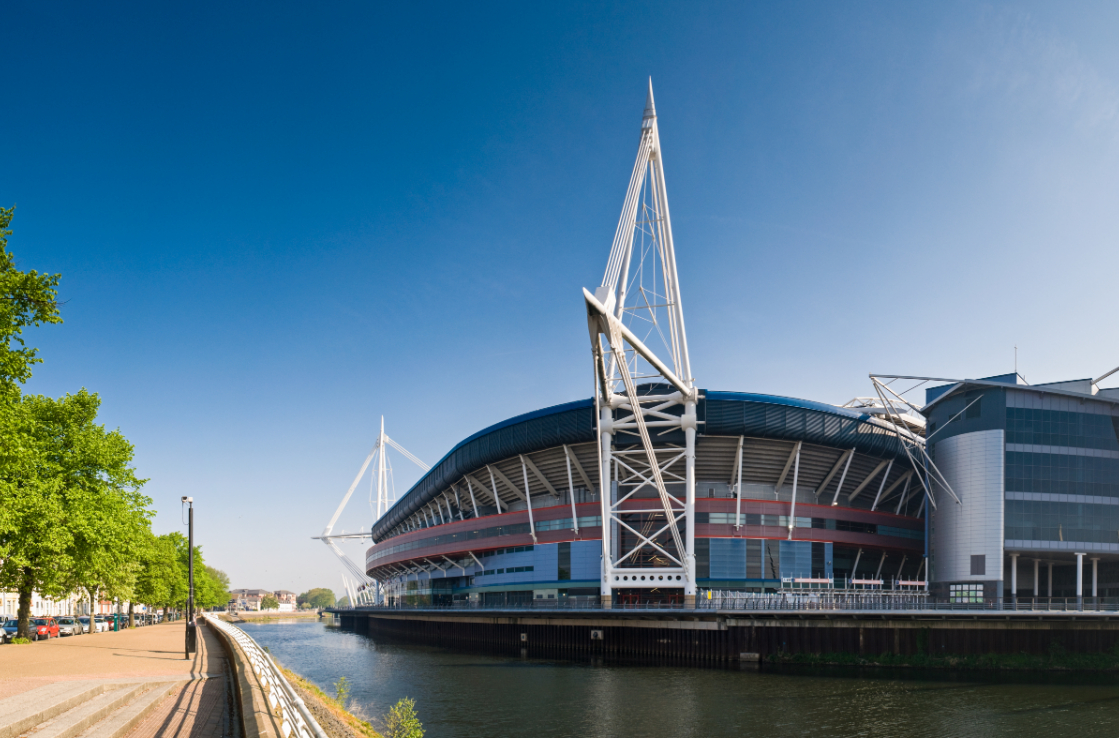 8. Principality Stadium
Westgate Street, Cardiff, CF10 1NS
Formerly known as the Millennium Stadium, this monster 74,000-plus capacity stadium is the home of Welsh sports. Wales is a rugby nation and this stadium has been the heart of Welsh rugby since 1999.
If you're lucky enough to visit on a match day, you'll be able to see how the city transforms around the stadium. The streets, restaurants, cafes, and pubs fill up with people creating an electric atmosphere. Arrange a tour to get a proper insight and learn more about the stadium.
9. St. Fagans National Museum of History
Cardiff, CF5 6XB
Set on the grounds of St. Fagans Castle, an Elizabethan manor house, this open-air museum chronicles the life and history of Wales. More than 50 historic buildings and monuments have been rebuilt and brought back to life on these grounds.
Stroll back in time and visit a Victorian school, or spend some time in the Workmen's Institute. You'll also find a charming medieval church sitting in the middle.
Become part of the life that was once Wales. You can also drop by the Gwalia Stores and even feast on some Welsh food from the 1920s.
10. Cardiff International White Water
Watkiss Way, Cardiff, CF11 0SY
There's more to Cardiff than rich history, castles, and museums. The city offers a wide range of fun activities for sports lovers and thrill seekers. If you love water sports, then make sure to visit Cardiff International White Water. This was originally planned and built as a part of the Olympic 2012 village.
The place offers a world-class white water rafting experience for both professionals and amateurs. The course is a respectable 250-metres long. Kayakers can customize it according to their experience, so there are experiences for all abilities – including a fun soft ride for the family and the heart-stopper for the pros.
Explore this vibrant city and beyond when you book your hire car in Cardiff with Hertz online today.