Heard of 'bleisure' travel? It's seen a real rise over the last few years, as the combination of business and leisure travel becomes an increasingly alluring prospect for many travellers. After all, why just fly in and out of your business destination when there's so much to see?
Industry insiders think a number of reasons are behind the bleisure boom. Millennials are entering the workforce still keen to savour life experiences, while there's often the opportunity to take a companion or partner with you. Businesses can also pay less on a return ticket by having their employee stay over on a Saturday night.
Georgia is one of the United States' most business-savvy states. With Hartsfield International Airport among the busiest in the US, this is a town built for both business and leisure.

Here are a few ideas to get you started on combining your business trip with some of the state's must-see spots.
Mountain magic
Bookend your trip to Georgia with a visit to Stone Mountain, a half-hour drive from Atlanta. It's a big draw with families, who come here for the theme park, but just as much focus is on the stone itself. Five miles across, it's a big landmark – but it also has a troubled history. The three figures carved into the rock are controversial Confederates from the US Civil War and recent protests have called for its removal.
On select dates from March to October, a stunning laser show is combined with pyrotechnics to light up the 825ft-tall mountain, with virtual lava running down its sides, and dozens of drones shining light in sync with the music.
There are rides here too, but also places to hike, picnic, fish, boat – along with a pair of 18-hole golf courses if you have time to practice your putting before heading home.
Stunning Savannah
If you're close to Savannah, seize the opportunity to explore this historic city, where oak trees line charming streets full of Colonial-style buildings. Unwind among the antebellum mansions, antique shops, public squares and Spanish moss-coated parks.
Forsyth Park is a must with its much-photographed fountain, and for the city beyond join a walking or Segway tour. But don't get too comfortable – Savannah is known as being America's most haunted city, so embrace the fear and take a history tour full of ghost stories, or be brave and hear the children's voices and cooks clanging pots for yourself.
Alternatively, pretend you heard nothing and stop by the Olde Pink House restaurant, a landmark that does a fine line in the likes of fried green tomatoes, shrimp and grits and pork tenderloin with bourbon molasses.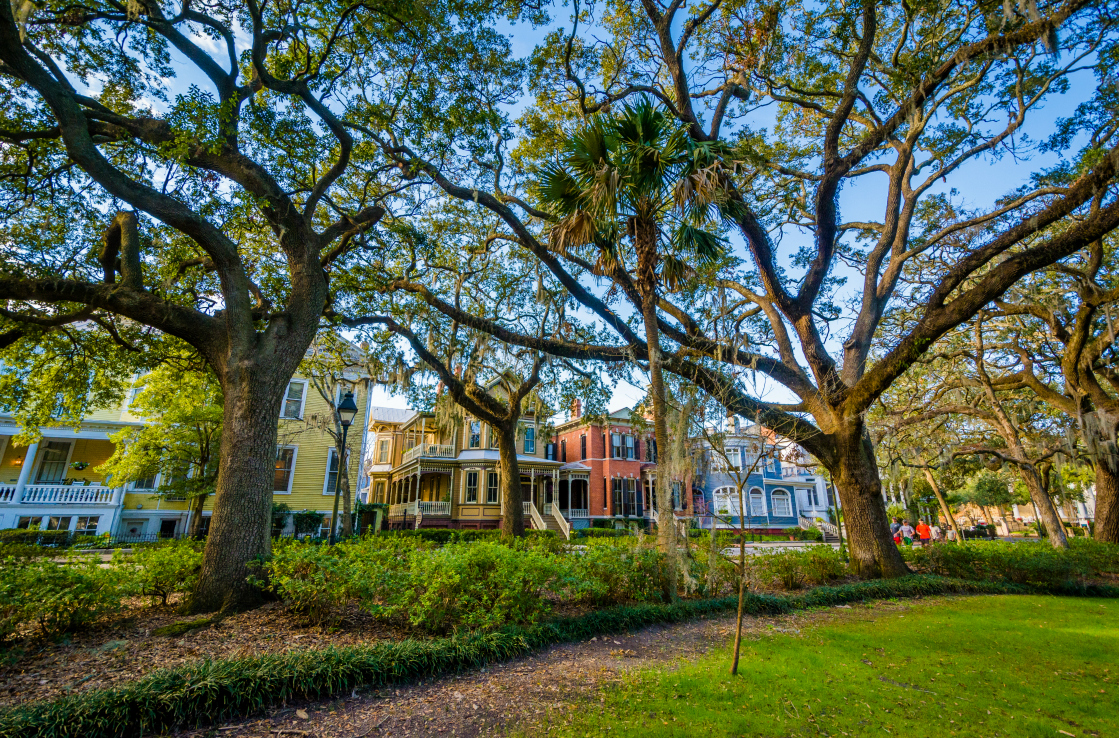 King of Kings
One of Georgia's most famous sons, Martin Luther King Jr's remarkable life is celebrated and commemorated at the Martin Luther King Jr Historic Site, which is suitable for all ages. Designated a National Historic Park in early 2018, these preserved Atlanta buildings include his childhood home, and the church where he was baptised and later served as a pastor.
A museum documents the history of the American Civil Rights Movement, while there are numerous tributes to other freedom fighters. You can also pay your respects to King and his late wife at their tomb within the park.
The people's park
Atlanta's Piedmont Park has a long and varied history. It's been a farm, a place where the city's wealthiest headed to enjoy their horses and carriages and briefly home to the city's first pro baseball team, the Atlanta Crackers.
Now, though, it's a park for the people, with lovely lawns affording stellar views of the city, playgrounds, tennis courts, lake, picnic areas, butterfly haven, bike paths, walking tours, dog parks (and an annual 'Doggy Dash' race) and more.
Come on a Saturday morning between March and December for the Green Market, full of local artisan goods and foods.
Got Georgia on your mind? If you're in the state for business there's so much to discover, and you can see it all with car hire at Atlanta airport. Build in some time to relax after you arrive or just before you depart to enjoy the perfect bleisure trip.