Zurich is one of Europe's most enticing cities, offering tourists a taste of cosmopolitan luxury alongside an edgy art scene. This intriguing combination is tied up in one breath-taking package by the bow of Lake Zurich.
With so many things to do in Zurich, planning a weekend getaway to this slice of Swiss paradise can seem overwhelming. We've made it easy by planning out a packed itinerary for you, which lets you make the most of your time in Switzerland's biggest city.
Friday evening – Catch a show at the Theatre Neumarkt
Neumarkt 5, 8001, Zurich
World-renowned for showcasing controversial, thought-provoking and gripping performances, the Theatre Neumarkt is the perfect place to start your Zurich weekend. If you consider yourself a thespian, or even if you don't, a night at this theatre is a wonderful way to settle into Zurich's rich cultural landscape.
Arrive early enough and you can treat yourself to an atmospheric dinner at their garden restaurant. From experimental performance art to disturbing dramas, via the irreverence of anarchic live comedy, there's no predicting what sort of theatre experience will be in store for you when you visit. One guarantee, you'll leave with plenty to discuss afterwards.
Saturday morning – Stroll down Bahnhofstrasse
8001, Zurich
Zurich's most famous, popular and expensive shopping street, Bahnhofstrasse, can be found in the heart of the city's financial district, surrounded by illustrious global banking powerhouses. Whether you're in the mood for high-end shopping at luxury fashion brands or losing yourself in the crowds of Zurich's upper crust, this exclusive avenue blends chic and authenticity perfectly.
Right in the city centre, you're perfectly positioned to explore the rest of Zurich from here, not before grabbing a delicious pastry and decadent hot chocolate from Café Sprungli to sustain you. Why not sit on their outside patio, if the weather allows, and enjoy watching the illustrious shoppers pass by?
Saturday lunchtime – Sample a relaxing lunch at Kraftwerk
Selnaustrausse 25, 8001, Zurich
Despite its industrial setting in a former power station, this hipster lunch spot is a great place to escape Zurich's hustle and bustle in trendy surroundings. Found a stone's throw off Bahnhofstrasse, this is the perfect place to refuel and kick back with a deliciously crafted artisanal coffee.
Dine out on hearty pastas and lively fresh salads, or choose from a selection of sharing plates, such as smoked mozzarella and aubergine caviar. Don't forget to leave room for a sweet treat. Their selection of pastries, brownies and cakes are the perfect pick-me-up before an afternoon of sightseeing.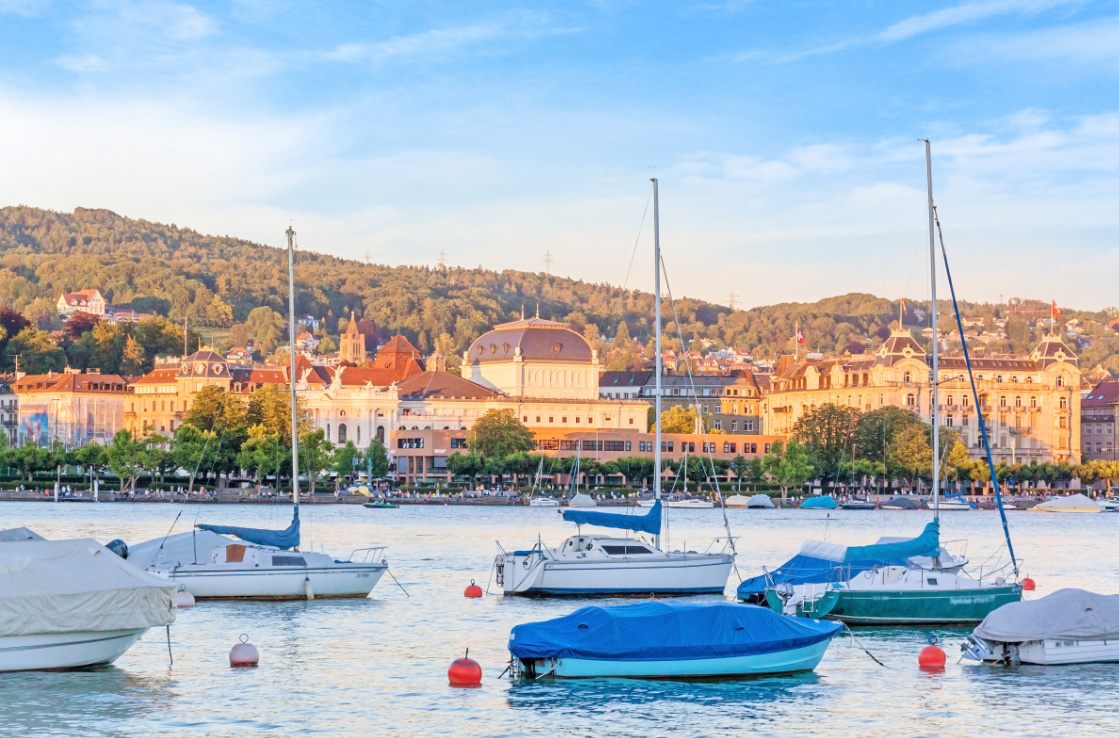 Saturday afternoon – Breathe in the fresh Swiss air of Seefeld
Seefeld, 8008, Zurich
Seefeld is a verdant part of this Swiss metropolis where you can breathe in the crisp air as it whips off Lake Zurich. Stroll down the neighbourhood's luscious promenade and experience the other side of Zurich – its peacefulness, its proximity to such natural beauty, and its relaxed café culture.
Grab a coffee to go and explore the beauty of the Chinese garden, wander around the opulent Sechselautenplatz square or take an invigorating dip at Tiefenbrunnen. The latter is an idyllic swimming spot on the lake that enjoys stunning views of the Swiss Alps – a great way to unwind, just outside the city centre.
Saturday evening – Dance and dine in Zurich West
Zuri-West, 8005, Zurich
Zurich West is undoubtedly the most exciting part of the city, especially at night. Formerly an industrial neighbourhood, its warehouses and factories remain, but have been repurposed into trendy shops, quirky cafes, inviting restaurants and an eclectic selection of chic nightspots.
It's situated just outside the city centre and travels parallel to the track that leads from Hauptbahnhof to the Limmat River. It's worth the short journey and definitely where you want to spend your one full night in Zurich, whether socialising in the urban garden or exploring alternative shopping in Viadukt.
Sunday morning – Pig out at Markthalle
Limmastrasse 231, 8005, Zurich
Make Markthalle your destination for a slap-up Sunday brunch. Not only is it always bristling with people, getting your day off to a sociable start, but is home to a variety of different food stalls. Dig into small sharing plates overflowing with specialty meats and cheeses, dine on sumptuous schnitzel, delve into tangy green salads, or indulge in an array of sweet treats.
After your meal, make sure you take the time to explore the entire Markthalle. If there's anything you order that you particularly enjoy, you can even buy it from one of the many produce stalls. Get your breakfast and souvenirs sorted, courtesy of the numerous meat and cheese deli counters.
Sunday lunchtime – Kick around at the FIFA Museum
Seestrasse 27, 8002, Zurich
Football fanatics and casual supporters alike will enjoy spending some time at the FIFA Museum in Zurich. Football is arguably the world's most popular sport and this museum will give you plenty of insight into the modern game, and its historic origins.
Newly opened in the same city as the FIFA headquarters, this is the place to come to brush up on your knowledge, test your trivia, and hopefully catch a glimpse of your favourite teams on display. Whether you want to take the guided tour, or see yourself around the museum, don't forget to visit the gift shop at the end of your time there.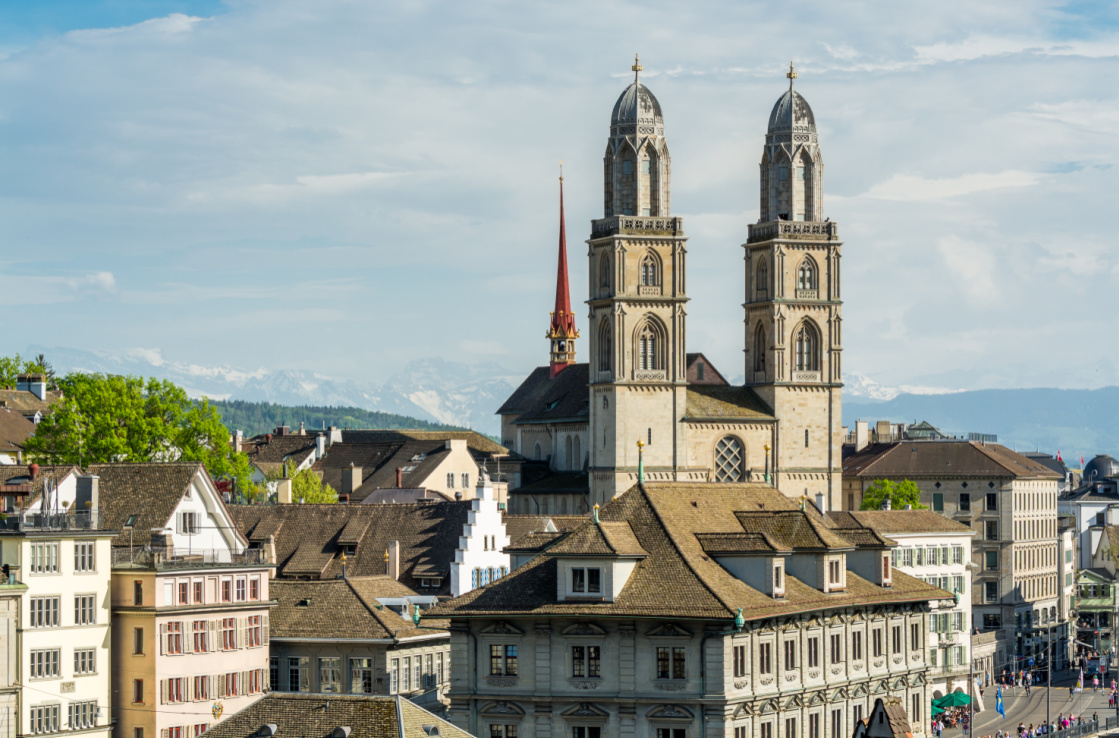 Sunday afternoon – Head up to Lindenhof
Lindenhof, 8001, Zurich
Lindenhof is the Old Town of Zurich, the hill where the city was born and has sprawled out from ever since. Here, you can stroll through its history and admire the gorgeous arial views of the city that Lindenhof has to offer.
While looking down on the river and cathedral below, you can wander through old Roman and Medieval ruins that form the strong foundations of Zurich's rich heritage. Remember to snap some last-minute pictures of your weekend in Zurich and connect with the core of the city before you leave. Make these beautiful panoramas your departing memory of Zurich.
Hire a car in Zurich with Hertz online to make your weekend tour in Switzerland an unforgettable one.