Welcome to the world capital of entertainment. Think of Las Vegas, and you conjure up images of glamorous and glitzy casinos, a vast forest of neon lights and world-famous artists in residence. Yet beyond the hypnotising sights, there's the wonderful, contrasting nature of Nevada.
Cruise down the strip in Las Vegas and you'll be following a path that has been dazzling visitors for years. From the original Rat Pack to today's A-listers, it's a place of round-the-clock entertainment.
Whether it's the casinos that have tempted you here, or the ruggedly beautiful Nevada landscape, our guide to Las Vegas will ensure you tick off all the main sights on your American road trip. Here as a couple, with friends or your family, there's something for everyone in Sin City, and not all of it sinful.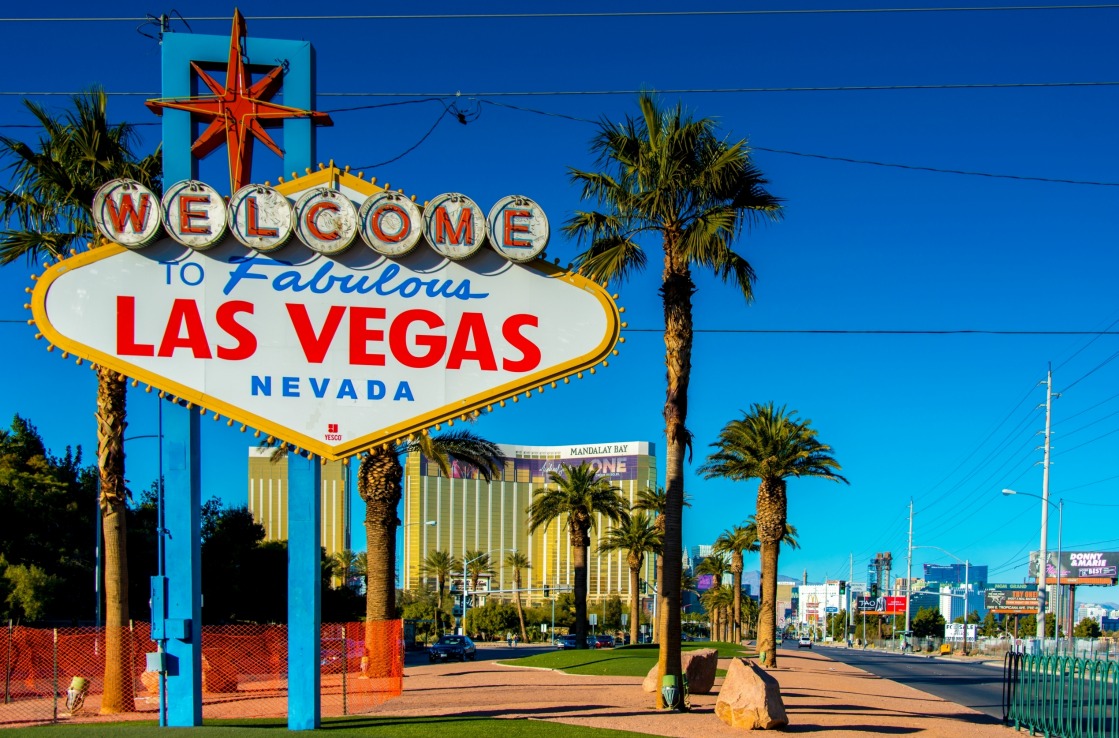 Things to see and do in Las Vegas
Standing proud since the 1950s, the iconic 'Welcome to Fabulous Las Vegas' sign signals that you're entering the Strip. This, the spiritual heart of Vegas, runs for five miles of neon, garish display and thrills, and driving down it in your Las Vegas hire car is a rite of passage.
The Bellagio
The Strip has a different feel during the day, when the lights are off, but this is when you can explore the shops, fountain and scented gardens – manmade wonders here in a desert state. The Conservatory and Botanical Gardens inside the Bellagio are constantly preened and updated, with seasonal differences ensuring that even repeat visitors see something new every time. Step outside to see the legendary Bellagio fountains, a choreographed display shooting jets of water hundreds of feet into the air.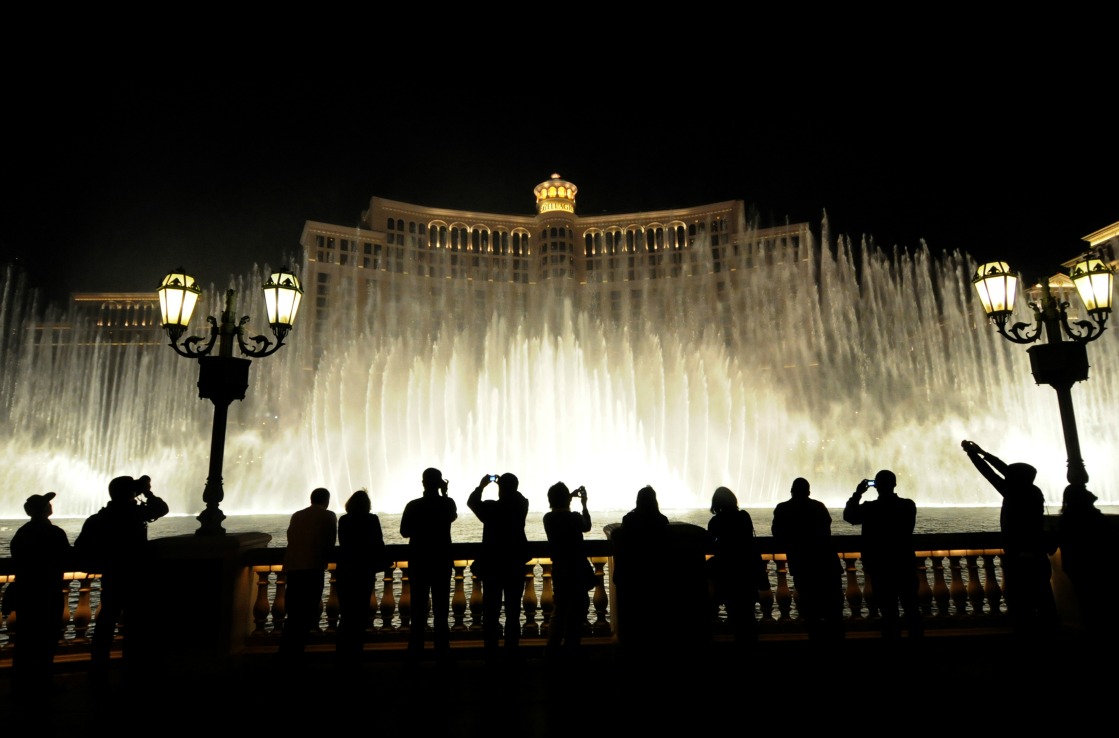 Mandalay Bay
The casinos here are all in vast, towering hotels, some with extravagant design features, veering from the kitsch to the seriously stylish. The tropical-themed Mandalay Bay is huge in every regard – a massive casino and a manmade beach complete with a wave pool, lazy river and sand that has been flown in especially. You don't have to stay here to use it – you can opt for a day pass. If you want to get your heart pumping, you can scuba dive among dozens of sharks in the aquarium here.
Caesars Palace
The MGM Grand, Bellagio, Wynn, Encore and Cosmopolitan all have their fans, but few are as famous or star-studded as Caesars Palace. Like all the Vegas casinos, it combines acres of slot machines, poker tables, roulette wheels, buffets overflowing with shrimp, fountains and flora. One of its main attractions is The Colosseum theatre, where Celine Dion and Elton John have both been in long-term residence, wowing visitors with nightly shows. The world's largest Ferris wheel, the High Roller, is here, too.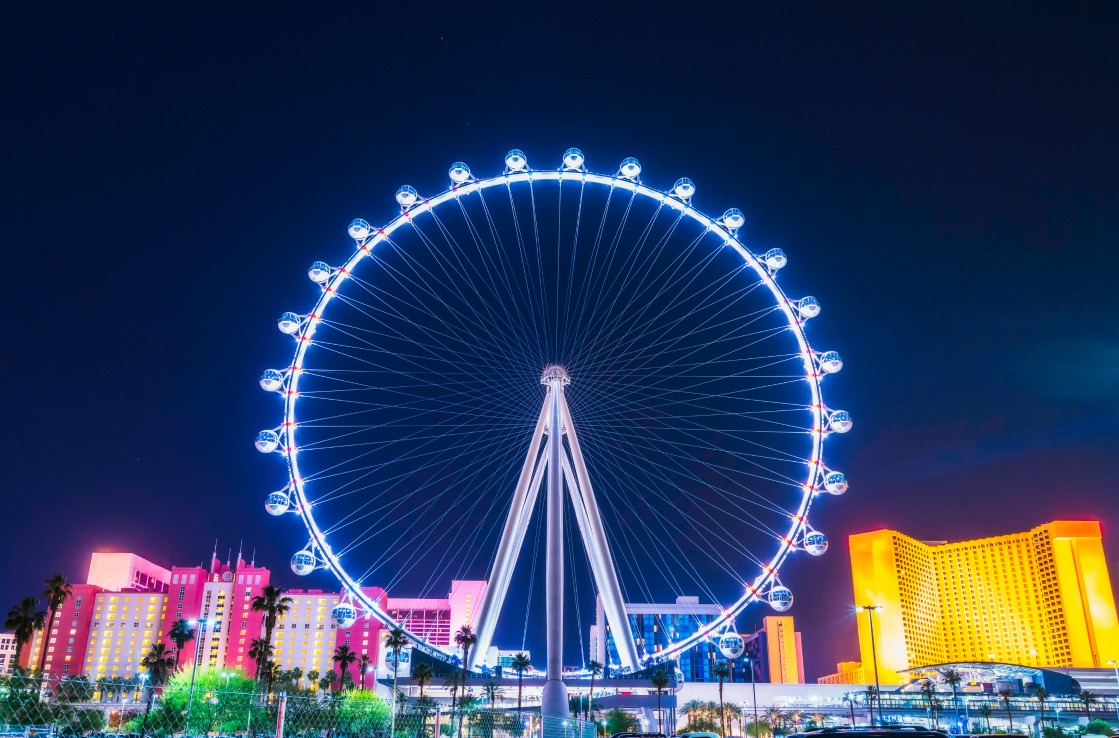 The Stratosphere, a 1149-foot tall tower, has a casino, a revolving restaurant and sky-high thrill rides. Fans of the white knuckle can ride the X-Scream, Insanity or Big Shot, while real daredevils will love the Sky Jump, a bungee jump from a vertiginous 829 feet.
Cirque du Soleil
Back on terra firma, it's hard to escape the sense that Cirque de Soleil run the evening entertainment sector here. Seven shows in seven different theatres showcase their daring dance and acrobatics, with spectacular staging.
Culture fans can also get a fix at various galleries, museums and installations. At one end, there's the Neon Museum, with its vintage signs telling the tale of the city's history. At the other you'll find pieces by Monet and Warhol at the Bellagio Gallery of Fine Art. And somewhere in the middle – or perhaps in a different art world altogether – are Ugo Rondinone's colourful and wonderful towers, called Seven Magic Mountains, just outside the city.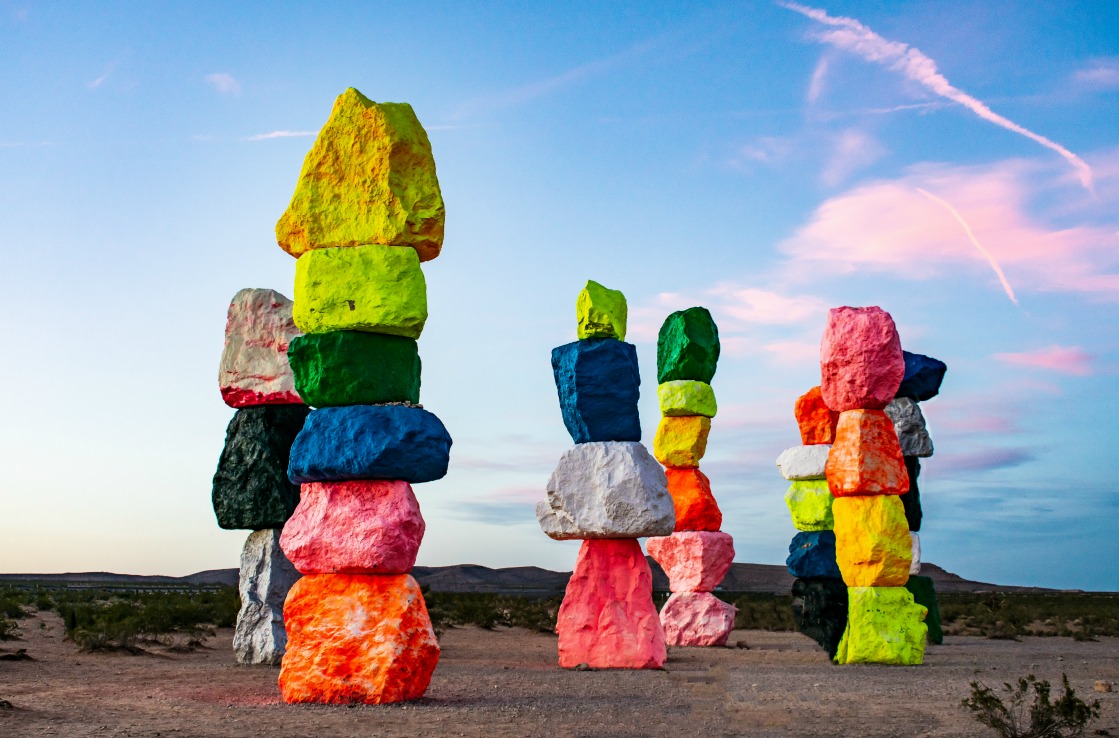 Where to eat in Las Vegas
Las Vegas is a paradise for foodies, but also packed full of cafes, restaurants and joints serving up delicious options for all. You'll have no problem finding somewhere for a once-in-a-lifetime meal, as well as diners and burger bars; and, rest assured, you're in a city that knows how to cater for those with food intolerances.
The best places for breakfast in Las Vegas
Start the day in style by finding the best breakfast in Las Vegas – the competition for that title is intense. You won't go hungry at any time of day, but the freshly prepared all-you-can-eat buffets promise an indulgent start to your Vegas schedule. Tables piled high with stacks of pancakes, rich French toast, sizzling steak, and pastries will tempt you to eat your fill.
Some will want to head straight for the high-end options – Bouchon at The Venetian is overseen by Thomas Keller, one of the world's best chefs. The breakfast and brunch menu at this French bistro is the epitome of haute cuisine, encompassing everything from spiced doughnuts and moreish pastries to eggs benedict with smoked salmon, and roasted chicken teamed with bacon and chive waffles.
However, there's a reason that Peppermill has been packing them in for half a century, open 24 hours a day and elevating the greasy spoon to the next level. The crowd is mixed, from those waking up to those who haven't yet been to bed – and they're all here for steak and eggs, pancakes, corned beef hash and the brilliant Joe's San Francisco Special, like a full English breakfast with a Las Vegas touch.
Gordon Ramsay and other celebrity chefs in Las Vegas
Vegas is home to plenty of eateries headed by celebrity chefs, with the likes of Mario Batali, Wolfgang Puck, Pierre Gagnaire, Joel Robuchon, Guy Savoy and Gordon Ramsay all serving up their finest dishes.
Robuchon can boast three Michelin Stars at what is perhaps the best place to eat in Las Vegas. Plush surroundings, attentive service and three-hour long tasting menus including exotic concoctions such as truffled langoustine ravioli or sea urchin flan with coffee foam.
After a day sightseeing or feeding the slots, sometimes you need a juicy steak. Gordon Ramsay has a steak restaurant, burger place, and bar and grill. Alternatively, grab a table at Bazaar Meat – a temple for carnivores. With interior styling courtesy of creative genius Philippe Starck and chef Jose Andres in charge of the grills, this 'meathouse' – as they dub it – is probably the best steakhouse in Las Vegas.
The classics are great – exemplary steak tartare and bison carpaccio, and there's an abundance of caviar and oysters. The steaks span the world, from the Kobe and Wagyu cuts of Japan to Vaca Vieja from California.
Where to stay in Las Vegas
Part of the joy of choosing a hotel in Las Vegas is you might not need to leave it all day. From the breakfast buffet to fine dining, shopping malls, concerts and casinos, many of them have everything you need under one roof.
Sleep like an emperor
At Caesars Palace, you're investing not just in a room, but in the legacy of Vegas. Here every man can live like the Roman Emperor, experiencing the utterly over-the-top and ostentatious experience which has made it so famous since it opened its doors in the 1960s.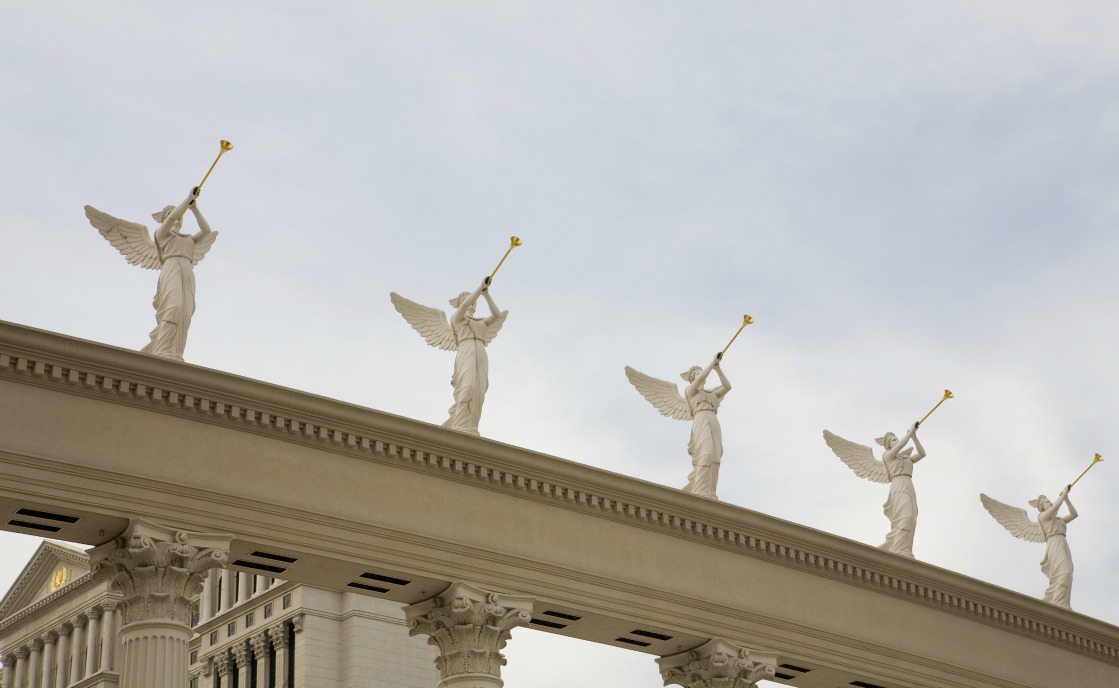 Choose from one of 4,000 generously-sized rooms, and make use of the on-site facilities, restaurants (including Nobu, Guy Savoy and the brilliant Bacchanal Buffet) and spectacular shows. It also boasts one of the best pools in Las Vegas, the Garden of the Gods Pool Oasis with seven different spots to take a dip, including swim-up blackjack tables in Fortuna Pool. Only in Las Vegas.
A world within a city
We've already described the famous fountains of the Bellagio, but the wonder continues inside this Diamond Resort. Another 4,000-room behemoth boasting marble bathrooms, you can take your pick of 20 distinctive eating spots, including Restaurant Picasso which is festooned with artwork from the man himself, before taking a seat at the resident Cirque du Soleil show.
A slice of Venice
The Venetian is renowned for its miniature version of Venice, with canals winding around the inside of the hotel just like in the Italian city. Hop on board an authentic Venetian gondola, and glide beneath the miniature Rialto Bridge and other replica landmarks while your gondolier sings to you. There's a plethora of top end restaurants to be discovered here, but equally popular is the 'dirty food' of Black Tap Craft Burgers and Beer – creators of the CrazyShake.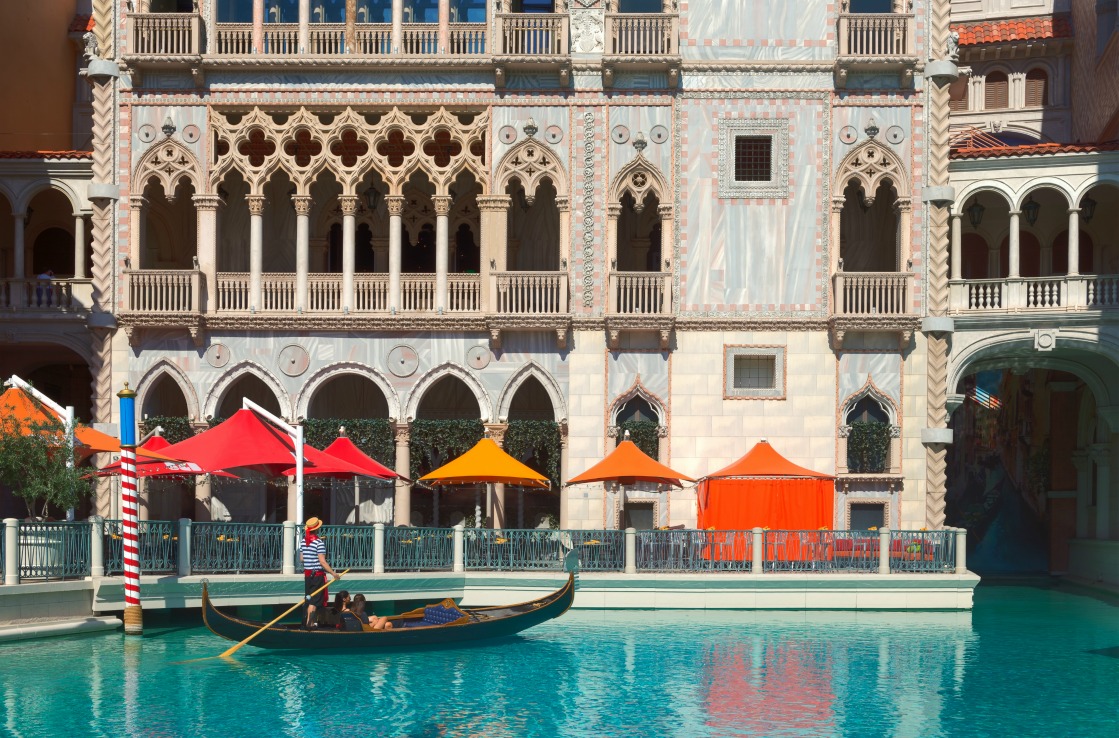 Escape the casinos
For a completely different vibe, the Mandarin Oriental offers a casino-free sanctuary with black lacquered furnishings and the minimalist feel this luxury chain is known for. The location is still prime for exploring the city – you just don't have to wade through crowds of people feeding slot machines to check in.
Exploring Nevada
There's life beyond Las Vegas, of course. You can fly into the state of Nevada, jump in your hire car at Las Vegas Airport and bypass the bright lights entirely – or extend your trip to see both sides. Exploring the area by car, you'll pass through old ghost towns, drive past roadside chapels where people tie the knot in fancy dress and also witness unsurpassable natural beauty.
Magnificent Nevada
A few hours east of the city is the Grand Canyon National Park, a geological wonder of multi-coloured rock and one of the most famous tourist attractions in the world. Closer to Vegas, the Valley of Fire is a desert of red sandstone less than an hour's drive from the Strip.
The mountains that overlook Lake Tahoe look like they've shipped in from the Alps. This resort combines picturesque summer spots and winter skiing adventures, plus state parks, looming granite cliffs and even a quirky castle which can be enjoyed all year round. Here you've got one foot in Nevada, the other in California.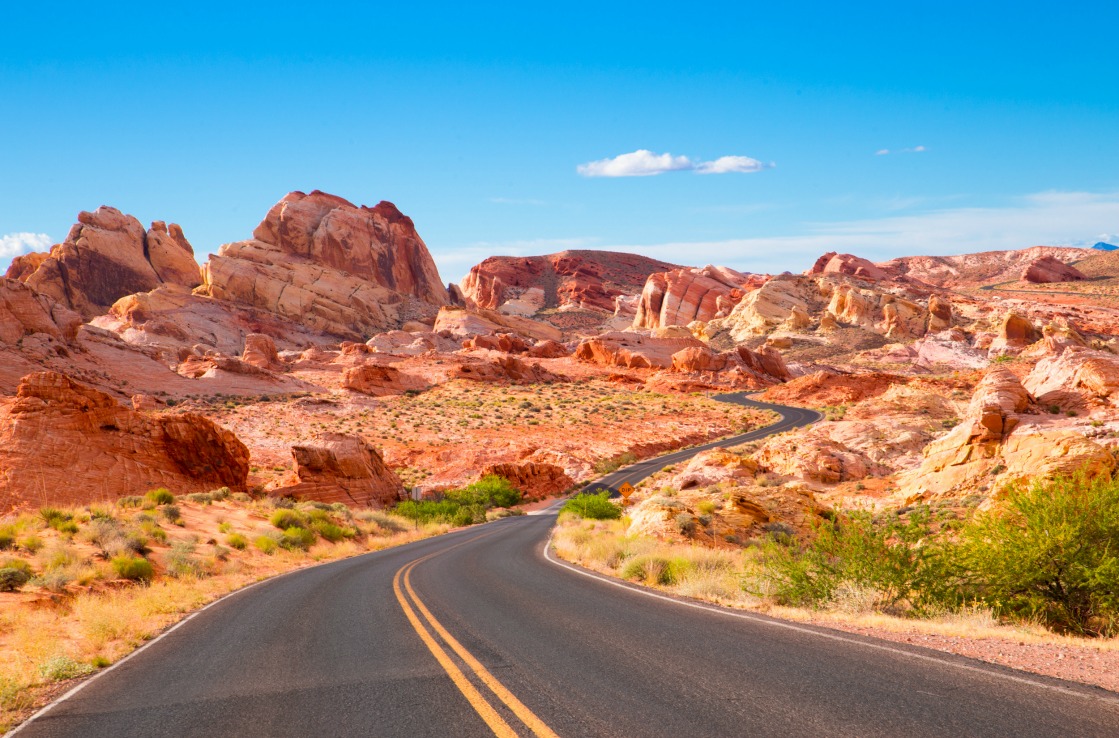 The Hoover Dam
Another key border attraction is the Hoover Dam, spanning Nevada and Arizona. A major construction project of the Great Depression, this engineering masterpiece was finished back in 1936 – but all these years later, it's still the tallest solid-concrete dam in the western hemisphere.
There isn't just one reason people flock to Las Vegas. As you've seen in this guide, there's luxury, nature, entertainment and more – no wonder this crazy place is high up on many bucket lists. See it all by hiring a car in Las Vegas, giving you the freedom to cruise the strip and escape into beautiful Nevada.