Los Angeles is a million different places to a million different people — 4 million to be exact. And for those in search of healthy living, it's pure paradise. You've got hundreds of miles worth of beachside bike paths and jogging trails, outsized parks straddling rugged canyons; and the country's most consistently wholesome dining scene. If you're here on business, it's impossible to avoid pleasure. But your free time is precious, and this city is impossibly vast. Make each moment count with this concentrated roadmap. Next stop: living your best LA life.
Your Arrival: LAX is positioned along the Pacific Coast, towards the southern end of the city. The I-405 freeway running through this region is the country's most congested. So, allow plenty of extra time to reach your intended destination. If you can, you'll want to stay in the general area known as the West Side, encompassing Santa Monica, Venice, Culver City, and Beverly Hills. Stay here and your hotel won't be more than 45 minutes from your Hertz pickup, even in heavy traffic.
Your Car: Do you even have to ask? The convertible was practically invented for Southern California. You can cruise through the sunshine in style with a Chevy Camaro, as Hertz stocks a steady fleet of the sleek, fuel efficient sports car — an American classic.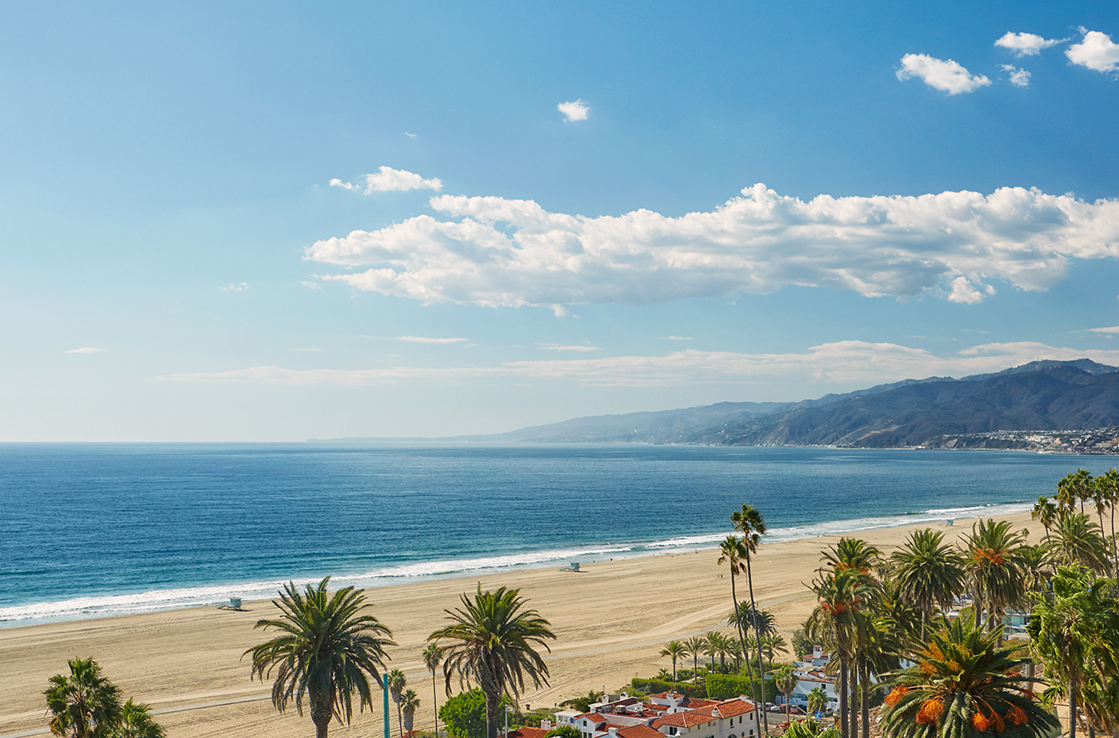 Your Accommodation: Nestled between the beach and the mountains, Santa Monica is what you envision when you think of Southern California. Even though, technically, it's its own city, the neighborhood epitomizes LA's laid-back coastal vibe. Lodging here highlights the casual approach, serving it up with a side of lavish luxury. Book your room at the Fairmont Miramar Hotel and Bungalows and you'll enjoy Pacific views, five-star amenities and the city's hippest nightlife all on the very same property. The stunning courtyard entrance surrounds a massive, 140-year-old fig tree. Nearly 25 meters tall, the historic landmark is the second biggest of its kind in the US. Inside the lobby, follow the marble-clad interior to Fig, an award-winning Mediterranean restaurant and bar. In its backyard is a tranquil garden setting, showcasing a palm-tree lined swimming pool.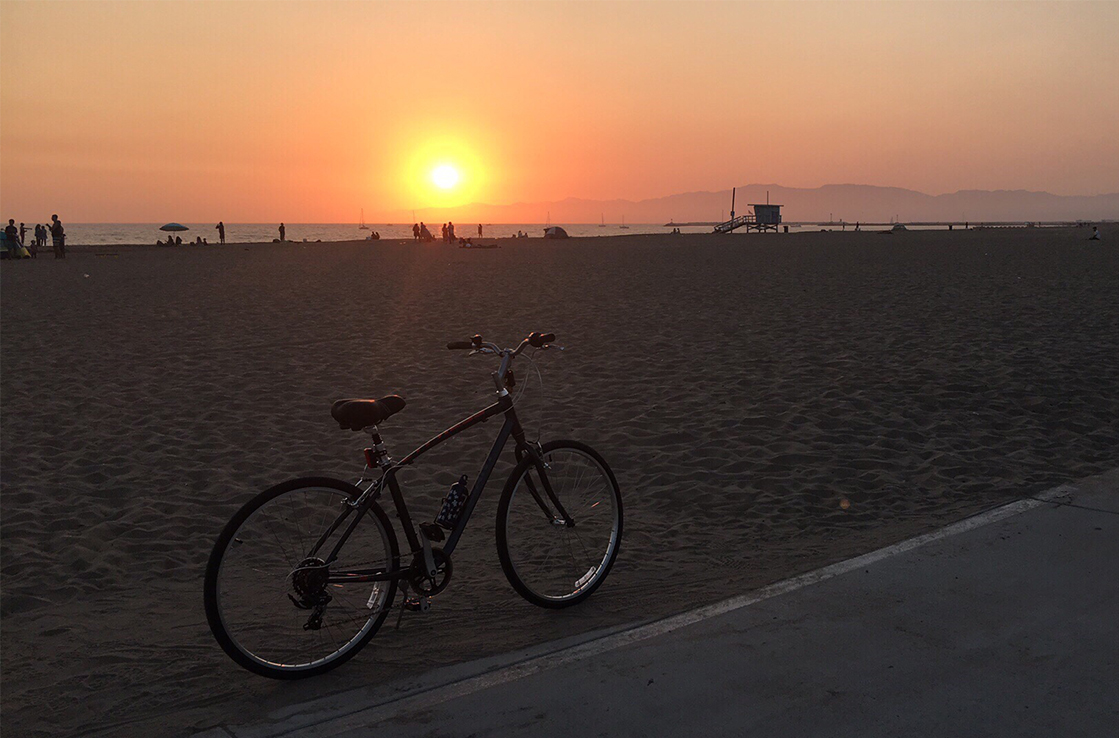 Your Running Route: The Strand is a paved pathway tracing the LA county coastline for more than 35 kilometers. Meet up with it by following the stairs down from the legendary Santa Monica Pier. From here you can jog for miles in either direction without encountering any vehicular traffic. You will, however, have to share the cement with bicyclists and even the occasional rollerblader. But there's plenty of room for everyone on this wide footprint, with nothing to obstruct the ocean views and world-class people watching along the way. If you feel like pedaling instead, bike rentals are available at numerous kiosks as you approach Venice to the south.
Your Breakfast Meeting: Breakfast is the most important meal of the day, and no place takes it more seriously than Los Angeles. Santa Monica is home to Flower Child — a fast-casual cafe with strong veggie focus; True Food Kitchen with vegan fare and an array of superfood smoothies; and Urth Caffé, one of the city's hippest outposts for organic aliments and free trade coffee. Each of these settings features ample seating and a low-key atmosphere, perfect for plowing through some early morning meetings. If you want to make it an alfresco affair, consider JOE & THE JUICE in West Hollywood. This trendy location of the popular cafe chain holds sizable outdoor banquettes.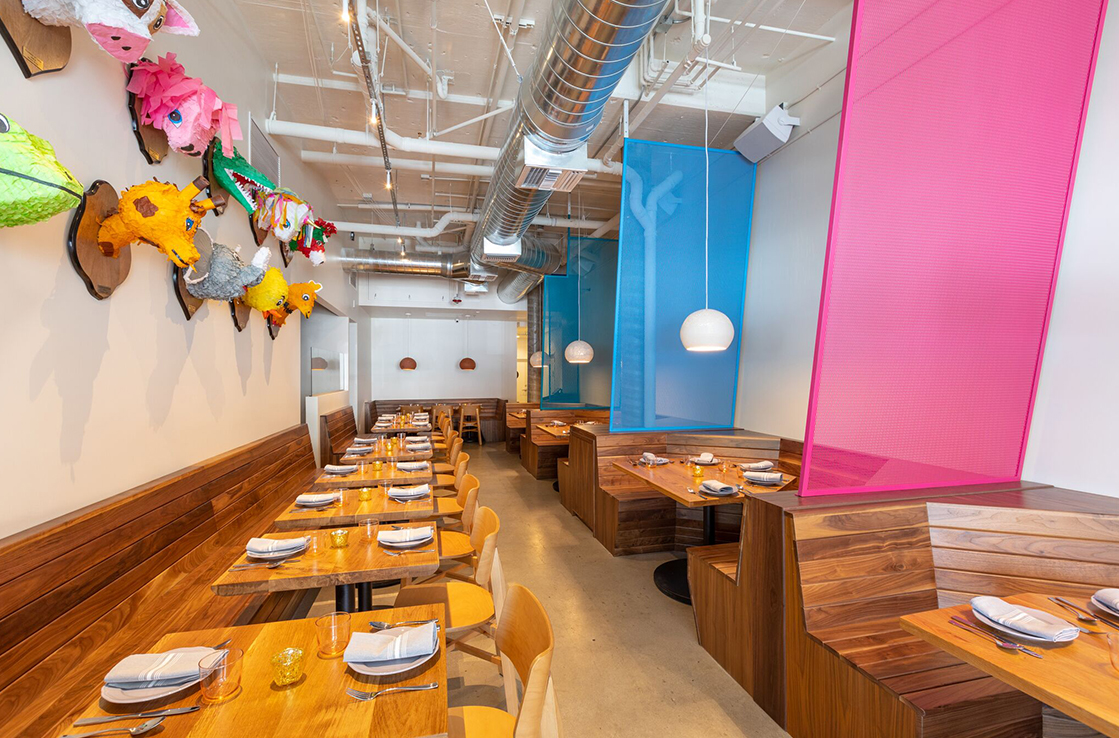 Your Business Lunch: Everyone knows that Los Angeles does Mexican food in many different ways. But you might not suspect healthy would be one of them. Punta Cabras is a Santa Monica taqueria that specializes in seafood; light-yet-satisfying ceviches, fresh fish folded into house-made tortillas, tostadas built from cauliflower. It's all served in a spacious dining area with big wooden booths for large groups.
If you're searching for something swankier, go poolside at Viviane inside the Avalon Hotel Beverly Hills. Here you'll munch on an artful assortment of greenery — baby beet & avocado salad, spinach Cavatelli pasta, a quinoa and farro-filled grain bowl. The outdoor dining area nicknamed the 'jewelbox' is known as a power lunch spot. Complimentary valet for your rental car doesn't hurt, either.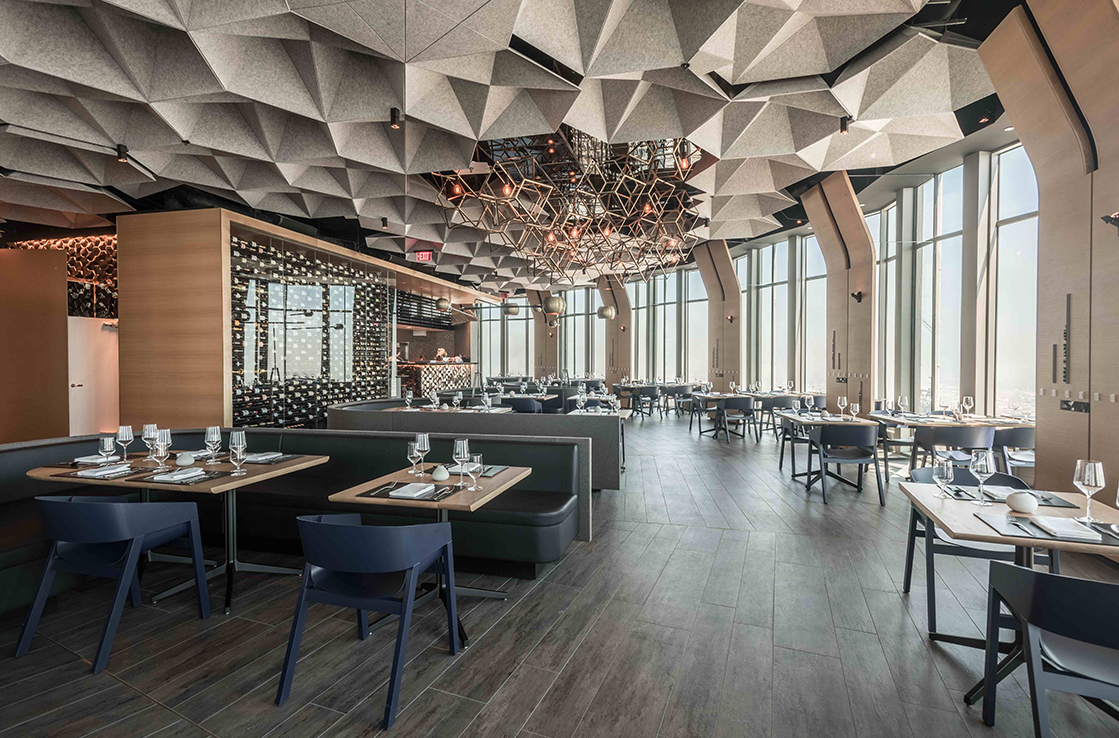 Your Drinks With Clients: LA is at the forefront of global nightlife culture. So, when it's time to get your drink on, you'll have some serious decisions to make. The most important factors are where you want to be, and how classy you want to climb. If you're looking to stay in the West Side and you want minimal fuss, head over to Esters Wine Shop & Bar. A comfortable space with wine by the glass and craft beer by the can, it's a dependable destination. If you desire more of a craft cocktail den, take your business to the Chestnut Club and sip on dozens of high-minded arrangements ranging from Tiki to mezcal margaritas, and everything in between.
If your clients own a downtown zip code, take your meeting to the next level at 71Above — the city's highest bar and restaurant. The 'wow' factor is on full tilt with 360-degree panorama of LA's expansive cityscape, stretching from the iconic Hollywood sign to the mighty Pacific. Sip on an elegant single malt scotch while the sunset casts the sky in majestic hues of magenta, lavender and orange.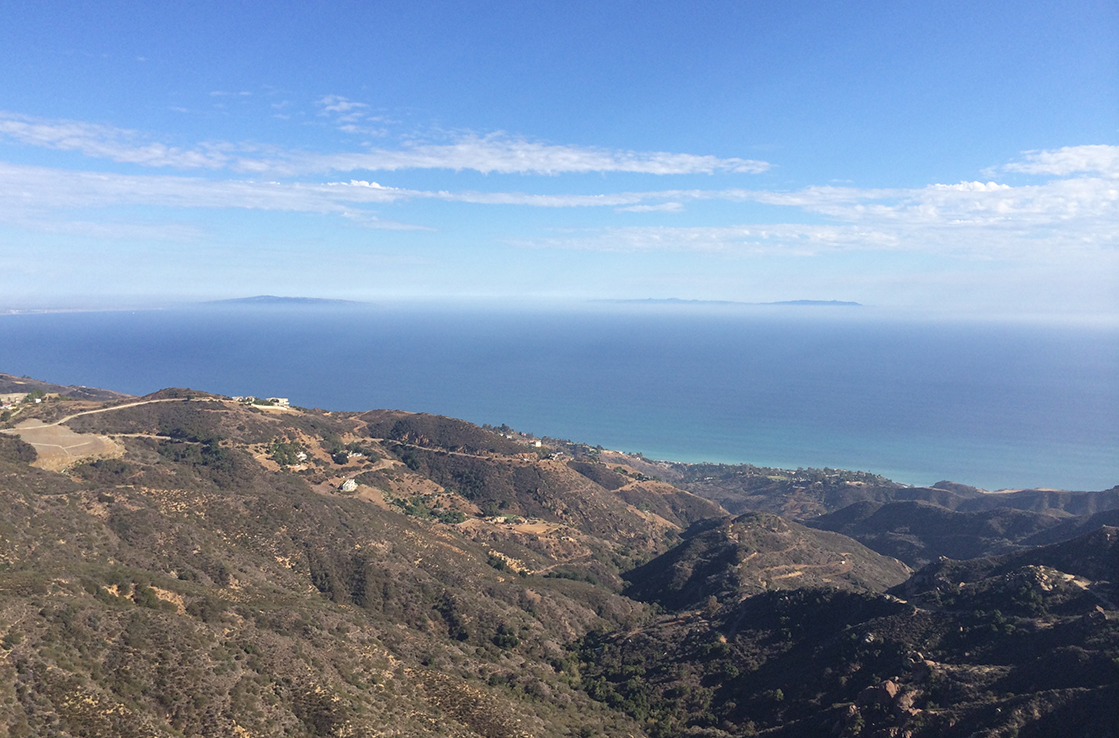 Between Your Meetings: Every day, tourists zig-zag their way up a narrow maze of pavement in hopes of snapping the perfect shot of the world-famous Hollywood sign. The only problem is, everyone else has the exact same photo. Instead, avoid the hoarded masses and drive up to the Mulholland Scenic Overlook. Just 2.5 kilometers west of Sepulveda Pass (on the 405 freeway), the viewpoint rests on a ridge separating LA proper from the San Fernando Valley. High above it all, you can finally put this grandiose landscape in proper perspective.
Your Gift Buying: Beverly Hills has Rodeo Drive, of course. And that's certainly worth seeing, if just for the people watching. But as for the shopping, it's filled with the same designer couture that can be found in any major city. If you want something with a little more personality, consider the 3rd Street Promenade in downtown Santa Monica. It's three blocks of car-free, open-air commerce, populated with live street performers of every ilk. Whether you need a new yoga mat, a new charger for your Apple, or a uniquely LA gift for your loved ones, this is where you need to be.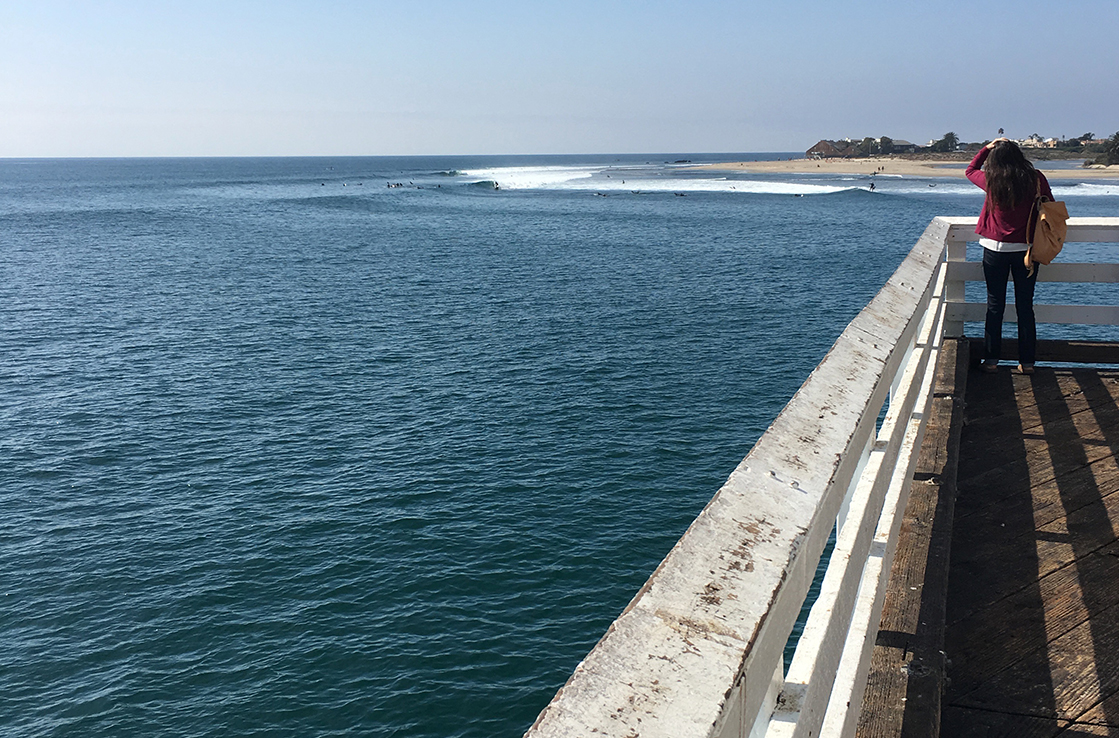 Your Weekend Extension: Have an extra few days to explore? Malibu is waiting to greet you along the historic Pacific Coast Highway (route 1). As the road signs say upon entering, this is '21 miles of scenic beauty', featuring world class waves and an endless assortment of outdoor recreation. Start your day at Malibu Pier, a 100-year-old state park with modern dining and boutique shopping options hovering over the coastline. If you're feeling adventurous, book a lesson with the Malibu Surf Coach and learn how to hang ten. In the evening, unwind with cocktails at any number of the town's famous beachside bungalows. Memories to last a lifetime; in Malibu it's just another weekend.
To book your car hire in Los Angeles, click HERE.
Brad Japhe is a travel writer focusing on outdoor adventure, food and drink. Follow his adventures on Instagram @Journeys_with_Japhe.