Grand entrance halls and ornate turrets aren't just the reserve of Europe – the USA has some spectacular castles that are waiting to be explored.
Inspired by the stunning chateaux of France and fortresses of Germany, the USA delights with its fairy-tale castles, magnificent mansions and palaces adorned with traditional European embellishments and grandeur.
Take a look at our top eight enchanting castles in the USA below and add these must-visit locations to your travel itinerary.
1. Hearst Castle, California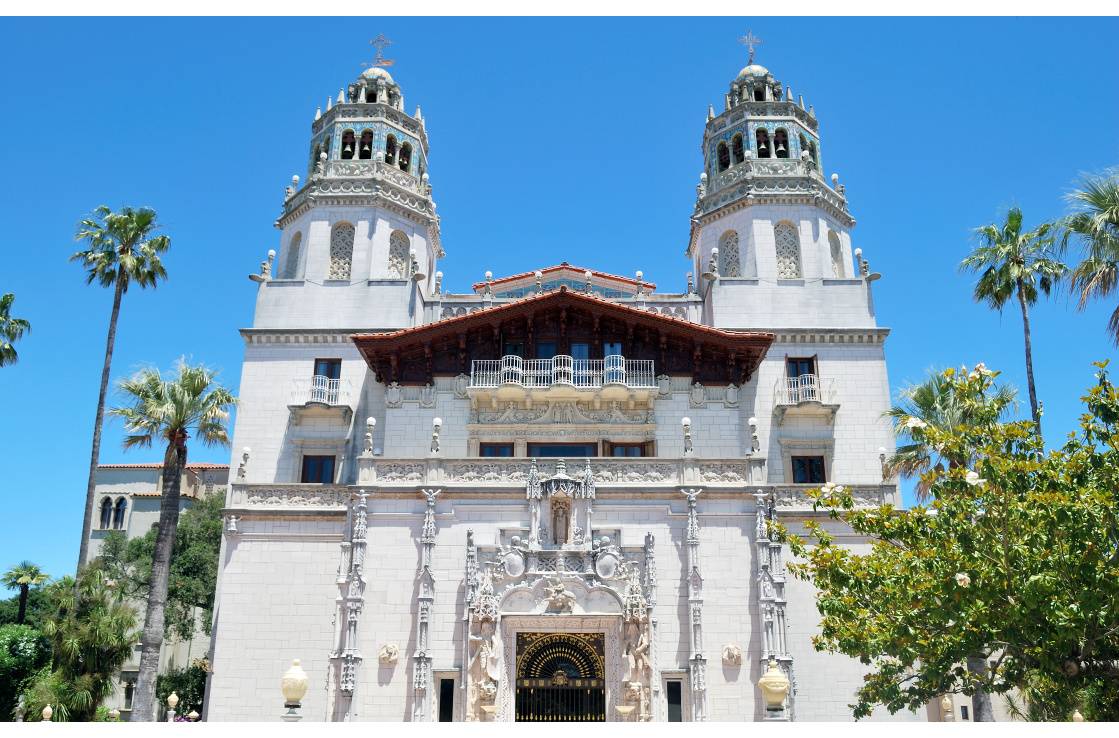 Extravagant palatial structures and panoramic views of the Pacific Ocean make this castle in San Simeon – nicknamed 'The Enchanted Hill' – a must-visit.
The majestic Hearst Castle was built by the media mogul Sir William Randolph Hearst between 1919 and 1947. His hill-top estate features perfectly preened gardens, statues from ancient Greece, azure blue swimming pools and antique ceilings, which makes it a prime tourist attraction.
It's halfway between Los Angeles and San Francisco – each around 240 miles away – so follow Route 101 for the easiest route.
2. Bannerman Castle, New York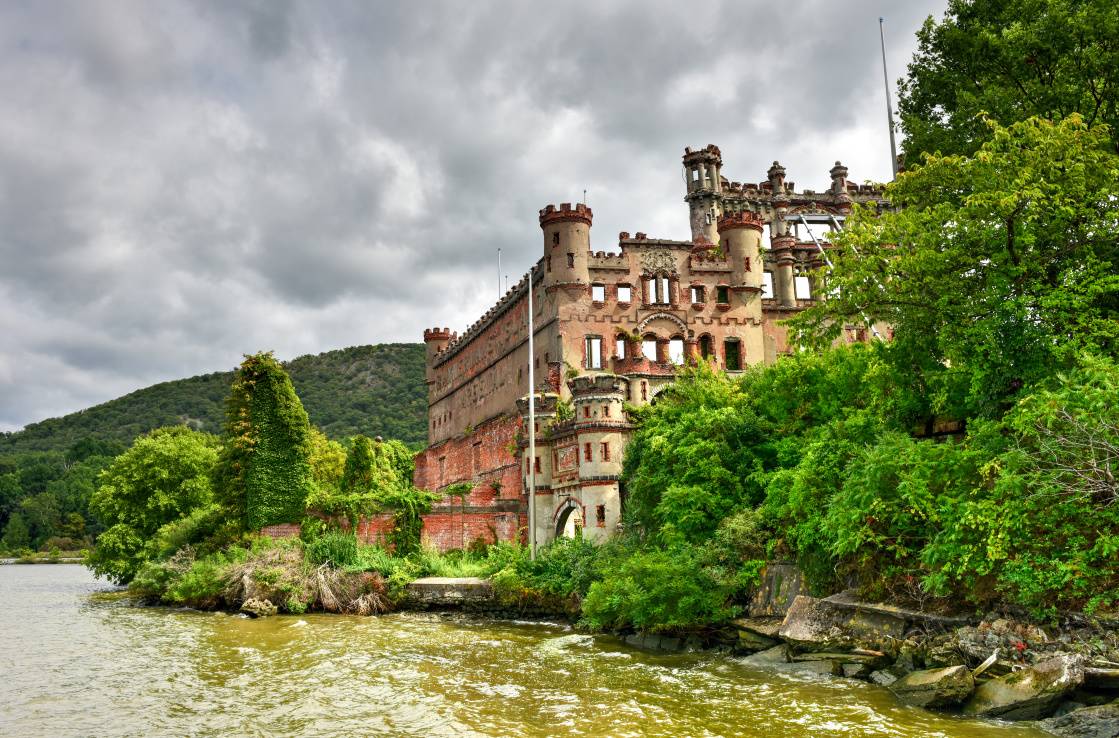 Surrounded by the Hudson River on Pollepel Island, and based just 60 miles away from the bright lights and skyscrapers of New York City, Bannerman Castle can only be reached by boat.
It was once the residence of Francis Bannerman VI, a military weapons merchant, who used the isolated island to store his munitions. Construction on the castle began in 1901, taking inspiration from Belgian and Moorish architecture, as well as his own Scottish heritage, to create a masterpiece.
Tours take place daily from Beacon and Newburgh.
3. Bishop's Palace (Gresham Castle), Texas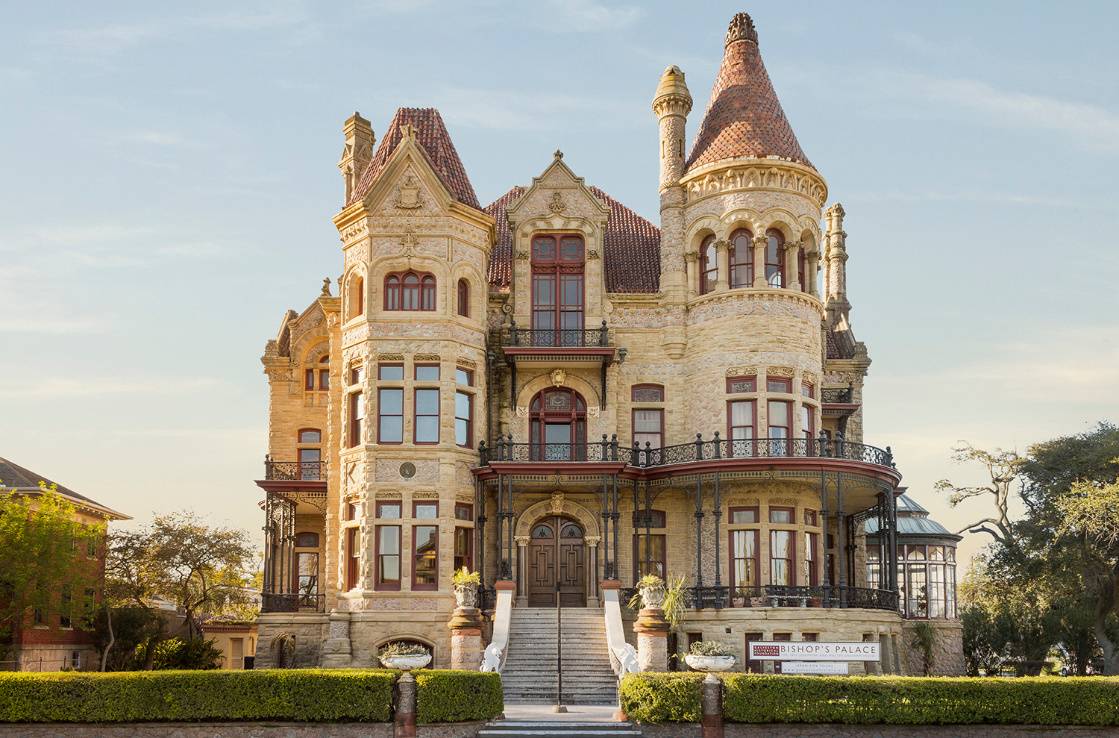 Image credit: Illumine Photographic Services, Galveston Historical Foundatio
Built between 1887 and 1892, Bishop's Palace was the family home for Texas lawyer and politician Colonel Walter Gresham. You'll find it on Galveston Island, which stretches out along the shore near Houston in Texas.
It's a National Historic Landmark and one of the most iconic buildings in the area – with good reason. In 1900, it survived the US's deadliest natural disaster – the 130mph Galveston Hurricane, known as the Great Storm – which destroyed around 3,600 buildings.
The castle was later renovated in 1923 by the Roman Catholic Diocese of Galveston, hence its name as the Bishop's Palace.
Guided tours take place daily.
4. Loveland Castle, Ohio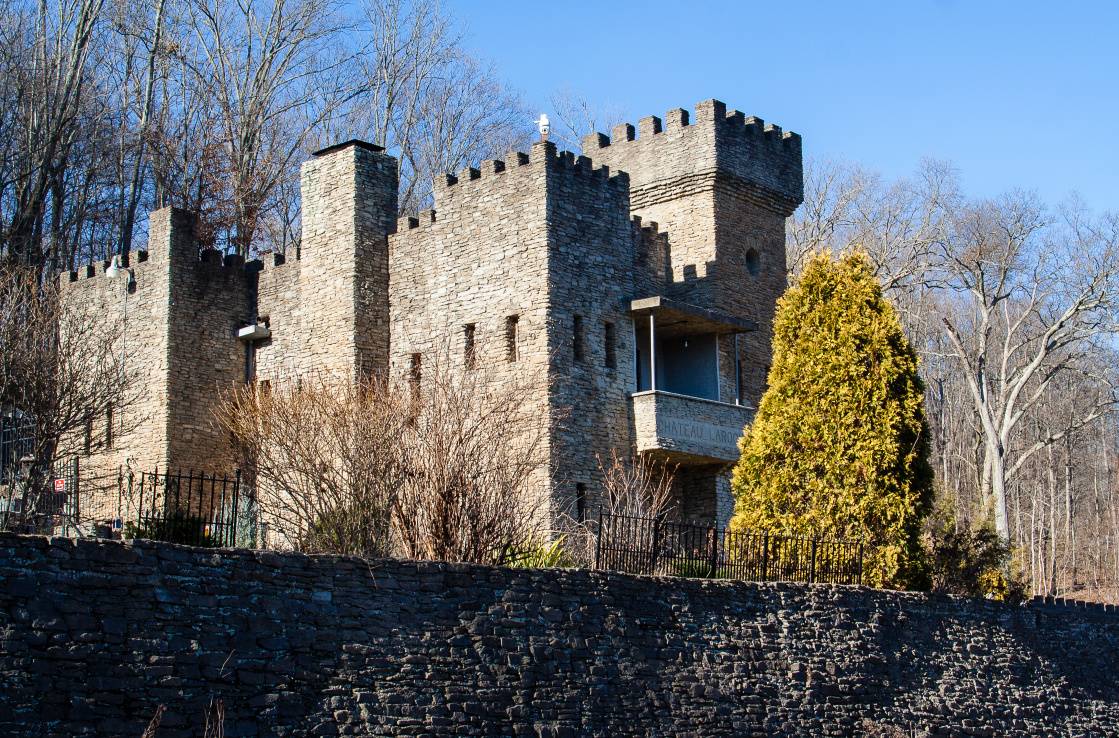 The medieval-style Loveland Castle – also known as Château Laroche – was built by just one man, Harry Andrews, over 50 years.
Harry took inspiration from the castles of Europe, which he visited after serving in WWI. It's now looked after by the Knights of the Golden Trail – a youth organisation established by Harry in 1927.
The castle is located along a winding trail by the Miami River, and makes for a great day out for all the family.
5. The Breakers, Newport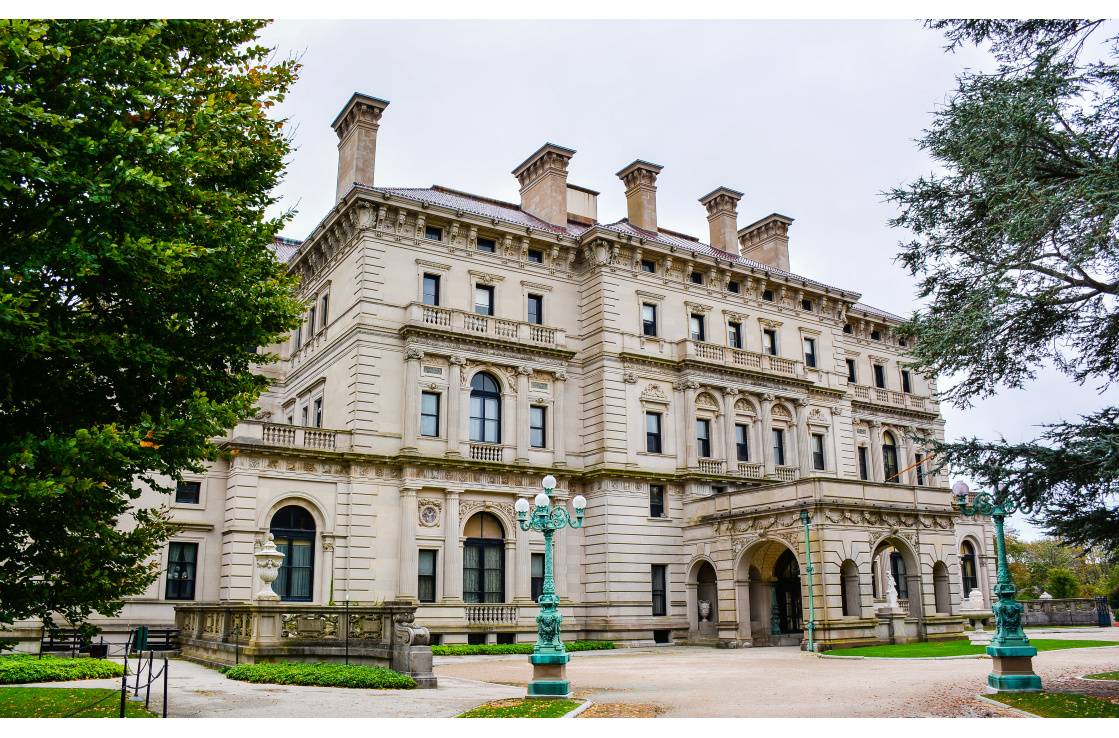 Once the exuberant summer residence of socialite and businessman Cornelius Vanderbilt II, the Breakers is the most impressive of Newport's mansions – also known as cottages (the owners' New York homes were bigger).
Vanderbilt was the president of the New York Central Railroad and had the 70-room Italian Renaissance-style mansion built between 1893 and 1895, taking inspiration from palaces across Europe. It's now open to the public, with tours from 9am until 5pm.
You can get there from elsewhere on Rhode Island, or take a 180-mile coastal drive from New York City.
6. Castello di Amorosa, California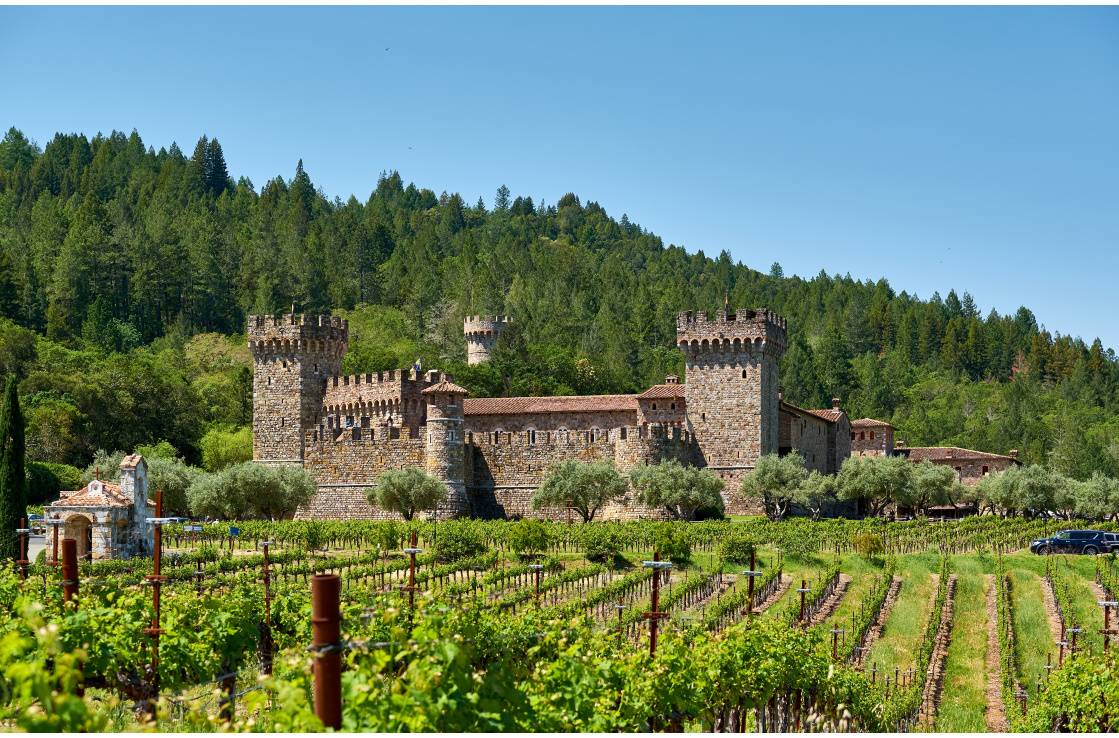 A Tuscan castle nestled in California's Napa Valley, Castello di Amorosa looks just like an authentic Italian castle.
With every detail perfectly mimicking 13th-century Italian architecture, the castle was a 15-year-long labour of love by its creator Dario Sattui, who hired five master builders to bring his creation to life. The castle and winery boast 107 bedrooms and two underground caves.
It's less than a two-hour drive from San Francisco, and is open daily from 9am until 6pm daily, and 9.30am until 5.45pm on Wednesdays.
7. Thornewood Castle, Washington
If Thornewood Castle, near Tacoma in Washington state, looks like an imported Tudor manor house, there's good reason – that's exactly what happened.
Original pieces of the country house from were shipped over to the US more than 400 years ago, and rebuilt to create one of the USA's authentic castles.
It's a now popular wedding venue and a gorgeous bed and breakfast if you're looking for an overnight stay in a beautiful castle.
8. Lyndhurst Mansion, New York
Lyndhurst Mansion on New York's Hudson River wouldn't look out of place in a UK university town. In fact, it was designed in 1838 in the Gothic Revival style – the same as part of King's College in Cambridge.
It's well worth taking the time to follow the one-hour tour here, which will take you through 19 of the rooms, including the regal entrance hall, library and dining room. There are special tours for returning visitors, too, taking you to hidden rooms and locations.
In the summer, music events and craft fairs take place in the grounds.