By Chris Sayer 
Two weeks. Twelve hundred Californian miles. Four wheels. Seven stops. These are the numbers that, combined, will equate to you absolutely nailing your once-in-a-lifetime Pacific Coast road-trip.
It's a trip that'll take you alongside the outstanding rugged coastlines of Big Sur, up and down the endless hills of San Francisco, through the spectacular mountain passes of Yosemite, and into the urban sprawl of Los Angeles. Goes without saying, then, that your bucket-list adventure should start behind the wheel of a vehicle that can tackle it all. The Nissan Rogue 4x4 I picked up from Hertz at LAX was just the ticket.
With the right tool beneath your feet, you're ready to make tracks and soak in the unfiltered greatness that America's west coast has to offer. Want our advice? Ensure you add these particular spots to your ticklist, and hit them with your camera primed for Instagram-ready photos that'll make all your colleagues at home sick with envy…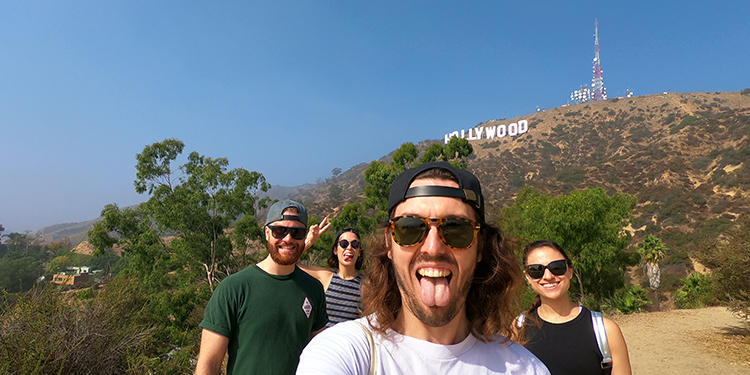 LA's Griffith Park
Blow the jetlag from your brain with a two-hour romp through Griffith Park up to the iconic Hollywood sign. Such 'hiking' is a weekend staple of the LA lot, but if you're imagining rain coats, big boots and Kendall Mint Cake, you've got it all wrong. As with everything in Los Angeles, looking good is the most important part of this blood-pumping pastime. Blend in with the locals by lacing up your box-fresh Nike trainers, throwing on some expensive athleisure gear, strapping up your fitness tracker and popping on your coolest backwards cap. There are three main trails that'll take you up to the Hollywood sign for your must-get photo opp, but opt for The Canyon Drive Trail – you'll be glad of the parking after seeing the scrum for a spot at the entrance to the more famous Runyon Canyon.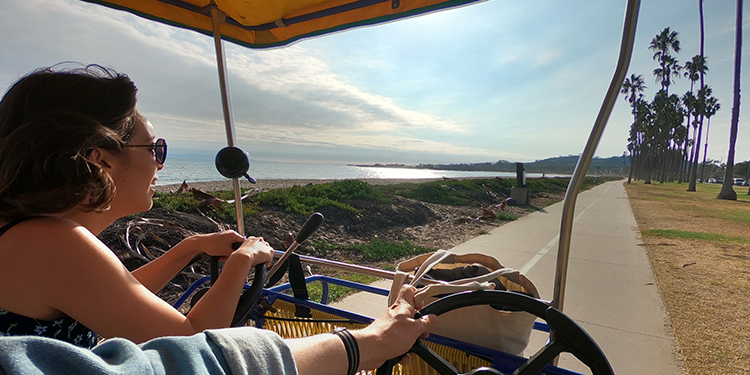 Santa Barbara's Cycle Path
Leave the 4x4 at the hotel – you're jumping behind the wheel of a totally different beast in Santa Barbara. The city that sits where the vineyard-strewn Santa Ynez Mountains meet the Pacific Ocean has a cycle track that hugs its coastline for three miles, and'll take you past the historic wooden wharf, the busy harbour, and its long stretches of sand. Opt not for a bicycle, but a two-seater pedal-powered 'Surrey' from Wheel Fun Rentals, situated in 'The Funk Zone' – the artisanal area where you should dive into Santa Barbara's exceptional food and wine scene once your time in the saddle is up, and the sun starts sinking behind the horizon.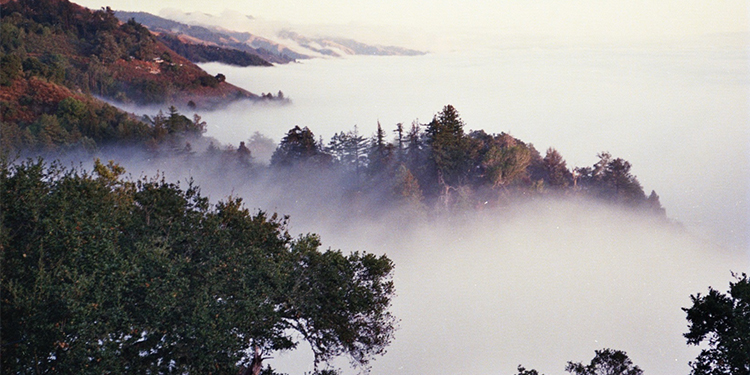 Big Sur's Nepenthe
During your stay in Big Sur, when you're not hiking amongst the towering redwoods or exploring the jaw-dropping Pfeiffer Beach, get online and Google 'what time is sunset tonight' and memorise the answer, because that it the exact hour you must, <must> make sure you're at the lofty Nepanthe restaurant. Here, not only are you sinking your teeth into the famous Ambrosia burger, but you're getting what has to be one of the most romantic and stunning sunset views on the planet. A big claim, yep, but I stand by it. Even with low clouds stubbornly stuck to the hills, you'll be stone-cold stunned by what you're seeing. And no, you can't live there for the rest of your life. I've already asked. Sorry.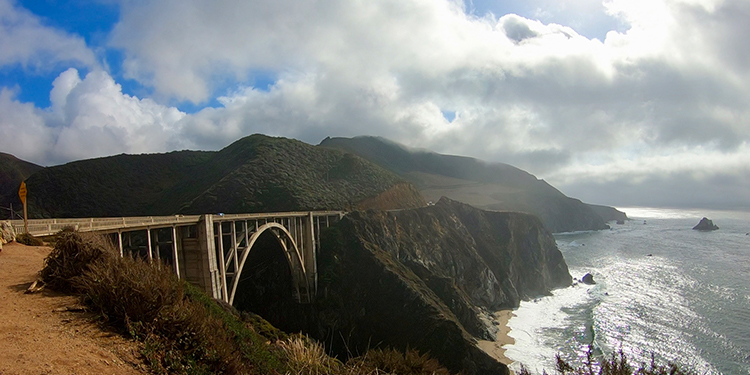 Highway 1's Bixby Creek Bridge
Bridges. Not that exciting, right? Tell yourself that again as your heart swells at the sight of the iconic 86-year-old Bixby Creek Bridge, one of the most photographed locations along the entire west coast. It's had songs written about it (Death Cab For Cutie), appeared in television programmes (Big Little Lies), and even earned itself a spot on a US postal service stamp, all thanks to its eye-rubbing location and stunning design. You'll know you've arrived there when you see the makeshift carpark of vehicles created by photo-hungry tourists. Go join them.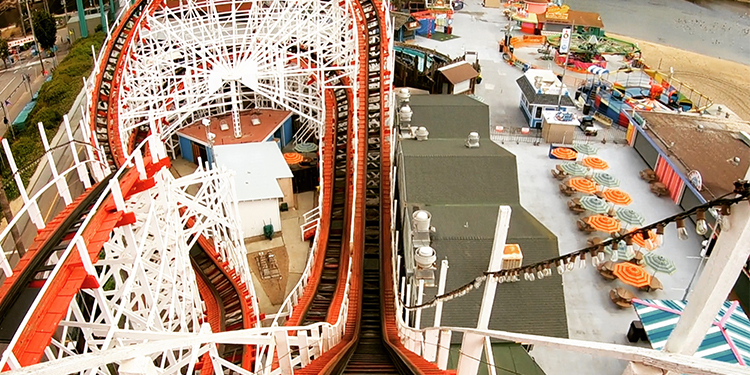 Santa Cruz's Big Dipper
You're right, you <do> recognise Santa Cruz's fairground-filled beach boardwalk. It entered your eyes (and possibly nightmares) as the setting for the 1987 vampire film The Lost Boys. Make like Corey Haim and Kiefer Sutherland and explore the rickety rides, then grab your shot atop the Big Dipper before making the most of the super cool surf culture Santa Cruz, the birthplace of mainland wave-riding in the USA, has to offer. Watch the pros tame the Pacific swells at Steamer's Lane, a historic mecca for any boardsman, before dropping into the tiny but brilliant surfing museum that sits alongside it.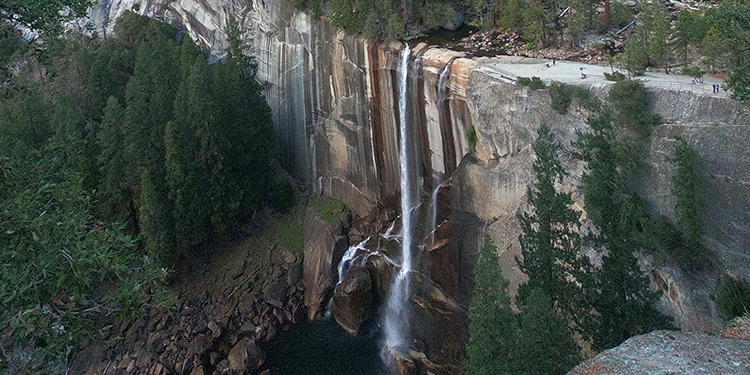 Yosemite's Mist Trail
Yeah, sure, my favourite photograph I took here was at the top of the strenuous Mist Trail hike, overlooking the cascading Vernal Falls cutting through woodland and with light striking the lofty peaks behind it. But I'll come clean – I could've closed my eyes and pointed my camera absolutely anywhere in Yosemite, and the photo still would've come out utterly beautiful. Such is the majesty of this national park: you could drive through the Arch Rock Entrance fully anticipating this natural wonder to completely change your life, and it'll still surpass all your expectations. Make no mistake, this is absolutely worth making an inland detour for.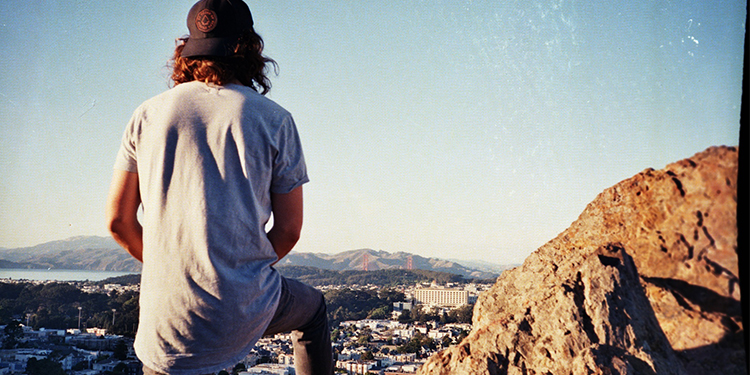 San Francisco's Twin Peaks
If you can return home after a visit to this incredible city without asking Google "how to start a new life in San Francisco", then you're a stronger person than I. Feel the same urge to up sticks and move here after experiencing its rich and cool musical culture, easy-to-reach beach, stunning architecture, incredible food and drink options (with a huge and theatrical nod to IZA Ramen) and really great local people. People like Alexandra from Urban Hiker SF, who'll tour you through the city's urban trails, hills and historic staircases, and up to vantage points such as Twin Peaks, where you'll enjoy the best vistas San Francisco has to offer.


Chris Sayer is a freelance writer and editor based in London. He regularly works with lifestyle titles such as ShortList, Coachmag.co.uk, The Gentleman's Journal and Mr Hyde. When he's not hammering features into his laptop, you'll likely find Chris in the Devon countryside, most likely fishing on the banks of the river Avon, hiking on Dartmoor or surfing at his local beach. Follow him on Twitter @chrissayer00.