Turquoise waters, bright-white sandy beaches and ancient ruins await on Menorca, one of the main Balearic Islands just off the eastern coast of Spain. Compared to its energetic siblings – Ibiza and Mallorca – Menorca offers a calmer, more relaxing break.
If you're thinking about visiting, hire a car from Menorca's Mahon Airport and hit the road to discover five of the coolest things to do on this gorgeous island.
1. Sunrise strolls
With more than 130 miles of picturesque coastline, Menorca is ideal for enjoying a leisurely stroll. Avid walkers can take on sections of the Camí de Cavalls, a 115-mile path that circles the island.
Head to Monte Toro, the island's highest point at 342m, and drink in panoramic views out to sea and inland. Menorca is the most eastern part on the Spanish peninsula, so get up early to be the first to see the sunrise.
2. Get back to nature
With lagoons, caves and coves galore – not to mention more than 200 species of birds – Menorca is a nature-lover's paradise, and a UNESCO Biosphere Reserve.
The 20-square-mile Parc Natural S'Albufera des Grau is at the area's centre. Just 15 minutes' drive from Mahon, this protected nature reserve is home to wetland birds, 628 species of sea weed, and even hammer sharks.
For a cove surrounded by pine trees and a stunning stretch of white sand, seek out Cala en Turqueta – about an hour's drive from Mahon. Snorkel in the crystal-clear turquoise waters or catch some rays on the shoreline.
3. Explore old and beautiful Ciutadella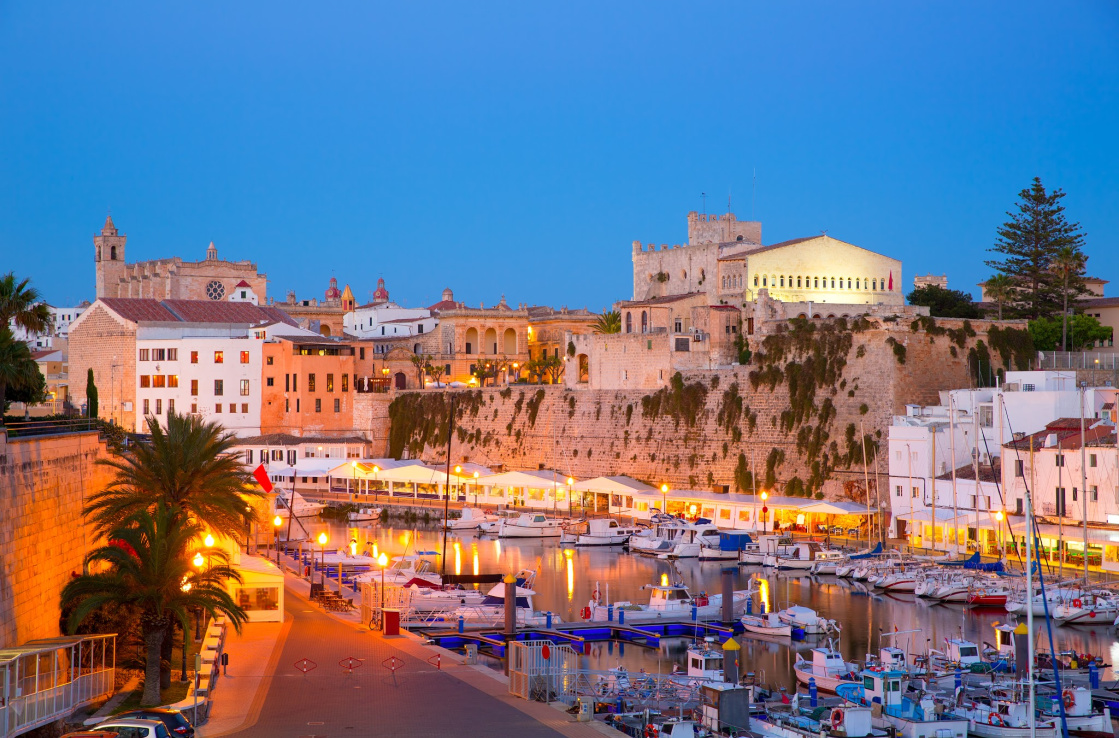 It's easy to see how Ciutadella de Menorca earned its moniker, Vella i Bella – old and beautiful. Take time to mosey around the old town and soak up some history in the 14th-century, gothic-style Catedral de Menorca.
One mile outside Ciutadella, Ses Pedreres de s'Hostal is a former stone quarry that's now home to a flourishing botanical garden, and host to numerous events. One of the biggest is the Pedra Viva summer festival, which celebrates music and the performing arts.
4. Marvellous Mahon
Menorca might be smaller and sleepier than its Balearic neighbours, but its capital, Mahon – or Maó-Mahón, to give it its full name – is the proud owner of one of the biggest harbours in the world. It's more than three miles long and more than half a mile wide, and its depth is second only to Hawaii's Pearl Harbour.
But this isn't some industrial hub – it's a place to relax. So, take a boat trip around the harbour to enjoy the stunning scenery.
For some local history, the Museo de Menorca – housed in a 17th-century convent –takes you through the island's heritage, from the ancient to the present.
5. Magnificent megalithic sites
Menorca is covered with megalithic sites, with some believed to have been built as far back as 1,000 BC.
One of the most popular spots is Naveta des Tudons – the largest funerary monument on the island. This impressive feat of architecture was constructed using the cyclopean technique – like dry-stone walling on a grand scale – meaning no mortar was used to hold the ancient stone chamber tomb together.
Around 3,000 years old and still standing today, the site was excavated in the mid-20th century where more than 100 skeletons were discovered inside.
Book a hire car in Menorca to make your way around all of the coolest things this beautiful island has to offer.