Cities don't come much more charismatic than Los Angeles. The home of Hollywood is an endlessly creative place, where Tinseltown – or La La Land as it's also known – sits next to vibrant art galleries, an ever-changing food scene, beautiful beaches and hills full of hikers. This isn't just an urban sprawl where today's barista is tomorrow's star, it's a place brimming with energy, big dreams and culture.
Our 20 best things to do in LA list isn't exhaustive – there's so, so much more – but it's a good starting point. Hire a car at Los Angeles International Airport, and you can tick them off in any order, both the downtown attractions and those that involve exploring a little more of cool California.
1. The Hollywood sign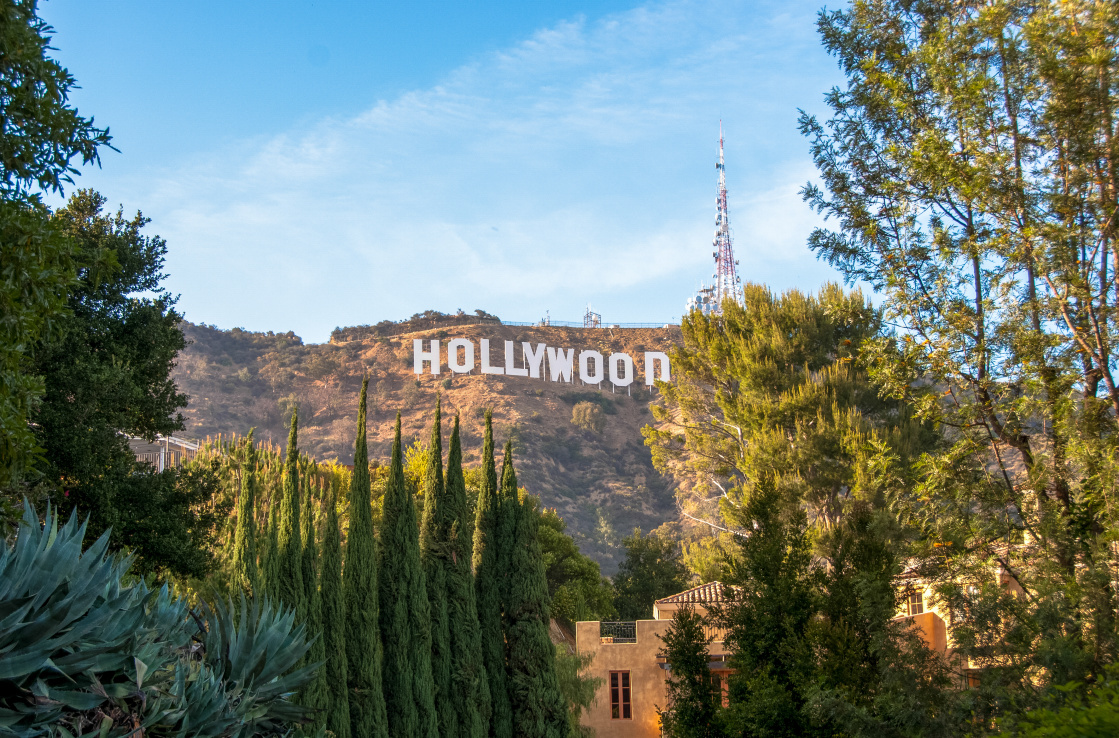 The famous Hollywood sign has become an iconic landmark over the years. It features in movies and popular culture so much so that people don't often realise there are four letters missing – from 1923 to 1949 it read 'Hollywoodland' and was erected to advertise a real estate development. It has become so much more than that over the years and now is an obligatory Instagram shot or photo for all visitors to LA. The original letters were replaced in 1978 and are now refurbished every few years.
2. Walk of Fame
Head to Hollywood Boulevard and Vine Street to stroll along the Walk of Fame. There are over 2600 stars set in the pavement – an earlier plan to have each one feature a caricature of the star was deemed too complicated. Set in the distinct pink marble, they honour the great and the good of the film and entertainment industry – and a few who'll have you scratching your head. Check ahead of arrival to see if there's an opening ceremony for a new one when you're in town.
3. The Getty Center
In a vast, modern – and hugely expensive – building, the Getty Center sits high above the city. Many come up here just for the views alone – on a clear day, there's no better vista in town – but the Getty is also a genuinely world-class gallery. There are shifting exhibitions but also permanent masterpieces such as Vincent van Gogh's Irises and Rembrandt's Rembrandt Laughing. The public spaces and gardens are brilliant too.
4. Great Wall of Los Angeles
While its real name is The History of California, everyone calls this fantastic community-led mural the Great Wall. Some 840 metres long and 13 feet high, it traces the history of the state from prehistory to the 1950s, with a focus on the experience of woman and racial minorities. Dozens of artists and helpers worked on the mural, which is thought-provoking and challenging.
5. Griffith Observatory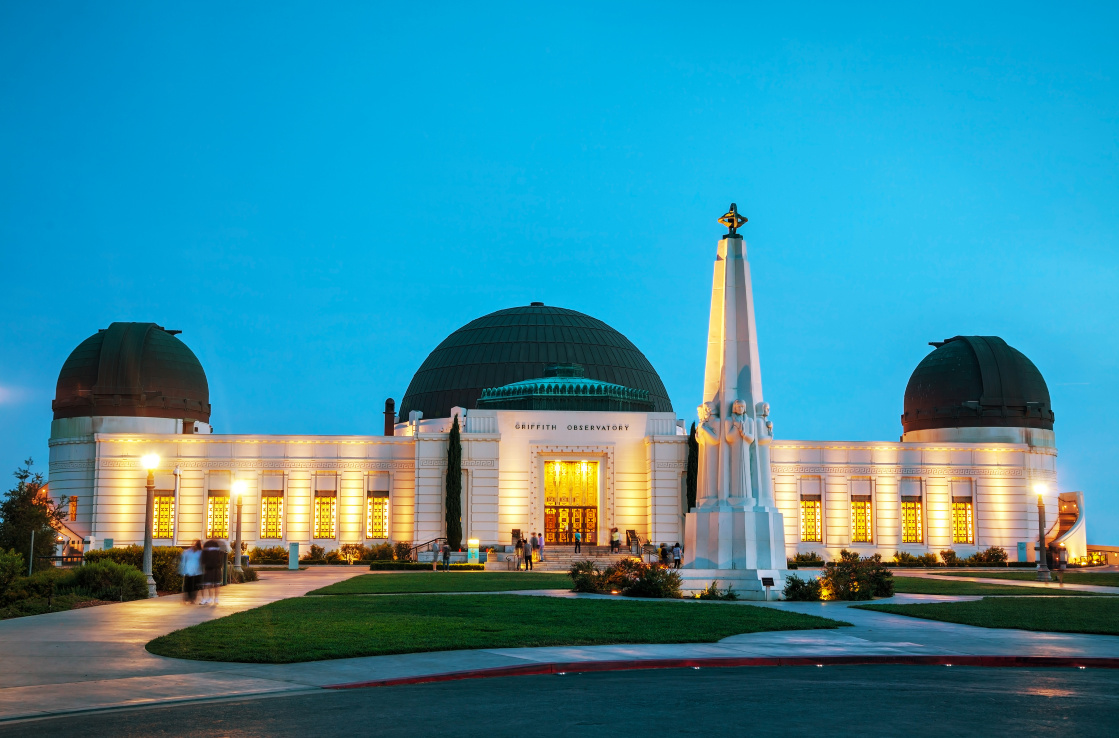 It's where Emma Stone and Ryan Gosling floated and danced in the 2017 blockbuster La La Land, of course, but the Griffith Observatory is also a fantastic planetarium and packs a mean telescope – all in a swoon-worthy building. Opened in 1935, it's a great place for kids to learn about the cosmos, the city views are amazing, and there's a strange romance to a place created for science.
6. Venice Beach and Venice Canals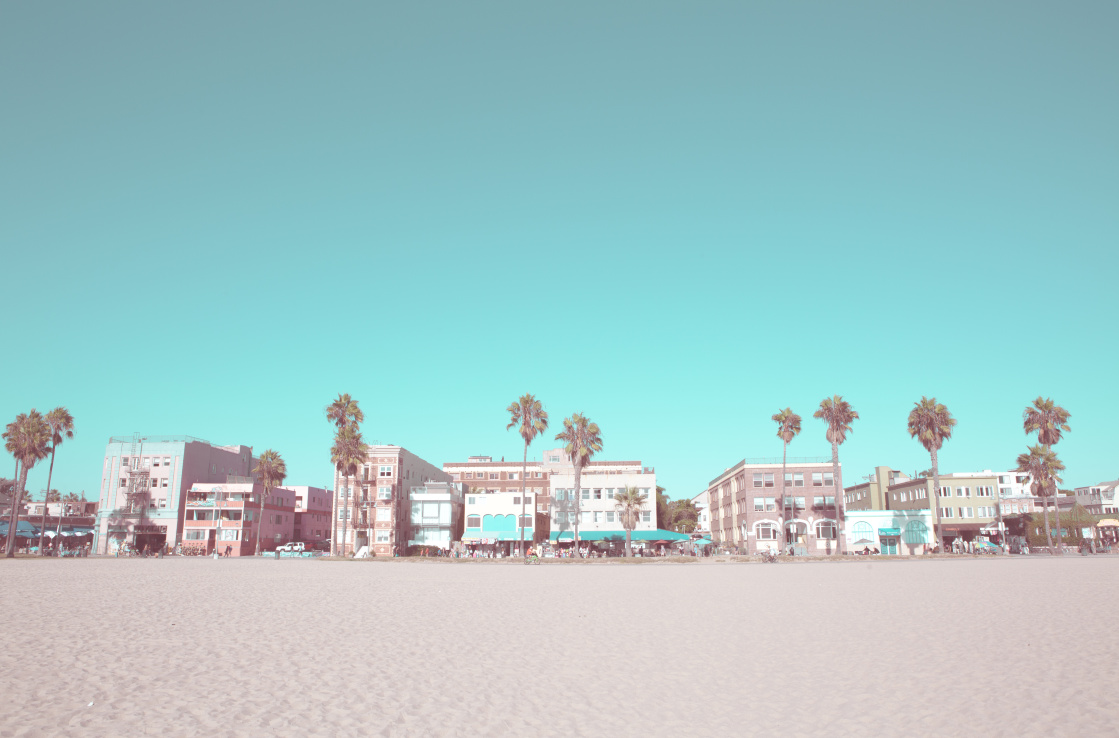 Venice is one of the more laidback areas of Los Angeles, somewhere to chill out and watch the sun sink into the sea, while feeling the soft sand beneath you. The promenade is popular with skaters and rollerbladers, while old hippies seem to be a permanent fixture. A couple of blocks back, the remaining Venice canals are a remnant of what was once a larger network, with lovely walkways threading through them.
7. Dodger Stadium
You can tour the legendary baseball ground all year round, but the best time to visit is during the season, which runs from April to October. Bag a ticket for the game and you can revel in one of life's great sporting experiences – even if you don't have a clue what's happening.
8. Universal Studios Hollywood
The latest ride technology meets the newest films at Universal Studios, which superbly combines studio tours of real life film lots with thrills galore. The big talk of the last few years has been The Wizarding World of Harry Potter, but there are also cutting-edge rides based on The Mummy, Fast and Furious and more, plus whole areas designed just for kids.
9. Santa Monica Pier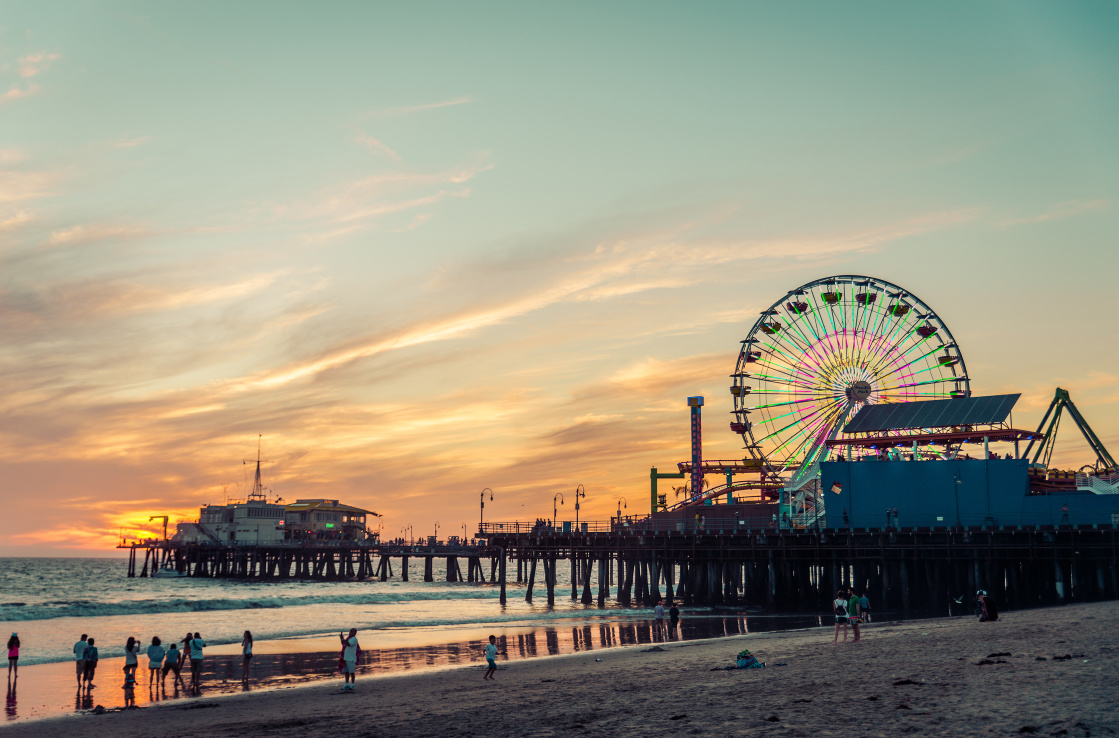 North of Venice, Santa Monica is a place packed with personality, perhaps even hipper than LA itself. Its focal point is the pier, jutting out into the sea for over a century and home to many much-loved landmarks such as the iconic Ferris wheel.  There's a rollercoaster, aquarium and amusement park with rides geared towards children. All that and killer sunsets too.
10. Disneyland Park
Disneyland California feels like a different proposition to its Florida sibling. It has the same character encounters, cast members and impressive Sleeping Beauty Castle, but the actual rides seem more modern and little more exciting. Those who treasure big drops will head for Guardians of the Galaxy and Incredicoaster, while there's lovable, gentler fare such as The Little Mermaid. It's expensive, but Disney is a must-do for families.
11. TCL Chinese Theatre
Home to screenings and premieres since 1927, the Chinese Theater (currently the TCL Chinese Theater – ownership has changed several times) is on Hollywood Boulevard, close to the Walk of Fame. It has its own memorabilia, with footprints and handprints from famous stars. It's a great place to catch a film or join the crowd to catch a glimpse as they arrive for a premiere.
12. Rodeo Drive
Rodeo Drive cuts through Beverly Hills with three blocks of unrivalled, high-class shopping. Tourists vie with the local rich and famous in the shops here, while chauffeurs idle outside, ready to whisk home their passenger with their latest purchases. It's extravagant, but it's huge fun too – and a glimpse into how the other half live.
13. Sunset Boulevard
This famous road runs from Downtown LA all the way to the sea – a full 26 miles. It's a must to explore if you've hired a car here, lined with iconic locations. The section between Doheny Drive and Laurel Canyon is the most famous, known as Sunset Strip and home to neon signs and legendary hang-outs such as the Whisky-A-Go-Go, The Viper Room and Chateau Marmont.
14. Heritage Square Museum
A glimpse into Southern California's history, this excellent museum casts a glimpse at over 100 years of the state's development, but mostly through the prism of how people lived at the end of the 19th century. Encompassing several historic buildings, this living museum has a constantly changing programme of events and exhibits, such as an annual vintage fashion show and spooky Halloween nights.
15. Hollywood Bowl
This vast amphitheatre has been Los Angeles' home of big-ticket concerts for decades now – including Monty Python's famous 1982 show. It's home to the LA Philharmonic and summer might see a pop show one night, jazz the next, who knows what the day after? It's an eclectic place, and in a natural setting among the Hollywood hills that makes it a truly unforgettable place to enjoy a show.
16. LA Farmers' Market
This is no fly-by-night pop-up market – the original LA Farmers' Market has been going strong since 1934. It's open seven days a week and includes fresh produce stalls galore, plus bakeries, food stands, restaurants, gift shops and shows in the summer. Pick up one-of-a-kind gifts here, or just grab a legendary pizza pie at Patsy D'Amore's.
17. LA Zoo
The history of the Los Angeles Zoo is fascinating – in 1912 it was a retired circus animals' refuge, before relocating slightly and evolving into a fully-functioning zoo. Today it's a sprawling site with almost 300 species represented. The botanical gardens are impressive too, the perfect place to wander on a sunny day. For the kids, there are plenty of small animal experiences and shows to enjoy.
18. Union Station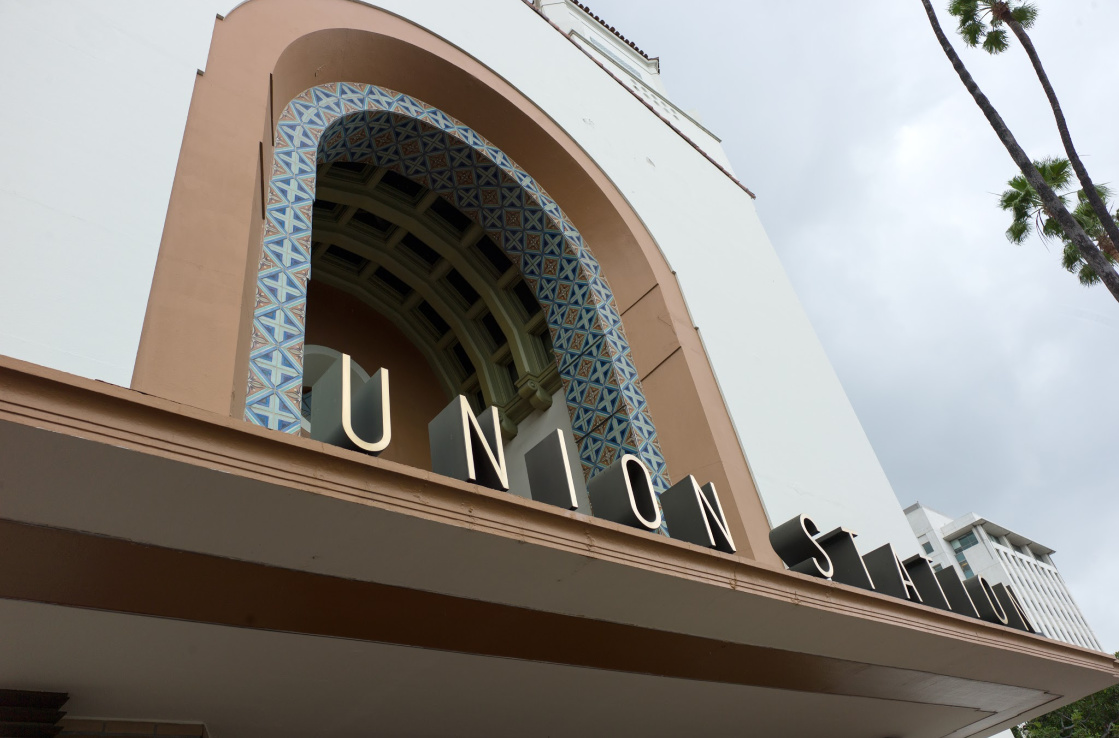 Seen in many a film, including The Dark Knight Rises and Blade Runner, Union Station is a true throwback to the gilded age of rail travel. You'll feel like you should be wearing a hat and a wise-guy suit as you enter the 1930s style building with its art-deco elements, hefty chandeliers and sumptuous leather chairs. Arrange a walking tour and you'll find out some little-known facts about this mid-century gem.
19. Malibu
Famed for its huge number of celebrity residents, drive into Malibu and you'll immediately see why this is prized real estate. Huge waves crash off the coast, the beaches are golden and delicious, and the mountains afford you picture-postcard views. There are sights to be seen – the lavish Getty Villa, for example – but it's hard to tear yourself away from bronzing on the beach.
20. Café Jack
A true original, this restaurant in Koreatown was inspired by the owner's adoration of the film Titanic. Packed with nautical ephemera and kitsch beyond belief, it's a charming place with plenty of hidden corners and cosy booths decorated with stills from the Oscar-winning film. There's decent Asian food on offer, plus the owner's tarot card readings. It doesn't get much more LA than this.
So, that's a cool 20 to get your adventure started, but with car hire in Los Angeles you can venture beyond the city to truly soak up Cali. Perhaps visit San Francisco with its iconic bridge and dramatic hills, or the underrated Oakland with its superb Museum of California and hip neighbourhoods such as Temescal. The choice is all yours.